WARNING: Bet Bright went out of business in early 2019.
If you held a Bet Bright account you can request your funds back on their website.
If you're looking for a longstanding bookmaker to bet with view our list of the top bookmakers here.
I was watching the Boxing day horse racing this year and a new brand popped up on the sponsorship banners.  So here is our BetBright Review
I've always wondered how effective banner advertising is at sports events as no one I know ever notices them. It's only because I'm in the business that I take note.
Before I get started on this BetBright review we'll cover the two main questions that people always ask when there is a new bookie on the block. Are they legit, or is Bet Bright a scam?
Well, no it's not. Bet Bright are based in Ireland with main offices are in Dublin, which is a breath of fresh air. Much better than one of those far-flung countries where the rules don't really apply. It's a new bookie, yes but it's pukka (as they say). The executive chairman is Ricci Rich (no not that spoilt little git), the City face, who used to run a bank (Barclays, you may have heard of them) and owns horses, currency brokers etc…
Anyway on to the BetBright Review
Bet Bright caught my eye and as a new bookie I thought I'd take a quick look, have a little flutter and see what they had to offer. And indeed if it is in fact any different to any other fixed odds bookie out there…
Incidentally, I'm fresh from explaining how the Duke Brokers lost all their money to Eddie Murphy and Dan Aykroyd in Trading Places (you can read that on the Huffington Post here).  Which is about losing nearly $1bn in today's money and some massive gambles by financial traders.  If you want to trade the financial markets and are a sports gambler try financial spread betting – winnings are tax free and you can trade with as much as you want – it's like CFD trading but more tax efficient.
But anyway I'll put £100 into Bet Bright and see what happens.
So, first of all, how easy is it to open an account with BetBright?
Pretty simple but there were a few issues.
They don't take paypal which is annoying because like any grown up that's how I pay for everything online. So I had to get up and go and find my wallet – which is normally where I give up and revert back to my favourite bookie Spreadex. Read our Spreadex Sports Review… I know the fees are higher for gambling companies, but come on!
I failed the auto ID – even though I'm a UK resident. It's important that you pass this because you can't withdraw money from an online bookie until they know you are who you say who you say you are.  It's one of the biggest complaints you read online about online bookies, but it's really the customer's fault. Gambling is big for money laundering so you have to play ball and make sure the bookie has all the information they require before you start causing a fuss. It was a simple fix though – just tweaked my details a bit and all sorted.
I had an account open in about 3 minutes. That includes going downstairs to get my wallet, adding card details and full address and contact details.  £100 deposited and ready to go.
I always opt out of the casino bonus they offer. It was something like £300 match or 500% or some rubbish. Unless you are a matched betting professional don't bother with it either.  All that happens with bonus promotions is that it makes withdrawals harder because you can't take out bonus funds. They just really encourage you to bet more loosely and therefore lose….
How are the odds on BetBright?
Good, but not great.
I bet a £10 to win on the 13:35 at Southwell. Bet Bright was offering 2.75 which will win you 27.50. Smarkets the betting exchange offers odds of 3.05 which wins you £30.50. Still pretty decent for a fixed odds bookie. But Bet Bright does have a little button so you can watch the race without having to turn off Top Gear on repeat. Although it did cut out whilst I was watching the race and I couldn't get the sound to work. Which is a pain, because if I can't watch a horse race what is the point in betting on it?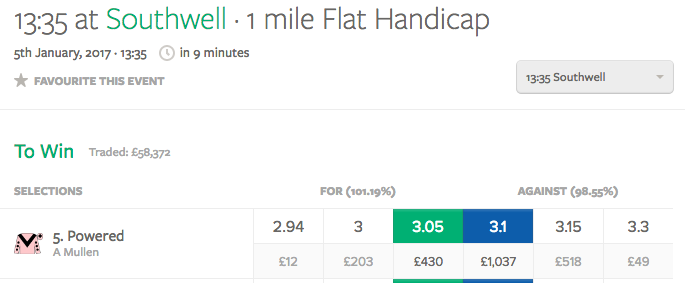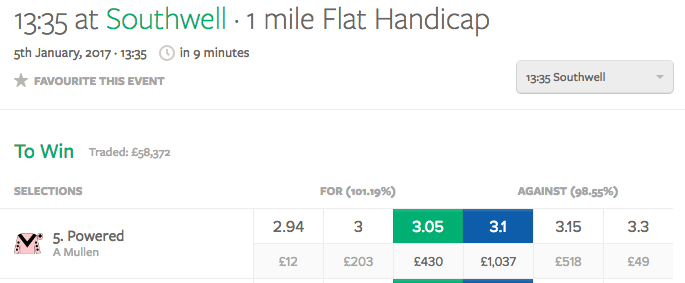 What about the BetBright Casino?
It's got loads of games, all pretty standard. Poker, blackjack, roulette and all the usual slot games. There is the usual plethora of branded slots and progressive jackpots.
I don't usually play in the digital casino or slot games mainly because I don't understand them and quite frankly don't have the inclination to learn how to gamble on a cartoon character.
You can claim a 50% deposit up to £100 if you are into that sort of thing and if you are a slot player you probably are.
But for the purposes of this Bet Bright Review, I was going to have a go at something called Gonzos Quest. But I couldn't figure out where to click or how to bet so I pressed a button lost £2 and immediately turned it off.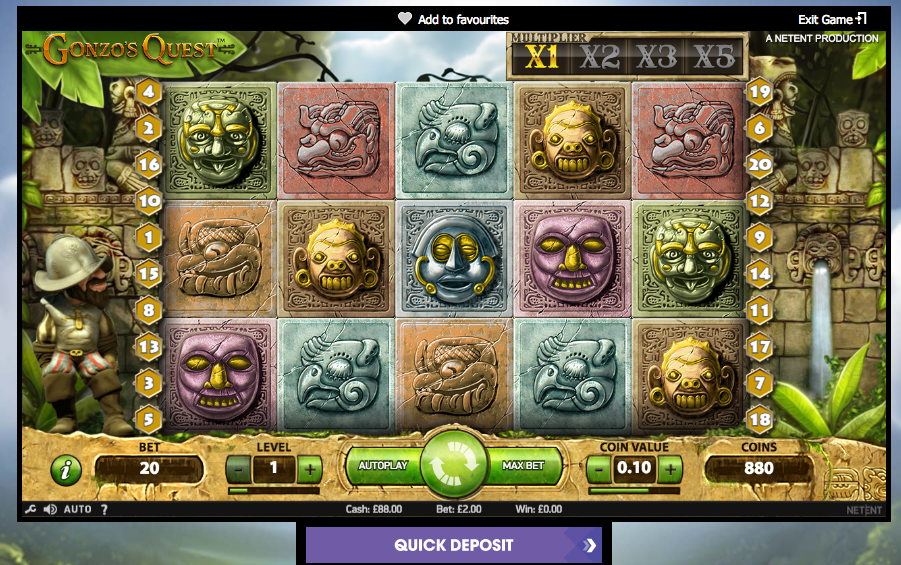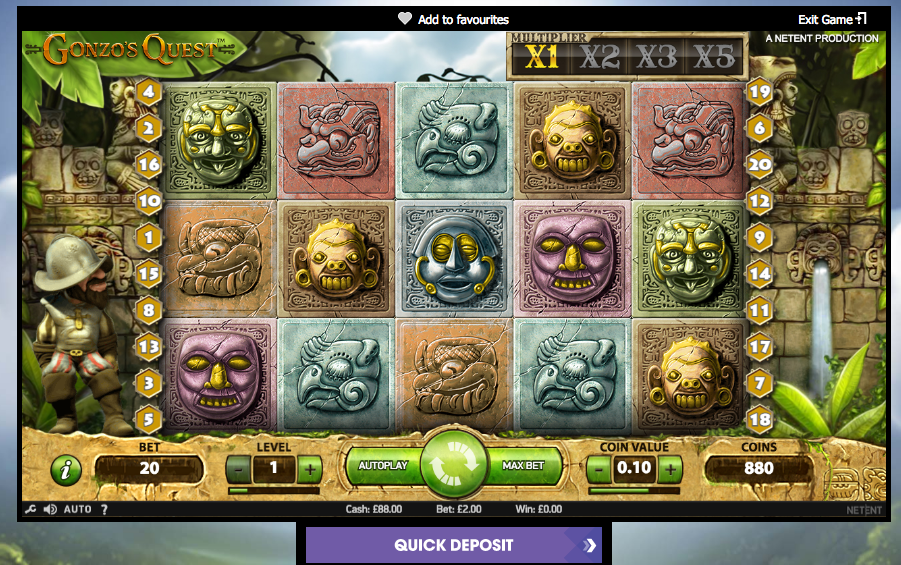 I completely fail to see the point in any of these games. If you're going to bet on this sort of thing at least do the National Lottery online scratch cards as some of it goes to charity.
So anyway on to the next one… Games – seems to be the same as slots – so I'll pass on that one too – I don't quite fancy my luck on Golden Jungle or Robo Smash!
Now onto the BetBright Live Casino…
This is where it gets enjoyable. I know you can play roulette and blackjack in the Casino section but it's so much more enjoyable at the live tables.  We did a feature on who has the best live casino dealers here if you are interested.
Incidentally, I've just got a text from Bet Bright to say I lost the horse race. Which is pretty good – it's annoying having to log back in to check results.
First I'll have a bash at Blackjack Live (power by Evolution Gaming). Oh, typical, it's a bloke dealer, just my luck. Anyway…. I enter a screen name and off we go. On no, hang on, that table is full, so you can navigate to the lobby and choose a table with free seats and a "better" dealer.
Oh well – I sit down on a £35 per hand table with a very nice young lady as a dealer. Then just as my bets place it swaps to a delightful young man. Feed is a little jumpy but no interruptions. Unfortunately, I lose the hand, but that's ok. Was dealt a K and 6, dealer had Q &8 and infact the majority of the table won.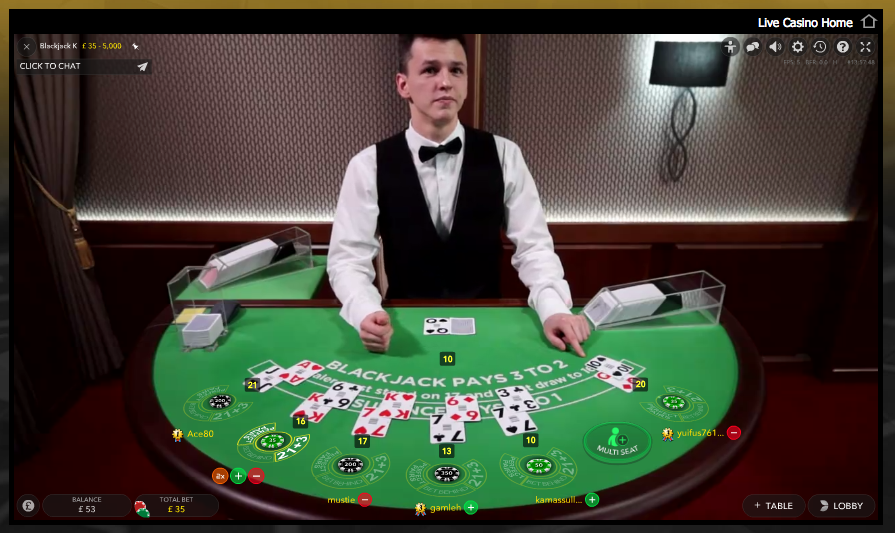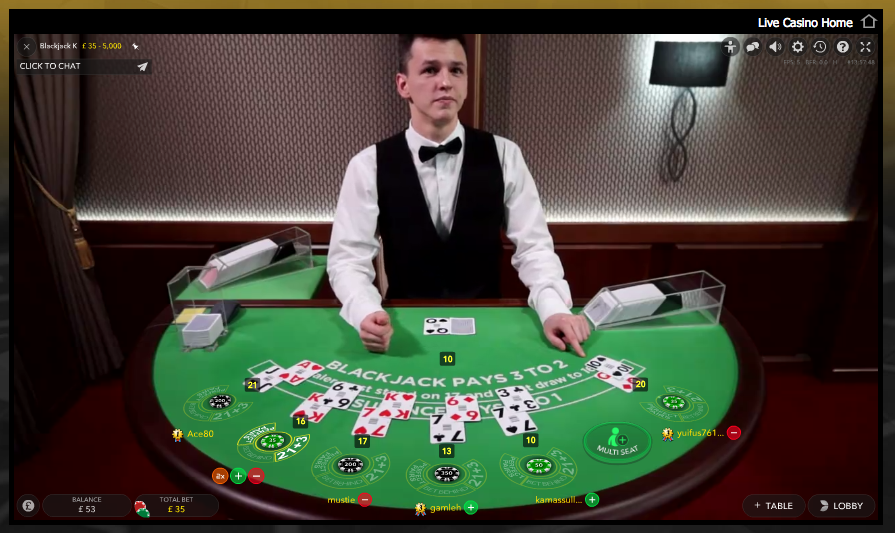 Never mind – on to Roulette Live….
So there it is – feed is fine and the table is clear – although the sound is not great, the dealer is good.
I scatter the table with 29 £1 chips to start with and end up winning and taking my balance back up to £60. It's good to win so up the stakes with £5 chips for the balance, but alas no joy.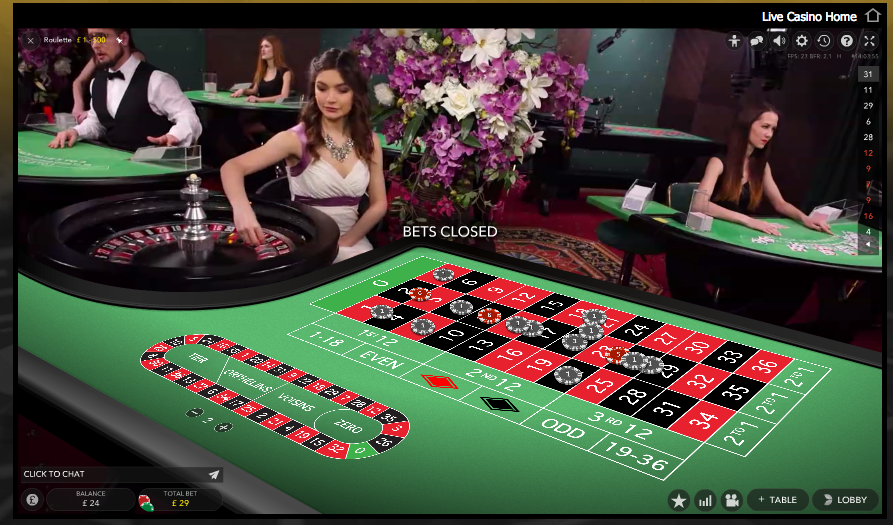 That's it for this BetBright review, I was going to write a little bit on the withdrawal process but alas have no dosh left to take home. Perhaps if you're a BetBright customer you can let other players know what you think…