If you think Facebook has finally got too big for it's boot and think they are headed for the great tech graveyard in the sky here's how to bet on Facebook stock going down.
If you want to bet on facebook stock falling, then you need a financial spread betting broker.
With financial spread betting your stake is essentially a per cent move bet on the share price move.
For example:
The current Facebook share price is $159.39. So, if you think it's going down you would bet £1 per point. The bet would be a short position which means you are selling (.f you're buying your going long).
If the share price went down to $155.15, that a move of $4.24 in your favour. So to work out your profit you times the move by your stake. In this case 424 cents x £1. A profit of £424.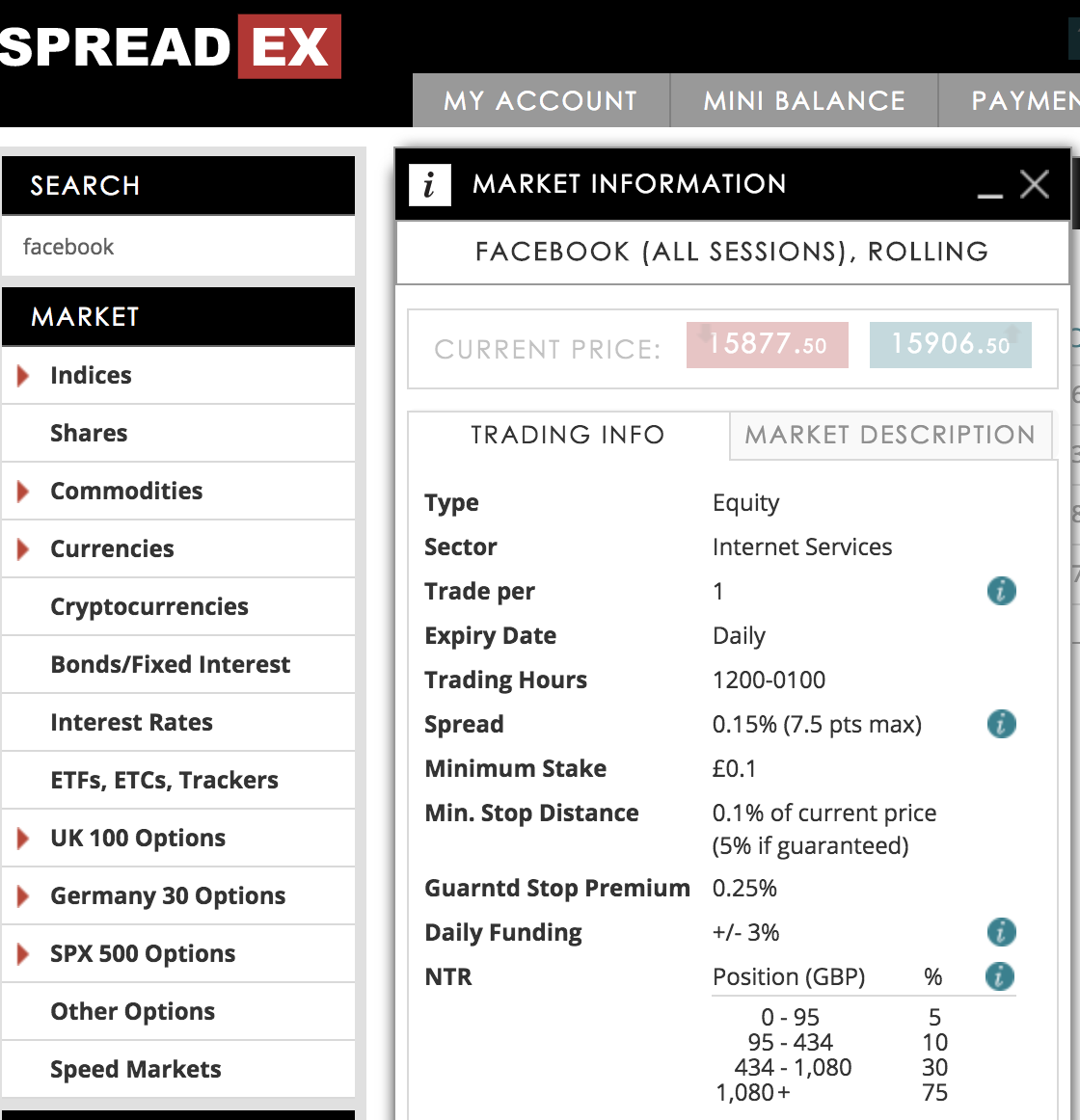 Financial spread betting is done on margin so you only have to put up a small amount of the value of the transaction. In this instance the value of the trade would be £15,939 (the share price ($159.39) times your stake). Large cap stocks normally have margin rates of around 5% so for that bet you'd have to have £796.95 on account.
One of the advantages of spread betting is that you can trade America US denominated stocks in GBP, which is why I've done the values here are GBP.
There are a few risks to spread betting, which are important to highlight. Firstly, it's risky, very risky. You're trading with more money than you have on account so losses are exaggerated.
If you need a spread betting broker for the odd financial trade, go with Spreadex (Read our Spreadex Sports Review…). They also offer sports spread betting, fixed odds and casino and are well respected in both industries. Here's a quick snap shot from their trading platform highlighting the Facebook market info.
If you get the hand of financial spread betting, you may also be interested in sports spread betting. You bet on the horses and football like you do the stock market. It's not for everyone, but should you want to give it a go.