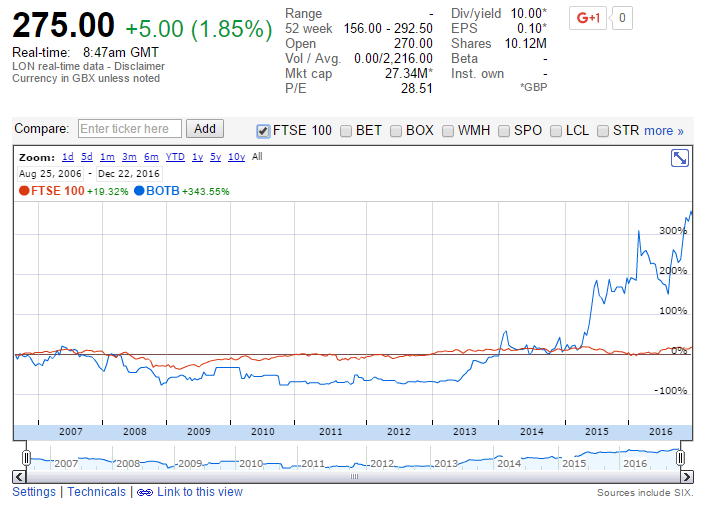 That's right, if you'd invested in BOTB shares back in 2006 and bought a small amount each week you be sitting on a big fat pile of cash.  Enough cash in fact to buy almost any car you want.
I just wrote an article about how there are an awful lot of winners who buy Aston Martin tickets at the airport then end up winning. We took a quick look at the BOTB share price and then another, and then another.
Why?
Because to coin a few city phrases, the stock has gone to the moon, we should have been filling our boots.
So just for fun, I whacked the weekly closing price of the stock in excel (downloaded from Yahoo finance) and calculated the returns if I'd bought £30 worth of stock since 2006 every week rather than bought tickets.
Obviously, I've not been playing £30 a week since the company floated in 2006 but have been a fairly regular player on and off.
Turns out:
If I'd bought £30 worth of tickets every week that would have cost me a total of £16,230.
If instead, I had bought £30 worth of shares each week it would now be worth £117,176.
The share price has after all risen from around 67p in 2006 to current highs of 270. Valuing the company at a smidge over £27 million.
Clearly, there is commission to take into consideration, any discount stock broker would probably charge you £5 so you'd fork out an extra £2,705 for the 541 separate weekly buy orders.
Sure, you'd have to pay tax on profits (nice problem to have right?).
But you could avoid paying tax on profits with financial spread betting, however it's not completely free as there is overnight financing on the equity bets (but depending on your tax situation that may be cheaper). Incidentally, Spreadex (Read our Spreadex Sports Review…) is a good broker for small cap stocks. They also do sports spread betting, fixed odds betting and have a casino.
I know BOTB winners don't pay tax and you pay capital gains on investments but I'm not going to calculate that because everyone's tax position is different, and I don't know enough about it, and it's the most boring thing in the world.
It's obviously not a bullet proof way of buying a supercar, but BOTB has out performed the FTSE 100 by 343%, but then it should because it's a growth company.  But how big can it get? I don't know, but I'll probably carry on playing rather than buying stock.  Becuase quite frankly I'd rather be waiting for a knock on the door one Tuesday morning than reviewing my long-term portfolio investments.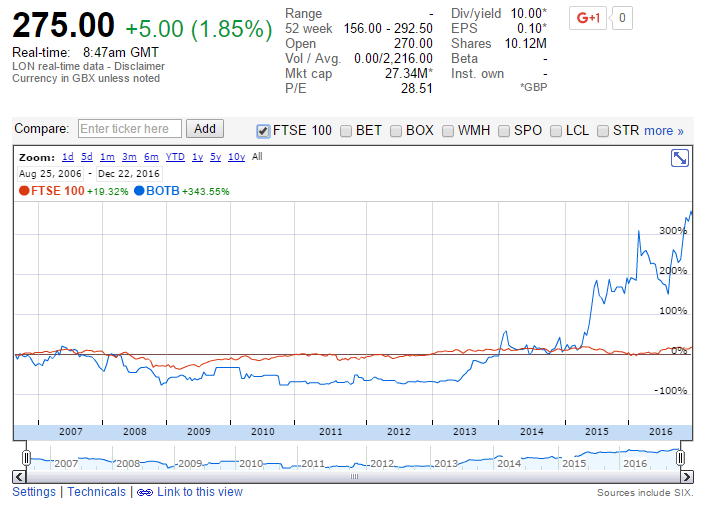 A little disclaimer because this is about stocks and investments. It's not investment advice, investing in small companies is very risky and you can lose all your money in the blink of an eye. If you don't understand the stock market stay well away from high-risk investments and always seek independent investment advice blah blah blah.
If you are so  inclined you can see the weekly closing prices and calculations below. I'm not a mathematician and am consistently wrong when it comes to adding up.  This article is a bit of fun so if I've made mistakes, I'm sorry, I didn't mean to.
| | | | | | |
| --- | --- | --- | --- | --- | --- |
| Date | Close | Buy Cost | Shares | Worth Now | Commission |
| 19-12-16 | 270 | 30 | 11 | 30 | 5 |
| 12-12-16 | 277.5 | 30 | 11 | 29 | 5 |
| 05-12-16 | 257.5 | 30 | 12 | 31 | 5 |
| 28-11-16 | 260 | 30 | 12 | 31 | 5 |
| 21-11-16 | 260 | 30 | 12 | 31 | 5 |
| 14-11-16 | 260 | 30 | 12 | 31 | 5 |
| 07-11-16 | 262.5 | 30 | 11 | 31 | 5 |
| 31-10-16 | 232.5 | 30 | 13 | 35 | 5 |
| 24-10-16 | 215 | 30 | 14 | 38 | 5 |
| 17-10-16 | 215 | 30 | 14 | 38 | 5 |
| 10-10-16 | 212.5 | 30 | 14 | 38 | 5 |
| 03-10-16 | 212.5 | 30 | 14 | 38 | 5 |
| 26-09-16 | 215 | 30 | 14 | 38 | 5 |
| 19-09-16 | 221 | 30 | 14 | 37 | 5 |
| 12-09-16 | 223.5 | 30 | 13 | 36 | 5 |
| 05-09-16 | 227 | 30 | 13 | 36 | 5 |
| 29-08-16 | 221 | 30 | 14 | 37 | 5 |
| 22-08-16 | 190 | 30 | 16 | 43 | 5 |
| 15-08-16 | 172.5 | 30 | 17 | 47 | 5 |
| 08-08-16 | 163.5 | 30 | 18 | 50 | 5 |
| 01-08-16 | 170 | 30 | 18 | 48 | 5 |
| 25-07-16 | 170 | 30 | 18 | 48 | 5 |
| 18-07-16 | 170 | 30 | 18 | 48 | 5 |
| 11-07-16 | 170 | 30 | 18 | 48 | 5 |
| 04-07-16 | 160 | 30 | 19 | 51 | 5 |
| 27-06-16 | 172.5 | 30 | 17 | 47 | 5 |
| 20-06-16 | 185 | 30 | 16 | 44 | 5 |
| 13-06-16 | 185 | 30 | 16 | 44 | 5 |
| 06-06-16 | 192 | 30 | 16 | 42 | 5 |
| 30-05-16 | 197.5 | 30 | 15 | 41 | 5 |
| 23-05-16 | 197.5 | 30 | 15 | 41 | 5 |
| 16-05-16 | 202.5 | 30 | 15 | 40 | 5 |
| 09-05-16 | 202.5 | 30 | 15 | 40 | 5 |
| 02-05-16 | 206.5 | 30 | 15 | 39 | 5 |
| 25-04-16 | 218.5 | 30 | 14 | 37 | 5 |
| 18-04-16 | 218.5 | 30 | 14 | 37 | 5 |
| 11-04-16 | 218.5 | 30 | 14 | 37 | 5 |
| 04-04-16 | 218.5 | 30 | 14 | 37 | 5 |
| 28-03-16 | 218.5 | 30 | 14 | 37 | 5 |
| 21-03-16 | 218.5 | 30 | 14 | 37 | 5 |
| 14-03-16 | 218.5 | 30 | 14 | 37 | 5 |
| 07-03-16 | 218.5 | 30 | 14 | 37 | 5 |
| 29-02-16 | 230 | 30 | 13 | 35 | 5 |
| 22-02-16 | 260 | 30 | 12 | 31 | 5 |
| 15-02-16 | 227.5 | 30 | 13 | 36 | 5 |
| 08-02-16 | 176 | 30 | 17 | 46 | 5 |
| 01-02-16 | 176 | 30 | 17 | 46 | 5 |
| 25-01-16 | 176 | 30 | 17 | 46 | 5 |
| 18-01-16 | 175 | 30 | 17 | 46 | 5 |
| 11-01-16 | 176 | 30 | 17 | 46 | 5 |
| 04-01-16 | 173.5 | 30 | 17 | 47 | 5 |
| 28-12-15 | 176 | 30 | 17 | 46 | 5 |
| 21-12-15 | 176 | 30 | 17 | 46 | 5 |
| 14-12-15 | 176 | 30 | 17 | 46 | 5 |
| 07-12-15 | 176 | 30 | 17 | 46 | 5 |
| 30-11-15 | 160 | 30 | 19 | 51 | 5 |
| 23-11-15 | 165 | 30 | 18 | 49 | 5 |
| 16-11-15 | 165 | 30 | 18 | 49 | 5 |
| 09-11-15 | 170 | 30 | 18 | 48 | 5 |
| 02-11-15 | 170 | 30 | 18 | 48 | 5 |
| 26-10-15 | 170 | 30 | 18 | 48 | 5 |
| 19-10-15 | 170 | 30 | 18 | 48 | 5 |
| 12-10-15 | 170 | 30 | 18 | 48 | 5 |
| 05-10-15 | 160 | 30 | 19 | 51 | 5 |
| 28-09-15 | 160 | 30 | 19 | 51 | 5 |
| 21-09-15 | 165 | 30 | 18 | 49 | 5 |
| 14-09-15 | 165 | 30 | 18 | 49 | 5 |
| 07-09-15 | 175 | 30 | 17 | 46 | 5 |
| 31-08-15 | 165 | 30 | 18 | 49 | 5 |
| 24-08-15 | 159 | 30 | 19 | 51 | 5 |
| 17-08-15 | 143 | 30 | 21 | 57 | 5 |
| 10-08-15 | 143 | 30 | 21 | 57 | 5 |
| 03-08-15 | 155 | 30 | 19 | 52 | 5 |
| 27-07-15 | 155 | 30 | 19 | 52 | 5 |
| 20-07-15 | 155 | 30 | 19 | 52 | 5 |
| 13-07-15 | 152 | 30 | 20 | 53 | 5 |
| 06-07-15 | 177 | 30 | 17 | 46 | 5 |
| 29-06-15 | 182 | 30 | 16 | 45 | 5 |
| 22-06-15 | 185 | 30 | 16 | 44 | 5 |
| 15-06-15 | 162.5 | 30 | 18 | 50 | 5 |
| 08-06-15 | 142.5 | 30 | 21 | 57 | 5 |
| 01-06-15 | 131 | 30 | 23 | 62 | 5 |
| 25-05-15 | 132.5 | 30 | 23 | 61 | 5 |
| 18-05-15 | 107.5 | 30 | 28 | 75 | 5 |
| 11-05-15 | 96.5 | 30 | 31 | 84 | 5 |
| 04-05-15 | 95 | 30 | 32 | 85 | 5 |
| 27-04-15 | 90 | 30 | 33 | 90 | 5 |
| 20-04-15 | 92.5 | 30 | 32 | 88 | 5 |
| 13-04-15 | 75 | 30 | 40 | 108 | 5 |
| 06-04-15 | 75 | 30 | 40 | 108 | 5 |
| 30-03-15 | 73 | 30 | 41 | 111 | 5 |
| 23-03-15 | 73 | 30 | 41 | 111 | 5 |
| 16-03-15 | 73 | 30 | 41 | 111 | 5 |
| 09-03-15 | 73 | 30 | 41 | 111 | 5 |
| 02-03-15 | 73 | 30 | 41 | 111 | 5 |
| 23-02-15 | 73 | 30 | 41 | 111 | 5 |
| 16-02-15 | 73 | 30 | 41 | 111 | 5 |
| 09-02-15 | 73 | 30 | 41 | 111 | 5 |
| 02-02-15 | 73 | 30 | 41 | 111 | 5 |
| 26-01-15 | 73 | 30 | 41 | 111 | 5 |
| 19-01-15 | 73 | 30 | 41 | 111 | 5 |
| 12-01-15 | 73 | 30 | 41 | 111 | 5 |
| 05-01-15 | 70 | 30 | 43 | 116 | 5 |
| 29-12-14 | 68.5 | 30 | 44 | 118 | 5 |
| 22-12-14 | 66 | 30 | 45 | 123 | 5 |
| 15-12-14 | 66 | 30 | 45 | 123 | 5 |
| 08-12-14 | 76 | 30 | 39 | 107 | 5 |
| 01-12-14 | 85 | 30 | 35 | 95 | 5 |
| 24-11-14 | 82 | 30 | 37 | 99 | 5 |
| 17-11-14 | 77.5 | 30 | 39 | 105 | 5 |
| 10-11-14 | 78.5 | 30 | 38 | 103 | 5 |
| 03-11-14 | 72.5 | 30 | 41 | 112 | 5 |
| 27-10-14 | 66 | 30 | 45 | 123 | 5 |
| 20-10-14 | 66 | 30 | 45 | 123 | 5 |
| 13-10-14 | 65 | 30 | 46 | 125 | 5 |
| 06-10-14 | 66 | 30 | 45 | 123 | 5 |
| 29-09-14 | 66.5 | 30 | 45 | 122 | 5 |
| 22-09-14 | 66.5 | 30 | 45 | 122 | 5 |
| 15-09-14 | 67 | 30 | 45 | 121 | 5 |
| 08-09-14 | 72 | 30 | 42 | 113 | 5 |
| 01-09-14 | 72 | 30 | 42 | 113 | 5 |
| 25-08-14 | 72 | 30 | 42 | 113 | 5 |
| 18-08-14 | 72 | 30 | 42 | 113 | 5 |
| 11-08-14 | 70.5 | 30 | 43 | 115 | 5 |
| 04-08-14 | 71 | 30 | 42 | 114 | 5 |
| 28-07-14 | 72.5 | 30 | 41 | 112 | 5 |
| 21-07-14 | 76 | 30 | 39 | 107 | 5 |
| 14-07-14 | 76 | 30 | 39 | 107 | 5 |
| 07-07-14 | 75.5 | 30 | 40 | 107 | 5 |
| 30-06-14 | 68 | 30 | 44 | 119 | 5 |
| 23-06-14 | 62 | 30 | 48 | 131 | 5 |
| 16-06-14 | 62 | 30 | 48 | 131 | 5 |
| 09-06-14 | 67 | 30 | 45 | 121 | 5 |
| 02-06-14 | 74 | 30 | 41 | 109 | 5 |
| 26-05-14 | 71 | 30 | 42 | 114 | 5 |
| 19-05-14 | 71 | 30 | 42 | 114 | 5 |
| 12-05-14 | 70 | 30 | 43 | 116 | 5 |
| 05-05-14 | 70.5 | 30 | 43 | 115 | 5 |
| 28-04-14 | 73 | 30 | 41 | 111 | 5 |
| 21-04-14 | 72.5 | 30 | 41 | 112 | 5 |
| 14-04-14 | 72.5 | 30 | 41 | 112 | 5 |
| 07-04-14 | 72.5 | 30 | 41 | 112 | 5 |
| 31-03-14 | 72.5 | 30 | 41 | 112 | 5 |
| 24-03-14 | 75 | 30 | 40 | 108 | 5 |
| 17-03-14 | 76.5 | 30 | 39 | 106 | 5 |
| 10-03-14 | 76.5 | 30 | 39 | 106 | 5 |
| 03-03-14 | 76.5 | 30 | 39 | 106 | 5 |
| 24-02-14 | 79.5 | 30 | 38 | 102 | 5 |
| 17-02-14 | 85 | 30 | 35 | 95 | 5 |
| 10-02-14 | 97.5 | 30 | 31 | 83 | 5 |
| 03-02-14 | 97.5 | 30 | 31 | 83 | 5 |
| 27-01-14 | 97.5 | 30 | 31 | 83 | 5 |
| 20-01-14 | 92.5 | 30 | 32 | 88 | 5 |
| 13-01-14 | 77 | 30 | 39 | 105 | 5 |
| 06-01-14 | 63 | 30 | 48 | 129 | 5 |
| 30-12-13 | 59 | 30 | 51 | 137 | 5 |
| 23-12-13 | 58 | 30 | 52 | 140 | 5 |
| 16-12-13 | 58 | 30 | 52 | 140 | 5 |
| 09-12-13 | 58 | 30 | 52 | 140 | 5 |
| 02-12-13 | 58 | 30 | 52 | 140 | 5 |
| 25-11-13 | 58 | 30 | 52 | 140 | 5 |
| 18-11-13 | 56.5 | 30 | 53 | 143 | 5 |
| 11-11-13 | 57.5 | 30 | 52 | 141 | 5 |
| 04-11-13 | 57.5 | 30 | 52 | 141 | 5 |
| 28-10-13 | 51.5 | 30 | 58 | 157 | 5 |
| 21-10-13 | 51.5 | 30 | 58 | 157 | 5 |
| 14-10-13 | 49 | 30 | 61 | 165 | 5 |
| 07-10-13 | 49 | 30 | 61 | 165 | 5 |
| 30-09-13 | 49 | 30 | 61 | 165 | 5 |
| 23-09-13 | 49 | 30 | 61 | 165 | 5 |
| 16-09-13 | 50.5 | 30 | 59 | 160 | 5 |
| 09-09-13 | 52 | 30 | 58 | 156 | 5 |
| 02-09-13 | 51 | 30 | 59 | 159 | 5 |
| 26-08-13 | 51 | 30 | 59 | 159 | 5 |
| 19-08-13 | 42 | 30 | 71 | 193 | 5 |
| 12-08-13 | 52 | 30 | 58 | 156 | 5 |
| 05-08-13 | 44 | 30 | 68 | 184 | 5 |
| 29-07-13 | 38 | 30 | 79 | 213 | 5 |
| 22-07-13 | 37.5 | 30 | 80 | 216 | 5 |
| 15-07-13 | 37.5 | 30 | 80 | 216 | 5 |
| 08-07-13 | 36 | 30 | 83 | 225 | 5 |
| 01-07-13 | 32 | 30 | 94 | 253 | 5 |
| 24-06-13 | 31 | 30 | 97 | 261 | 5 |
| 17-06-13 | 30.25 | 30 | 99 | 268 | 5 |
| 10-06-13 | 28.75 | 30 | 104 | 282 | 5 |
| 03-06-13 | 24.5 | 30 | 122 | 331 | 5 |
| 27-05-13 | 22.25 | 30 | 135 | 364 | 5 |
| 20-05-13 | 21.5 | 30 | 140 | 377 | 5 |
| 13-05-13 | 21.75 | 30 | 138 | 372 | 5 |
| 06-05-13 | 21.75 | 30 | 138 | 372 | 5 |
| 29-04-13 | 21.75 | 30 | 138 | 372 | 5 |
| 22-04-13 | 21.75 | 30 | 138 | 372 | 5 |
| 15-04-13 | 21.75 | 30 | 138 | 372 | 5 |
| 08-04-13 | 21.75 | 30 | 138 | 372 | 5 |
| 01-04-13 | 21.75 | 30 | 138 | 372 | 5 |
| 25-03-13 | 21.75 | 30 | 138 | 372 | 5 |
| 18-03-13 | 21.75 | 30 | 138 | 372 | 5 |
| 11-03-13 | 21.75 | 30 | 138 | 372 | 5 |
| 04-03-13 | 21.75 | 30 | 138 | 372 | 5 |
| 25-02-13 | 21 | 30 | 143 | 386 | 5 |
| 18-02-13 | 21 | 30 | 143 | 386 | 5 |
| 11-02-13 | 21 | 30 | 143 | 386 | 5 |
| 04-02-13 | 21 | 30 | 143 | 386 | 5 |
| 28-01-13 | 21 | 30 | 143 | 386 | 5 |
| 21-01-13 | 21.5 | 30 | 140 | 377 | 5 |
| 14-01-13 | 21 | 30 | 143 | 386 | 5 |
| 07-01-13 | 20.5 | 30 | 146 | 395 | 5 |
| 31-12-12 | 20.5 | 30 | 146 | 395 | 5 |
| 24-12-12 | 20.5 | 30 | 146 | 395 | 5 |
| 17-12-12 | 20.5 | 30 | 146 | 395 | 5 |
| 10-12-12 | 20.5 | 30 | 146 | 395 | 5 |
| 03-12-12 | 20.5 | 30 | 146 | 395 | 5 |
| 26-11-12 | 20.5 | 30 | 146 | 395 | 5 |
| 19-11-12 | 20.5 | 30 | 146 | 395 | 5 |
| 12-11-12 | 21 | 30 | 143 | 386 | 5 |
| 05-11-12 | 21.5 | 30 | 140 | 377 | 5 |
| 29-10-12 | 21.5 | 30 | 140 | 377 | 5 |
| 22-10-12 | 21.5 | 30 | 140 | 377 | 5 |
| 15-10-12 | 21.5 | 30 | 140 | 377 | 5 |
| 08-10-12 | 21 | 30 | 143 | 386 | 5 |
| 01-10-12 | 21 | 30 | 143 | 386 | 5 |
| 24-09-12 | 21 | 30 | 143 | 386 | 5 |
| 17-09-12 | 21 | 30 | 143 | 386 | 5 |
| 10-09-12 | 21 | 30 | 143 | 386 | 5 |
| 03-09-12 | 20.25 | 30 | 148 | 400 | 5 |
| 27-08-12 | 19.5 | 30 | 154 | 415 | 5 |
| 20-08-12 | 19.5 | 30 | 154 | 415 | 5 |
| 13-08-12 | 19.5 | 30 | 154 | 415 | 5 |
| 06-08-12 | 19 | 30 | 158 | 426 | 5 |
| 30-07-12 | 19 | 30 | 158 | 426 | 5 |
| 23-07-12 | 19 | 30 | 158 | 426 | 5 |
| 16-07-12 | 19 | 30 | 158 | 426 | 5 |
| 09-07-12 | 19 | 30 | 158 | 426 | 5 |
| 02-07-12 | 19.5 | 30 | 154 | 415 | 5 |
| 25-06-12 | 19.5 | 30 | 154 | 415 | 5 |
| 18-06-12 | 20.5 | 30 | 146 | 395 | 5 |
| 11-06-12 | 22.5 | 30 | 133 | 360 | 5 |
| 04-06-12 | 22.5 | 30 | 133 | 360 | 5 |
| 28-05-12 | 22.5 | 30 | 133 | 360 | 5 |
| 21-05-12 | 22.5 | 30 | 133 | 360 | 5 |
| 14-05-12 | 22.5 | 30 | 133 | 360 | 5 |
| 07-05-12 | 22.5 | 30 | 133 | 360 | 5 |
| 30-04-12 | 22.5 | 30 | 133 | 360 | 5 |
| 23-04-12 | 22.5 | 30 | 133 | 360 | 5 |
| 16-04-12 | 22.5 | 30 | 133 | 360 | 5 |
| 09-04-12 | 22.5 | 30 | 133 | 360 | 5 |
| 02-04-12 | 22.5 | 30 | 133 | 360 | 5 |
| 26-03-12 | 22.5 | 30 | 133 | 360 | 5 |
| 19-03-12 | 24 | 30 | 125 | 338 | 5 |
| 12-03-12 | 26 | 30 | 115 | 312 | 5 |
| 05-03-12 | 26 | 30 | 115 | 312 | 5 |
| 27-02-12 | 26 | 30 | 115 | 312 | 5 |
| 20-02-12 | 26 | 30 | 115 | 312 | 5 |
| 13-02-12 | 26 | 30 | 115 | 312 | 5 |
| 06-02-12 | 26 | 30 | 115 | 312 | 5 |
| 30-01-12 | 25.5 | 30 | 118 | 318 | 5 |
| 23-01-12 | 25.5 | 30 | 118 | 318 | 5 |
| 16-01-12 | 24.5 | 30 | 122 | 331 | 5 |
| 09-01-12 | 24.5 | 30 | 122 | 331 | 5 |
| 02-01-12 | 24.5 | 30 | 122 | 331 | 5 |
| 26-12-11 | 23.5 | 30 | 128 | 345 | 5 |
| 19-12-11 | 23.5 | 30 | 128 | 345 | 5 |
| 12-12-11 | 24.5 | 30 | 122 | 331 | 5 |
| 05-12-11 | 25.5 | 30 | 118 | 318 | 5 |
| 28-11-11 | 25.5 | 30 | 118 | 318 | 5 |
| 21-11-11 | 28.5 | 30 | 105 | 284 | 5 |
| 14-11-11 | 32.5 | 30 | 92 | 249 | 5 |
| 07-11-11 | 31.5 | 30 | 95 | 257 | 5 |
| 31-10-11 | 31 | 30 | 97 | 261 | 5 |
| 24-10-11 | 17.75 | 30 | 169 | 456 | 5 |
| 17-10-11 | 17.5 | 30 | 171 | 463 | 5 |
| 10-10-11 | 17.5 | 30 | 171 | 463 | 5 |
| 03-10-11 | 17.5 | 30 | 171 | 463 | 5 |
| 26-09-11 | 17.5 | 30 | 171 | 463 | 5 |
| 19-09-11 | 18.5 | 30 | 162 | 438 | 5 |
| 12-09-11 | 18.5 | 30 | 162 | 438 | 5 |
| 05-09-11 | 19 | 30 | 158 | 426 | 5 |
| 30-08-11 | 19 | 30 | 158 | 426 | 5 |
| 22-08-11 | 19 | 30 | 158 | 426 | 5 |
| 15-08-11 | 19.5 | 30 | 154 | 415 | 5 |
| 08-08-11 | 19.5 | 30 | 154 | 415 | 5 |
| 01-08-11 | 19.5 | 30 | 154 | 415 | 5 |
| 25-07-11 | 19.5 | 30 | 154 | 415 | 5 |
| 18-07-11 | 19.5 | 30 | 154 | 415 | 5 |
| 11-07-11 | 20.5 | 30 | 146 | 395 | 5 |
| 04-07-11 | 19 | 30 | 158 | 426 | 5 |
| 27-06-11 | 16.5 | 30 | 182 | 491 | 5 |
| 20-06-11 | 16 | 30 | 188 | 506 | 5 |
| 13-06-11 | 16.5 | 30 | 182 | 491 | 5 |
| 06-06-11 | 17.5 | 30 | 171 | 463 | 5 |
| 31-05-11 | 17.5 | 30 | 171 | 463 | 5 |
| 23-05-11 | 17.5 | 30 | 171 | 463 | 5 |
| 16-05-11 | 18 | 30 | 167 | 450 | 5 |
| 09-05-11 | 18.5 | 30 | 162 | 438 | 5 |
| 03-05-11 | 18.5 | 30 | 162 | 438 | 5 |
| 26-04-11 | 18.5 | 30 | 162 | 438 | 5 |
| 18-04-11 | 18.5 | 30 | 162 | 438 | 5 |
| 11-04-11 | 19 | 30 | 158 | 426 | 5 |
| 04-04-11 | 19.5 | 30 | 154 | 415 | 5 |
| 28-03-11 | 18.5 | 30 | 162 | 438 | 5 |
| 21-03-11 | 18.5 | 30 | 162 | 438 | 5 |
| 14-03-11 | 18.5 | 30 | 162 | 438 | 5 |
| 07-03-11 | 18.5 | 30 | 162 | 438 | 5 |
| 28-02-11 | 19.5 | 30 | 154 | 415 | 5 |
| 21-02-11 | 19.5 | 30 | 154 | 415 | 5 |
| 14-02-11 | 19.5 | 30 | 154 | 415 | 5 |
| 07-02-11 | 19.5 | 30 | 154 | 415 | 5 |
| 31-01-11 | 19.5 | 30 | 154 | 415 | 5 |
| 24-01-11 | 21.5 | 30 | 140 | 377 | 5 |
| 17-01-11 | 21.5 | 30 | 140 | 377 | 5 |
| 10-01-11 | 21.5 | 30 | 140 | 377 | 5 |
| 04-01-11 | 19.5 | 30 | 154 | 415 | 5 |
| 27-12-10 | 21.5 | 30 | 140 | 377 | 5 |
| 20-12-10 | 21.5 | 30 | 140 | 377 | 5 |
| 13-12-10 | 20.5 | 30 | 146 | 395 | 5 |
| 06-12-10 | 20.5 | 30 | 146 | 395 | 5 |
| 29-11-10 | 18.5 | 30 | 162 | 438 | 5 |
| 22-11-10 | 19.5 | 30 | 154 | 415 | 5 |
| 15-11-10 | 19.5 | 30 | 154 | 415 | 5 |
| 08-11-10 | 19.5 | 30 | 154 | 415 | 5 |
| 01-11-10 | 20.5 | 30 | 146 | 395 | 5 |
| 25-10-10 | 20.5 | 30 | 146 | 395 | 5 |
| 18-10-10 | 20.5 | 30 | 146 | 395 | 5 |
| 11-10-10 | 18.5 | 30 | 162 | 438 | 5 |
| 04-10-10 | 29.5 | 30 | 102 | 275 | 5 |
| 27-09-10 | 32.5 | 30 | 92 | 249 | 5 |
| 20-09-10 | 32.5 | 30 | 92 | 249 | 5 |
| 13-09-10 | 34.5 | 30 | 87 | 235 | 5 |
| 06-09-10 | 34.5 | 30 | 87 | 235 | 5 |
| 30-08-10 | 34.5 | 30 | 87 | 235 | 5 |
| 23-08-10 | 34.5 | 30 | 87 | 235 | 5 |
| 16-08-10 | 32.5 | 30 | 92 | 249 | 5 |
| 09-08-10 | 33.5 | 30 | 90 | 242 | 5 |
| 02-08-10 | 33.5 | 30 | 90 | 242 | 5 |
| 26-07-10 | 33.5 | 30 | 90 | 242 | 5 |
| 19-07-10 | 31.5 | 30 | 95 | 257 | 5 |
| 12-07-10 | 31.5 | 30 | 95 | 257 | 5 |
| 05-07-10 | 26 | 30 | 115 | 312 | 5 |
| 28-06-10 | 26 | 30 | 115 | 312 | 5 |
| 21-06-10 | 28 | 30 | 107 | 289 | 5 |
| 14-06-10 | 30 | 30 | 100 | 270 | 5 |
| 07-06-10 | 30 | 30 | 100 | 270 | 5 |
| 31-05-10 | 30 | 30 | 100 | 270 | 5 |
| 24-05-10 | 30 | 30 | 100 | 270 | 5 |
| 17-05-10 | 30 | 30 | 100 | 270 | 5 |
| 10-05-10 | 30 | 30 | 100 | 270 | 5 |
| 03-05-10 | 32.5 | 30 | 92 | 249 | 5 |
| 26-04-10 | 34.5 | 30 | 87 | 235 | 5 |
| 19-04-10 | 32.5 | 30 | 92 | 249 | 5 |
| 12-04-10 | 35.5 | 30 | 85 | 228 | 5 |
| 05-04-10 | 35.5 | 30 | 85 | 228 | 5 |
| 29-03-10 | 35.5 | 30 | 85 | 228 | 5 |
| 22-03-10 | 35.5 | 30 | 85 | 228 | 5 |
| 15-03-10 | 32.5 | 30 | 92 | 249 | 5 |
| 08-03-10 | 32.5 | 30 | 92 | 249 | 5 |
| 01-03-10 | 34.5 | 30 | 87 | 235 | 5 |
| 22-02-10 | 37.5 | 30 | 80 | 216 | 5 |
| 15-02-10 | 37.5 | 30 | 80 | 216 | 5 |
| 08-02-10 | 37.5 | 30 | 80 | 216 | 5 |
| 01-02-10 | 37.5 | 30 | 80 | 216 | 5 |
| 25-01-10 | 34.5 | 30 | 87 | 235 | 5 |
| 18-01-10 | 35.5 | 30 | 85 | 228 | 5 |
| 11-01-10 | 34.5 | 30 | 87 | 235 | 5 |
| 04-01-10 | 32.5 | 30 | 92 | 249 | 5 |
| 30-12-09 | 32.5 | 30 | 92 | 249 | 5 |
| 21-12-09 | 32.5 | 30 | 92 | 249 | 5 |
| 14-12-09 | 30.5 | 30 | 98 | 266 | 5 |
| 07-12-09 | 34.5 | 30 | 87 | 235 | 5 |
| 30-11-09 | 34.5 | 30 | 87 | 235 | 5 |
| 23-11-09 | 37.5 | 30 | 80 | 216 | 5 |
| 16-11-09 | 37.5 | 30 | 80 | 216 | 5 |
| 09-11-09 | 37.5 | 30 | 80 | 216 | 5 |
| 02-11-09 | 37.5 | 30 | 80 | 216 | 5 |
| 26-10-09 | 37.5 | 30 | 80 | 216 | 5 |
| 19-10-09 | 37.5 | 30 | 80 | 216 | 5 |
| 12-10-09 | 37.5 | 30 | 80 | 216 | 5 |
| 05-10-09 | 39.5 | 30 | 76 | 205 | 5 |
| 28-09-09 | 35.5 | 30 | 85 | 228 | 5 |
| 21-09-09 | 32.5 | 30 | 92 | 249 | 5 |
| 14-09-09 | 34.5 | 30 | 87 | 235 | 5 |
| 07-09-09 | 34.5 | 30 | 87 | 235 | 5 |
| 31-08-09 | 34.5 | 30 | 87 | 235 | 5 |
| 24-08-09 | 30.5 | 30 | 98 | 266 | 5 |
| 17-08-09 | 32.5 | 30 | 92 | 249 | 5 |
| 10-08-09 | 32.5 | 30 | 92 | 249 | 5 |
| 03-08-09 | 32.5 | 30 | 92 | 249 | 5 |
| 27-07-09 | 32.5 | 30 | 92 | 249 | 5 |
| 20-07-09 | 32.5 | 30 | 92 | 249 | 5 |
| 13-07-09 | 26.5 | 30 | 113 | 306 | 5 |
| 06-07-09 | 26.5 | 30 | 113 | 306 | 5 |
| 29-06-09 | 26.5 | 30 | 113 | 306 | 5 |
| 22-06-09 | 22.5 | 30 | 133 | 360 | 5 |
| 15-06-09 | 24.5 | 30 | 122 | 331 | 5 |
| 08-06-09 | 24.5 | 30 | 122 | 331 | 5 |
| 01-06-09 | 23.5 | 30 | 128 | 345 | 5 |
| 25-05-09 | 23.5 | 30 | 128 | 345 | 5 |
| 18-05-09 | 24 | 30 | 125 | 338 | 5 |
| 11-05-09 | 27.5 | 30 | 109 | 295 | 5 |
| 04-05-09 | 24.5 | 30 | 122 | 331 | 5 |
| 27-04-09 | 26.5 | 30 | 113 | 306 | 5 |
| 20-04-09 | 26.5 | 30 | 113 | 306 | 5 |
| 13-04-09 | 31.5 | 30 | 95 | 257 | 5 |
| 06-04-09 | 31.5 | 30 | 95 | 257 | 5 |
| 30-03-09 | 31.5 | 30 | 95 | 257 | 5 |
| 23-03-09 | 33.5 | 30 | 90 | 242 | 5 |
| 16-03-09 | 33.5 | 30 | 90 | 242 | 5 |
| 09-03-09 | 33.5 | 30 | 90 | 242 | 5 |
| 02-03-09 | 31.5 | 30 | 95 | 257 | 5 |
| 23-02-09 | 31.5 | 30 | 95 | 257 | 5 |
| 16-02-09 | 28.5 | 30 | 105 | 284 | 5 |
| 09-02-09 | 28.5 | 30 | 105 | 284 | 5 |
| 02-02-09 | 28.5 | 30 | 105 | 284 | 5 |
| 26-01-09 | 23.5 | 30 | 128 | 345 | 5 |
| 19-01-09 | 23.5 | 30 | 128 | 345 | 5 |
| 12-01-09 | 23.5 | 30 | 128 | 345 | 5 |
| 05-01-09 | 23.5 | 30 | 128 | 345 | 5 |
| 29-12-08 | 16.5 | 30 | 182 | 491 | 5 |
| 22-12-08 | 18.5 | 30 | 162 | 438 | 5 |
| 15-12-08 | 18.5 | 30 | 162 | 438 | 5 |
| 08-12-08 | 18.5 | 30 | 162 | 438 | 5 |
| 01-12-08 | 18.5 | 30 | 162 | 438 | 5 |
| 24-11-08 | 18.5 | 30 | 162 | 438 | 5 |
| 17-11-08 | 24.5 | 30 | 122 | 331 | 5 |
| 10-11-08 | 27.5 | 30 | 109 | 295 | 5 |
| 03-11-08 | 27.5 | 30 | 109 | 295 | 5 |
| 27-10-08 | 27.5 | 30 | 109 | 295 | 5 |
| 20-10-08 | 27.5 | 30 | 109 | 295 | 5 |
| 13-10-08 | 32.5 | 30 | 92 | 249 | 5 |
| 06-10-08 | 36.5 | 30 | 82 | 222 | 5 |
| 29-09-08 | 38.5 | 30 | 78 | 210 | 5 |
| 22-09-08 | 41.5 | 30 | 72 | 195 | 5 |
| 15-09-08 | 41 | 30 | 73 | 198 | 5 |
| 08-09-08 | 41 | 30 | 73 | 198 | 5 |
| 01-09-08 | 42 | 30 | 71 | 193 | 5 |
| 25-08-08 | 42 | 30 | 71 | 193 | 5 |
| 18-08-08 | 42 | 30 | 71 | 193 | 5 |
| 11-08-08 | 42.5 | 30 | 71 | 191 | 5 |
| 04-08-08 | 42.5 | 30 | 71 | 191 | 5 |
| 28-07-08 | 45.5 | 30 | 66 | 178 | 5 |
| 21-07-08 | 39.5 | 30 | 76 | 205 | 5 |
| 14-07-08 | 32.5 | 30 | 92 | 249 | 5 |
| 07-07-08 | 34.5 | 30 | 87 | 235 | 5 |
| 30-06-08 | 34.5 | 30 | 87 | 235 | 5 |
| 23-06-08 | 34.5 | 30 | 87 | 235 | 5 |
| 16-06-08 | 34.5 | 30 | 87 | 235 | 5 |
| 09-06-08 | 34.5 | 30 | 87 | 235 | 5 |
| 02-06-08 | 34.5 | 30 | 87 | 235 | 5 |
| 26-05-08 | 35.5 | 30 | 85 | 228 | 5 |
| 19-05-08 | 35 | 30 | 86 | 231 | 5 |
| 12-05-08 | 44.5 | 30 | 67 | 182 | 5 |
| 05-05-08 | 45.5 | 30 | 66 | 178 | 5 |
| 28-04-08 | 45.5 | 30 | 66 | 178 | 5 |
| 21-04-08 | 54 | 30 | 56 | 150 | 5 |
| 14-04-08 | 59.5 | 30 | 50 | 136 | 5 |
| 07-04-08 | 62 | 30 | 48 | 131 | 5 |
| 31-03-08 | 62.5 | 30 | 48 | 130 | 5 |
| 24-03-08 | 63.5 | 30 | 47 | 128 | 5 |
| 17-03-08 | 59.5 | 30 | 50 | 136 | 5 |
| 10-03-08 | 59.5 | 30 | 50 | 136 | 5 |
| 03-03-08 | 61.5 | 30 | 49 | 132 | 5 |
| 25-02-08 | 61.5 | 30 | 49 | 132 | 5 |
| 18-02-08 | 61.5 | 30 | 49 | 132 | 5 |
| 11-02-08 | 61.5 | 30 | 49 | 132 | 5 |
| 04-02-08 | 61.5 | 30 | 49 | 132 | 5 |
| 28-01-08 | 59.5 | 30 | 50 | 136 | 5 |
| 21-01-08 | 44.5 | 30 | 67 | 182 | 5 |
| 14-01-08 | 45.5 | 30 | 66 | 178 | 5 |
| 07-01-08 | 36 | 30 | 83 | 225 | 5 |
| 31-12-07 | 39.5 | 30 | 76 | 205 | 5 |
| 24-12-07 | 39.5 | 30 | 76 | 205 | 5 |
| 17-12-07 | 39.5 | 30 | 76 | 205 | 5 |
| 10-12-07 | 42.5 | 30 | 71 | 191 | 5 |
| 03-12-07 | 44 | 30 | 68 | 184 | 5 |
| 26-11-07 | 49.5 | 30 | 61 | 164 | 5 |
| 19-11-07 | 49.5 | 30 | 61 | 164 | 5 |
| 12-11-07 | 54.5 | 30 | 55 | 149 | 5 |
| 05-11-07 | 54.5 | 30 | 55 | 149 | 5 |
| 29-10-07 | 58.5 | 30 | 51 | 138 | 5 |
| 22-10-07 | 58.5 | 30 | 51 | 138 | 5 |
| 15-10-07 | 59.5 | 30 | 50 | 136 | 5 |
| 08-10-07 | 59.5 | 30 | 50 | 136 | 5 |
| 01-10-07 | 59.5 | 30 | 50 | 136 | 5 |
| 24-09-07 | 59.5 | 30 | 50 | 136 | 5 |
| 17-09-07 | 59.5 | 30 | 50 | 136 | 5 |
| 10-09-07 | 60.5 | 30 | 50 | 134 | 5 |
| 03-09-07 | 60.5 | 30 | 50 | 134 | 5 |
| 27-08-07 | 61.5 | 30 | 49 | 132 | 5 |
| 20-08-07 | 60.5 | 30 | 50 | 134 | 5 |
| 13-08-07 | 64.5 | 30 | 47 | 126 | 5 |
| 06-08-07 | 70.5 | 30 | 43 | 115 | 5 |
| 30-07-07 | 70.5 | 30 | 43 | 115 | 5 |
| 23-07-07 | 70.5 | 30 | 43 | 115 | 5 |
| 16-07-07 | 69.5 | 30 | 43 | 117 | 5 |
| 09-07-07 | 68 | 30 | 44 | 119 | 5 |
| 02-07-07 | 68 | 30 | 44 | 119 | 5 |
| 25-06-07 | 70.5 | 30 | 43 | 115 | 5 |
| 18-06-07 | 70.5 | 30 | 43 | 115 | 5 |
| 11-06-07 | 72.5 | 30 | 41 | 112 | 5 |
| 04-06-07 | 75.5 | 30 | 40 | 107 | 5 |
| 28-05-07 | 75.5 | 30 | 40 | 107 | 5 |
| 21-05-07 | 75.5 | 30 | 40 | 107 | 5 |
| 14-05-07 | 75.5 | 30 | 40 | 107 | 5 |
| 07-05-07 | 75.5 | 30 | 40 | 107 | 5 |
| 30-04-07 | 63 | 30 | 48 | 129 | 5 |
| 23-04-07 | 66 | 30 | 45 | 123 | 5 |
| 16-04-07 | 69 | 30 | 43 | 117 | 5 |
| 09-04-07 | 59.5 | 30 | 50 | 136 | 5 |
| 02-04-07 | 59.5 | 30 | 50 | 136 | 5 |
| 26-03-07 | 57.5 | 30 | 52 | 141 | 5 |
| 19-03-07 | 57.5 | 30 | 52 | 141 | 5 |
| 12-03-07 | 56.5 | 30 | 53 | 143 | 5 |
| 05-03-07 | 56.5 | 30 | 53 | 143 | 5 |
| 26-02-07 | 52.5 | 30 | 57 | 154 | 5 |
| 19-02-07 | 52.5 | 30 | 57 | 154 | 5 |
| 12-02-07 | 51.5 | 30 | 58 | 157 | 5 |
| 05-02-07 | 52.5 | 30 | 57 | 154 | 5 |
| 29-01-07 | 52.5 | 30 | 57 | 154 | 5 |
| 22-01-07 | 46 | 30 | 65 | 176 | 5 |
| 15-01-07 | 47.5 | 30 | 63 | 171 | 5 |
| 08-01-07 | 48.5 | 30 | 62 | 167 | 5 |
| 01-01-07 | 47.5 | 30 | 63 | 171 | 5 |
| 25-12-06 | 47.5 | 30 | 63 | 171 | 5 |
| 18-12-06 | 47.5 | 30 | 63 | 171 | 5 |
| 11-12-06 | 47.5 | 30 | 63 | 171 | 5 |
| 04-12-06 | 47.5 | 30 | 63 | 171 | 5 |
| 27-11-06 | 52.5 | 30 | 57 | 154 | 5 |
| 20-11-06 | 54.5 | 30 | 55 | 149 | 5 |
| 13-11-06 | 57.5 | 30 | 52 | 141 | 5 |
| 06-11-06 | 58.5 | 30 | 51 | 138 | 5 |
| 30-10-06 | 59.5 | 30 | 50 | 136 | 5 |
| 23-10-06 | 59.5 | 30 | 50 | 136 | 5 |
| 16-10-06 | 58.5 | 30 | 51 | 138 | 5 |
| 09-10-06 | 60.5 | 30 | 50 | 134 | 5 |
| 02-10-06 | 60.5 | 30 | 50 | 134 | 5 |
| 25-09-06 | 60.5 | 30 | 50 | 134 | 5 |
| 18-09-06 | 61.5 | 30 | 49 | 132 | 5 |
| 11-09-06 | 62 | 30 | 48 | 131 | 5 |
| 04-09-06 | 55 | 30 | 55 | 147 | 5 |
| 28-08-06 | 62.5 | 30 | 48 | 130 | 5 |
| 21-08-06 | 61.5 | 30 | 49 | 132 | 5 |
| 14-08-06 | 63.5 | 30 | 47 | 128 | 5 |
| | | | | | |
| | | | | | |
| |   | Spent on stock | Amount of shares | Value of shares | Commission |
| Totals |   | 16,230 |                  43,398.88 |           117,176.97 | 2705 |
BetOpin Recommended Bookies