There are only two sports spread betting bookies in the UK (and therefore the world) that are any good.  Spreadex and Sporting Index.  Both are well established, regulated by the FCA and more importantly offer good welcome bonuses to new punters.
Here's how it works. Spreadex will offer you an iPad Air 2 and Sporting Index will offer you £100 in your account for free when you sign up.
Please note that since this article was written Sporting Index have reduced their welcome offer to £50
Step 1 – you need to open an account with Spreadex and Sporting Index. Read our Spreadex Sports Review…
Step 2 – you need to deposit £100 into your Spreadex account
Step 3- Find a market to bet on.  In this example we'll look at a horse race at Goodwood. And place a bet on Arabian Illusion. You can see the prices offered by Spreadex versus Sporting Index in the image below.
If you are not familiar with how spread betting on horses works, you are essentially buying a price and betting a certain amount for every point that price changes. When betting on horses the price settles at either 50 for a win, 25 for second or 10 for third. If you were to bet £10 per point on Arabian Illusion to win, you would be buying £10 per point with Spreadex at 36 or 38 with Sporting Index.  In this case Sporting Index are slighting more optimistic on the win.
As Sporting Index are giving you the £100 free in your account it doesn't matter if you lose it so you want to place your winning bets in Spreadex.  Your max loss should be set at £100 so you need to calculate that into your stake.
In this case If you buy with Spreadex at 36 at £2.5 per point and the horse lost you would lose 36*£2.50 = £90.  But if the horse wins you gain (36-50)*£2.5 = £35.
So to negate that loss, you would use your free £100 with Sporting Index to offset and hedge the bet and sell at 35.  So if the horse wins, you gain £35 with Spreadex but lose £2.5*(35-50)=£62.50 with Sporting Index.  But that doesn't matter be cause the £62.50 you lost was bonus funds from Sporting Index.  Then you withdraw your original £100 plus £35 winnings from Spreadex.
If the horse loses then you lose the bet with Spreadex, but can still withdraw the profits from Sporting Index.  In this case your profits with Sporting Index would be 35*£2.5 = £87.5 and your loss with Spreadex would be 36*£2.5 = £90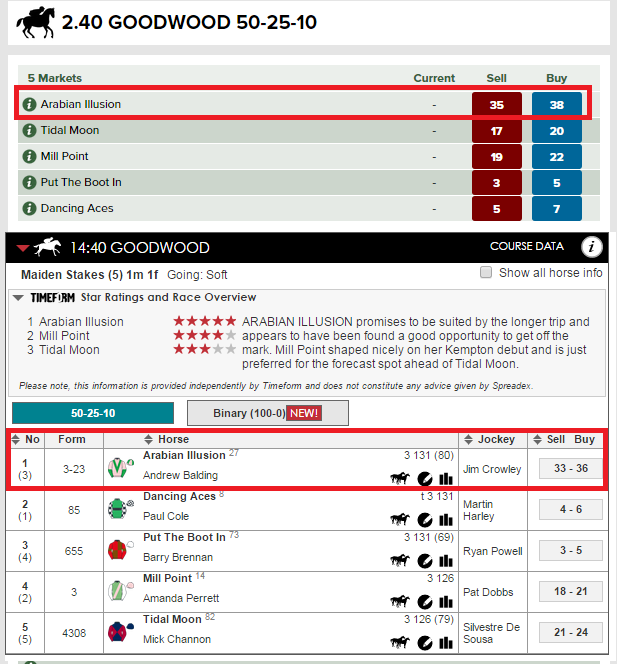 So there are Pros – you can either lose £2.5 or make £35, not a great return.  But, you can keep on trucking and keep on hedging your bets between Spreadex and Sporting Index until you blag yourself one of the free iPad Air 2s on offer once you place a certain amount of bets with Spreadex.