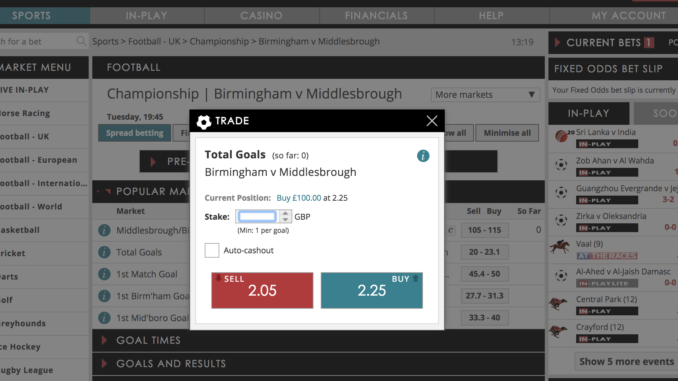 So, I was at the races, in a box actually, that was hosted by a bookie. I spent quite a considerable amount of time talking about the mechanics of betting, liquidity blah blah blah. But, when I started talking about spread betting no-one knew what on earth I was talking about.
I found this quite odd because we were talking to professional sports traders, who said they didn't spread bet because they weren't interested in beating the spread. Which of course is the gaustly American version of spread betting. Not of course, sports spread betting, which is where you buy and sell the price of a market. A bit like trading stocks or Forex.
Anyway, if you don't understand sports spread betting, that's ok because even the boss of Spreadex, Jonathan Hufford (one of the only two sports spread betting bookies in the UK) says it's not for everyone. Read our Spreadex Sports Review…
So here's a quick example of how to sports spread bet on football total match goals
For this example we're going to place a bet on Birmingham City Versus Middlesbrough
Why?
Well, Stratabet have a 4* signal that suggests total goals, should be over 2 and last time we bet on total goals with them it worked out quite nicely.

So, Stratabet suggests that there should be more than 2 goals scored in the match. This is for a variety of reasons. If you are interested you can see why in Stratabet's match preview here.
If you were to bet normally you'd get odds 1.2 that over 1.5 goals would be scored. So if you bet £200 and you're right your total return would be £46 and your risk is £200.
But with sports spread betting the more right you are the more you make. So looking at Spreadex's total goals market for the match it shows 2.05 to 2.25. Which means they also think there will be slightly more than 2 goals in the match, but not much more.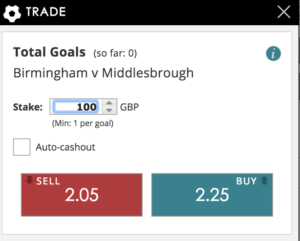 So, if you buy £100 per point you will make £100 for every goal over 2. As you have bought at 2.25 you make £75 on the first then £100 for every goal after that.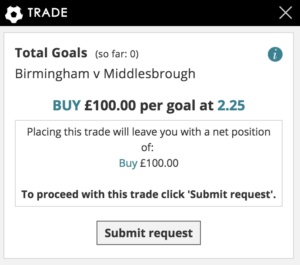 However, if there are no goals you lose £100 * 2.25 = £225. but if there are 5 goals you make (5-2.25)*5 = £275.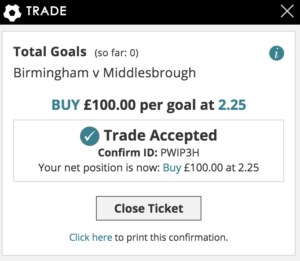 As it happens, this bet lost, so there you go, gambling is all about balance.  Not completely though as there was one goal scored, which means the bet settled at 1 at a loss of £125.
BetOpin Recommended Bookies