Spreadex Open Account
Summary:
Spreadex – How to Open An Account
Spreadex is a top-notch spread betting broker. The platform offers all the markets you could possibly want to trade, along with contract months. Best of all, they have small minimum bet sizes for most of their markets along with highly competitive spreads.
Opening an account is quick and easy at Spreadex so you can start trading in no time at all. Our step by step guide shows you how to sign up effortlessly and make your first deposit, place a bet and then make a withdrawal.
How to Open a Spreadex Account
Step 1 – Join Spreadex
Click on the Spreadex homepage and then the Join button in the top right-hand corner of the page. A pop-up registration form will appear for you to fill in.

Step 2 – Create An Account
Fill in the required details, including:
Title
First name
Surname
Create a username
Create a password
Country of residence
Confirm that you're over 18 and have read the terms and conditions.
Click Next.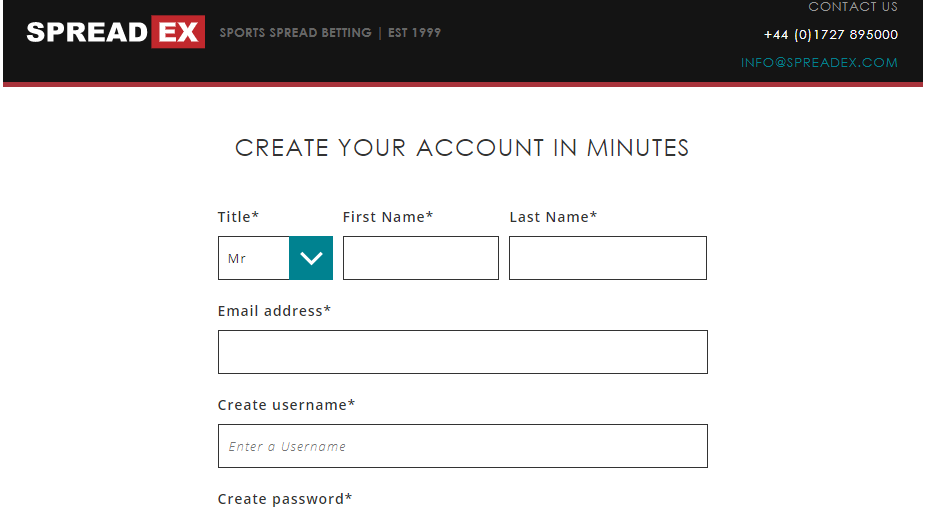 Step 3 – Fill In Your Personal Details
Complete the form by entering the following details:
Chosen name
Date of birth
Primary phone number
House number
Postcode
Click Save Details.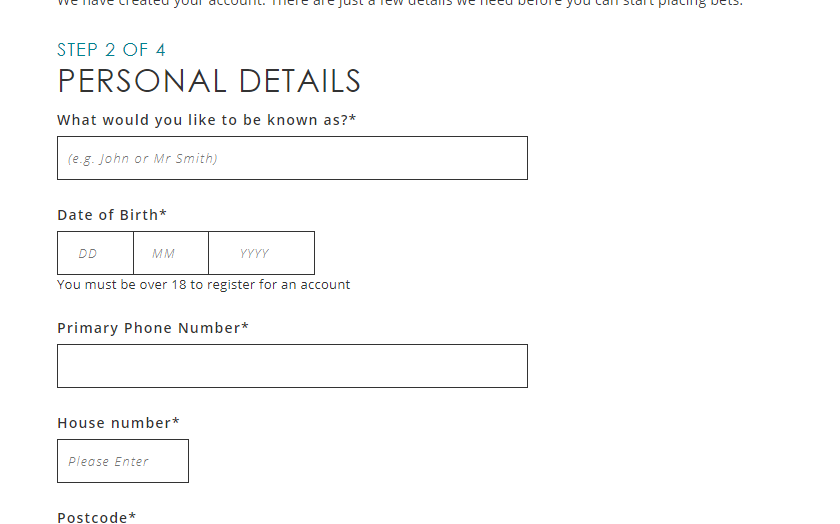 Step 4 – Wait for Your Account to be Approved
Once you've completed the sign-up process, you'll need to wait 24 hours for Spreadex to approve your account.
When you receive a confirmation, you can make your first deposit.
How to Make a Deposit At Spreadex
Login to your new Spreadex account and click on Deposit.
Choose a preferred payment method. Spreadex accepts e-wallets as well as major credit and debit cards. They do not accept cheques or bank transfers.
Enter the amount you want to deposit. The minimum deposit is just $/€1.
Place Your First Spreadex Bet
Betting on the horses at Spreadex is incredibly simple.
If you prefer to bet on fixed odds, click on the Horse Racing section and choose the race and meeting to bet on.
Choose the horse you're backing.
Click on price, enter your preferred stake and click Bet Now.
If you want to place a spread bet, be sure to follow the onsite instructions carefully.
Withdraw Your Spreadex Winnings
Finally, withdrawing your winnings is a straightforward process.
Head over to the My Account section and choose the withdrawal option. You can withdraw a minimum of $/€50 provided it's not supporting the margin on any positions at the time.
If you have less than $/€50 available in your account, withdraw the full amount.
Getting started at Spreadex is quick and simple, so why not join today!