Athletics Betting Sites India
Usually, when people think about athletics, the Olympic Games come to mind. However, there's a lot more to this sport than this massive event that only happens every four years. Namely, if athletics sounds interesting to you, you can also check out the Diamond League, Commonwealth Games, the World Athletics Championships, and so much more.
On top of that, athletics is a broad term that covers a wide range of popular sports that centre around running, walking, throwing, and jumping.
Now, since sports betting is incredibly popular in India, most Indian customers probably want to learn more about athletics betting as well. Indians rely on a wide range of online betting sites that cover cricket betting, horse racing, and so much more, which is why they'll be glad to know that numerous sites offer athletics betting too.
This specific sports betting market might not be as huge as football and cricket betting, but it's undoubtedly sizeable enough to offer Indian bettors a wide range of opportunities. And that's precisely where Betopin can help you. We'll tell you everything you need to know about athletics betting, from the disciplines and events you can bet on, to the numerous types of wagers you can place.
Most importantly, we have also prepared a list of the very best online sports betting sites in India that cover athletics. The websites were chosen based on several criteria, as we want to provide you with the very best gambling experience.
Before we begin explaining how this exciting sports betting market works, here's the list so that you can easily pick the betting site that suits you best:
Bet on your favourite cricket team and win real cash!
*18+. New Customers. Opt-in required. Min bet ₹1000 to receive ₹3000 Free Bet (placed and settled 7 days from registration). Min odds of 1.6. Free Bet credited at qualifying bet settlement and placed within 7 days. T&C applies.
1st Deposit – Free Bet up to ₹20000, New customers only, Min deposit ₹1000, wagering at odds of 1.3+ to unlock free bet, Opt-in required, Terms apply.
You can use these Free Bets to wager on any sports, but they are not transferable to any of the other Betway products (ie Casino, Bingo, Vegas or Poker), which is fair enough, because the casino section has its own bonus. You need to choose which welcome offer you would like to accept, and then opt-in to receive it.
+18, Play Responsibly. The welcome bonus will only be available for new players at Bons Casino. T&C's Apply.
18+, first deposit only. Min. deposit and stake ₹2,500 (min odds 2.0). Credited after all qualifying bets settled. Deposit restrictions apply. The initial free bet not returned. T&Cs apply. Gamble Responsibly.
New customers only. strictly 18+. minimum deposit ₹2,500. place any ₹2,500 sportsbook bet at minimum odds of 2.0(evens) to receive your free ₹2,500 bet.
Each bet must contain odds of 1/5 or greater. If you have a live bet on and if you partly cash out, then only the remaining stake will count toward the bonus bet. Your bonus bet cannot be used on the following, Casino, Games, Poker, Vegas or bingo. Bonus bet Credits also cannot be used on the likes of, Tote Pool bets or any other.
These specific promotional terms and conditions apply to this promotion, "New Customers Offer – Money Back If Your First Bet Loses" and should be read alongside our Standard Promotional Terms and Conditions.
Welcome bonuses are only available for new players. Any reward given will be in the currency that you selected upon registration: INR (₹), EUR (€), or USD ($). Deposit ₹1,000 or more in a single transaction and get 1 (one) Live Casino Free Bet worth ₹1000.
In order to activate this bonus on the personal 22BET account, please, enter the bonus code 50SPORT when a deposit is made and wager your deposit once on betting markets with odds of at least 1.65 within 30 days. Only the bets which do not exceed the original deposit amount will be included in the turnover requirements.
Minimum deposit requirements ₹1,000. 15x wagering requirement that applies to the first promotion format. Bets need to be placed on odds of 1.50 or greater if you are to meet the requirements and withdraw.
Athletics — What You Need to Know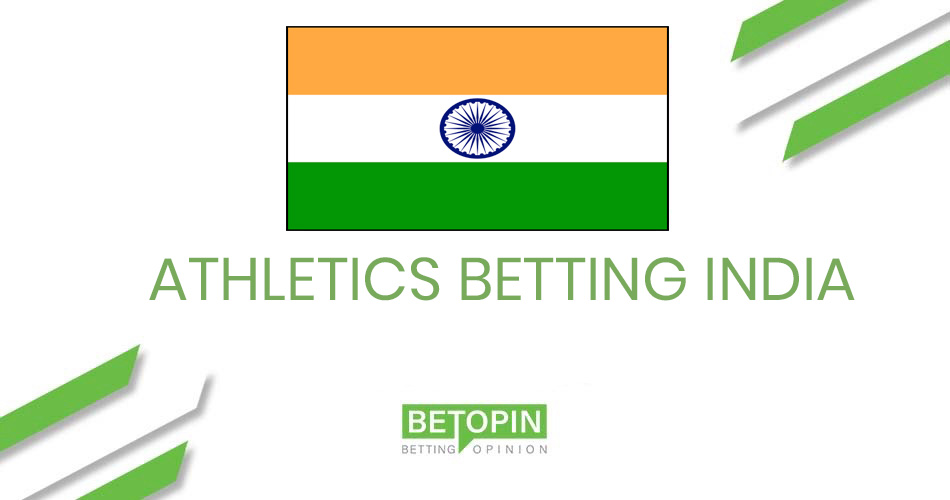 Most athletic contests we have today have existed for a very long time. What's more, many among them are some of the oldest sports in the world. Naturally, we know most of them from the ancient Greeks, but some date back as early as the 23rd century BC.
Today, some four thousand years later, we have clearly defined athletic disciplines. At the moment, World Athletics, the governing body of the sport, categorises the sport into six distinct disciplines:
Track and field;
Racewalking;
Road running;
Mountain running;
Cross country running;
Trail running.
Trail running is the youngest discipline, as it was officially added to this list in 2015.
Naturally, other disciplines exist and are practised worldwide, even though World Athletics doesn't govern them. For instance, there is the International Skyrunning Federation that governs high-altitude running, also known as skyrunning.
Unfortunately, if you're interested in betting on some of these sports, you're unlikely to find a place to do so, as most leading sports betting sites deal only with the main disciplines and events since the interest in them is the greatest.
Thankfully, these six disciplines feature numerous events and contests. They also tend to be categorised in many ways, according to age, sex, and abilities or disabilities of athletes. With such a broad categorisation, you can expect a large number of sports betting opportunities all year long, as most of these events are covered by the best sports betting sites.
So if you're interested in this form of sports betting in India, you'll have lots of exciting betting options.
Track and Field
Track and field includes a set of specific activities that take place inside a stadium, such as running, jumping, and throwing. Most of them occur on a grass field. Unfortunately, it would take us too long to cover all of them, as there are a total of 44 track and field events that take place at the Olympics alone.
However, some of the popular events are sprints, middle-distance runs, long-distance runs, relays, jumps, throws, hurdles, and combined events like pentathlon and decathlon. Most of these events are still just categories, as there are more contests within them. For example, within the discipline of sprints, you'll find the 60-metre dash, 100-metre dash, 200-metre dash, and 400-metre dash.
Of all these events, jumping events tend to be the most popular ones, especially the long jump and pole vault. However, it's important to mention some exciting throwing events that usually draw big crowds — and thus, many bettors — as well. These are discus, javelin, and hammer throws.
You can find most track and field events at four extremely popular multi-sport events:
Olympic athletics competition;
World Championships in Athletics;
Paralympic athletics competition;
World Para Athletics Championships.
If you're planning on betting on track and field events in India, these are the competitions you need to know about. However, if you want to start betting on athletics, you should also consider the IAAF Diamond League Series. This competition takes place every year for a couple of months and comprises 15 different athletics meetings, so there are numerous betting options here as well.
Racewalking
Racewalking is an exciting form of competitive walking, where most events take place on open roads, and, in some instances, on designated running tracks. The most interesting thing about racewalking is that it's the only sport in the realm of athletics where the judges will also judge your technique, not just whether you've finished the course.
As you can expect, the technique is of great importance here, as it's very easy to start running instead of walking, which is why athletes have to respect specific rules. For instance, the athletes' feet have to be in contact with the ground, and their legs need to be straightened. If they don't follow the rules, an immediate disqualification follows.
Racewalking has its own major competition called the IAAF World Race Walking Cup. Additionally, you'll be able to place bets on the IAAF World Championships in Athletics and the Summer Olympics as well, as both contests feature racewalking events. You will also be able to use real money to bet on the IAAF World Race Walking Challenge, a seasonal competition.
Obviously, there is a wide range of race events to bet on if you're interested in placing wagers on some of the best sports betting sites in India that cover these competitions.
Road Running
Road running is fairly self-explanatory as it mostly centres around events involving specific distance runs on regular roads. At the moment, World Athletics recognises 5K runs, 10K runs, half-marathons, and full marathons (around 42 kilometres). These four events are also the most popular ones within the road running discipline and can be found in many competitions. Still, the marathon is the only road running event at the two most important athletics tournaments globally, the Summer Olympics and IAAF World Championships in Athletics.
If you are interested in road running, you should follow the IAAF World Half Marathon Championships, the World Para Athletics Championships, the Summer Paralympics, and the World Marathon Majors series. The last one is very important, as it features six prestigious competitions that attract a great number of elite marathon runners in the world. The majors are held in Berlin, Chicago, Boston, New York City, London, and Tokyo.
Mountain Running
This discipline represents a mixture of jogging, running, and walking. Naturally, all mountain running disciplines involve running on mountainous terrain, but the trails can be of different steepness.
The World Mountain Running Association is the one that organises world championships in this interesting discipline. These events aren't as popular as other athletics championships, but they are still available from time to time on some of the top online betting sites.
Cross Country Running
Cross country running involves a wide range of open-air courses. The participants are required to run on natural surfaces like earth, grass, and woodland trails. What's interesting about this discipline is that it's one of the few that features both individual and team events. Individual runners are scored on their own, while points systems are used for teams.
The sport gained popularity in British and American schools first. However, over time, the major International Cross Country Championships was created. This championship is no longer active, though. In fact, today, the IAAF World Country Championships represents the highest level of cross country running. There are other competitions as well, but most are not nearly as popular as the IAAF.
Even though you won't typically find cross country running sporting events elsewhere, and there's not much betting to be had outside of the IAAF, these running events are still quite enjoyable. Most runs are 4-12 km long. Plus, the majority of the courses are designed to have a mixture of flat and hilly terrain to push the runners to their limits.
Trail Running
Trail running combines running and hiking, depending on the terrain. The course can be steep or flat, or a mixture of both, but it will always be outside, on an unpaved surface. It's a bit hard to distinguish trail running from cross country running, but, in most cases, trail running courses are longer and harder in terms of how steep the terrain is.
World Athletics first recognised trail running in 2015, which is why there still aren't many betting opportunities. However, there are more than enough for those looking to try it out.
Betting Platforms for Athletics
There are many great betting platforms you can use if you want to start betting on athletics. However, not all of them are the same. Plus, online betting is a lot more diverse and dynamic today, so you don't need to use only classic online betting sites, or the so-called sportsbooks. In fact, there are numerous opportunities for those willing to try something different. So, with that in mind, let's cover all the main betting platform types you'll get to choose from.
Betting Exchanges
Betting exchanges are interesting platforms that are quite unique in the world of online betting. These platforms don't accept standard bets. Instead, they allow bettors to bet against other players. In essence, backers, or those who bet on odds, are matched against the players who offer odds — the so-called layers. The betting exchange takes a small commission, with players being the ones who win the largest portion of real money. You should definitely try betting exchanges if you're looking for something different, more demanding, and exciting.
Athletics Sportsbooks
Most of you have placed bets on online betting sites before, so you probably know how sportsbooks work. In essence, they are online betting sites that offer diverse betting opportunities on numerous sports, including athletic disciplines we've covered in this guide. If you're looking to bet online in India on athletics events, then you need to join a trustworthy and reliable athletics sportsbook.
Athletics Spread Betting
Spread betting is a type of betting where odds are not only missing but are entirely irrelevant. It's a more advanced form of sports betting where you don't need to guess something accurately, as the bets are settled depending on how right or wrong you are. In other words, there's a gradient, and you won't lose a bet if you're wrong or win it if you're right. However, there's more to it than that, so if you're interested in learning more about spread betting in athletics, Betopin will gladly help you.
Athletics Sports Trading
Athletics sports trading is a more complicated and sophisticated form of betting. It allows sports bettors to sell their positions before the sporting event they are betting on ends. It is similar to stock trading, and you can also win a lot of money gambling this way. If you want to take advantage of this interesting form of online betting, Betopin can help you out by teaching you how sports trading works and what the best betting exchanges for sports trading are.
Athletics Matched Betting
Matched betting is an intriguing form of betting where you're basically shopping around for promotions and bonuses. With matched betting, you're allowed to look for free bets and claim them whenever you can. Naturally, this is entirely legal, but it's still frowned upon by online betting sites. However, that doesn't mean you can't do it if you're interested.
Athletics Betting Markets
You now know that there are many athletics events you can bet on throughout the year. So, if you want to take advantage of this great — and often neglected — opportunity, you should learn some of the most popular bets you can place in athletics betting.
Event Outrights
These bets are quite simple and, usually, they are the most popular ones on the majority of athletics sports betting sites. That's because they require players to guess who will win a particular event in a championship or some other meeting.
To Win a Medal
The name of this bet tells you all you need to know about it. In essence, in order to win the wager and the real money that comes with it, you need to guess which athlete will win a medal.
Place Bets
Place bets require players to choose a specific place they think a particular athlete will end up in once the event is over. It's an exciting bet, as it's typically hard to win. As a result, the odds are very high, and the potential rewards are also quite large.
To Qualify
In most athletic events, the athletes need to qualify to participate. Naturally, you're allowed to bet on these events as well. Winning this bet is easy if you're betting on favourites, but it's much more interesting if you're betting on underdogs.
To Set a World Record
If you're a fan of athletics, you probably know that it's not at all uncommon for athletes to set world records in their disciplines. For that reason, betting on a player to set a world record could prove very lucrative, which is why many bettors place these bets. You can do it too if you're looking to place small-value bets you're not afraid to lose, since these bets, as you can imagine, are ridiculously hard to win. Still, the promise of a massive reward is precisely what makes them appealing to many players.
Conclusion
As you can see, athletics betting can be quite enjoyable. It offers numerous betting options, as many betting sites cover a massive number of disciplines and events to bet on. Therefore, Betopin has made sure to provide you with a detailed list of some of the best sports betting sites in the world that cater to Indians and cover athletics.
All you need to do now is choose one of the sites we recommend, create a betting account, and start placing bets on popular sports you like. Don't forget to gamble responsibly and have fun!
FAQ
Can you bet on athletics?
Yes, of course! We've offered several great athletics betting websites in this piece, and all of them cover most major athletics competitions and events. The only thing our Indian bettors need to do is choose a gambling site and start betting.
Is athletics betting legal in India?
Most forms of sports betting are illegal in India. This is mostly because of the outdated gambling laws like the Public Gambling Act from 1867 that is still in effect so many years later. However, Indian players are still largely free to use offshore sites without the fear of being prosecuted by the government.
Is playing bet365 legal in India?
Sports betting is illegal in India, but that doesn't mean that the law forbids players to use offshore betting sites like Bet365. So, if you want to, you can freely use this gambling site to place bets.
Is live betting available in athletics betting?
Unfortunately, due to the nature of many athletics disciplines, live betting is not always possible. However, as long as the event lasts long enough, some betting sites will offer live betting for it.