Top Basketball Betting Sites
Basketball is a sport known for its speed and the absence of any contact between the players. The arena is an indoor court, and it is a five-a-side game, meaning that each of the two teams will nominate five players to be on the court. There will be five players in reserve on each side, ready to act as substitutes when needed. To start the game, a referee will throw the ball in the air. A player from each team will then jump for it and aim to tap it over to another teammate. The overall goal is to pass the ball through a hanging hoop. One point is earned for a penalty-free throw, two for a regular throw, and three for a throw beyond the three-point line. And this is where betting comes in because there are different odds for these factors and others. Here in this article, we've put together a list of the best basketball betting sites available today, along with advice on where to place bets, and how to place them.
We will begin with a description of some significant leagues in the world of basketball.
Best basketball betting websites in 2021
Fixtures To Consider In Basketball
There are a variety of basketball leagues operating globally, and each fixture can be bet on. There are many ways to do this which will be explored further down the page. But before that, here are the details for some of the world's largest and most significant leagues, so that you have a good idea of the range of fixtures and teams you can place bets on.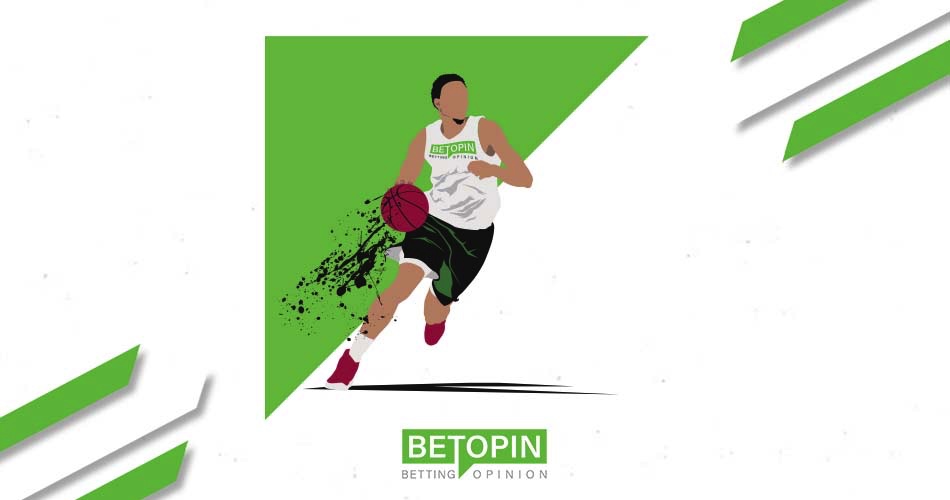 The most famous league is the NBA or National Basketball Association. It contains 30 teams, 29 from the United States and one from Canada, the Toronto Raptors. It is often considered the best league in the world and has existed in some form since 1946, steadily gaining more and more popularity over time. All 30 teams are split into 2 conferences, the Eastern Conference and the Western Conference. Each conference contains 3 divisions. And each division contains 5 of the teams. Eastern contains the Atlantic, Central, and Southeast divisions. Western contains the Northwest, Pacific, and Southwest divisions. Each of the 30 teams plays 82 games per season, and each season runs from October until April. This provides 2460 games to bet on every single season.
In Canada, the most well-known is the National Basketball League of Canada. Interestingly, this is a league that has only existed since 2011. It was founded with three teams, the Halifax Rainmen, Quebec Kebs, and Saint John Mill Rats. Later it was joined by London Lightning, Moncton Miracles, Oshawa Power, and Summerside Storm teams. The numbers fluctuated as the years passed, and it now has 8 teams. These are the Halifax Hurricanes, Island Storm, Moncton Magic, St. John's Edge, KW Titans, London Lightning, Sudbury Five, and Windsor Express. They are grouped into two divisions of 4 each, the Atlantic Division and the Central Division, based on their location in Canada.
Another notable league is the EuroLeague. It is the top-tier basketball league covering the European region. It was originally founded in 1957 as the FIBA EuroLeague. It is one of the most popular indoor sports leagues globally, in terms of attendance. In 2017, the average match attendance was 8,780. The league contains 18 teams, and each team plays each other twice, for a total of 30 games. There are then some extra games in the playoffs and the finals, for a maximum of 37 games per team per season. This amounts to 666 games for punters to bet on.
There are also some noteworthy leagues in particular countries, in addition to the Canadian league mentioned above. These are the Spanish Liga ACB, Turkish BSL, Russian VTB United League, Italian Lega Basket Serie A, German Basketball Bundesliga, French LNB Pro A, the Adriatic League, Australian National Basketball League, and the Chinese Basketball Association. Here's some detail on each.
The Spanish Liga ACB, founded in 1983, runs a season from October to May, features 18 teams, and each team plays a total of 34 games. Each team plays each other twice, followed by playoffs for the top eight. This means at least 612 games to bet on.
The Turkish Basketball Super League was founded in 1966. It features 16 teams that play each other twice, and then the highest scoring eight teams will enter playoffs to determine the champion. Its season runs from October to April. This means hundreds of games available to place bets on.
The Russian VTB United League was only founded 12 years ago but includes 13 clubs, including several outsides of Russia. Their season runs from October to April.
The Italian Lega Basket Serie A has existed for 100 years and is one of the world's oldest basketball leagues. It features 17 teams and plays a season between October and May. As with some of the other leagues, each team plays each other twice before heading into playoffs and then finals. This makes for at least 30 games per team per season and at least 510 games for betting.
The German Basketball Bundesliga contains 18 teams and has existed since 1966. Each season is divided into a league stage and a playoffs stage, much like the other leagues listed here, and they run between September and May. This will ensure several hundred games played per season.
The French LNB Pro A was founded 99 years ago, shortly after the Italian league. The season runs from September to May. There are 16 teams and they each play many games per season following a similar format to those above, containing the league itself, the playoffs, and the finals. This means hundreds of games available for bets.
The Adriatic League comprises teams from Bosnia and Herzegovina, Croatia, Macedonia, Montenegro, Serbia, and Slovenia. It was created in 2001 and has a total of 12 teams, and a regular-season contains 26 games. The season runs from September until March. All of these clubs play in leagues for their home nations and many for the EuroLeague as well. This again highlights the sheer variety of games available for betting
The Australian National Basketball League includes 8 teams in Australia and 1 in New Zealand. It was founded in 1979. The season runs from October until February, and each team plays 28 games during a regular season. This makes for a minimum of 224 games for placing bets on.
The Chinese Basketball Association is comprised of 20 teams and was established in 1995. The season runs from October until February.
We will now take you through the various platforms through which you can place your bets.
Basketball Betting Platforms
Betting platforms are the online websites that serve as intermediaries between you and the sports you are betting on. They enable you to select the game you'd like to bet on and place bets on it. Usually, they each have a unique user interface and special rules such as the minimum betting amount, and the payment methods permitted. There are a lot of these platforms available and it's important that you're able to choose one that is operating fairly and is also user-friendly with clear terms and conditions so that you know what you're signing up for. Because sports betting is a lucrative global market, you cannot assume that all the players in the market are equally worthy of your time and money. In the following several sections we will guide you through what the different types of platforms are, and what this means for you. There will also be further information available on dedicated pages here on our website. This will ensure you can be as informed as possible before you get involved in basketball betting.
Basketball Betting Exchanges
Betting exchanges allow punters to trade bets with each other rather than going through the traditional method of a betting shop. If you are with a friend and you make a bet involving the exchange of money, you've just made a bet. This is also what you do in betting exchanges. You trade based on positions. The loser has to payout, and the winner receives payment. But there's an additional feature too. You can play the same role as a bookmaker, and 'lay' positions you don't think are winners. This means you bet against them. In a way, this makes it like the stock market, where you are buying and selling shares. But with a betting exchange, you buy and sell opinions relating to a particular event or potential outcome. You will either request odds from another bettor or offer odds yourself. We have a page dedicated to betting exchanges which you can find here.
Basketball Sportsbooks
Basketball sportsbooks are websites that offer the ability to place bets on a variety of basketball fixtures. Bets are placed before the event begins, and winnings are paid out after the event has finished. Each sportsbook will have customized rules, so you should familiarise yourself with these because you cannot assume there will be any overlap among competitors in terms of the rules. Another important point is that each sportsbook is free to set its own odds in order to attract bets from punters. So you may find that some offer better odds than others for the same events. But one thing they usually have in common is the type of bets they provide. There are only so many of these regardless of how many different sportsbooks there are. If you'd like to know more about these, you can read more here.
Basketball Spread Betting
Spread betting is a particularly popular method of sports betting when it comes to basketball. It uses a method that provides an incentive to bet when one team is better than the other or is much more likely to win. The favorite is labeled with a minus symbol and a number. The favorite would need to win the game with more than the specified number of points to win that bet. The underdog is labeled with a plus symbol and a number. The underdog would need to win the game, or not lose by more than the specified number of points to win the bet. The range in between both numbers is called the point spread. If the point spread result is a tie, then you'll simply have your original sum of money refunded. Many factors can influence whether the spread or odds are shifted in advance to the start of the game. You can find out more about spread betting on our page about the topic.
Basketball Sports Trading
Sports trading refers to the placing of two bets in opposition to each other on the same selection to make a profit. This is done through the medium of a betting exchange, which we discussed earlier. A special feature of sports trading is that there is no need to predict the winner or loser. In the stock market, you will buy low and sell high. In sports trading, you will lay low and back high. The betting exchange acts as the referee on a playing field. They regulate the trading process. Whereas when you place a bet through a traditional method like a bookmaker, you are betting that something will happen. You 'back' it. The bookmaker then bets against you when they accept your bet. They 'lay' it. But when you're engaged in sports trading, you can place both types of bets. If you'd like to know more about the details of sports trading, you can read up on it here.
Basketball Matched Betting
Matched betting is a technique used in all kinds of sports, including basketball, to eliminate risk and guarantee a profit. It usually works by taking advantage of free offers by bookmakers. The back bet will use up the free bet, and the lay bet for the same outcome will be placed on a betting exchange. This does require two separate accounts on two separate platforms, but it does put the punter in a win-win situation. However, there are often terms included by bookmakers that specify an ordinary bet must be placed first using the punter's own money. This may sound like an underhand tactic, but it is widely known and legal. It is not considered a problem to leverage free bets for your advantage, regardless of the sport you are betting on and the platform you are using. If you're interested in learning more about matched betting you can read more on our page here.
We will now move on to examine the different types of bet that you can place when you're using one of these platforms.
The Most Popular Basketball Betting Markets
There is a wide variety of different bets which you can place on basketball fixtures, and in this section, we will cover each one and provide you with the information you need to understand them when you engage in basketball betting. There are 10 types, and we will provide some detail for each.
The single bet or side is made according to the rules that govern spread betting, as discussed above. When one team is better or worse, it can be quite easy for punters to figure it out. Spread betting levels the playing field by assigning risk to either outcome. The bettor will place a bet on the team they think is most likely to cover the spread. This is one of the simplest and most popular betting types and it is used by experts and amateurs alike.
The total or over/under bet works as follows. The sportsbook will predict the combined number of points both teams will gain. The bettor can then place their bet either over or under this figure. So if the Halifax Hurricanes and St. John's Edge play against each other, a sportsbook might set the number at 150. This is the number that the bettor thinks the teams will score over, or under.
The money line bet, the only thing that matters is whether a team wins or loses according to who the bettor is backing. The sportsbook sets the odds in advance. These are numbers with a plus or minus symbol attached, according to which team is the favorite and the underdog. If the underdog has odds of -105, this means a $100 bet on it would pay out $205 if they won. If the favorite has odds of +125, this means a $125 bet on it would pay out $225. This is because the favorite is seen as the better team, so it is less risky to bet on them, which usually means a lower payout.
A teaser bet allows the bettor to add or subtract 4 points from a total or point spread. But to do this, two separate spreads or totals need to be wagered in that same bet to use the 4 points, and both must be winning bets, not just one.
A reverse teaser works by subtracting 7 points from a spread, which makes it narrower, but increases the payoff if the bet is still won. It makes the spread less generous, as opposed to the teaser which makes it more generous but with a second bet required.
The parlay bet is similar to the teaser except there is no alteration of the point spreads. Two bets can be placed together, using the odds as stated in the point spread, but again, to win at all, both bets must win, as in the teaser. The parlay often gives bigger payouts but has more risk compared to the teaser. You can also make multiple parlay bets and this is called a round robin. If you like three teams, you can have one parlay on all three, and two separate parlays on two combinations of the remaining two. For example, if you liked the Sudbury Five, Windsor Express and Moncton Magic, you could place one bet on all three, one bet on the Sudbury Five and Moncton Magic, and another bet on Moncton Magic and Windsor Express.
There is also a futures bet, which is made based on the odds the bettor's chosen team will win their conference or March Madness tournament. The more likely a win becomes, the less the payoff for the bettor, but the less likely a win becomes, the greater the payoff if they do indeed win.
Another bet is the proposition bet, which is based on a scenario described by the sportsbook, such as whether a player will score more than a certain number of points in the current season. Odds will be assigned by the sportsbook based on a yes/no answer.
And finally, there is the if bet. This involves two bets and is conditional upon the first winning. If the first bet does not win, then the second will not be wagered. This can allow the bettor to place a second bet but takes away the risk if the first one is not won.
Conclusion
Hopefully, this article has done its job and you've now got a good introduction to the world of basketball betting. You know about some of the most popular leagues, the platforms through which you can place your bets, and the various types of bets you can make. Plus you've got a selection of pages linked above that you can use to find out even more information. That's exactly what Betopin is here to help you with. We give you as much information as possible so that you can make better, more informed decisions when you place bets, regardless of whether you're a novice or a professional. We compare different betting platforms and review them for your benefit, along with publishing guides to help you understand the betting process.