Neo.bet Review
Neo.bet is the latest sportsbook designed for a true sports betting enthusiast. This sportsbook has created a betting platform for all sporting lovers to flourish in. Neo.bet is owned by Greenvest Betting Limited, this company is licensed in Malta by the Malta Gaming Authority (MGA). Recently Neo.bet has earned itself a license in Germany, which makes it one of the first online betting platforms to be legitimized in this country. Customers can bet at ease knowing this sportsbook is as legitimate as they come.
Neo.bet has developed its main site in a simplistic yet efficient way. On the home page, you are greeted with a banner of revolving promotions, followed by a live graph of constantly updated odds and scores. Neo.bet has put together an impressive team to give customers the best betting markets and live events. The competitive odds provided by Neo.bet would grab any bettor's attention.
Neo.bet has taken a different approach from the everyday sportsbook, this brand has brought customers the most popular sports with localized markets. Normally, when we talk about markets, they are endless but this strategy has personalized betting even further for the eligible Neo.bet bettors. In this in-depth Neo.bet sportsbook review, we will examine every corner of Neo.bet from the promotions to its customer service. It's time to see why everyone is labeling Neo.bet sports as one of the top bookmakers on the market.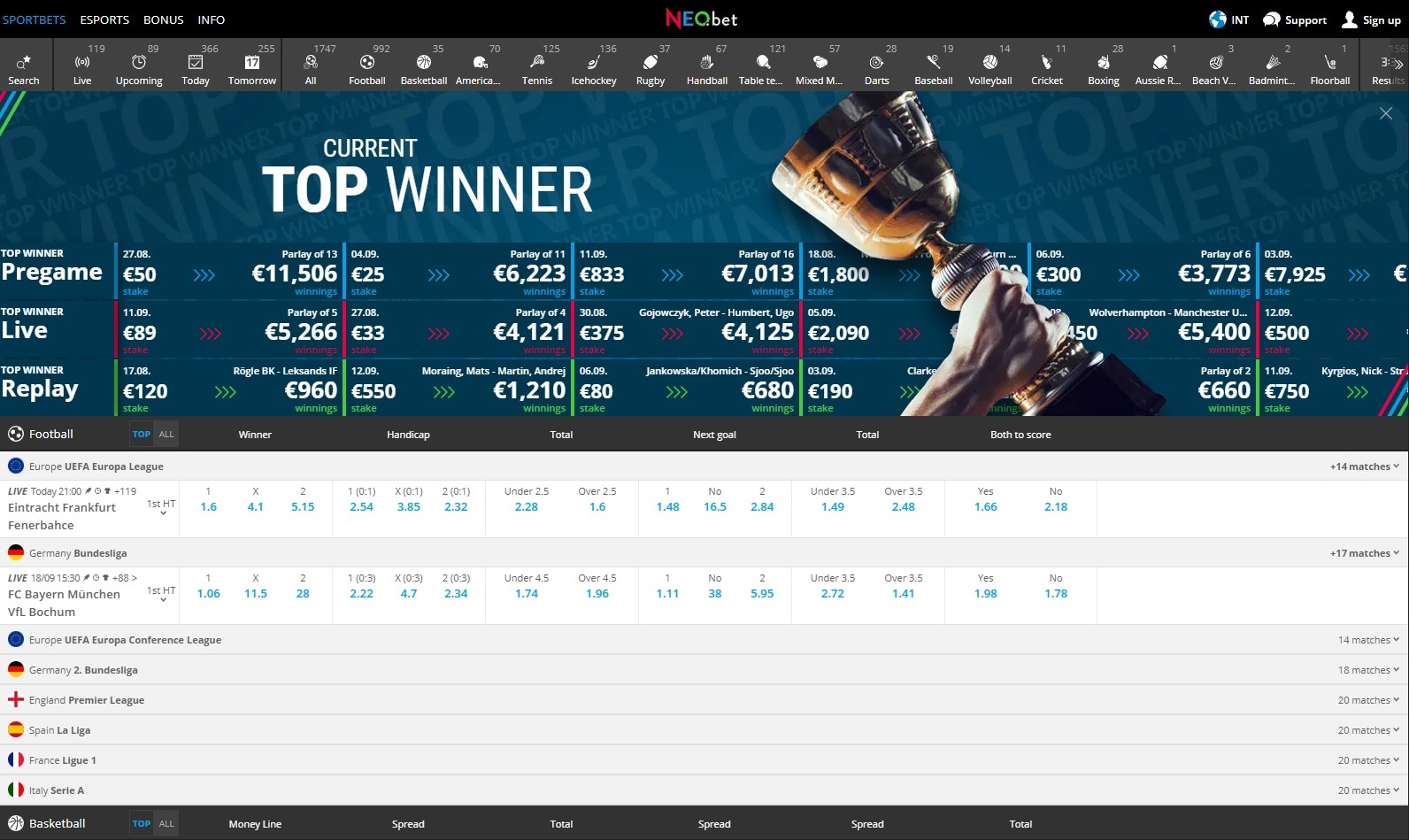 Sports Betting Welcome Offer & Promotions
Neo.bet has designed promotions and a welcome offer to attract new bettors, allowing them to reap the rewards from this online betting site. This sportsbook has created an easy registration process to get you underway with its fantastic welcome bonus. It has become essential for online sports betting sites to provide an attractive welcome bonus so new punters can get a feel for the sportsbook. Neo.bet has certainly presented a generous welcome bonus and offers that will cement this sportsbook on your screen for the future.
Welcome bonus
Canadians can be expected to receive a similar welcome package to the Europeans. On selecting the starter bonus Canadians receive 200% up to $200. This offer is broken down into 3 deposit bonuses, upon first deposit Canadians receive 100% up to $100. For the following next two deposits, 50% of $50 is granted for reload bonuses. The wagering agreement is similar to its European sister bonuses. All bonus funds must be wagered 5 times through with odds of at least -200.
Starter bonus – 200% up to $50
Pro bonus – 100% up to $150
The starter bonus offers European customers an inviting 200% of up to €50, this offer as the name suggests is a great starter bonus for all newbies getting a feel for the new sportsbook. If you are looking for something so you can deposit and place larger bets, the pro bonus is for you. If you select the pro bonus, you can claim 100% up to €150. Neo.bet has brought its fans two alluring bonuses to get you kicked off.
The bonuses are retrieved after the first deposit is made. These bonuses can then be bet on across various betting markets. It is important to make note of the wagering requirements for all bonuses. The bonuses must be wagered at least 5 times with minimum odds of 1.5.
All bonuses must be wagered within a 100 day period. This online bookmaker is the perfect site to becoming a betting pro. The appealing welcome offers just scratch the surface of the content provided by Neo bet.
Combi Bets
Luckily for combi bet lovers, once you place a combi bet, the Neo.bet management team gives you 5% more profit. Neo bet refunds you the betting fee if you place a combi bet. The pre-match market odds for sports like American football and ice hockey can really be favorable for combi bet fans.
The product, Sports and Markets
Neo.bet has a wide variety of betting markets and market odds, starting with the most popular football, tennis, basketball, and American football all the way to less popular sports like badminton and the ever-growing MMA. On the main page, you can currently view how many matches there are to currently bet on in each sport. For example football/soccer being the most popular, at the time of this review there are currently 698 matches to bet on.
Neo.bet also includes sports news on their sportsbook. The better you know the players and teams with an understanding of the odds you will have greater chances of making sensible more bets and winning big. The weekly sporting news articles are a nice touch to the expansive list of betting options. Articles will keep you up to date on everything that is going on in various leagues and championships like the premier league for example. These blog posts can be found in both English and German.
Here is a list of the various betting markets which can be found on the top of the main mobile or desktop site.
Football
Tennis
Basketball
American Football
Table Tennis
Ice Hockey
Volleyball
Baseball
Snooker
Handball
Boxing
Darts
Squash
MMA
Esports
Badminton
Rugby League
Rugby Union
Customers can make a huge variety of bets within these betting markets. This sportsbook menu has really been created by top-class gamblers themselves. The extensive list of betting options ensures all punters can enjoy the feeling of a tailored betting section with their own personal bet configurator. The variety of bets include Spread, Moneyline, Total, Props, Parlays, Live betting, Teasers, Futures, Asian handicap, Derivatives, Alternative spreads, Alternative totals. In this bet review, we will further examine live/ in-play betting.
In-play Betting
Live betting has become increasingly popular in recent years. Sportsbooks have implemented in-play betting to bring you closer in on the action with all your favorite teams. Neo.bet has hit the nail on the head with its no-fuss live betting section. There are always numerous live events from big stages like the champions league all the way to localized football markets. Punters can get excited as the competitive market odds and numerous bet types will sure to make you a match-winner.
The layout of the live sports betting menu mirrors that of the home page. It is easy to create a quick bet slip with your own personal bet configurator. Gamification features like the personal bet configurator are fantastic features brought to an online betting site like Neo bet to create a personalized sportsbook for all its members.
Esports and Live Streaming
Neo Bet offers a platform for all esports lovers. This increasingly popular domain is becoming essential in online betting sites. Neo bet sportsbook now presents a video stream for esports, live betting keeps getting better and better at Neo bet. Live streaming is available for punters to witness play by play of the excitement of esports. The competitive odds presented by Neo bet ensures all esports fans will strive in the market space.
Neo.bet has brought this betting stage to light giving fans what they want, games include League of Legends, CS:GO, Overwatch, and DotA 2. Neo bet encourages all players from newbie to pros to try out these renowned esports games. Once you fill out your betting slip the live-action comes before your eyes. We personally recommend new players to bet on our favourite League of Legends when starting off. Esports can surprise you with this exciting action available in this sportsbook.
Bonus Chips Loyalty
Neo.bet provides all bettors with a bonus chips loyalty program. The system is simple, every time you bet you receive bonus chips. If you lose a bet you still receive 4 times your stake in the form of bonus chips. This program is great for regular bettors to gain free credits and bonus deposits.
On each be bet slip you can see how many bonus chips you collected, you can then exchange your bonus chips once you have accumulated enough. Here are the betting exchanges for your bonus chips.
2,500 bonus chips – $10 free credits or a 25% deposit bonus up to $50
10,000 bonus chips – $50 free credits or 100% deposit bonus up to $100
This bonus chips loyalty program is valid for all bets at minimum odds of 1.15. Neo.bet has created this loyalty program to give back to its regular users. Luckily for you, it is as easy as placing a bet on any of the various sports with the selected odds of becoming a Neo.bet VIP member.
How to Start Betting
In order to start betting with this quality brand, you must register an account. Luckily for you, Neo.bet has made the signup process quick and easy. Here is a step by step process to help you with the registration process.
Click any of the links provided or head over to the website Neo.bet.de
On the top right corner of the home page is a 'signup' button or select any of the promotions
At the right of your screen, you must enter the short form containing your email address, mobile number and create a strong password that you will remember
All other personal information can then be filled in next such as DOB, bank account for deposits and withdrawals, and all other personal information to customize your account
Now, simply make a minimum deposit of $/€ 10 and verify your account
The verification process can be tedious for new sportsbook punters but it is essential in keeping the industry safe and secure. Neo.bet has the legal right to request documentation for verification. Such documents include a passport, driver's license, or any governmentally approved age card. Neo.bet can further request additional documents such as bank statements and utility bills. Failure to present such documentation can lead to the closure of your account and potential loss of funds. Simply take a picture of the document on your mobile device and change it to pdf document and you are good to go.
Mobile & App
Neo.bet offers all users the availability to download and even register an account on their mobile app. This app can be downloaded on any device for both Android and iOS users. Mobile apps are becoming essential in today's day and age, bettors need quick access to a sportsbook so they can make quick bets on live events or simply update payment methods. Neo bet mobile app is the perfect app for any on the go, busy punters.
The Android sports and market odds mirror the desktop site, allowing you to select your sporting preference. The table of odds for pre-match and live sporting events on this app is laid out just like the main site. Whether you are an Android or an Apple user the downloading process is similar. Here is how to download these mobile apps to fast track you to that match-winner.
The app may not be in the google play store or the apple store, as they don't promote gambling
Simply click Info on the top bar of the main site page on your mobile safari
Download the folder and go to your mobile setting and allow 'Unkown downloads'
You can then download the app and register an account
The gamification features can all be used on both apps. Punters can make use of the personal bet configurator, and also cashout control and all the bonus programs. This app creates a sports betting experience like no other.
Neo.bet also has a fully optimized mobile betting site for any users who choose not to download the app. This mobile site has all the same features and betting options available as the main site with quick and easy logins.
Licensing and Regulation
Neo.bet has become one of the first sportsbooks in the world to hold a German gaming license. After years of negotiations, it has finally come into operation. Customers can gamble at ease knowing this sportsbook is as legitimate as they come holding a dual gaming license. Neo.bet is licensed by both the Malta Gaming Authority and the German Licensed Offical. The MGA has been a leading regulatory body licensing Sportsbooks for years.
Neo.bet has a transparent privacy policy for all players to view on its website. This privacy policy explains the data collected and how it will be secure. This is nothing new to a regular online sports betting fan and we can assure you that Neo.bet is as solid as any of the world-renowned sportsbooks.
Neo.bet implements the use of the latest SSL encryption to protect all customer information, these technologies are also used in banks which suggests there is no safer place to play responsibly than with Neo.bet.
Customer Support
Neo.bet has made it extremely accessible to get in contact with their friendly and knowledgeable support team. There are 3 customer support options starting with a live chat, email, and a contact number. The chat is the most efficient resource to get in contact with the customer service team. At the top right corner of every page on both the mobile apps and the main website, you can find speech bubbles with support. Here you can converse with a support agent relating to any query you may have from betting rules to withdrawal information. The live chat reply time is usually 5 minutes and they are online from 7.30 am to 11.30 pm CET.
Other forms of contact are email which is support@neo.bet and by phone at +356 277 80 112. The live chat is definitely the quickest and most accessible form of contact with this sportsbook, but the other forms of contact give you the opportunity to resolve queries without being stuck on the site. The customer support team has thought of everything here, creating to the point frequently asked questions and answers for customers to get quick common issues solved at no time at all.
Payments
Neo.bet provides an abundance of different payment options for both deposits and withdrawals. The usual suspects like Visa and Mastercards are available all the way to various e-wallets and bank transfers. Payments can be made in various currencies with minimum deposits being $10 and a minimum withdrawal of $20. There are fewer withdrawal options available but that is fairly standard in the betting industry. It has become essential for online betting companies to provide variety in their payment methods to provide all gamblers with the platform for betting.
Deposits
Trustly
Much Better
Interac e-transfer
Interac Online
Apple Pay
Visa
Mastercard
Klarna
PaySafeCard
Skrill
Neteller
Bank Transfer
Neo Coin
Withdrawals
Trustly
Much Better
Interac e-transfer
Express connect
Visa
Mastercard
PaySafeCard
Skrill
Neteller
Banktransfer
All deposit payments methods have no fees attached and are instantly deposited. Withdrawal speed can vary, e-wallets usually are instant occasionally taking up to 24 hours, Visa and Mastercard can take between 1-3 days and a bank transfer can be expected to take between 3-5 business days. The payment methods provided by Neo.bet are favorable to all types of bettors and with a maximum withdrawal amount of $20,000, the opportunity to win big from this bookmaker is highly likely.
Business Information
This innovative sportsbook slogan is 'from pros to pros', this ethos spans through their whole site bringing a professional sports betting platform for all punters to bet easily. Greenest Betting Limited has all rights reserved for this sportsbook and has proven to supply a top tier sportsbook since 2018.
Neo.bet is exclusive partners with Karlsruher SC, a football club that plays in the second division of the German league Bundesliga. This partnership demonstrates Neo.bet's commitment to professional sports and love for its origin country.
Neo.bet has proven in its last two years of success that this forward-thinking modern sportsbook will be making an appearance more and more on our screens into the future.
Betopin's Verdict
It is clear that this no-fuss orientated sportsbook is on route to becoming one of the top sportsbooks on the market for the pro bettor. The simplistic yet highly effective layout has brought bettors a platform that would contest with any of the top bookmakers worldwide. It is easy to get lost in the various sporting leagues with some of the most competitive odds out there.
The welcome bonus provided is an inviting first stop and an excellent introduction for all newbies to the site. The gamification features have proven to keep bettors interested and rewarded for their loyalty. While the mobile app has created a perfect on the go service for all busy punters.
Neo.bet has really come through providing a comprehensive sportsbook with a great selection of sports and betting markets. There is no better time than the present to claim your starter offer and get underway betting on your most celebrated sports events.
FAQ's on Neo.bet
What type of bets can I make at Neo.bet?
Bettors can make either a single bet, combi bet, or a system bet.
What is the minimum deposit amount?
There is a minimum deposit amount of $10 and a minimum withdrawal amount of $20.
What documentation do I need for the verification process?
Players can provide any legal documents that contain a proof of identity and proof of address.
How quickly do I get a reply in the live chat?
The response time is within 5 minutes with the live chat.