Spin Sports – CLOSED is an online betting site that has been around for a long time. This website made its debut in 2001 and has grown to become one of the most popular sports betting websites around. Formerly known as Spin Palace, they rebranded in more recent years to highlight their sports betting options along with their online casino. Although their casino section has more history than their sports betting section, it offers a diverse experience. On their site, they boast of being "The World's No. 1 Sportsbook", and not without good reason. They cover almost any sport you can think of, from ice hockey to American football, and even horse racing and swimming. They also offer many unique betting options such as esports, rugby, boxing, and Taekwondo. If you are sports betting fan, this website will give you all the action you are looking for.

Placing bets is easy, and the odds are clear to understand. They offer your standard betting types, such as money lines, and over/under, and spreads. These can be listed in decimals or fractions, depending on your preference, and you get to set that up when you register. They also offer outright wagers and futures bets for most major sporting events.
For individual games, they offer additional betting options and lines to add to the excitement. They go far beyond your standard betting options and even offer a wide variety of prop bets for many matchups. Sometimes offering dozens of these, you will have plenty to keep you busy.
It is not only their sports betting that makes Spin Sports stand out. They originated as an online casino, and still offer an impressive one today. Their site features incredible graphics and audio, with hyper-realistic gaming graphics and streamlined user functions. They offer one of the largest varieties of slots games of all online casinos. In addition to slots, they also have a wide portfolio of table games and other unique games such as Keno and scratch cards. As a bonus, no app download is required to play on your mobile phone.
Spin Sports Welcome Bonus
Let me start by covering one of the best features around the site, the welcome bonus. It's a very attractive offer that is sure to draw in new players. Any new member on the site who registers as a new bettor will receive a generous $200 bonus which is applied in the form of a 100% free bet match bonus. Keep in mind that once you make your first wager, there is a minimum $10 deposit that you must make within 7 days of registration to qualify. In addition to getting registered and adding $10 to your wallet, you must wager an amount at least five times that of your deposit amount at odds 1.3 or higher. They also offer other special bonuses and opportunities to win big regularly. These offers are sent directly to active members as they are offered.
Signing up is easy and painless. You have to select your country, create a username, and select your desired password. They require your email address, first name and last name, date of birth, gender, and address. Here, you can also select your preferred method of currency and your language of preference. You will also need to verify your age, as you need to be 18 or older to participate. They give you the option of signing up to receive your welcome bonus and other promotions by text, phone, and in the mail. You will automatically receive them by email, but this option allows you to never miss out on prizes and winnings.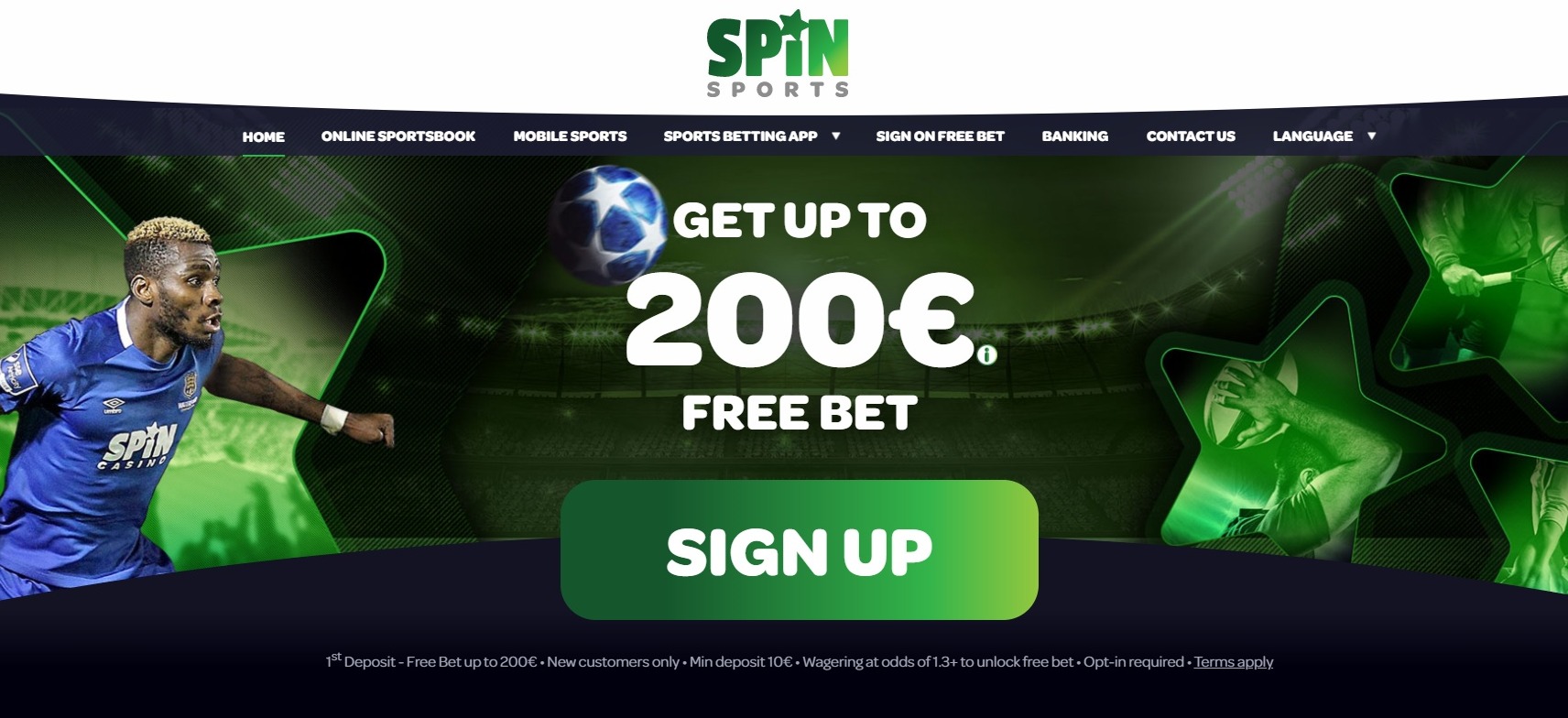 Spin Sports Free Bet
Once you have registered there is a 100% free bet match bonus waiting for you. This means that your welcome reward pays up to $200 and all players are eligible at 18 years or over. There could be other promotional offers for current members that would allow you to earn free betting money. Once you are registered, you will hear about these as they are offered.
Cashback Bet
Aside from their welcome bonus that offers a 100% bet match bonus, Spin Sports offers regular promotions to add to your winnings.
One of their most consistent promotions is offering enhanced odds to current players. When this promotion is active, they email players to notify them. This promotion will boost the potential payout for select matches, and the offerings change daily. This can include any kind of wager, from money lines to spreads and more.
Loyalty Program and VIP Program
While Spin Sports does not offer a specific Loyalty Program or VIP Program, every member is a VIP and is rewarded for playing! Spin Sports is known for sending regular offers to their members, and they give their players lots of opportunities to win. Throughout the year, you can expect several promotions and ways to make extra cash. Essentially, just being a member pays to play with Spin Sports, and being a regular player comes with plenty of perks.
Spin Sports Marks and Sports
If Spin Sports website is considered number 1 in the world for sports betting, I am sure it is because of the number of sports available for action. It's very impressive, as there are not many sports or events that they do not cover. Here are all of the sports they cover on their website:
Popular Sports:
Tennis
Horse Racing
Rugby League
Canadian Football
Golf
Basketball
Ice Hockey
Cricket
Boxing
They offer much more beyond these popular sports. The list is extensive, and they are always adding more options for players. There will always be a game to bet on at Spin Sports.
Check out some of their other betting options below:
Rugby Union
Esports
Motor Racing
Lawn Bawls
Aussie Rules (AFL)
Greyhounds
Darts
Cycling
Bowling
Table Tennis
Handball
Snooker
Pool
Sailing
Trotting
Archery
Bandy
Beach Soccer
Beach Volleyball
Equestrian
Floorball
Gaelic Football
Gaelic Hurling
Hurling
Racketlon
Diving
Curling
Diving
Fencing
Futsal
Gymnastics
Judo
Kayak
MMA
Modern Pentathlon
Olympic Games
Shooting
Surfing
Swimming
Taekwondo
Triathlon
Weightlifting
Winter Sports
Wrestling
It's safe to say that Spin Sports covers virtually every sport and that their offerings are hard to match. If it's a sport or an event that you can bet on it, there is probably action available. The number of offerings is surely one of the things that set Spin Sports apart from its competitors.
The betting is not just available until the game starts. In addition to your usual bets, Spin Sports also offers live and in-play betting for nearly every sport and event. Their betting options are endless and finding action will never be a problem as a member.
In-Play Betting
Imagine that you missed the closing lines before a game starts. It would be very frustrating, and it's fun to wager on games as they are being played. At Spin Palace, you can place your wager after the competition has started in real-time. If you are one of the "old roadsters" you can read and predict the flow of the game while it's live and reduce the risk you take. It's a great feature for all players, but especially veteran bettors.
I personally like this feature while playing. Betting online gives me more flexibility and has the element of last-minute thrills. Offering this feature means that Spin Sports can meet the wants of bettors at any level of skill. If you are serious about your betting and like to speculate, you are in for a treat. They offer a wide variety of stats in-game, which may mean nothing to the naked eye, but for some seasoned players, they hold a 24k gold value when it comes to placing a last-minute bet.
Live Betting
While you are not able to stream games on the website, that does not mean you can't get in on the action. Spin Sports covers live games and offers real-time odds on matches and events that are in progress. It's easy to place a bet, to see your betting options, and to know your current odds. This is a great feature for players and adds to the excitement as the game progresses. It's also a great feature for newer players, as there is no guessing. The math is done for you!
Believe it or not, there are some sports betting websites that do not offer this option, leaving your playing ability limited. Seasoned players will love this feature. While there are some betting options that players will want in on before a game starts, nothing beats the thrill of chasing the odds as a game progresses.
Spin Sports Casino
Spin Sports also features an Online Casino which has been around longer than the sports betting side of the website.
The casino offers its own welcome bonus as well, with the same terms and conditions as the one for the sports betting portion. Once you sign up, you will be greeted with a huge bonus of $1000.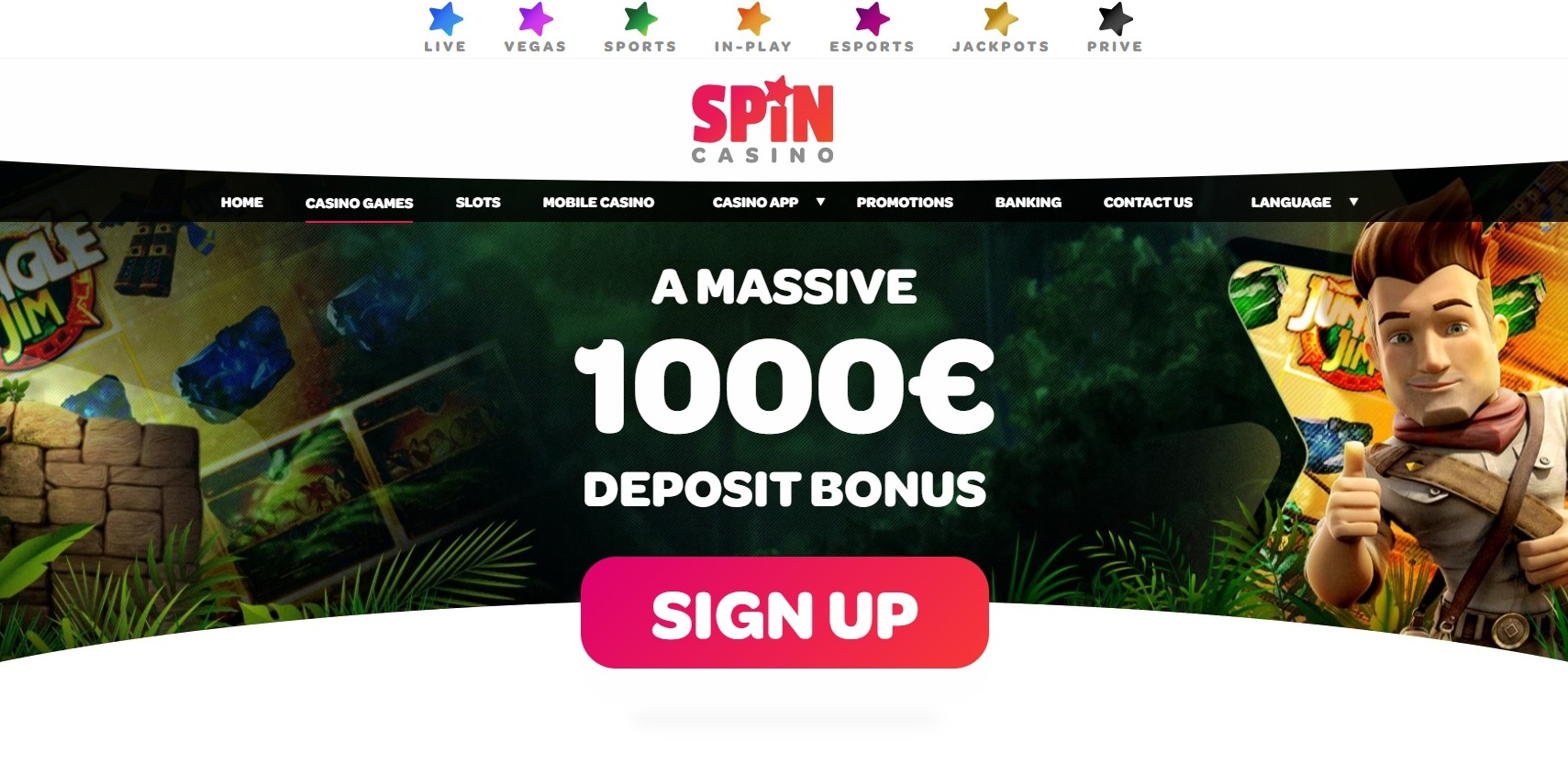 They have a great selection of slots and card table games available for you to try your luck. The whole interface is very user-friendly and fast, even on the mobile version.
For all avid gamers, there is no better place to access slots and card games, right at your fingertips. Their casino easily competes with its competitors, or even with big brands around the world. It can grant you with all the latest action without ever having to leave the comfort of your home. It's convenient, and available no matter where you are and what device you are using to play.
You can spin the latest slots, play classic card games, or even scratch cards online.
They have tons of slot games to choose from, each with their own unique and fun theme. The graphics on these games are second-to-none, and the visual experience and audio makes you feel like you are in the casino! In addition to slots, they offer all of your standard table games. You can play many versions of poker, blackjack, craps, baccarat, and more. They even have games such as Keno and scratch cards.
Transferring funds is very easy and fast as well. They made sure that its interface is compatible with all major banks and card types, so you can gamble securely, without hassle.
Spin Sports Mobile
If you don't want to have to download an app, Spin Sports provides an excellent mobile experience through browsers like Safari, Chrome, Edge and Firefox, along with less popular surfing platforms like Opera. The mobile version is compatible with all iOS and Android devices. These applications offer the same quick and hassle-free services as the desktop version. They also offer the same betting options, so you will not miss out on anything while you are on-the-go.
Spin Sports mobile developers thought of everything. The interface is very pleasing to the eye and has very sharp imagery along with a nice tone of colors. The mobile version is very easy to use. Everything is where you expect it to be and there are no unnecessary features to distract you.
They just recently added sports betting to their portfolio in 2017 but managed to stay up to date with current wagering styles by utilizing a state-of-the-art interface on mobile.
The mobile version looks great on iPhone and Android smartphones, but the iPad version of Spin Sports mobile shines on the retina display. Extra screen space on tablets allows the design to breathe without sacrificing mobile functionality.
Spin Sports put the effort into their mobile version, and it shows. Their casino experience shines just as much as their sports betting options. The design is appealing and modern, and it's easy to play and place bets. You can tell that they know their craft in and out.
Spin Sports App
Spin Sports does not currently offer an app for either their sports betting or casino site. However, that is because they don't have to! The mobile version does offer everything you would need, and you can still access all of the betting action and casino games you love from any device. With such a streamlined mobile service and offer, no one will miss not having an app version. Plus, you don't have to worry about taking up any additional valuable storage space on your mobile device!
Depositing at Spin Sports
Spin Sports offers a wide variety of banking options, and many of them allow instant deposit of funds. As you are betting on games and playing in the casino, this is a very convenient feature to ensure that you always have money available. Each option has its own details regarding processing times, and some have a daily limit for transfers. These are clearly outlined on the website before you make your deposit.
Below are all of their options for depositing funds.
Visa
Visa Electron
Mastercard
Interac
Skrill
Trustly
iDebit
Neteller
Withdrawing at Spin Sports
They offer a wide variety of options for you to transfer money or collect funds, fill your wallet, etc. They support all major banks and transfer methods available. Some are instant, however, in some cases, it may take you 1-3 business days to see your funds available.
Major entities supported are:
Mastercard
Visa
Bank wire
Skrill
Bank transfer
Electronic debit
Neteller
You can also transfer your winnings via electronic methods such as PayPal. While Bitcoin is not yet supported, it may be something they add to their currency options in the future.
Licensing and Regulation
For many reasons, online sports betting websites and gambling sites being licensed are something to take into consideration. Fortunately, Spin Sports has not one, but two of these licenses. This can give all players and members peace of mind that their funds and winnings are secure.
The first of the licenses that the site holds comes from the Malta Gaming Authority. This is to be expected, considering it bases itself out of Malta. Its second license comes from the Kahnawake Gaming Commission, which is based out of Canada. This is probably due to its growing popularity in that country. It has a large number of Canadian players.
Having two licensing and regulation agencies bears a double guarantee that we can enjoy a secure and safe betting experience without breaking the law.
Business Information
When it comes to their customer support, they offer top-notch service to their customers and around-the-clock support.
They are very professional and swift in their ways of dealing with customers. They can support you via e-mail or over the phone. However, what surprised me the most was their online chat function.
This service is offered 24/7 any given day of the week. You will have to provide them with your first and last name and your username as well. However, after that everything is seamless, and their representatives are friendly and helpful.
A member of staff will walk you through the solutions to your problems and solve your queries on the spot.
Their phone support features an international English, a separate Canadian, and a French-speaking Canadian number for French-speaking Canadian bettors.
I was very pleased with their support. Most successful online betting sites have this feature, so it's nothing new, but it was a great experience for Spin Sports. Not all customer service departments are made equal, so it matters that Spin Sports has a great one.
Our Verdict on Spin Sports
Anyone who hasn't visited Spin Sports yet can easily add this wagering website to their trusted betting sites. They are wildly popular internationally but lately have been focusing on gaining more popularity with players in Canada.
I managed to register myself on their site in less than 3 minutes. I applied the bonuses and placed a live bet on a game that was already in progress. It took me no more than 5 minutes to make an initial deposit, and it showed up on my bankroll immediately. It was a safe and secure transfer without hassle. I even won my bet, so I was a huge fan right from the start!
All casino lovers will admire the live dealer tables and the Vegas-style slot machines. Its mobile website supports all major phones and is available for both iOS and Android users. It was easy to connect to a slot game, and I could jump quickly from one slot to another. It was fun to play, and it was all accessible at my fingertips.
It was a very nice experience overall on mobile, and even better on an iPad.
When it comes to pay-outs, their game is strong. As an online gambler, for me, it's imperative to receive my pay-out in a relatively short period. At Spin Sport the eWallet option gives you nearly instant withdrawal. On the other hand, credit card and debit card options may take a few business days. Overall, their pay-out structure is swift and very secure.
As a sports bettor, the most important aspect for me online is that there is a human available at all times. Their customer service team is not automated, and they have personal support available 24/7. When your money is involved, this is a huge benefit.
It was amazing to be able to chat with someone, ask my questions, and receive help immediately along the way. There was no pain of looking through pages and pages of information to figure out how to contact support. It was simple to find and utilize.
The thrill that the live betting option gives is unbeatable. Every score, every move, and every stat is updated in real-time, every time. It gave me peace of mind to know that they are so fast and so precise. Any regular sports bettor knows that there is lots of action to be had during a live game, and offering this option makes for an exciting betting experience.
Overall, it is hard to beat the experience you get at Spin Sports. Between the great customer service, a wide variety of sports and betting options, and the top-notch casino site, they offer just about everything you can want. If there are any negatives, it would be that they do not allow Bitcoin (yet!) and that they are not available to users in the United States at this time. However, every other aspect exceeds expectations. It's no surprise they are able to say they are the world's number 1 betting site. I do not doubt that as they continue to expand and improve, their popularity will only grow.