Matched Betting Canada
Matched betting is a gambling strategy that can be compared to having an ace up one's sleeve. Why? Because it allows you to take advantage of all the free bets and bonuses offered by bookmakers by covering all possible outcomes of sporting events.
To make matched betting work, you must place two distinct bets on a single game, to make a profit regardless of which team wins.
You've come to the correct site if you think this seems a little complicated and want to learn more about what matched betting is and how to get the most out of matched betting free bets. Stay tuned as we break down the entire process and highlight the most crucial parts.
The Top 10 Matched Betting Sites
When you start browsing around, you'll notice that there are numerous free bet offers available. You can make a nice profit if you're willing to put in the effort of depositing, placing bets, and laying them (be sure you have a funded exchange account like Betfair or Smarkets).
For starts, here are some suggestions based on a fast search at the time of writing:
$300 Matched Bet Welcome Bonus
Opt-in & place any sports bet at odds of evens (2.00) or greater & get a matched Free Bet up to $300. Expires within 7 days. T&Cs. 19+
Get a $75 BONUS for $25 Deposit
New Users Only. Opt-in and the next deposit you make is matched extra $75 in bonus. Matchbets supports responsible gambling. Gambling for persons 18 years and older.
GET UP TO 200$ FREE BET – CLOSED
1st Deposit – Free Bet up to 200€ • New customers only • Min deposit 10€ • Wagering at odds of 1.3+ to unlock free bet • Opt-in required • Terms apply.
Sign up Now to Get a Free $10 Bet
You must deposit at least the qualifying deposit of $20 (or currency equivalent) in a single amount with your first deposit to be eligible for the rebate.
50% Match Bonus Up To $1,000
The bonus terms are in addition to the general terms and conditions of Cyber.bet. A player receives only a profit of the wager from a free bet. For example, you place a $10 free bet for the odds of 1.75. In the case of winning, you get only a profit of $7.5 ($17.5 minus a free bet amount). If you lose the wager, you lose a free bet.
0% Commission Up To $500 on the Exchange
Applies to Betfair Exchange bets & any commission paid within the first 30 days. Refunds occur every Wednesday based upon the activity carried out during the 7 days prior. Only deposits made using Cards/Paypal will qualify. 2% rate will apply after the promotional period & is offered through the Betfair Rewards Basic package.
$10 Refund If Your First Bet Loses
These specific promotional terms and conditions apply to this promotion, "New Customers Offer – Money Back If Your First Bet Loses" and should be read alongside our Standard Promotional Terms and Conditions .
Bet $10 & Get $10 Free Bet
New customers only. Certain countries only. API/RDT customers excluded. Min $10 Sportsbook/Exchange bet at odds 2.0 or greater within 14 days of acc reg. Free bet valid on exchange for 7 days. Stake not returned. No cashout. The free bet will be credited within 72 hours to your account once the staking requirement has been met. T&Cs apply.
After logging in, you will notice a Bonus button in the account dashboard. This is where you will find any special promotions and bonuses that NEO.bet offers.
$3000 CASH PRIZES GTD GET $10 – BET $20
New depositing sport players only. The offer only applies to players who are residents of the United Kingdom. Min deposit $10, minimum wagering on sport $20, req qualifying bets at min odds at 1/1, offers valid for 14 days; max one $10 free bet per customer, paid as bonus token with min odds 4/5 req. Tournaments run every Friday at 00:00 CET until Thursday 23:59 CET. Tournament Timeout Limit: 35. Stake contribution per bet: $1. Minimum odds: 3/10. Minimum bets in tournament to be eligible for reward: $10. 1st Place Prize: $1000. Prizes granted up to 48h after tournament ends. Free Bet does not contribute towards leaderboard. Play Responsibly. www.begambleaware.org T&Cs apply.
Bonus 125% Up To €150 +100FS
All bonus offers are strictly limited to one per person, All the players can take advantage of the bonuses.
What Is Matched Betting and How Does It Work?
The process of backing and laying a bet, which turns matched betting free bets into long-term profit, is an important aspect of matched betting. First, let's define the terminology.
You can only choose a fixture and put a back bet using regular betting with online bookies. The back bet is a gamble on the outcome of a game or contest that you believe will occur. For example, in a football match between England and France, you back England to win by putting a bet on their victory. If you're correct, your profit will be equal to the amount you bet multiplied by the odds. If you don't, you'll lose your initial bet.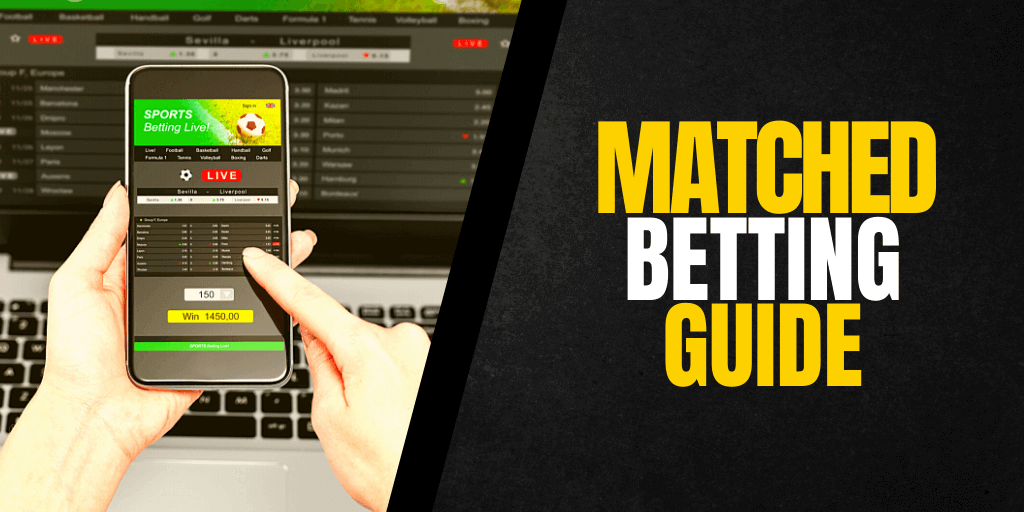 A lay bet, on the other hand, is a wager against a specific outcome. You're actually betting that nothing will happen. You take over the position of the bookmaker with a lay bet, which is only possible through betting exchanges like Betfair, Smarkets, and others.
Laying a bet is essential for matched betting because it allows you to cover all possible outcomes while avoiding the dangers associated with back betting. You won't even have to risk your own money if you use matched betting free bets to make a profit. This means that regardless of whether your back or lay bet is the winner, you will profit.
The key to matched betting is to place a lay bet on a betting exchange that is similar to the back bet you made with the bookmaker. This enables you to continue to profit from reload bonuses from the same bookmaker or additional welcome bonuses from different bookmakers.
What is no risk matched betting?
What is no risk matched betting? This is a type of betting where you do not have to pay taxes on the winnings because they are considered income and not gambling monies. So what can no risk matched betting do for you? Here is a look.
First, it allows you to get more sports betting sites with which to place your bets. You get a bonus because you put in more effort into making your picks and you will be able to receive more sports betting sites offers. You also get a bonus because if your picks win, you receive the full amount of your winnings–no taxes! How cool is that! The full advantage of no win no fee to participate in sports betting sites.
Next, you can save more by placing your bets with no commission charges on your end. Most sportsbooks do not charge anything for bettors. It is up to the sportsbooks to pass on the cost of any services, which include the booking of games and other sports betting information to the individual betters. Many individuals who make money this way are avid sportsbook users who become fans of certain teams or players. They enjoy watching the games so much that they think it is worth paying to be a member of the sportsbooks that allow them to bet on the games they love.
Matched Betting Example in Detail
Because free bets are the foundation of matched betting, you must first receive them from the bookies. Let's imagine an online bookmaker offers you £20 in free bets if you deposit and wager £20 of your own money on a certain bet with specific odds. This is often referred to as a qualifying bet. You then wager the remaining £20 on England's victory over Belgium at odds of 2.00, for example.
The second step is to go to a betting exchange and, for example, lay England at odds of 2.01. You may calculate the amount you need to wager to lay England by using lay betting calculator software, which will do all the math for you. The original amount for the back bet, the odds for it, the lay odds, and the betting exchange's commission will all be entered. Your lay bet has to be £20.61 based on the data we showed here.
There are two conceivable outcomes now. If England wins, the bookmaker will pay you £20 and the betting exchange will pay you £20.61. If Belgium wins, you'll gain £19.39 on the betting exchange, but you'll lose £20 on the back bet. In either case, you will incur a £0.61 loss, referred to as the qualifying loss.
Because you must lose that amount to activate the matched betting free bets, this loss is unavoidable.
You can choose bets with better odds now that you have the free bets, boosting your payouts. Let's imagine you want to bet on Chelsea to beat Liverpool at 5.00 odds. In a betting exchange, the lay odds are fixed at 5.2. Using the same lay-matched betting calculator, you can see that to make a profit, your lay bet needs to be £15.53.
If Chelsea wins, the bookmaker will pay you £80.00, but you will lose £65.23 on the betting market, leaving you with a £14.77 profit. If Chelsea loses or draws, you will not earn any money from the bookmaker, but you will receive £14.75 from the betting exchange because you used the free bets. The mainline is that you will win money in either case.
Step-by-step instructions for matched betting
Here's an example, based on a current Betfred promotion that allows new customers to place a £10 bet and receive £30 in free bets.
Make a £10 deposit at Betfred and search for a suitable game (using decimal odds). Liverpool to defeat Tottenham at 2.1 is a made-up example. As a £10 wager, back the outcome.
Go to a betting exchange, such as Betfair, and place a wager on Liverpool losing versus Tottenham. You're looking for odds that are nearly the same, around 2.1.
You can't lose now, regardless of the outcome. If Liverpool wins, Betfred will pay you your winnings plus your £30 in free bets. If Liverpool loses or draws, you lose the £10 wager on Betfred but keep the £30 in free bets AND win on Betfair.
Over the next several days, your £30 in free bets will appear in your Betfred account. With the free bets, repeat the simple matched betting process (make sure there are funds in your exchange account to match your free bets).
Your £30 free bets will cancel each other out, but because of the free bet amount, you will keep the winnings in your account.
Rep the simple matched betting procedure at any of the bookies that are currently giving free bets. Many places provide these, especially during major sporting events.
Profitable bets with little risk Here are three things you must do in order to succeed:
1. Decide where you'll place your wagers.
Smarkets, Betdaq, and Betfair are the three betting exchanges. All three allow you to put your bets on hold, with the only major difference being the commission they charge on winning bets. Here you may find a comparison of betting exchange commission rates.
2. Locate a number of bookmakers that provide free bets.
Now, bookmakers aren't as naive as they once were. They give you free bets because they think you'll get tired of matched betting and switch to straight betting, where you'll lose. As a result, once you've made an account, you'll be bombarded with offers of free bets to help you get used to their betting platform. Make sure you register with the UK's largest online bookies and wait for the offers to arrive via email.
3. Avoid being a mug punter.
This is quite significant. Matched betting is a method of taking advantage of free bets by arbitraging between bookmakers. It's a long, laborious procedure with little payoff. However, you may become bored and begin betting because you have the accounts and nothing else to do with your time.
Don't bet only for the sake of betting. Match betting allows you to have fun while still making a small profit.
By laying off a free bet with a bookie on a betting exchange, matched betting offers some unique opportunities to make money. This does not imply that you are a successful gambler; rather, you are an offer taker. You run the danger of losing all of your hard-earned winnings in a matter of minutes if you wager outright. Gambling can be addictive, so keep track of your activities and tell a friend what you're up to. One way to go bankrupt is to be a hidden gambler.
Is it Safe and Legal to Place Matched Bets?
Matched betting may be frowned upon by bookies, but it is completely legal and fair. Match betting will continue to be an option as long as bookies offer free bets to players.
There's also something for the bookmakers. They bring in new clients and increase the number of visitors to their websites. The only risk is that you'll be banned from betting sites once they figure out what you're up to.
Final Thoughts: Matched Betting
Why not try a matched betting accumulator to mix things up a little? The same approach applies, but if you're aiming to get your bookie's "back" bet odds as close as feasible to the "lay" bet odds at an exchange, you can add this option.
Remember that simple matched betting is risk-free. It's almost there. Because mistakes sometimes happen, be sure you're always betting the proper amount at the right odds.
Finally, certain bookmakers occasionally provide free bet promotions to existing customers. Take advantage of these opportunities as well!
Serial-matched bettors aren't always well-liked by bookmakers. It's perfectly legal, but it doesn't help them make money. So, to avoid having your accounts frozen, gamble on your own periodically rather than relying on matched bets.