Bookies That Don't Limit Winners In 2021
If you've spent enough time in the sports betting business, you're probably aware of the betting organizations that restrict or even close the winning accounts of successful sports bettors. Accounts are restricted in a variety of ways, including maximum deposit limitations, maximum payout caps, withdrawal limits, and more. Continue reading to learn why this happens and how you may prevent it from occurring to you.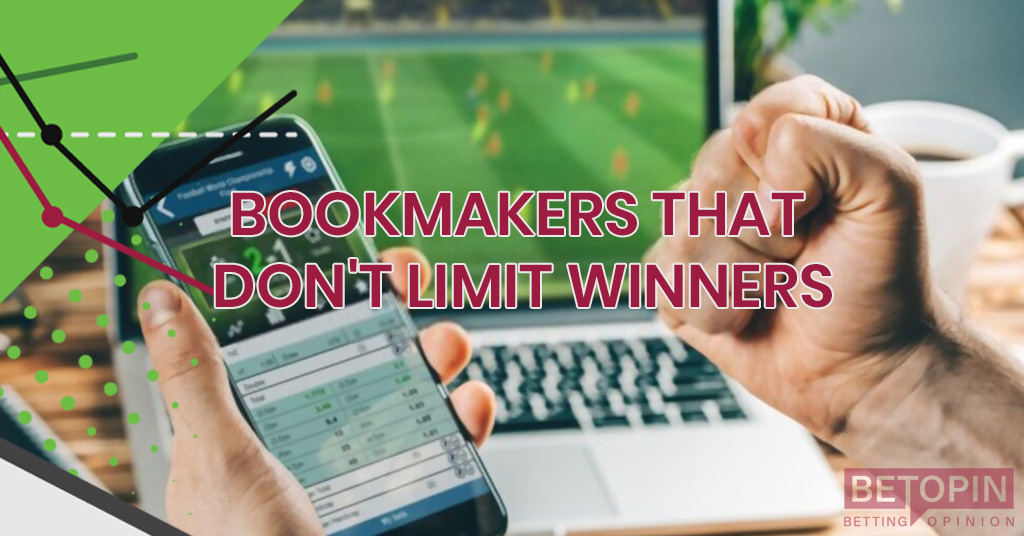 Best Bookmakers That Don't Limit Winners
There are still bookmakers who don't limit winners in any way. However, as we all know, these betting sites are few. So we went out of our way to research them and discover the greatest ones for you. Here's a list of top-rated bookmakers that won't place any restrictions on your sports betting:
Why Do Bookmakers Close Betting Accounts?
Online bookies won't limit or close your account without a good reason or at least a suspicion that you're doing something against their policy. Here are the most common reasons why bookies decide to cut you loose in one way or another:
Winning often — As your behaviour and success on a betting site are always monitored, the operator will know whether you're a successful bettor or just a lucky recreational player. In case you start winning too much, chances are that the bookie will suspect you're doing something wrong and limit or close the account you're using.
Abusing or avoiding bonuses — Bonuses motivate players and provide incentives for their online gaming journey. However, abusing those offers isn't quite appreciated, and neither is avoiding them entirely. If you commonly do any of those two things, you may raise a few eyebrows in the site's management.
Suspicion of arbitrage — In case you're not familiar with it, arbitragers are professional gamblers who can identify a big gap between the odds on two different betting sites and then bet on both outcomes to secure a win. Online bookies don't like arbitrage as it makes them lose money more than they normally would, which is why they will have your account limited or closed in case something like this is spotted.
Strange betting amounts — Successful online punters often make precise calculations when placing bets to win as much as possible and lose only a small amount of their own money. This leads to bettors wagering weird amounts (for example, $2,39 or similar) and can, once again, raise suspicions about arbitrage.
More than one account — All gaming websites clearly state in their T&Cs that each individual is only allowed to open one betting account. If you open more accounts and the bookie notices that, you can be permanently banned from the site.
Professional bettor behaviour — Many sports betting sites clearly state that only recreational players should use their services and avoid their site if you're looking for an opportunity to build a career. Any move you make that looks like a professional punter might have done can put you in trouble and encourage the operator to close your account.
How Are Bookmakers Able to Offer Odds and Then Close Winning Accounts?
Simply said, online bookmakers have complete control over the traffic on their platforms at all times. As a result, they can currently provide one thing and then modify it to something completely different the next. If you keep an eye on the odds on the site during a match, you'll easily notice this.
If you pay attention, you'll notice that bookmakers adjust the odds and incentives as the match progresses. Of all, the goal is for the bookie to benefit from your wagering, not the other way around.
Is it possible to prevent bookmakers from restricting your betting account?
Online bookies have complete discretion over whether or not to limit or close your account, and there is nothing you can do about it. It's not unlawful for them to do so, which is typically always indicated in the bookie's terms and conditions, so you have no reason to resist.
Tips to Avoid Restrictions by Betting Sites
While you can't really sue online bookies for limiting or closing your account, you can follow certain tips to prevent such harsh actions. Here's what you can do to keep your account active:
Use only one account — If the bookies don't always play fair, you definitely should, as you don't want to give them any reason to let you go. So, if the operator clearly stated you could only have a single account, respect that and don't use your personal information to create an account for any other person or play on someone else's behalf.
Start slow — Even though you're sure that your team is about to win this match against the favourite, don't make huge bets right after opening an account. Instead, start with smaller bets and then build your account from there.
Claim reasonable bonus offers — Bonus offers aren't necessarily scams that help bookies attract punters and get their money. Some promotions can actually give you a headstart and help you win more by spending less. Yet, to differentiate between a good and bad bonus, you should read the terms and conditions associated with it. If those rules sound reasonable, you may as well grab the bonus and enjoy any win coming from it.
Only trust the biggest bookmakers — Big names are less likely to limit accounts or impose any bookmaker restrictions. What's more, those names known worldwide are usually overseen by reputable EU gambling authorities and must provide a fair gaming environment. Consequently, you have fewer chances to get your betting account limited if you go for a famous betting operator.
Switch to betting exchanges — Instead of placing bets with classic betting brokers, you can try out a betting exchange. These sites work on a different principle, and instead of betting against the house, you actually play against other punters. In other words, the house always takes a percentage of your bet and has no reason to look into you and limit bets or close your account.
Final Thoughts
Even if you belong to a group of recreational punters, you may experience certain betting limits imposed by bookmakers from time to time. The best solution to avoid such unfortunate events is to pick renowned bookmakers that don't limit players' accounts in any way or switch to betting exchanges where you'll play against other punters.
Although you can use betting strategies to increase your winning potential, don't make it too obvious, as the majority of online bookies won't hesitate to close your account, and there's almost nothing you can do about it.