Fantasy Football Betting Sites
Football is the most popular sport in the US, but there are many fans of the sport in other countries, perhaps most notably in Canada. Betting has been closely associated with sports for more than a century, and football quickly became a favourite, especially in the US and Canada.
There's one type of betting in particular that became very popular among American Football fans — daily fantasy sports. As demand skyrocketed, many online sports betting platforms were launched, offering DFS to football fans worldwide.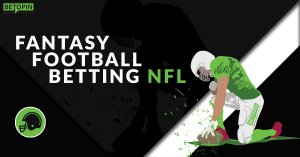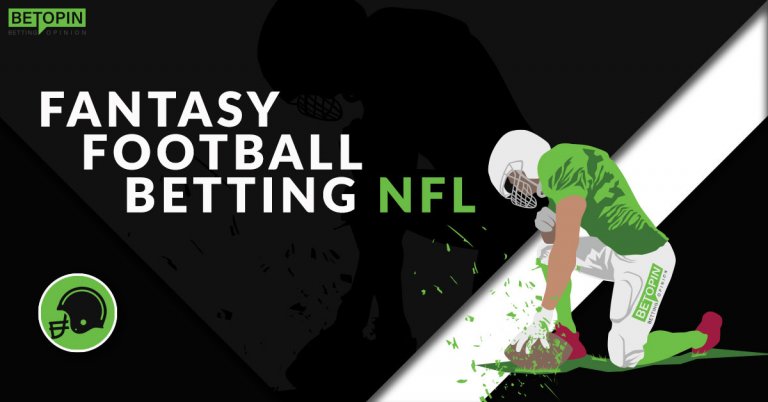 In this article, we'll offer a comprehensive guide to fantasy football betting. First of all, we'll help you choose a betting site that meets your needs, and then we'll talk about different types of fantasy football leagues. After that, we'll focus on how fantasy football betting works, and we'll give you some exclusive tips and tricks on how to improve your betting skills. Finally, we'll answer several questions that are often asked by fantasy football newcomers.
Read on!
Top Fantasy Football Betting Sites
What you see below is our ultimate list of the best fantasy football betting sites. Nowadays, there are many sports betting platforms, and not all of them are worth your time and money. That's why we decided to review each of them and include only those that met our strictest criteria. Therefore, every single platform below offers state-of-the-art daily fantasy sports betting options, so feel free to check them all out.
What Is Fantasy Football?
Daily fantasy football gives you the opportunity to become the manager of your own football team. It's like a simulation game, except you get to make a team of your own. The catch is that the players you select for the team are real players, and you'll be able to draft them and compete against other team owners in a fantasy league.
So, how does one compete with the selected players? Well, you get to make a team at the beginning of the NFL season (or other football leagues, if available). The players' performances are converted to numbers, and these numbers are then converted to points that you get for each player in your team.
The point distribution occurs every week when your daily fantasy football team faces another team from your fantasy league. The winner is the bettor whose players were better in real-life performances, and who accumulated more points against their opponent. The fantasy league lasts as long as the NFL league, and the winner is decided in the end.
Therefore, the most important part of every DFS fantasy league is drafting, which takes place before the real league starts. Every participant will have to select real players and fill in some of the roles for their team. In other words, you'll have to choose a quarterback, a kicker, a tight end, running backs, wide receivers, and other roles. Simply put, your team cannot consists of quarterbacks only. Instead, you'll have to make a team as versatile as possible.
It's also important to mention that every player has a price, and you have a limited budget to create your team. Therefore, you have to use your money wisely and predict which players will have the best performance in the upcoming season. It goes without saying that avid football fans will definitely have an edge if they follow stats and understand the game well.
It's actually what daily fantasy sports are all about. They are also about betting, meaning that all the league participants need to pay the buy-in price. They're sort of betting that their team will win in the end. The prize pool is created, and the league winner gets the biggest piece of the cake by the time the real-life league wraps up. Don't worry, we'll explain the betting aspect in detail further below.
What we're interested in right now is how players receive points. You might wonder — what's the most important stat that gives the most points to players? Is it passing? Rushing? Touchdowns?
The answer is — it depends on the type of league you're participating in. Namely, there are several different scoring systems and leagues, and each of them has unique rules for how the players receive points.
Therefore, we'll have to discuss each of these leagues separately.
Types of Fantasy Football Leagues
We'll present the most popular variations of daily fantasy football leagues, so make sure to read them carefully and select the one you like the most. Although the basic rules are pretty much the same for every type of league, there are still some fundamental differences that every newcomer should take into account.
Standard Scoring
Every league has a manager who can choose the scoring settings for the leagues. However, if they don't do it, the standard scoring will apply, which is often regarded as the best and most popular among online DFS bettors. Here's a short overview of how the scoring works if you choose to go with the standard option.
Every player who scores a touchdown will receive six points, and quarterbacks usually get four points for passing.
For every ten rushing or receiving yards that a player makes, they will receive one point. Moreover, one point is made for every 25 passing yards. However, if the ball is intercepted or a fumble takes place, the player is stripped of two points.
Kickers also get scores, but they may vary depending on the field goal length. For example, if the field goal is scored from up to 39 yards, the kicker will get three points. Four points are awarded if the distance is 39 – 49 yards, and five points are awarded for a 50-yard kick.
Defence players can also receive points for turnovers, touchdowns, yardage, and points. They can also be punished with negative points, so make sure to carefully select your defence squad.
Standard scoring also involves bonus points for players who manage to score a touchdown from 50 or more yards. Moreover, if there's a 200-yard rushing game, additional points can be awarded as well. The league manager decides how these points would be allocated after setting up the league.
Touchdown Only Scoring
This type of scoring was popular before the age of the Internet when it was difficult to keep track of yards and individual performances. Touchdown-only is pretty self-explanatory: players receive points only if they make touchdowns. Therefore, the scoring system is much simpler in these leagues, but it's also considered somewhat unfair, as many players aren't properly awarded with points. After all, the game of football is not only about scoring touchdowns — every team member has a role to play and must contribute to the team.
PPR Scoring
PPR stands for points-per-reception. Although this system is pretty similar to the standard scoring system, it also awards receivers, running backs and tight ends who make receptions. Therefore, this approach usually changes how you select players, making some of the roles much more interesting and lucrative.
For example, a running back with lots of receptions in the season will rank much higher in PPR compared to standard scoring. Therefore, when making a team in a league that allows PPR scoring, make sure to take a good look at players who you think might have good performance in terms of receptions in the upcoming season.
Redraft Leagues
We described different scoring systems above, but that's not the only thing that can be different. Namely, there are different ways you can draft your players and build your roster, and a popular one is the redraft approach.
Essentially, owners start with no players at the start of the league, meaning they have to draft from scratch, using the popular snake order. It's a simple solution that will make drafting fair, where you'll go last in the second drafting round if you're first in the first round, and vice versa.
However, a redraft also allows you to begin a new season with the existing league, and players have several options in that case. The draft for the new season can be random, or the previous standings in the season could affect it. The latter is similar to some real-life leagues where the lowest-ranked teams get to draft players first in the new season.
Auction Leagues
This type of drafting includes auctioning for players. For example, if there are several owners interested in one player, you need to place a bid, and the highest bid wins that player. This requires additional budget planning, as you don't want to spend all your money on one player and fail to draft decent players in other positions.
Keeper Leagues
The keeper rule allows you to keep a certain number of players when you start a new season, instead of redrafting the entire squad from scratch every time. Before your league is established, you'll agree on whether to introduce this rule or not. If the keeper rule is active, you need to decide how many players you get to keep.
For example, your manager can allow keeping up to two players when a new season begins, so your goal is to select your two best-performing athletes and keep them for next season.
Dynasty Leagues
Dynasty leagues are often considered leagues for professional and dedicated daily fantasy sports bettors. The gist of it is that you get to keep your entire squad for the upcoming seasons, meaning no new players are allowed onboard. You'll essentially build a squad for several years, and this requires a very thorough approach to DFS. Your goal is long-term success, so make sure to pay attention to young players who have a lot of room for improvement.
How Does Fantasy Football Betting Work?
What makes fantasy football interesting is that it's essentially a type of betting. In other words, you need to invest some money before the start of the league, and if you perform well, you could end up receiving lucrative prizes.
Of course, there are separate betting rules that you should take into account before you start your fantasy football journey, and we'll discuss them briefly in this article.
First of all, you need to select the type of game you want to enter. You can choose between one of the two basic types – cash games and GPPs.
Cash Games
Cash games start with team owners making a wager and creating the prize pool. After the league (or sometimes even just a weekly fixture) is over, the best team owners get to win the biggest share of the prize pool. There are two types of cash games you can choose from – H2H and Double-ups.
In H2H (head-to-head), you actually compete with just one opponent. Both sides make a wager, and the better one wins the money.
The double-up competition accepts more players and pays the top half of the leaderboard. This type of competition is sometimes referred to as 50/50. For example, if 10 participants are all part of the same league, the top five will get paid an amount that's twice as high as their initial wager. Therefore, if you wager $5, you'll end up winning $10 if your team makes it to the top five. This is actually the best way to start your fantasy football journey, as the risk of losing your money is lower compared to some other formats.
Another beginner-friendly contest that some DFS sites offer is called EPE (Experienced Players Excluded). It means only newbies are accepted.
All of these competitions are considered cash games, and the three main things you need to know about them are:
You only get to submit one lineup.
The number of players per contest is low.
There's a flat payout structure, meaning all winning entries usually receive the same prize.
GPPs
GPP stands for Guaranteed Prize Pool. This type of competition usually includes plenty of entries and a huge prize pool that the betting platform guarantees to the best players. If you manage to top the leaderboard in a GPP game, you'll end up receiving a reward that's much higher than the entry fee you had to pay to enroll it.
However, GPPs are much more difficult compared to cash games. There are plenty of competitors, and some of them are very experienced and after the main prize. Therefore, if you're new to football fantasy betting, make sure to start with some easier options, such as cash game competitions.
Top Fantasy Football Betting Tips
If you're new to the world of fantasy football betting, there are several things you should take into account before embarking on this exciting journey, so let's quickly go through them.
Understand How Your league works
Before you place a bet, make sure that you clearly understand the scoring system and the league's drafting rules, as these are the most important factors for choosing your team. Failing to understand how these rules affect player selection could end up badly, and you'll just lose your money.
Plan Your Budget up Front
When the league starts, every owner will receive a fantasy budget that they need to use to draft players and create a team. Therefore, it's important not to get carried away when drafting players and have enough funds for filling every role with decent options rather than some poor-performing players.
Select the Best Option for Every Role
It would be great to select all the best players in the league right away, as that would ensure a great performance from your team, but that cannot happen. The whole idea behind fantasy football is to pay attention to team selection rules, meaning you'll have to fill every role, including:
1 Quarterback
2 Running Backs
2 Wide Receivers
1 Flex
1 Superflex
1 Tight End
1 Placekicker
1 Team Defense (Special Teams)
6 Bench players
Your job is to go through the available player pool and try to use your budget in the wisest way to have a complete team.
Know Your Starting Squad
Although there are players who'll be your starters against most opponents, you'll have to switch some of the starting players if the situation requires so. Basically, you'll have to analyze their performances, as well as the performances of your opponent's players, to decide on the best possible squad for the upcoming head-to-head fantasy match.
Know the Schedule of Real Games, Pay Attention to the Playoffs
Fantasy league results are based on performances by real players, so it's extremely important that you watch a few games to see how your players perform in real life. Moreover, things can get pretty hectic when the playoffs come during weeks 15, 16, and 17 of the league. Playoffs can be a turning point in many fantasy leagues, so pay close attention to that period.
Star Players Aren't the Only Players Available
Having a player in your team just because they are a star doesn't mean that you've solved the equation to winning DFS betting. Star players are humans, like everybody else, meaning they have their ups and downs. Instead of chasing after starts, try picking the best performing squad instead. Also, don't be afraid to trade your stars if they aren't performing well. Sticking to them just because they are popular is always a bad strategy.
Take Injuries Into Account, but Don't Completely Disregard Some Players
Like it or not, injuries happen in sports and they can hinder your fantasy team performance. Therefore, make sure to take into account which players have been injured recently and what their performance was like after the injury. However, don't rely on the fact that an injured player would always perform poorly after returning to the league. Many perform just as well as they did before the injury.
Fantasy Football – The Conclusion
To sum up, if you want to play fantasy football, there are plenty of great options for you, as many sports betting sites focus on this type of entertainment. All you have to do is select the site you like and join one of the available competitions. If you're into NFL, this is a great way to put your knowledge and skills into practice, have fun, and even win money if you're better than others. All you have to do is draft players that you think will perform well in real life and have some fun!
Hopefully, this guide helped you understand how DFS works, and how you can participate in football fantasy leagues.
Fantasy Football FAQs
Is DFS legal?
Daily fantasy is sometimes put in the same basket as sports betting, meaning it's occasionally legal in the countries where betting, in general, is legal. In most cases, DFS operates in the so-called gray area, meaning it's neither legal nor illegal. Either way, you won't get prosecuted for joining DFS sites.
How much money can I earn by playing fantasy football?
You can earn a lot of money if you're a really experienced and skilled fantasy player. However, if you do it for fun, don't expect to make a living out of it. Still, you can earn a nice reward if you pick the right players and top the leaderboard in cash games.
How many people can play in a fantasy contest?
Small contests can have as little as two teams. On the other hand, some GPPs can have more than 5,000 players. It all depends on the rules of the contest at hand, so make sure to understand them before you join.
How can I make a fantasy football team?
There are several rules you need to understand when drafting players, and they may be different, depending on the league you choose. We've covered some of the most important rules in this article, so scroll back up to read more about them.