Playgrand Free Spins
Playgrand is an online casino that was established in 2013. They've got a smooth and easy-to-use website that isn't too complicated. It features sections for support, games, terms, and conditions, and promotions. As part of their casino, they offer hundreds of games, including slots, jackpot games, table games, and a live casino. The games come from dozens of game providers including Microgaming, NextGen Gaming, Thunderkick, Ezugi, Elk Studios, NetEnt, Shufflemaster, Wazdan, Playko, Golden Rock Studios, Nyx, Barcrest, and many more. The games fit into a wide variety of themes and genres so that every player is catered for. They've also got a mobile casino for when you're on the go, and a live chat option to help you with any problems that you may have.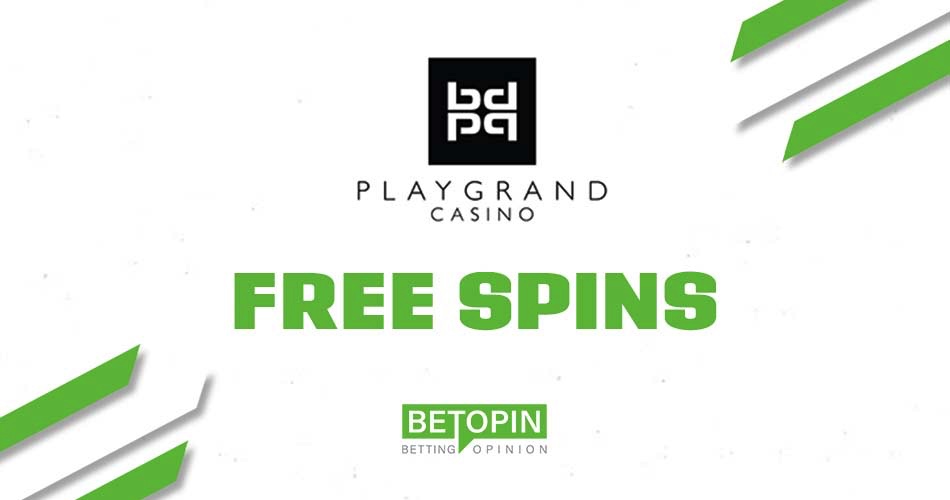 A fair list of payment methods is provided including credit cards, e-wallets, and online payment systems. Examples include Visa, Neteller, and PayPal. They also take multiple currencies including US Dollars and British Pound Sterling.
Another reassuring piece of information is that the complaints listed for this casino have all been resolved promptly and without any difficulties. This suggests that they have a strong record of delivering great customer service, which is crucial when you're signing up with a casino for the first time. That's backed up by the fact they're licensed by the Malta Gaming Authority.
When you join the casino you will be allowed to claim a welcome package. These are developed with the player in mind so that you can enjoy a positive experience from the moment you start using the casino. They usually feature deposit bonuses and free spins. Sometimes the spins are no deposit free spins, and other times they require a deposit. Playgrand gives its players a welcome package and it is the highlight of their casino.
With the Playgrand welcome package, you can receive a deposit bonus on up to €1000 of your money and 100 free spins for use in the casino. This is a high number of spins that you won't often find in an online casino. Most casinos offer a multiple of 10 such as 20 or 50. The offer can only be accessed by new players and it does require a minimum deposit of €10. This means that you'll have to register on the casino before you can get hold of this bonus. Most casinos also require verification for security purposes, but at Playgrand this is a speedy process and any documents you need to send are stored securely. More details about the bonus will be provided in the following section.
The rest of this article will explore what free spins are and how you can take advantage of the offer at Playgrand, before discussing some of their other promotions and answering some common questions about free spins. This will allow you to come away with a deep understanding of the free spins available at Playgrand and how you can use them in the best way possible.
Playgrand Free Spins – what is it?
Free spins allow you to play on reel slots without having to buy any spins with your own money. Reel slots are the classic games that often feature simulations of fruit machines that you'd find in a real-life casino. Each attempt of a reel slot game counts as a single spin. The benefits of free spins are that you don't have to worry about making any losses when you use them because you didn't buy them. This is why Playgrand has decided to offer some to new players. They are the perfect way to grow familiar with a new casino and understand how it works and what games you'd like to use. However, free spins do often come with a lot of rules that are important to keep in mind, and this is the same at Playgrand as it is at any other casino. Casinos always want to make sure that the relationship between themselves and their players is mutually beneficial. They have to receive something in return for giving you the free spins. Here are the rules at Playgrand.
When you take part in the welcome package, your free spins are split into three separate chunks. 30 free spins on your first deposit, 50 free spins on your second deposit, and 20 free spins on your third deposit. We will explore how to get them in a later section, and share with you the games they are restricted to, but for now, all you need to know is that you can't get all of them at once. A certain process has to be followed. This is because the free spins are tied in with the up to €1000 deposit bonus. This bonus is also divided across your first three deposits. The first deposit is up to €300, the second is up to €500 and the third is up to €200. These numbers refer to the maximum amount you can deposit each time. The match percentage for each of these is 100%, 50% and then 25%. If you put in only the minimum deposit of €10 each time, you'll get another €10 the first time, another €5 the second time, and €2.50 the third time, for a grand total of €47.50 to play with. You can get the free spins just by using the minimum deposit.
On the other hand, each set of free spins is tied to a specific slot game, and they must all be used within 10 days of receiving them. When you get the spins you will need to act fast. Also, if you win any real money with free spins, this will be capped at €100 and you will need to withdraw at least €10 each time. You can also bet with a maximum of €5 using any of the bonus funds, and when you receive winnings from the free spins, the money will be moved into your bonus funds. Any money in these funds needs to be wagered 35x before you can withdraw the original amount of winnings as real money.
No Deposit Free Spins
No deposit free spins are a special type of free spin which are both rarer and more valuable than ordinary free spins. The reason for this is that they don't require you to make a minimum deposit before you can get them. Often, all you will need to do is complete the registration process, but sometimes you don't even need to go that far and you can click on a special button to get them.
These types of spins put the casino at a small risk because they require nothing from the player before using them. Therefore caps and wagering rules are usually put in place to ensure the casino gets a fair deal if you win any real money using them. Sometimes no deposit free spins can be used on any slots, and at other times they are confined to a single one.
No deposit free spins are also a cost-effective way to try out a new casino and learn about how it works without committing any actual money or suffering any losses. Interestingly, you may have thought that no deposit free spins would be given in smaller amounts than free spins, but typically when a casino offers them they give you a similar number as the casinos that are only offering free spins. Fewer casinos offer no deposit free spins, which is why they're rare and valuable, but when you do get them, there is usually a decent number of them.
Unfortunately, Playgrand does not offer any no deposit free spins at this time. According to research, it does look like they offered some in the past, so this means they may do so again in the future. Casinos do frequently change their welcome packages so that their offering remains fresh and they can appeal to new players who may not have been interested in what they were previously promoting. If you do want to find out whether Playgrand is offering any no deposit free spins in the future, the best place to go would be their homepage. Most casinos headline their welcome packages so that they are the first thing a visitor to their website sees. You'll usually find the terms and conditions in the small print just below the main text about the welcome package. This is the format that Playgrand is currently using for its welcome package.
100 Free Spins at Playgrand Casino
The maximum amount of free spins you can get at Playgrand right now is 100. But they aren't all assigned to you at once. You'll need to go through the complete welcome package to get them. The package involves a deposit match bonus for your first three deposits up to €300, €500, and €200 respectively. Each match bonus then includes 30, 50, and 20 free spins. To get all of those spins, you'll need to make the three deposits. However, you can use the minimum deposit amount of €10 to do this. If you make an account, register a payment method and then make three separate deposits of €10, for a total of €30, you will get 100 free spins.
The 30 free spins are restricted to the Reactoonz slot, the next 50 free spins are restricted to the Book of Dead slot and the final 20 free spins are restricted to the Legacy of Egypt slot. Book of Dead is a very popular game and is often included in free spin bonuses. This is good news because it means you can find out a lot about the game, how it works, and how to maximize your chances of winning from other players who have successfully done so. As for the other two games, it's still worth doing some research so you can use the free spins most effectively.
However, there is a contradiction in the promotional terms and conditions of Playgrand which states that even when free spins are specified for a particular slot, they can be used on any of the slots. This means the rules are somewhat unclear, and you should contact the casino using the live chat or email address to get an answer about this.
The wagering requirements are still 35x and the spins will need to be used up within 10 days, even if you make three deposits in one day to receive all of them at once. So if you choose to get 100 free spins from Playgrand, make sure that you're prepared to spend some time using them all up. There is no guarantee that you will win anything using your free spins, and you should keep in mind the fact that there is a cap of €100 on any winnings you make from free spins, and funds won will be treated as bonus money until the wagering requirements have been met.
50 Free Spins at Playgrand Casino
If you'd only like to use 50 of the free spins available at Playgrand Casino, there is a way to do this, but it does involve having a total of 80 free spins and not using one of the deposit bonuses straight away. When you sign up, you'll want to make the minimum deposit of €10 two times over, for a total of €20 deposited and €35 to play with. Once you've done this, you will have received the first set of 30 spins for Reactoonz and the 50 spins for Book of Dead. If you don't want to use the 30 free spins, then you can leave them to lapse after 10 days. But within that same period, you will need to use the 50 free spins for Book of Dead. This will leave you with a further 20 slots to claim for Legacy of Egypt at your convenience. There is no way to receive only 50 free spins in total. That's the way that Playgrand has built their welcome package. Even if you requested only 50 free spins, they would probably not change the terms of the bonus at your request. So you will need to work out whether this choice is going to benefit you.
The same rules will apply as if you were having all of the free spins. That means you'll need to ask the casino whether the 50 free spins can be used on any other slot games, and obey the wagering requirements before any winnings can be converted into real money and withdrawn. You'll also be subject to the same €100 cap on these winnings.
Therefore, in our opinion, it is best to take all 100 of the free spins rather than a lower amount. You might be tempted to retain some of the free spins for a future third deposit, but there is no gain to be had from doing so unless you want to spread them out and not spend so much time using the casino. Plus, if you do only take the 50 free spins, you will decrease your chances of winning real money because you are giving yourself fewer spins, which means fewer chances to win on the slots. But the choice will depend on your personal preferences and whether you'd like to delay some of the spins or only play certain games like Book of Dead.
Playgrand Casino Other Promotions
In addition to the welcome package and the free spins, there are also some other pleasing offers that Playgrand has developed. Two are available at the time of writing, and these are Grand Moments and Loyalty Points. Here is some greater detail on each one.
Grand Moments
Grand Moments is a promotion that runs every Tuesday at the casino. Your first deposit for the day will be matched by 40% up to the value of €40. This means if you deposited the full amount, you'd receive another €16 on top of it. This might not seem much, but that's why you can get it every week. And if you use it wisely, it could give you even more chances to win real money. You will need to deposit at least €20 for this bonus, and the wagering requirements remain at 35x just like the welcome package. The funds you receive from this will also be considered as bonus funds, and they will not be transferable into your cash balance until you've wagered them. This will need to be done within 30 days or you will forfeit whatever amount is left inside your bonus balance.
Loyalty Points
Loyalty Points are given automatically to players when certain requirements are met. There is no need to join any separate programs or schemes. You'll receive points whenever you place at least €10 worth of stakes. Depending on the type of game you're playing, the number of points you get for each €10 will vary. For slots and scratchcards, it is 2 points per €10. For bingo and video poker, it is 1 point per €10. For blackjack, it is 0.5 points per €10, and for roulette, it is 0.25 points per €10. Once you've accumulated 200 bonus points, you can cash them in for €1 of bonus funds. If you have 1000 points and you redeem them all at once, you'll receive a total of €5 in bonus funds. The most you can redeem in a single day is 10000, which would give you €50 in bonus funds. You can only redeem points once you've got at least 200. Once you've wagered the bonus funds 35x, you can convert them into cash and withdraw them. This will need to be done within 30 days.
FAQ
Here at Betopin, you can rely on us to deal with all of your questions, and below we've included some of the most common ones relating to free spins.
What are Free Spins?
Free spins are playable on reel slots. Each free spin allows you to make one attempt at winning cash with the particular reel slot that you use it for. You will usually get free spins in welcome packages, as at Playgrand, but occasionally they can be offered as rewards or special bonuses. Often, there are rules restricting the slots you can use them for, the time you have to use them in, and how much you're allowed to win with them. Playgrand's rules have been discussed in this article.
Can you exchange free spins for real money?
No, you can't. Playgrand does not have a facility for exchanging free spins. You need to use them whilst you've got them. The best you can do is to use the welcome package to receive them and then play them on one or more reel slots. If you win cash from those, you'll be able to withdraw it as real money once you've met the 35x wagering requirements, so long as you do this within 30 days and don't exceed the winnings cap. If you play the slots well, then you'll have a better chance of winning.
Can I claim this offer more than once?
No, this is forbidden. The welcome package is for new players only. Playgrand verifies their players and only allows one account from one registered account holder to claim their welcome bonus. Once you've got all of the free spins, you will not be able to revisit the offer and claim more. Even if you register again and get more free spins, it will be on a separate account and you would need to be verified before you could withdraw any real money.
Is there a restriction on how much you can win with free spins?
Yes, there is. Playgrand enforces a cap of €100 on any winnings accumulated through the use of free spins from their welcome package. These winnings will be kept inside your bonus funds until they have been wagered, which must take place within 30 days. Only at this point will you be able to withdraw real money. The minimum you can withdraw is €10, but you won't be able to win any more than €100 using free spins alone.