Slottica Free Spins
Free spins are an important tool of any casino for attracting new players and rewarding experienced ones. They offer you the chance to play on reel slots without putting up any of your own money, and that's why they're seen as being highly valuable. One such casino that offers free spins at the moment is Slottica, a relatively recent entry into the market that's hoping to build up its user base.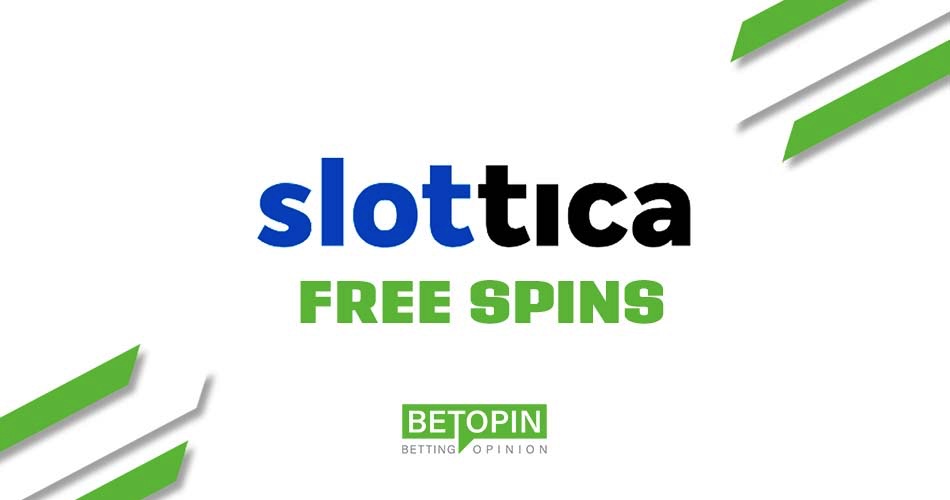 Despite being created recently, in just 2019, Slottica has created a smooth website that works well and contains all of the important features that you would expect from an online casino. That includes a game library, support page, live casino, and a page that discusses their current promotions. But they go beyond this by offering not only a casino and a live casino, but a sportsbook too. This means that plenty of content and opportunities are provided to their players. The website is built well and allows you to find the relevant information to get started and enjoy the experience.
Unlike most casinos, Slottica is only restricted in a few European and North American countries. These include Canada, France, Italy, the Netherlands, Spain, Sweden, Switzerland, Ukraine, the United Kingdom, the United States, and the New South Wales territory in Australia. Further restrictions apply to NetEnt games. The casino operates in a variety of languages, which are English, Polish, Turkish, Spanish, German, Norwegian, Finnish, and Portuguese. This means that you should be catered for throughout most of Europe excluding the restricted areas, and in some other parts of the world too.
Games are also offered in a selection of categories from many of the most popular providers. Some of these providers include NetEnt, Play 'n' GO, Microgaming, Quickspin, Betsoft, Pragmatic Play, Playson, and Evolution Gaming. This ensures players can pick and choose from a strong collection of high-quality games. Titles available in the slots category include the Book of Dead Slot, Electric Sam Slot, Wild Toro Slot, Sakura Fortune Slot, and Poltava: Flames of War Slot.
And as with most casinos, Slottica also offers a welcome package to attract new players who might have just discovered them, or be unsure about whether they want to sign up. The casino has a welcome bonus including free spins and other offers on top of that which contain free spins exclusively. This makes it a great choice for anyone who wants to get plenty of free spins. There are some contradictions on the website about which bonuses form part of the welcome package and which do not, so we have referred to their Promotions tab specifically.
Slottica Free Spins – What is it?
We will now provide more information about free spins and what you'll need to do to get them, before moving onto a discussion of no deposit free spins, how you can get precise amounts of free spins on Slottica, and then an overview of the other promotions are offered by the casino. Slottica has a great selection of bonuses to satisfy you throughout each week. We will finish up with some commonly asked questions.
Free spins are a sweetener given to players to increase the chances of them making money on slot machines without spending their own money. This means they are protected against any losses because the free spins were given to them directly by the casino. More specifically, the free spins on Slottica are only provided for named slot games, which means that you can't use them across the whole list of slots. Sometimes a casino will allow you to use free spins with any slot, but this is not common.
Slottica offers a total of 180 free spins spread across multiple bonuses. Their welcome bonus is a 200% initial deposit bonus up to the value of €200. This means you'll get an additional €200 if you deposit the maximum amount. It also includes 25 free spins for the Joker Pro game. You will need to verify your email address and telephone number to take advantage of this bonus. The minimum deposit is €15 and the wagering requirements are 45x. That means you'll need to wager at least 45x the amount you deposited before you can cash out any of the bonus amounts as real money. But the spins will be given to you immediately. There is also no mention of any caps on the amount of money you can win from these free spins.
Another bonus is the 30 free spins you can receive for use in the game Gonzo's Quest. You'll need to deposit €40 to get this bonus and it will only be valid for 7 days. You'll need to wager the bonus amount 45x before it can be withdrawn as real money, and there is a cap on free spin winnings of €200. This is somewhat more generous than other casinos.
Finally, the third free spin bonus available on Slottica is 125 free spins spread across 5 different slot games. These are Joker Pro, Pyramid: Quest for Immortality, Wild Wild West, Steam Tower, and Drive Multiplayer Mayhem. Unfortunately, it is not made clear whether you will receive 125 spins per game or if you only get 125 in total. This can probably be answered by contacting the casino using their live chat facility or email address. However, to get this offer, you will need to deposit at least €80, which is very steep, and you'll get them spread over 5 days.
No Deposit Free Spins
No deposit free spins are much like any free spins you can get. You'll use them for the same purpose in the same slots with the same conditions as those attached to ordinary free spins. But there will be one big difference. You won't need to place a deposit in order to get them. You'll probably still have to sign up, and you may even have to register a payment method, but none of your money needs to be spent before you can get them.
This type of free spin is great if you're not sure about a casino that you've found. You can get a feel for it before you agree to their terms and conditions or risk any of your money with them. That's why no deposit free spins are becoming quite a popular option for online casinos, as the marketplace is highly competitive and many casinos have only opened in recent years.
This is why Slottica was previously offering 50 no deposit free spins for its players for use on the popular Starburst slot. All you had to do was click on a promotional link from another site, or visit the casino itself and look in their promotions section. However, this offer is no longer active, and none of the other free spin deals offered on the casino are marked as being no deposit. But if you check back some time in the future, the casino may have changed their bonuses and started offering them again.
And if they do offer them again, don't assume they'll be confined to Starburst. Casinos are always interested in how they can stay fresh and relevant both for attracting new players and retaining current ones. The best thing you can do is to keep watching in case anything changes.
100 Free Spins at Slottica Casino
We mentioned that there was a total of 180 free spins up for grabs, but they are spread across different games. This can make it quite a nuisance if you only wanted to play on one of the games or not use so many free spins at once. None of the three offers give 100 free spins directly, but the closest way to get to 100 is to take up the 25 free spins for Joker Pro that are provided in the welcome package, and then to apply for and activate the 125 free spins spread across 5 games. That will give you a total of 150, with 25 for Joker Pro and 125 across the other games. The 125 free spins will require you to deposit at least €80. This makes the process quite inefficient, as you'll get spins for multiple games and will need to deposit a lot of your own money.
If you wanted to try a slightly different route, you could deposit €80 to get both the welcome bonus of 25 free spins for Joker Pro, and the 125 free spins contained in the other bonus. Regardless of whether it is 125 spins per game or in total, you can use 50 on Joker Pro, and another 50 on whichever of the other games you're allowed to use them with.
This might seem complicated, but it is difficult to know whether the 125 free spins are divided among the 5 games, or given for each one. The other two free spin offers also apply to different games. But if you are keen on getting 100 free spins, then either of these two approaches should be sufficient.
But you'll need to bear in mind that the wagering requirements and any other conditions will still apply. This means that you will need to pay close attention to the terms and conditions in general and the ones that apply specifically to each of the offers. And if you want to minimize the amount of money that you are depositing at the casino to get your free spins, and you'd still like a decent number, we've shared a more cost-effective way to receive 50 free spins in the section below. It is to be hoped that Slottica will eventually clarify and simplify its free spin packages so that more players can gain value from them. But it is good that they offer so many, as a lot of casinos don't offer more than 100 free spins in total.
50 Free Spins at Slottica Casino
To get 50 free spins at Slottica casino you will still need to use two of the offers. But this means you can reduce the amount of money you deposit. What you can do is grab the 25 free spins available from the welcome bonus, and then select the 30 free spins available for Gonzo's Quest. This means you'll still have to deposit money, but only €40, which is half the amount you'd have to deposit if you were taking just 100 or more of the free spins. However, the downside to this is that the spins for Gonzo's Quest expire within 7 days, whereas the 25 free spins for Joker Pro in the welcome bonus have no stated time limit.
An alternative approach is also available if you want to get 50 free spins for the same game, although this will again involve depositing the full €80, as it means using some of the 125 free spins attached to the other bonus. This is because one of the games featured in this bonus is also Joker Pro, so you can place 25 of those spins on the game, and when combined with the 25 you get from the welcome bonus, the total amount you'll receive for Joker Pro is 50. Alternatively, you can use the other 25 spins on one of the other 4 games that's listed as part of 125 free spins. It depends on which of the games you prefer and whether you'd like extra free spins on Joker Pro.
But it is worth emphasizing that the best way to increase your chances of winning more money is to take all 180 of the free spins and use them as best you can, focusing on the games that you are good at or think you'll be able to learn quickly. This is because the more free spins you get, the more attempts on reel slots that you'll have. And the more attempts you make, the greater your chances of winning real money.
Although if you'd like to minimize the amount of money you'll need to wager, then you could settle for lower winnings from fewer spins and meet the 45x wagering requirements without having to wager quite as much money. The choice is yours.
Slottica Casino Other Promotions
Slottica has several other promotions to help players feel valued and rewarded for being a part of their casino. There is a third deposit bonus, a bonus for each weekday, and another for the weekend, for a total of seven. All of the weekly bonuses can be wagered on all of the games. A short paragraph will explain each one.
100% Third Deposit Match Bonus
When you place your third deposit at Slottica, you can get it 100% matched up to a maximum of €200, as long as you place a minimum deposit of €80. The wagering requirements are 45x, but the live casino and board games are excluded. This allows you to receive a boost to your finances early on in your casino experience.
€85 Gift Monday
Once you've bet at least €850 on a Monday, you'll receive €85 as a gift. You'll need to wager it at 45x before you can withdraw it as real money. This is a handy way to start the week.
€85 Gift Every Tuesday
On Tuesdays, you can receive a gift of €85 with wagering requirements set at just 1x if you've placed at least €8500 in bets that day. It's a lot of money to bet, but the wagering requirements can't be beaten.
10% Deposit Bonus Every Wednesday
If you place a minimum deposit of €85, you can get it matched at 10%. The maximum amount of money you can receive using this bonus is €165, and the wagering requirements are also set at a very low 1x. This means you can deposit up to €1650 and still get this bonus.
50% Deposit Bonus Every Thursday
When you deposit at least €16, you'll receive half of your deposit added on top as a bonus. You can receive up to €165 through this bonus, but the wagering requirements are at the standard rate of 45x. It could be useful for you if you're a regular player.
Carefree Fridays
If you deposit at least €65 on a Friday, you will be eligible to receive a small cash gift after midnight. It will be at least €30 if you deposit €170 or more. If you deposit between €250 and €500, the gift will be €125. And if you deposit €800 or more, you'll get €250. The wagering requirements for this bonus are not stated, but it's safe to assume they are 45x.
Have Fun Every Weekend
If you deposit at least €170 across Saturday and Sunday, you'll be eligible for a €15 gift. You'll then need to deposit at least €30 on the following Monday to activate the bonus. If you deposit at least €350 over the weekend, the gift will €100, but a further €200 will then be required to activate it. The wagering requirements for this bonus are set at 1x.
FAQ
Betopin is dedicated to answering the most important questions that you have, so here are the answers to some FAQs about free spins.
What are Free Spins at Slottica?
Free spins are attempts on reel slots that you can get without paying for them. They often come as part of a welcome package or as a reward given during your time as a casino player. Ordinary free spins usually require you to register and place the minimum deposit. You can sometimes get no deposit free spins which allow you to play reel slots without spending any real money. But at the time of writing, no deposit free spins are not available at Slottica. They did have a previous offer, and they may do so again in the future. The best thing to do is to keep checking their website.
Can you exchange free spins for real money?
No, because they can only be used to play games and any winnings will be transferred into your bonus funds. There is no mechanism by which they can be exchanged for real money. You can receive real money by meeting the wagering requirements attached to your winnings, but there is nothing you can do with the spins on their own except use them for their intended purpose. This is because casinos like Slottica want you to use free spins to win money that can then be wagered. That allows Slottica to benefit from giving you free spins, and you to benefit from getting more chances to win real money.
Can I claim this offer more than once?
The welcome package can only be redeemed once, as it is designed specifically for new players. That includes the 25 free spins for use on Joker Pro. The 80 spins for Gonzo's Quest, and the 125 free spins spread across the other 5 slot games, do not specify whether they can be reused. However, because there are weekly bonuses provided and free spins are not offered for any of them, it is wise to assume that you can only claim each of the free spin bonuses once. If in doubt, the best thing to do is contact customer support using the email or live chat functions.
Is there a restriction on how much you can win with Free Spins?
For some of them, yes. The 80 free spins for Gonzo's Quest have a cap on winnings of €200. This is a decent amount compared to some other casinos who place their cap at a lower level than this. As for the 25 free spins for Joker Pro and the 125 free spins for the other slots, there is nothing stated in the rules about a cap. This may simply be because there isn't a cap, but as the normal practice is to enforce a cap, it may just be absent from the descriptions. There are not many references to free spins in the terms and conditions, and there is no separate page listing bonus terms. Again, if you are unsure of what the rules are, the best thing you can do is contact the casino directly.