Bookee App Review – We took the Tinder of gambling to the races to see if it's any good
When I read an update on linkedin that Bookee was the Tinder of sports bookies I let out an immediate groan of despair.
Not more "gamtech" trying to change the way we gamble.  Plus, I just couldn't see how Bookee the new gambling app that uses the swipe left or right tinder'esque interface would make betting any more enjoyable.
My first thought was that surely this would only appeal to those who are massively bored and so uninterested in actually winning a bet they can't be bothered to do any research but just want to place random bets.
The other thing I immediately don't like is the Tinder swipe left and right. I find a nice scrolling screen or small font betting tables easier to look at. But then that's my personal preference. But that's important because all bookies and odds are essentially the same. The only real difference is colour scheme and layout and people generally like what they like.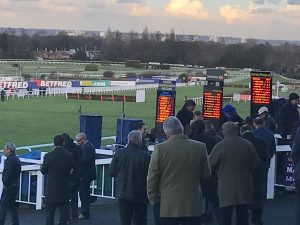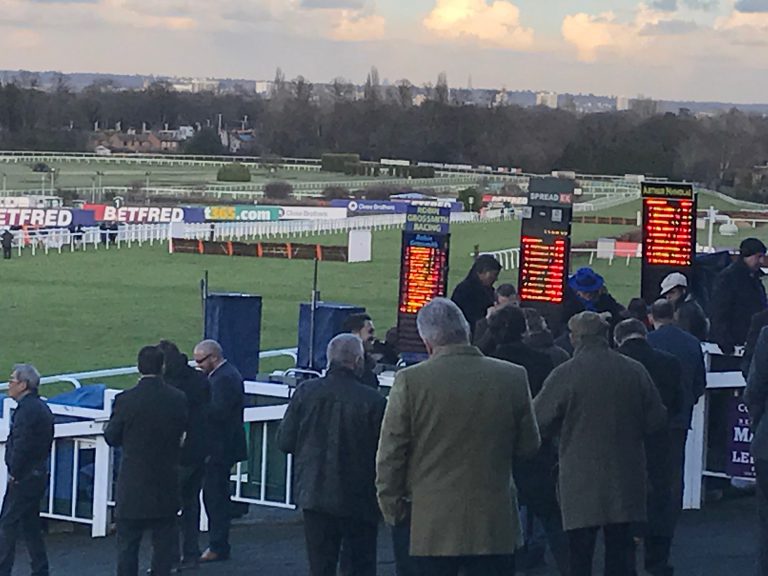 It was also a real pain that if you accidentally swipe the wrong way you can't actually "undo" the swipe. So you miss a bet you potentially wanted to place.
There is a similar app in the crowdfunding space that started off with a tinder swipe interface called Off3r. That's a sort of cross over between fintech and gamtech because investing in startups is very high risk. As with betting on horses "you pays your money, you takes your chance" and you know that by risking a little you can potentially win a lot.
So anyway,  off we trotted with app in hand loaded with a bank busting £25 to Sandown for an afternoon of races.
We chose an actual racetrack because sitting on the sofa lethargy took over and there if you are looking for random bets there are so many more exciting ways to lose a few quid like play "live roulette".
Also, I am a shockingly bad at betting on the horses. To be honest, I don't even look at the odds, I just pick a funny name, grab a pint and hope for the best.
So in this respect Bookee may be for me.  After, I'd placed my usual bets with the gruff Barry the bookie and the charming gents from Spreadex, (read our Spreadex Sports Review here…) I flipped open the Bookee App and had a flick through.
Narrowed the field down to horse racing and got swiping. There were quite a few cards to flick through before getting to a Sandown race and to be honest I didn't even bother looking at the odds or race times (a few were for races already finished) but was just happy for them to put a bet in front of me.
So each time a Sandown race came up I put a few quid on the presented options. I don't know how the bets are generated. I was thinking of getting in touch to find out, but until some gamtech over funded start up develops an algorithm for presenting bets that have a better chance than their odds of winning I'm not really bothered. So I just went with the flow.
Placing a bet is easy enough. Connectivity is good and you can see your open bets.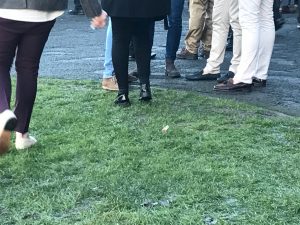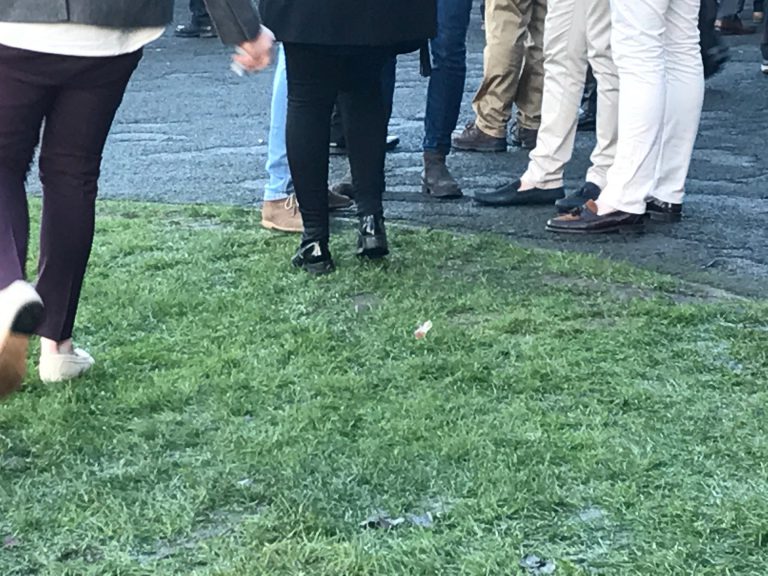 Anyway, a few beers and a few comments about why the heck likely lads come to the races on a rainy day in February with summer loafers and no socks on later I gleefully logged back in to the Bookee App to withdraw my winnings.
I knew I had at least one winner because as this was a gamtech review, and a bet had swiped into view for Another Venture and the name stuck in my mind.
Plus I had Another Venture in an accumulator with Spreadex and to win with "Barry the bookie" so all in all it was a good day.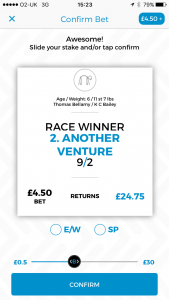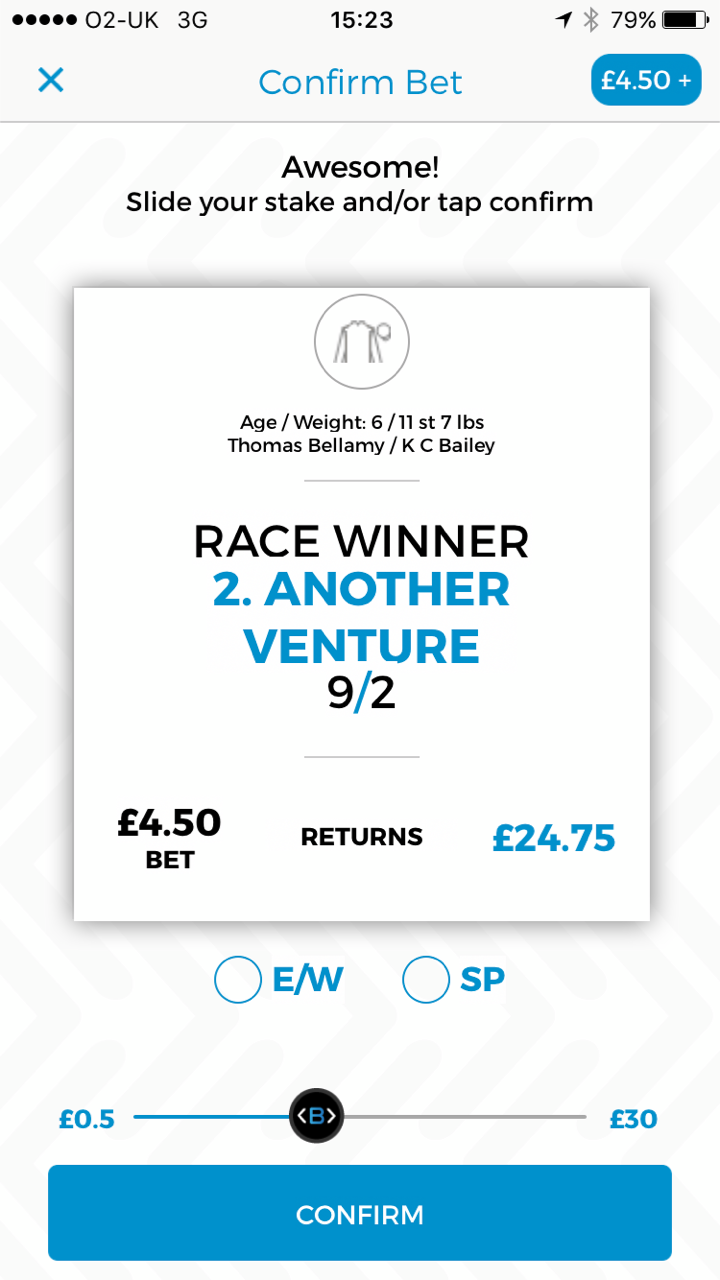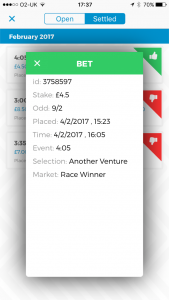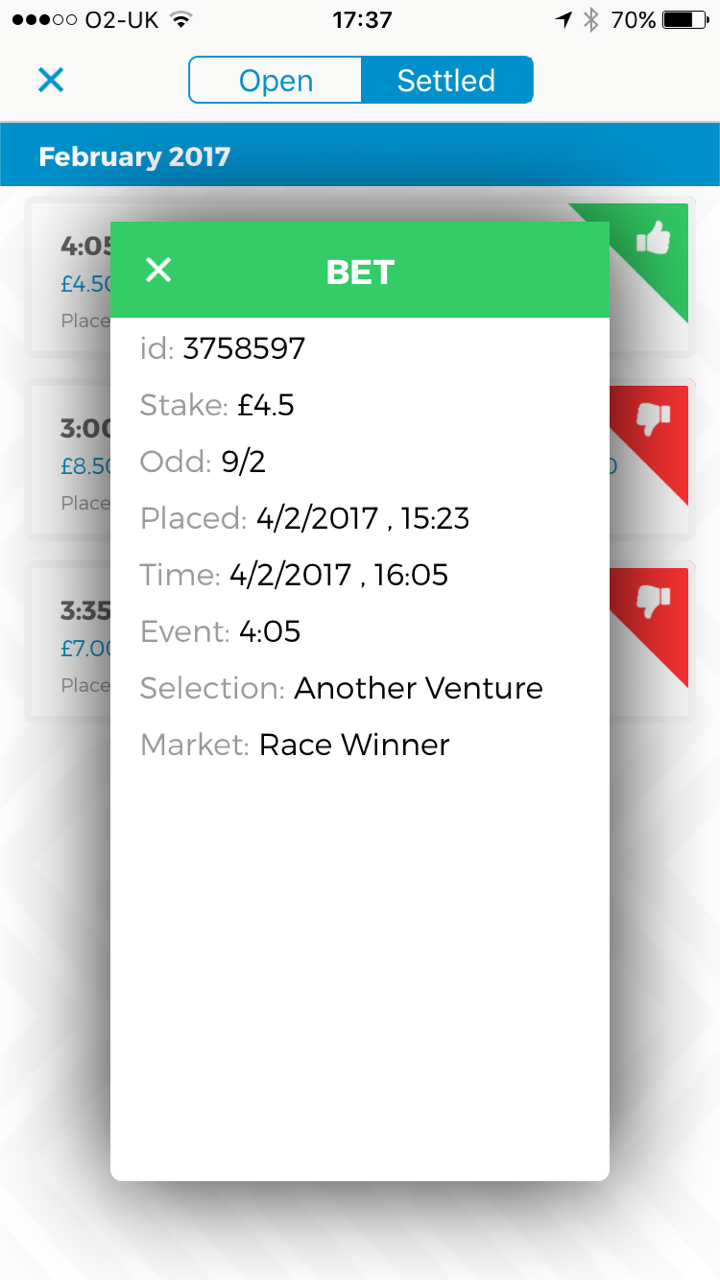 That's in part due to the randomly generated bets from Bookee.
It's just a good fun app that adds another bit of randomness to the the world of gambling.
We should probably also have a look to see if the odds on Bookee are any good so here is a quick comparison between them and Smarkets (the betting exchange with 2% commission – open an account at Smarkets today).
To compare Bookee odds, I just opened the app and picked the first bet that came up: Anthony Joshua vs. Wladimir Klitschko
Amazingly Bookee had better odds 7/10 versus 1.47. So there you go…