Sports Trading
Sports trading is a more sophisticated approach to betting on sporting outcomes that allow gamblers to sell their positions before the conclusion of a sporting event. It is similar to investing in stocks and shares in that participants seek to buy low and sell high in order to make a profit.
Compare Betting Exchanges for Sports Trading
Compare Sports Spread Betting Websites for Sports Trading
What Is Sports Trading?
Whether you are brand new to the betting game, or a seasoned pro looking for a new challenge, chances are high that you will have heard of the concept of sports betting. This is a technique which had grown in popularity, but can seem a little intimidating to the uninitiated. Fortunately, we have the ultimate guide to sports betting right here at your fingertips: read on for everything you need to know!
In the simplest terms, 'sports trading' refers to the practice of placing two bets against each other, on the same selection, in order to guarantee a profit. An easy comparison is to look at another popular pastime: stock trading. In the latter, participants buy and sell shares of a company. Stock trading works in a similar way, except that the currency being bought and sold is sporting events.
Stock trading has one huge advantage which forms much of its appeal for many traders: it really doesn't matter who wins or loses the event. The goal is to law low and back high, and this guarantees a profit, regardless of the end result of the game or match.
How to get started with sports trading
To get started in sports trading, a betting exchange account is an obvious prerequisite. Some knowledge of the sport you intend to place bets on is highly advisable. The more that you know, the more likely you are to make a profit. Click here to compare the best betting exchanges.
Breaking it down
Betting exchanges are an essential element of stock trading; this is where the magic happens. Players from all over the world will pick a betting exchange such as Betfair to place their bets, with the exchange itself playing the part of a referee. Placing a bet at a traditional bookmaker sees the punter (you) typically placing a back bet; that is, betting that something will happen. For example, you are betting on a certain team to win, or a certain player to score. In return, the bookmaker will place a lay bet – they are betting against you, and on the idea that your outcome will not happen – e.g. the team will lose.
A betting exchange, on the other hand, allows the punter to place both lay and back bets – and this means you can count on a profit no matter the outcome of the match.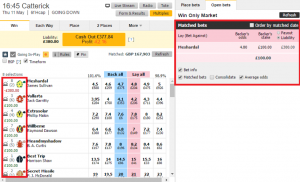 Here is an example of a real-life sports trade in the flesh; we will look at the practicalities in closer detail in just a moment. It can help to make sure you are familiar with the setup and layout of betting exchanges; this will save you valuable time when you come to place your first set of bets
Successful Sports Trade
The secrets of a successful trade are actually fairly simple, and getting to grips with the basics will help to increase your chances of success, and make the whole process quick and profitable.
In order to make a successful trade, we need a reason to expect the price will move, and make sure that both of your bets are fully matched. Once these criteria are met, we are well on the path to victory!
Opening Bet
The initial stage of the process is to make your opening bet. As we mentioned, in order to initiate this, you need a good reason to expect the price to move. In the example shown below, the punter has reason to expect the price on Mershardal to move; the price is very likely to be shorter than at the start of the race.
The first step is to place a typical, traditional lay bet 5 minutes before the race begins. This is £100, as seen below, and is fully matched. Odds are 4.80, and liability is £380. The sports trade at this stage is identical to any standard lay bet which would be placed at the bookmakers.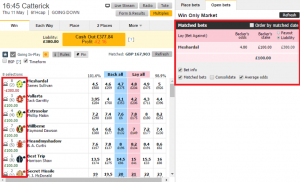 Closing Bet
The second stage of the process is the closing bet. As you can see, our predictions were accurate, and the price of Mershardal has drifted, leaving us in a prime position. Our bet is now 'of value' compared to the current market price; if we placed a lay bet at the current price, a higher liability would be required.
Ideally, the price will now be exactly where it should be – if not higher. Our next job is to 'trade out' of our current position, and this closes the amount we stand to lose (the liability of the initial bet). This leaves us financially safe; we profit if Mershardal wins, but do not lose if he loses.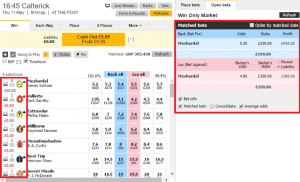 Hedging/Greening
Once all systems are safely in place, our job is to spread our result – whether that is a profit or a loss. This is known as 'hedging up' or 'greening.' There are a number of ways to achieve this, and seasoned pros tend to use dedicated software or long-hones tips and techniques. This really does not have to be overly complex; you basically need to ensure an extra lay bet to guarantee a profit no matter the outcome of the race.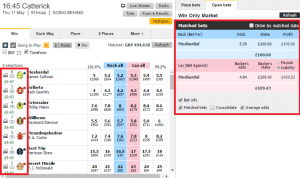 Here you can compare the two bets against each-other
As you can see in our example, the 'average odds' box is ticked. This basically means that our backer's odds have adjusted slightly, along with the lay stake. The reason for this is the hedge bet we placed earlier.
So, we now have lay bets which total £109.43 at 4.84 odds. These carry a liability of £420.53 and a payout of £109.43.
Back bets total £100 altogether, at odds of 5.3, liability of £100, and a payout of £430
If Mershardal wins the race, we will win £430 from the back bet, and lose £420.53 from the back bet, giving a profit of £9.47.
If Mershardal Loses the race, we win £109.43 from the back bet and lose £100 from the back bet, giving a total profit of £9.43
Either way, sports trading allows you to enjoy a profit no matter the outcome of the race. It is easy to see why it has rapidly become hugely popular amongst both sports and betting fans across the world!
Sports Trading 'Systems'
It can be tempting to immediately hunt for a verified 'sports trading system,' especially when you are in the early stages, and perhaps lack confidence or expertise in the area. It can be something of a comfort to find a rulebook, a tried and tested method or a step-by-step recipe for success. The very nature of sports trading however, means that fixed, concrete systems are simply not possible.
The betting market is subject to regular changes and fluctuations, and many would argue that this is a large part of its appeal. Unlike taking full advantage of bookmakers offers – another super popular method for success – the sports trading relies on these changes in order to work properly. This is part of the thrill, but also undoubtedly a big part of the challenge. That doesn't mean, however, that there isn't serious money to be made if you know what you are doing, and are willing to put in the time.
Each betting market will also have its own unique challenges and variables, and depending on which sport and market you choose, you may find this more frequently than in other areas. One of the secrets to success in sports trading is not only understanding and accepting this, but using the nuances to your full advantage. Work out the specific characteristics of your preferred market, determine why certain variables are affected, and by what factors, and you will be in a position to use this knowledge to your full advantage.
Ultimately, the only way to really get good at sports trading is to practice, experiment, and accept that there will be roadblocks and stumbling points along the way.
The experience will give you skills and knowledge, and allow you to delve deeper into each trade, making full use of the circumstances you have at your disposal. This helps you to build up your own system, and we discuss this in greater detail below. Make sure you have fully mastered each step before attempting to move on; this will help to make the whole process relatively painless, much easier to absorb and offer a far higher chance of success.
Here are a few easy steps to sports trading
When you are taking your first steps into sports trading, there are a few golden rules which can hugely increase your chances of success, and boost your skills, confidence, and experience in your chosen market.
As we mentioned, there is no fixed method to success, but part of the excitement is altering and tweaking your system and hypothesis until you finally reach a result. The process will also help to boost your skills and abilities in the overall world of sports trading, and this is something that will reap major benefits and rewards in the long run.
This really is as simple as it sounds, but there is one catch: make sure that the sport you pick is something you understand completely. Get a solid knowledge of the rules and limitations, and you will be able to turn this to your advantage. Greyhound racing is often a popular first foray for many players and is fairly easy to get to grips with and make money from.
Once you have a general sporting area to concentrate on, it is time to head deeper into that specialism. If we take the greyhound racing example above, you could then decide to focus on sprint races in particular. Once again, make sure you have a complete understanding of the niche, and that you know the facts inside and out.
This is an integral part of developing a real edge in the world of sports trading and is a crucial element to developing a system. In the most basic terms, a hypothesis is an idea or theory which will help you to beat the market.
For example, if football is your sport of choice, you may notice that the football markets appear to fail to react to the momentum in live matches. Instead, the primary focus is on the goals scored, the play time remaining in the match, or a major incident such as a red flag or player being sent off. In this hypothetical match, Liverpool could be taking on Manchester United, with odds of 1.33-1.4 draw no bet at the kick-off. 20 minutes in, they have a score of 0-0, with Liverpool leading on five shots on target, compared to zero from Man U, yet still appearing as underdogs.
The hypotheses you create could be that 'the market fails to react well enough to momentum and pressure developed in-play during matches.' This is then tested over a period of time, and if successful – you have your edge.
The final aspect of your system is to confirm or deny your hypothesis, and this is easily verified or denied – is the market reacting in the way you expected? if not, this is a chance to tweak and alter your hypothesis until you hit the jackpot. if it is, you have yourself a solid sports trading system to rely on and earn some serious cash!
Sports Trading Techniques
In many ways, sports trading is pretty unique, with each individual trader having their own preferred system, style, and way of working. There are a few techniques, however, which are pretty consistent across the board, and getting to grips with these can seriously improve your chances of a major win. The most important concept to keep in mind is the overall goal: to back high and lay low. As long as you stick to this, you have a surefire recipe for success. Some of the most popular sports trading techniques include:
Value Betting
Value betting is not a technique that is exclusive to sports trading; on the contrary, it is a tip which itself forms the basis of almost all other sports trading techniques, and so is useful to get your head around when starting out.
Value betting is the act of placing a lay or back bet on a particular pick when you believe that the odds are a great value. As an example, we can look at one of the classic betting icons: the humble coin toss. A coin has a 50/50 chance of landing on heads or tails. Therefore, betting £1 that the coin would land on tails would grab you £2 if you were correct – your original stake of £1, and £1 in winnings. The effective odds of this bet is evens, or 2.0. Imagine now that you were offered £3 for every £1 you bet on tails, with the odds at 2/1 or 3.0 on decimal odds. This would be a value bet; you are vastly increasing your potential profits, by slightly increasing the value of your bet.
This example can be seen in any sports betting environment. Your own odds can be calculated through research and experience, for example, by looking at the recent performances of your football team. Not every bet will win, but those which do will net you a higher price – hence, they are good value bets.
The most important thing to remember here is that it is crucial to thoroughly test out your betting strategy before you shell out a penny of your own real money. Trading and closing out can be considered another way of taking the value, as opposed to allowing the results to pan out over a longer time, and a larger sample of bets. This is simply due to the nature of betting exchanges; it rarely takes long for odds to return to the 'true price' on an exchange such as Betfair, Spreadex or Betdaq.
Make sure you are testing the strategy for as long as you possibly can; the stronger the data set, the higher your confidence, and the greater the assurance of success. Taking your time and building slowly can really help to pay off in the long run, and some experts even advise waiting as long as three months for optimum results – it really will be worth it in the end.
Scalping, or Stealing Small Moves
Scalping is a common term in the world of sports trading, and across the wider financial markets. It works by trading small price movements and relies on small, short-term price changed within any betting exchange market. It is best executed by starting at the end; consider all possible outcomes before you have even placed the bet. It may sound overly cautious, but it will help to save you precious money!
To get started on your first ever scalp, you need to place two opposing bets against one another, usually one or two tick increments apart. (FYI: a tick is an incremental change in the price on the betting exchange). When both of these bets are fully matched, you can 'hedge' the bet to lock in a profit – exchanges such as Betfair will often have software to help you achieve this. The most important priority here is to ensure that both are fully matched as quickly as possible.
Either bet can be placed first – the main thing is to ensure that both are matched fully. Time is essential when it comes to scalping, and failing to move quickly could see you miss out. This is one area where software can really help – it does the hard work in record time, and allows you to make the most of each and every opportunity, displaying up tot eh millisecond market changes and updates, and helping you move instantly, all without having to employ too much brainpower!
One thing to note; it is important with scalping to know and accept when to quit. If both of your bets have failed to be matched, you may need to face defeat and cancel the scalp (also known as 'scratching') by placing an exit bet at the same price as your initial opening bet. This is not the same as losing, but it can still be tough. The important thing is to look long term; you may have scratched this bet, but the market moves quickly, and there will be plenty of opportunities to turn things around in the very near future.
When everything is set up, you are free to start executing the actual trade. Always remember to start from the end, and begin your moves with the end in mind, having a plan is crucial as things move so fast, and this will really help you to manage risk, avoid losing money, and come out on top with a healthy profit.
Carried out correctly and with due care and diligence, scalping can be a perfect opportunity to make some money purely from the natural market turnover. Know when to walk away; if you add cash to a scalp trade going badly, you will almost always end up falling further into the hole. Keep stakes small, sensible and manageable, make the most of the exchange software available, and keep your head in the game. With all these in mind, scalping is a top technique often utilized by traders, but it is important to do your homework and research and make sure you know exactly what you are signing up for before you commit to a trade.
Swinging, or Trading Price Shifts
Scalping is a popular technique, but it's opposite, swinging, can work just as well. This is the polar opposite of scalping and aims to make a profit from bigger price movements. Swinging is well suited to more volatile, constantly changing markets, where the price is constantly jumping. Again, trading software can be your new best friend here, and patience is the key to success; leaping in or moving too quickly will almost always guarantee a loss. With a little practice, this can prove a lucrative money maker.
Software For Sports Traders
As you may have noticed, we have spent a great deal of this article discussing the different software options available, and there is no denying that these can be a huge asset to any trader. The Betfair website, in particular, is a super useful tool and can be especially helpful in techniques where time is of the essence, such as scalping.
Pros of Software for Sports Traders
Some of the major benefits of using software include:
Chance to access real-time odds
The option of one-click betting – makes placing bets faster and easier
Full market depth
A huge range of sports
Multiple markets accessible from one location
Use of advanced charts and trading ladders
Bets can be cancelled with one click
Access to additional live streaming charts
The major benefit of using the software within your sports trading is time; this gives you the chance to grab the best deals and make the most of developments as and when they happen.
Cons of Software for Sports Traders
In addition to the undeniable range of benefits, it is important to remember that there may be some disadvantages to using software. These include:
They can be lengthy and time-consuming when you first start out; it can take a while to take the time to use the different features and applications
Most software is only available for desktop computers; this seems very outdated in the modern world
They can be costly, with a subscription cost payable after an initial trial period.
Have You Got the Head for Sports Trading
There is no denying that sports trading can be hugely lucrative, and offers a chance to get your hands on some seriously impressive profits. There is, however, a certain mental element to any trade, and to the act of trading in general.
When things go well, it is easy to only see the good parts, enjoy the profit, and enjoy the winnings which roll in. Remember, however, that there will be bad days and sometimes even weeks. There will inevitably be times when you lose, and when things don't go well. These will be cancelled out over the long term, but it will still come as a shock the first time it happened. Even after a longer period of time, losing can still be tough, and it is important that you have the self-discipline and ongoing motivation to stay strong in the bad times.
Some experts will advocate keeping a journal to note your trades and experiences. This can help you see and keep a written record, and quickly identify whether things are getting out of hand. This can also be useful to help you walk away when things are going wrong, or of your find, your concentration lagging.
Chasing a win can be detrimental not only to your trading performance but your overall wellbeing and mental health. Learn to recognize your triggers and anything which could have a negative impact on your performance. Discipline is essential; the more you know yourself, the greater your own control, and the more positive your results.
The benefits of keeping a trading journal include:
If you think you are having a bad spell, a journal can help you see when you have done well, as well as the performance of each individual strategy or system. It can also help you spot strengths in a certain sport or market, or see a trend or pattern which could encourage you to go after or stay away from certain areas.
If things seem to be going well, it can be useful to figure out why using the facts and figures. Keeping a journal makes it easier to track your successes, and see which is a winning formula. When you find something that works, it is easier to repeat the process and help keep you on a winning streak for longer – everyone's a winner!
Helps keep you disciplined
As we mentioned, discipline is essential when it comes to sports trading. Having things written down is a great way to keep yourself accountable, and help to prevent you from making rash, impulsive decisions and silly, risk-taking chances. If you decide to make a silly trade, the thought of recording it and writing it down afterward helps to make the choice far less tempting. Accountability is super important, and this is the perfect way to achieve it.
Review and reflection is the best way to learn and can offer an instant feedback on what is working, what isn't and how you can improve your practice to become a better and more efficient trader. You will be able to eliminate non-working or redundant packages as early as possible and see where costs can be limited and profits maximized.
Overall, starting a sports trading journal could revolutionize your entire trading experience – for the better.
The Benefits of Sports Trading
Being patient in the world of sports trading can really pay off in the long run, and there is a huge range of benefits.
Sports trading depends on the wisdom of the crowd, and this means that the price on any sporting proposition is directly linked to the chances of said event occurring. This means that unlike other forms of trading, there are actually advantages the more people involved!
As the market gets closer to the end of an event, the price moves closer to the true probability of the event being true, as well as becoming less volatile. A price will also tend to head towards its true SP immediately before the sporting event starts.
Unlike other forms of financial trading, sporting events have markets with a clearly defined beginning and end boundary.
When it comes to the financial market, there is always another day to trade. This means that any price will only be able to represent the facts the crowd knows at that particular moment in time. There is, however, always the risk of another day to wipe out your position in the market. In addition, the market is still operating during the night when financial markets are closed – there is never a guarantee that last night's price will be todays starting price. You could lose your position overnight, with no chance of you getting out.
There are of course shocks and unexpected events which could occur during a sporting event, but these can be more easily manageable. For example, if a horse pulls out of a race prior to the off, you will get your money back. Similarly, if there is new information which creates a run on a horse's price, it means that the prices on all other horses must also move in order to keep the overround close to 100%. The change in prices also occurs over an amount of time which is manageable, and this means the trader can remove themselves from a potentially losing position, minimizing any losses.
When it comes to financial markets, the price is potentially infinite. A sporting event, however, has clearly defined bounds when it comes to the possibility and probability of a proposition occurring. In addition, there is a range – prices can go from 1.10 to 1000, and not above.
As a general rule, sport is less corrupt than finance. There are always exceptions, but on the whole, a football team throwing a match or a horse race being rigged is less likely than the ongoing corruption in the financial sector.
5 Common Sports Trading Questions
When you are just starting out, curiosity and confusion is natural. Some of the most common questions include:
Q: Which resources would you recommend?
A: This is a very general question, and depends largely on the manner you are intending to trade, and what that consists of. The Betfair site is full of extremely useful, comprehensive advice. Their learning directory takes you from the first steps of your first trade, right up to pocketing the first profit! Patternform and Proform are also useful resources, packed with data and lessons to help you at every stage. In addition, YouTube proves popular again, and is a great place to start!
Q: Is sports trading profitable?
A: Sports trading has the potential to be hugely profitable, but it is important to practice and hone your skills to ensure that you know exactly what you are doing. This is not a fast way to make money; players will need to put in the work, the effort and the time. It is crucial to study the markets inside out, and make sure you fully understand each and every step before you make the commitment.
Q: Is sports trading gambling?
A: Sports trading technically falls under the sphere of gambling, but has one distinct difference: gamblers participating have an edge, rather than merely feeling lucky. The edge is unique to the individual, and a plan is essential.
Q: Why trading over straight betting?
A: Trading is slightly more complicated than straight betting, but has the opportunity to net far higher rewards. There is more control on the things you bet, and an opportunity to make a profit even on an unsuccessful outcome.
Q: How much capital do I need to start?
A: This is one of the most common questions, and often depends on the individual. It is possible to start small and build up, and starting with software is a big help here: the training mode setting will ensure that no actual cash is lost while you are learning.
Sports Trading Conclusion
Sports trading is a chance to get your hands on some great wins, but is by no means an easy fix. With a little time, effort and energy however, it is possible to reap some serious rewards. Make sure you are fully prepared, and have done your homework; this is one occasion where putting in the effort in the early days will pay you profitable dividends later on!
Here at Betopin, we are determined to help you succeed, and have the tools and resources you need to start from the ground up, build up your skills, and get your hands on some impressive profits
Betopin Recommended Bookies – The best bookies online