Betting Exchanges – The Best Sites Compared

 2023
Betting exchanges offer the same opportunities to bet as a bookmaker with a few differences; customers can buy and sell the outcome at betting exchange sites, and they can trade in real-time throughout the event. We take a look at operators offering exchanges with efficient bet odds such as Betfair, Smarkets, and other exchange betting websites. Read More
List of Best Betting Exchange Sites in 2023
Promotion is available to 18+ aged individuals who are registered customers of Spreadex. Place a £25 fixed odds bet at minimum odds of 1/2. Get 5 x £5 free fixed odds bets + 4 x £5 free Spread bets + 50 Bonus Spins on Starburst. Ts&Cs apply.
Bet £10 and Get £20 in Free Bets
Promotions available to 18+ aged individuals who are registered customers of Sporting Index. Qualifying bet cannot be placed in-play or cashed out early. Free bet stakes not included in any winnings. The free fixed odds bet can be placed by ticking the 'Claim as Free Bet' button on your bet slip when placing your chosen fixed odds bet. The free fixed odds bet can be placed in-play but cannot be cashed out in-play and must run to the conclusion of the bet. Free bets must be claimed within 28 days of opening. Sporting Index reserves the right to exercise its sole discretion as to whether or not to open account facilities for any prospective client. Sporting Index reserves the right to amend, withdraw or restrict this offer at any time without notice. Sporting Index reserves the right to withhold this offer when it has reasonable belief there has been co-operation, collusion or organisation of bets from the same source, or if it has reasonable belief that the offer is being abused in any way. Sporting Index is the sole arbiter of these rules and any other issue arising under the promotion. No staff member (or any relation or partner thereof) of any spread betting or fixed odds bookmaking firm is eligible to take advantage of these offers. Offer cannot be used in conjunction with any other Sporting Index offer. Unless otherwise stated, clients reopening Sporting Index accounts do not qualify for the offer. Customers who are ineligible for any promotional free bets will also be ineligible for these promotions.
Get 0% Commission for 60 Days AND a £/€10 Cash Refund
New customers only. 0% commission rate on all bets settled within 60 days from registration. First £/€10 in losses refunded in cash. Min. deposit £/€20. Payment restrictions and T&Cs apply.
0% Commission On All Sports for 30 Days!
New Customers Only. 0% Commission on all bets for 30 days. This offer only available to users who deposit via credit or debit cards. User must input Bonus code upon registering. T's and C's apply. +18. Be Gamble Aware.
0% Commission Up To €/£500 on the Exchange
Applies to Betfair Exchange bets & any commission paid within the first 30 days. Refunds occur every Wednesday based upon the activity carried out during the 7 days prior. 2% rate will apply after the promotional period & is offered through the Betfair Rewards Basic package. T&Cs.
£20 in Free Bets and a £5 Stake on Sports
Check out the T&Cs of the site to find more details
Betdaq Bet £/€10 Get £/€10
18+ only. Min £/€10 exchange or sportsbook bet at odds 2.0 or greater within 14 days of acc reg. Free bet valid on exchange for 7 days. Stake not returned. Depositing directly via bank card. No cashout. New customers only. The free bet will be credited within 72 hours to your account once the staking requirement has been met. T&Cs Apply.
What is a betting exchange and how do they work?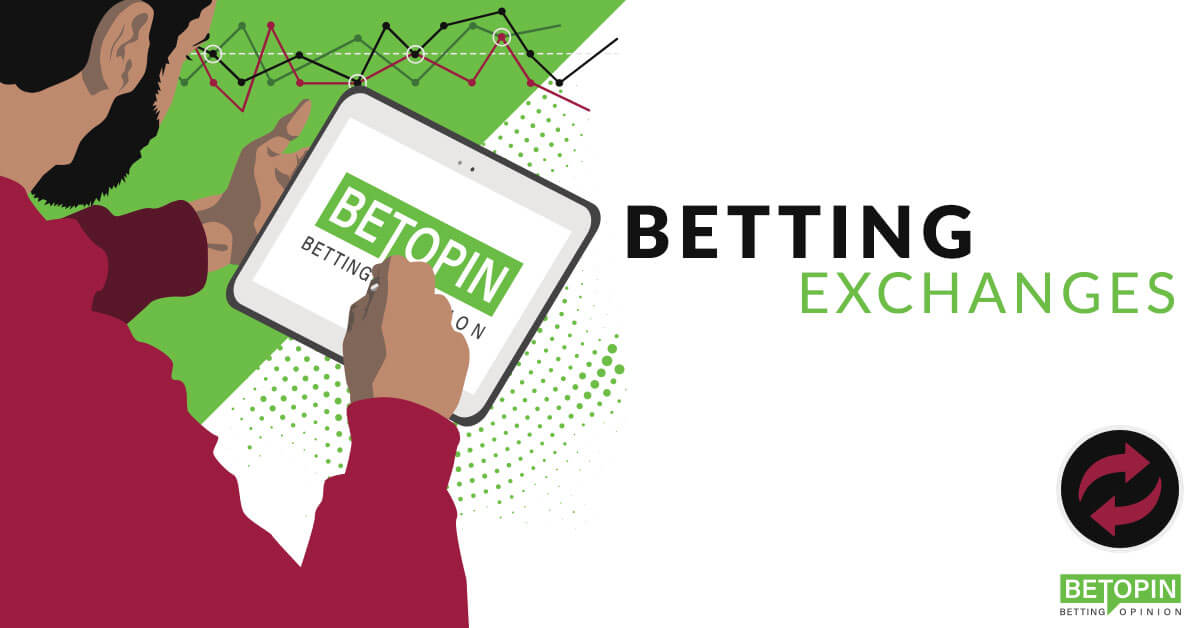 A betting exchange is not actually a bookie, it is a matchmaking service that matches bets from backers and layers. this is great for punters because there is no conflict of interest between you and the company. Traditional bookmakers want you to lose. Betting exchanges take commission rates on bets so it actually works in their favour if you win as you bet more.
A betting exchange, also known as sports betting exchanges, is an online market for online customers to place bets on the result of specific events. Like a traditional bookmaker, exchanges offer similar opportunities to bet like a professional sportsbook but with some differences.
Unlike a regular bookmaker, betting exchanges do not go about setting their own odds, instead they allow for peer-to-peer betting to happen. This means that the odds are decided by other users and not the betting exchange, meaning that there are a wider variety of odds available.
Some of the key differences between a betting exchange and a traditional bookmaker or sportsbook, that make users want to use betting exchanges instead are:
Market Liquidity
Commission
Arbitrage
Marketing Liquidity – Wider Range of Odds and Higher Bet Sizes
Market liquidity varies significantly between bookmakers and betting exchanges. Bookmakers control liquidity by setting odds and limiting bet sizes to manage risk and ensure profitability. This often restricts the amount that can be wagered, especially on less popular events. In contrast, betting exchanges rely on the participants to determine liquidity. Here, individuals bet against each other, with the exchange taking a commission. Liquidity in these exchanges depends on the number of active bettors and the money they wager, typically leading to better odds and larger bets for high-profile events, as opposed to the more controlled environment of bookmakers.
Commission – Only pay the Exchange if you Win
Bookmakers and betting exchanges have distinct commission models. Bookmakers integrate their profit margin into the odds, effectively charging indirectly without a separate commission. This built-in margin ensures profitability over time. Betting exchanges, however, charge a direct commission on winning bets, typically a percentage of the net winnings. They provide a platform for peer-to-peer betting without setting odds themselves, allowing for more competitive odds compared to bookmakers' indirect charging method.
Arbitrage – Spot Key Opportunities and Win Money
Arbitrage is more feasible on betting exchanges than with bookmakers due to differing odds-setting mechanisms. On exchanges, odds fluctuate based on user activity, allowing bettors to exploit price differences for guaranteed profits. Conversely, bookmakers set odds with margins to reduce arbitrage chances and actively adjust them based on bets received, making arbitrage less likely. Furthermore, bookmakers often limit accounts engaging in arbitrage, further diminishing its feasibility on their platforms.
How do sports betting exchanges work?
Betting exchanges operate by offering a platform that combines bettors. The exchange then charges a premium on net market profits only –  depending on traders charge a branch-low 2% commission or some of them 0% commission.
You have the right to return to and determine the result when you bet on an exchange. This offers a degree of versatility that a bookmaker cannot do.
A wager exchange operates by matching wager with different views of the probability of a result and allowing them both the stakes and the odds to agree so that they can bet money without the bookmaker being required.
If you haven't joined the best betting exchange, you are missing out on a lot of fun. It is an exciting and profitable activity that allows you to place your bets and win money. You may even make some money if you choose to use your skills to help handicap a particular team or bet on a sporting event.
These offer by far the best odds around because you are not actually betting against the bookie. You are betting against other players. You can also bet on something not happening, so if you think the favourite doesn't stand a chance of winning you can "lay bet" them. Let's look at Brazil as an example here. They are currently 4.2 on Betfair exchange which means if you "Back" them to win with £10 you will win £32 (£10×4.2 = £42 less your stake of £10 = £32). But, if you think they will lose, you don't need to bet on every other team, you just "Lay bet" them. You essentially become the bookie and accept a £10 bet at 4.2 from someone else. What this means is that if you "Lay bet" them for £10 to win and they do not you get the £10 someone else staked on the bet. However, as the odds are 4.2 if you lose you end up paying out £42 to the person who bet against you (£32 win liability and the £10 stake). So you stand to make £10 but lose £32.
The key to winning with betting exchanges is finding the best odds. For example you might also learn how to join on different online betting promotions, so on that section of the site our top list will display you the best odds
There are three main betting exchanges which we have listed below. Each of them offers a welcome bonus amount once you have deposited funds. It is always worth opening accounts with all three and funding will a token amount of £50 to get the welcome bonus. The betting exchanges give new customers extra money to bet with as part of their strategy to increase business as they assume you will come back for more after your initial bet. This is fair enough and a good way to increase your betting budget.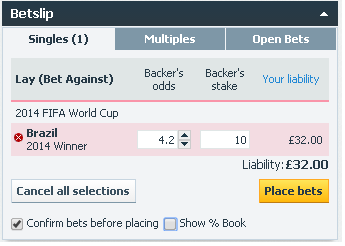 Betting and winning on losers
The best thing about betting exchanges (even more so than the better odds) is that you can bet against a losing outcome. This could be a horse not winning or a football match not scoring enough goals. You do this by laying bets on the best betting exchange, which means you are essentially acting as the bookie accepting bets from people.
Regulation and financial security
Of course, you can't lay bets as a bookie as you need to be regulated, but through a betting exchange, it is structured as a lay bet so you can win from losing. The major betting exchanges are all regulated by the relevant gambling commission rates and have strong financial backing. You should never place or lay bets on an exchange that is not regulated or financially backed.
Range of markets and specialty bets
Online betting exchanges offer some of the broadest ranges of markets to bet on. It's possible to bet on pretty much anything there is a market for from the major sporting events to reality TV.
Betting on non-traditional markets is only possible if there is significant demand from market makers and those prepared to lay bets. The exchange takes no risk on the best, so can provide the platform to match interests.
Multiple Bets and Best Online Odds
The top betting exchanges in the UK have very good liquidity and odds on straight bets, and the bigger ones have well-placed and outside bet categories. However, if you are looking for multiple bets this is not really possible as finding a market maker or layer that is prepared to offer such long odds will be rare. For multiple bets, you are better off going with a traditional fixed odds bookmaker. For normal to win or place betting, betting exchanges still offer the best odds around.
In-play and live betting
If you compare betting exchanges to stock exchanges you can see why live and in-play betting is so popular. The odds most change with demand based on what is happening at the underlying event. They are a very good indicator of what is actually happening in the exchange market because it is driven by crown consensus rather than firm odds.
As placing a bet is so fast on the exchange you can bet during a race or in the last few minutes of a football match. This also means you can use betting exchanges to hedge other bets, take betting profits early to shut down a losing bet before it gets any worse.
Risks and rewards
It is clear that the rewards of betting with the best betting exchanges can be better than with traditional bookies. But punters should be aware that there are considerable risks to laying bets on exchanges.
If you lay a bet and the odds are long you can potentially lose many many times more than the stake. Always ensure you fully understand the risks involved with laying bets as they can be large.
What are the best betting exchanges in the UK?
| Factor/Exchange | Smarkets | Betfair | Matchbook | Betdaq | Ladbrokes |
| --- | --- | --- | --- | --- | --- |
| Reputation | Known for low commission rates and a user-friendly platform. | The largest and most popular betting exchange with a wide range of markets. | Competitive in terms of commission and growing in popularity. | Known for its low commission rates, similar to Smarkets. | A traditional bookmaker with a long history, recently expanded into exchange betting. |
| User Interface | Clean and modern, easy for beginners. | Comprehensive but can be complex for new users. | User-friendly and straightforward. | Similar to Smarkets, focused on usability. | Traditional, more aligned with standard sportsbook layouts. |
| Range of Markets | Good range, but not as extensive as Betfair. | Very extensive, covering a wide range of sports and events. | Good, especially for US sports. | Similar to Smarkets, with a focus on major sports. | As a traditional bookmaker, offers a wide range of markets. |
| Commission Rates | 2% flat rate, one of the lowest. | 5% standard, but can vary based on activity. | 1.5% on winning bets, competitive rate. | 2% commission rate. | Variable, often aligned with standard bookmaker margins. |
| Liquidity | Good, but lower than Betfair. | Highest in the market, excellent liquidity. | Moderate, can vary depending on the event. | Similar to Smarkets, generally good. | As a newer exchange, liquidity can be lower than dedicated exchanges. |
| Unique Features/Offers | Simple interface, Trade Out feature. | In-play betting, Price Rush, Cash Out options. | Low-margin, high-volume betting. | Trading tools, Cash Out feature. | Integrates exchange with traditional bookmaking services. |
| Trustpilot Rating | 1.4/5 (Bad) | 2.4/5 (Bad) | 4.4/5 (Best Rated) | 4.0/5 (Great) | 1.3/5 (Worst Rated) |
| USP | Low commission rates and user-friendly platform for beginners. | Largest market range and liquidity, ideal for experienced bettors. | Strong focus on US sports and competitive odds. | Low commission rates with a focus on major sports. | Combination of traditional bookmaking and exchange betting. |
The 
best betting exchanges
 in the
UK
depend on what sort of sports trader you are or if you are a matched bettor. Betfair is the most established
betting exchange
, followed by Betdaq, with Smarkets and Matchbook nipping at their heels with the increase in matched bettors looking to
lay off bets
. Both exchanges are improving in terms of liquidity and exchange markets on offer.
1. Smarkets — Low Commission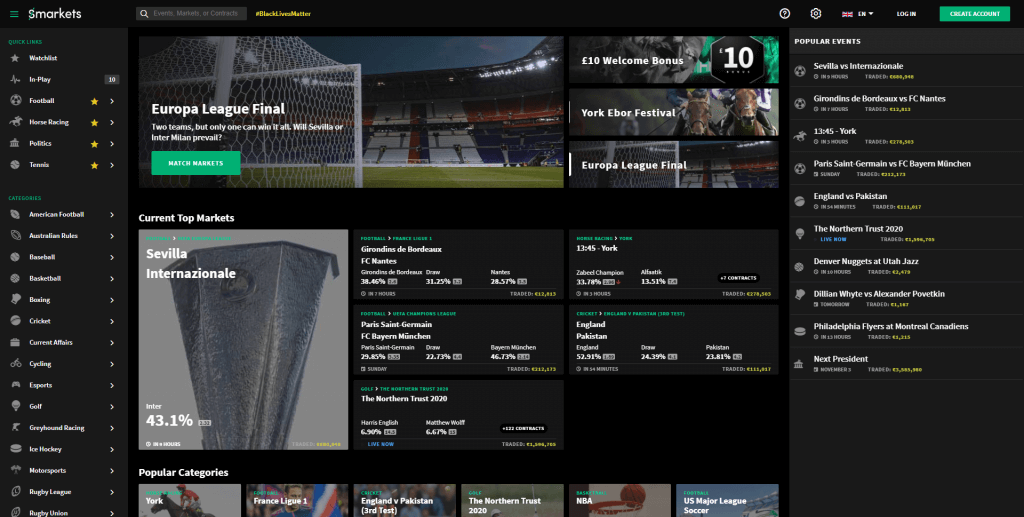 Smarkets was established in 2008 and is the newest exchange of wagering on sports. They made it known their intentions — they intend to take Betfair on. Smarkets hit £ 500 m lifetime trades in April 2014 — but it took less than a year to double that, making the £ 1bn trades in March 2015 come true. Their commission of 2 percent is very competitive and certainly gives an advantage over Betfair, the industry leader.
Get Started with Smarkets here
2. Betfair — The Industry Leader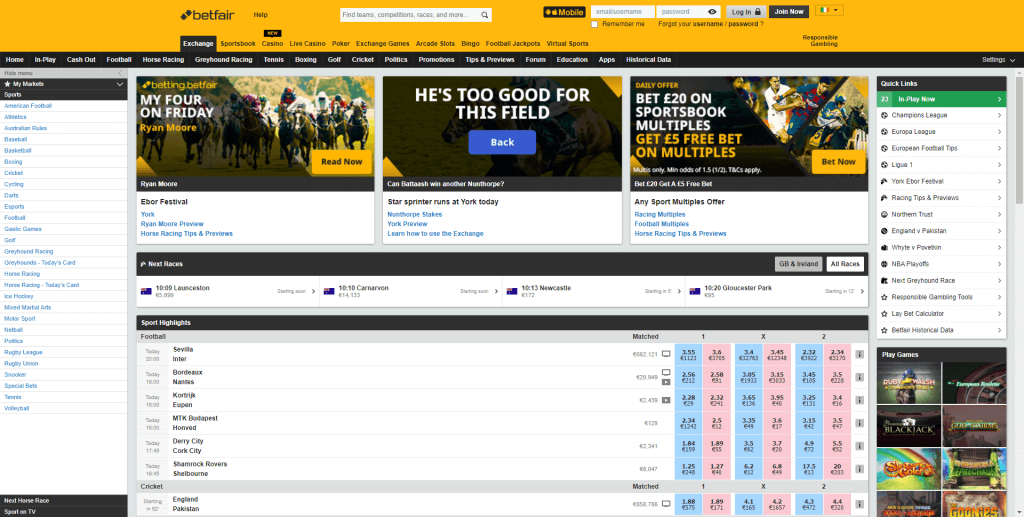 Betfair is the most popular and largest exchange of bets. It was formed in 2000 and operates under a license from Gibraltar. As of 2 February 2016, the company has been listed as "Paddy Power Betfair" on the London Stock Exchange market because of the merger between the two companies.
3. Matchbook — Super Low Commission
Matchbook was founded in 2004 but only really grew in popularity after a group of investors acquired it in 2011. Their aim was to increase the liquidity to compete with Betfair in their existing markets. The commission rate is small if you approve an existing bid in a sector, at just 1.5 percent, and 0.75 percent if you post a bid. This is awesome. Matchbook claims to have "the biggest amount of assets available in US sports" It covers NFL, NBA, NHL, and MLB.
Get started with Matchbook here
4. BetDaq — 2nd Largest Betting Exchange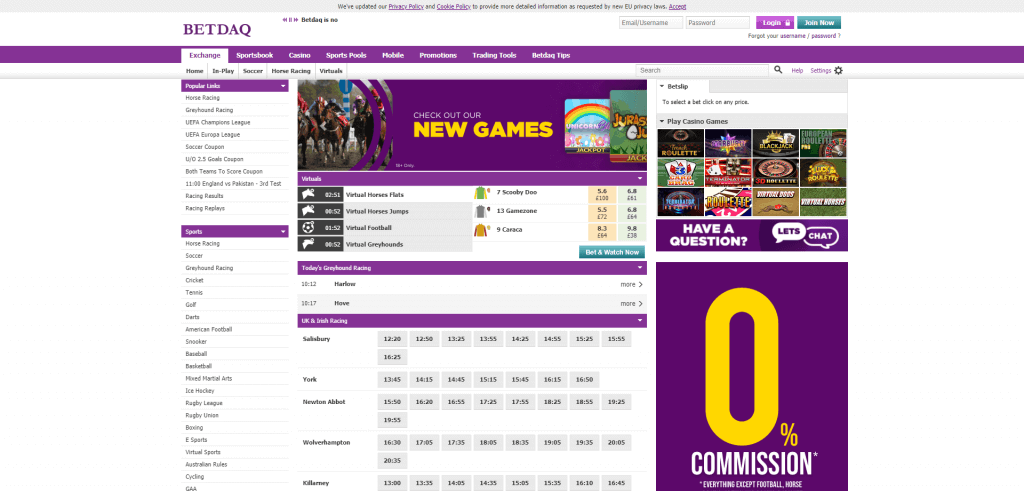 Betdaq was established in 2000 and acquired in February 2013 by Ladbrokes. Betdaq had only about a 7 percent share of the betting market in the UK and Ireland when Ladbrokes took over. At the time she was Betfair's biggest rival. In most markets a sufficient amount of liquidity. It is considered the 2nd largest exchange of bets, behind Betfair. This is the only remaining betting platform with a public API. So Betfair's a perfect alternative platform for creating bots and games. Unlike Betfair's main rival, Betdaq doesn't charge their highest-earning traders a Premium fee. The Betdaq commission has introduced a 0% commission on the majority of its offered sports on its exchange market.
5. Ladbrokes — Great Commission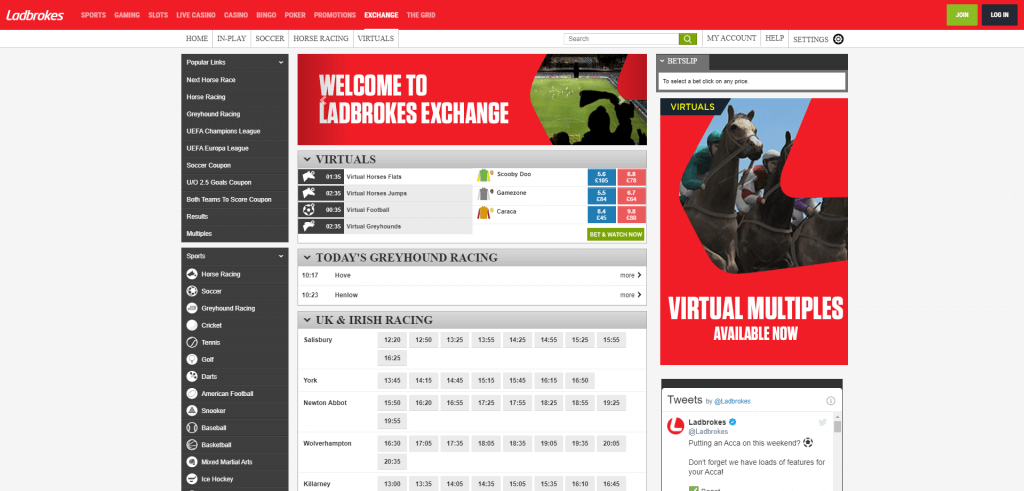 It is interesting to note that Ladbrokes has been around for over a century. It began in 1886 with commissions at Ladbroke Hall for trained horses. A few years later, Ladbrokes moved to London where his gambling headquarters was built, enabling us to enjoy his internationally renowned gambling operations. Newly enrolled consumers are getting £20 in free bets and a £5 stake in sports. The £20 bonus amount will be split into four £5 tranches so you can use them instantly. You'll have 7 days to make use of the free bets.
What to Pay Attention to When Choosing a Betting Exchange?
The betting exchanges we mentioned in this article are all great, so it all comes down to your personal preferences. However, there are some things that you should pay attention to before making your final selection. That's why we decided to cover some of them and help you with your choice. Let's take a look at what makes the best betting exchange.
1. Welcome Bonuses
Welcome bonuses come in all shapes and sizes on online gambling platforms. Those who decide to sign up for a betting exchange will usually get a free bet bonus just for signing up on the platform. These are usually called no-deposit welcome bonuses as you're not required to make any deposits to trigger the promotion — just register and confirm your account.
One important thing to take into account is that every betting exchange has a welcome bonus. They mainly exist to attract new players to the platform and give them a head start for making their first bet. All in all, welcome bonuses of all kinds are great, as it's always a great feeling to receive a gift as a new user.
2. Terms and Conditions for Bonuses
If you don't have prior experience in claiming welcome bonuses, we suggest you read the terms and conditions for the gift you're about to receive. Some rewards have rules that you should understand to get the best possible user experience once you sign up on the best betting exchange.
3. Additional Promotions
Many betting exchanges don't leave their users without additional bonuses once they spend their welcome bonus. What's more, every site has a section where regular users can check out for new promotions. These can be virtually anything, but there are several types of regular promos that stand out from the crowd.
4. Payment Methods
To make real-money bets, you need to make a real-money deposit, and that's possible by using an adequate payment method. The good news is that many of these exchanges accept all the popular payment options in the UK, meaning you can make a deposit or request a withdrawal using options such as credit cards, bank transfers, e-wallets, and more.
The most common payment method is a credit card as it is widely regarded as the fastest and the most affordable one. However, many punters also enjoy using e-wallets such as Neteller, Skrill, PayPal, ClickandBuy, and more. Before you open an account on a betting exchange site of your choice, make sure to check whether it supports the payment method you use.
5. Customer Support
Customer support plays an essential role in many online gambling platforms, and betting exchanges are no exception to the rule. These sites can be confusing, especially to newcomers, who usually require assistance once they open an account. One of the most common ways you can contact customer support nowadays is by using the live chat feature, which is present on the majority of betting exchange sites.
6. Mobile Betting Exchanges
The entire world is going mobile, and online betting exchanges are no exception to this rule. An increasing number of players nowadays prefer placing bets by using their mobile devices rather than using desktop or laptop computers. That's why many betting exchanges and other similar gambling platforms decided to step up their game and make mobile betting available.
Betting Exchanges vs. Sportsbooks
In this report, we will report on what betting exchanges are, how they compare to online sportsbooks, and how you can increase your chances with your selection. A betting exchange is an online service that covers betting on a variety of sports such as football, basketball, tennis, golf, poker, and other sports.
It is companies that allow betting providers to exchange odds and bet against each other, rather than betting against bets on the sports system. While sportsbooks are focused on fixed-odds betting, betting exchanges offer a fluid marketplace where customers can play against others. The best betting exchange offers better odds than a sportsbook, but higher odds on a stock exchange have better odds, while a small commission rate on a betting exchange is charged for winning a bet.
When you bet on traditional sportsbooks, the book's oddsmakers try to get the public to bet 50/50 on both sides of the market. If they cannot, they will be leading the line to build a lead to win, not the other way around.
Unlike traditional bets on sports, where players are only allowed to place bets, betting exchanges are places where betting providers can not only place bets but also accept bets from other players. In short, a betting exchange is a peer-to-peer betting network, but it differs from a betting network in that it is a stock exchange set up to facilitate transactions.
Best Betting Exchanges FAQs
Are Betting Exchanges available in other countries?

The simple answer is yes - you can now access betting exchanges in Germany, India, and many more countries. But be sure to check the team and conditions when searching for your desired country.

What are the best betting exchange sites for customers residing in the United Kingdom?

The best betting exchanges are decided by whether you are a sports trader or a matched bettor. Betfair is the most well-known betting exchange, followed by Betdaq, with Smarkets and Matchbook hot on their heels as matched bettors seek to lay off bets. In terms of liquidity and exchange markets open, both exchanges are improving.

How betting exchange works?

These offer by far the best odds around because you are not actually betting against the bookie. You are betting against other players. You can also bet on something not happening, so if you think the favourite doesn't stand a chance of winning you can "Lay" them.

What is a betting exchange site?

Betting exchange site is a marketplace for customers to bet on the outcome of discrete events and have much better odds than traditional fixed odds bookies.

What are the betting exchanges in horse racing?

Betting exchanges offer the opportunity for anyone to both back and lay bet. By way of example, if someone thinks Team A can win a contest, he may wish to back that choice. Even a bookmaker offering the punter that bet will be putting that choice. Both parties will agree on the backers stake and the odds.The place just markets in horse racing are also an excellent approach to oppose or back a horse. You no longer need to choose your horse and decide whether it back to win or each way. You can now back it place only, or even place a horse you do not fancy for a location. Before exchanges came about if you did not fancy a horse the only way to oppose him was to attempt to choose among the additional horses to win.
Choosing the right betting exchange is crucial. Our curated list features only licensed, regulated, and secure platforms, ensuring your betting experience is free from scams and protected by advanced technology. We've considered factors like user base, market liquidity, and service quality to provide you with the best options.
However, understanding the risks is key. Our article, "9 Risks of Betting at Betting Exchanges," details the challenges you might face, including financial risks, addiction potential, market complexities, liquidity issues, emotional decision-making, technical dependencies, legalities, platform reliability, and the risk of overtrading.
Armed with this knowledge, and attracted by competitive bonuses and promotions, you can confidently choose a platform, deposit funds, and engage in betting with both awareness and excitement. This balance of caution and opportunity paves the way for a fulfilling betting exchange experience.
Related Articles
https://www.betopin.com/blog/2023/11/23/9-risks-of-betting-at-betting-exchanges/
https://www.betopin.com/blog/2021/09/09/how-to-bet-smart-betting-online/
https://www.betopin.com/blog/2015/02/16/betting-exchanges-the-pros-and-cons/
Home »