Intro to Spreadex
Spread betting can be an area of online gambling which feels a little overwhelming for many players. Without research, this can seem to be an involved and complex process, and this is one of the reasons why so many players head elsewhere or seek out alternative methods of placing bets and wagers.
In part, Spreadex is a tool that can really help to alleviate this fear, taking care of much of the hard work, and leaving players and punters free to focus on the game or match they are looking to enjoy. Put simply, Spreadex is a Forex, CFD, and spread betting broker, and allow traders to access major markets such as commodities, indices, currencies, and shares. They stand out from the crowd thanks to their access to cryptocurrencies such as BitCoin and are a popular choice for the more experienced traders who are looking to trade options.
If you are looking for something a little different which offers plenty of option to trade, Spreadex is a pretty strong bet. They offer a wealth of experience with plenty of choices and can be a great pick for both experienced traders and those just finding their feet and building their confidence within the business. Read on for our considered opinion!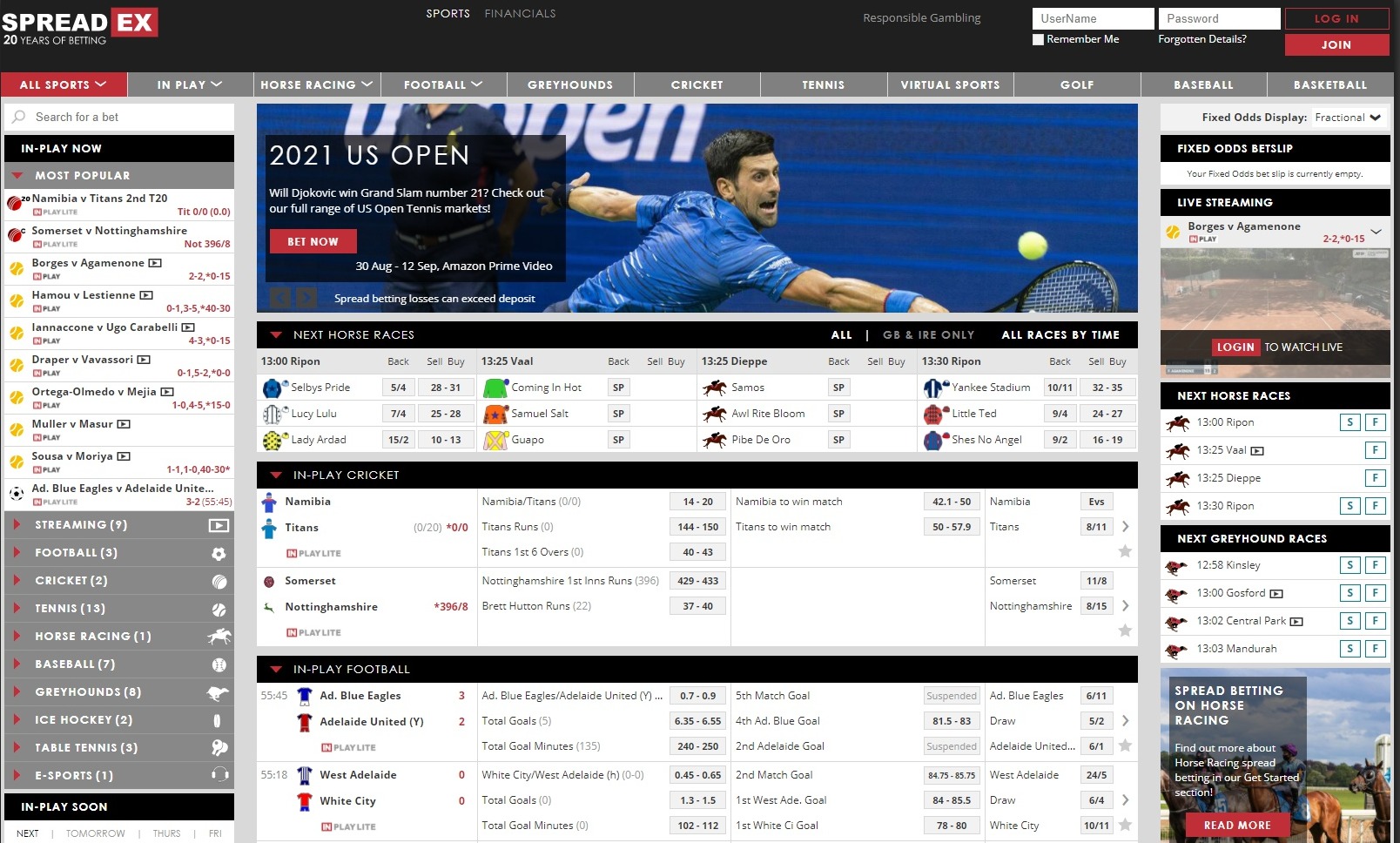 Spreadex Welcome Offer & Promotions
While Spreadex might be different from your average online betting platform, the website's bonus offers are all too familiar. By creating an account, Spreadex will welcome you with a nice £300 bonus, while you will also be able to use the site's free bets and matched bets along the way. There's even a promotion for inviting a friend over to the platform. Continue scrolling to learn the details regarding these offers.
Welcome Bonus
There are a number of ways in which Spreadex differs from the typical online sportsbook or casino site, but they are ahead of the pack with a quality welcome offer worth up to £300 which is a great steal for newbies! Upon signing up to the site, all new customers will need to place 5 qualifying spread bets to trigger the welcome offer. These must be a minimum of £2 and offer expected returns of £20. If these criteria are met, you will find yourself automatically credited with a £100 bonus, with no need to enter any codes or worry about extra tasks!
Even better news; this is just the first stage of the welcome bonus. Once the first bonus has been credited, players should place another 10 qualifying bets – again, these must a £2 minimum spread bets, and have expected returns of £20 minimum. This again will bag you a £100 bonus, taking your total welcome offer to £200 – not too bad for simply signing up and playing!
There are some restrictions with regards to the markets which can be bet on – tennis, horse racing, rugby league, rugby union, cricket, and golf are all excluded from the deal. It is also a good idea to stick to lower, achievable odds to help ensure success – starting off small now can be a massive help in the future!
Receive an iPad (new)
If you stake £300 or more on qualifying bets as a new customer, you can choose not to receive the bonus and get an iPad instead. Of course, the bonus funds will be automatically transferred to your account, but you can contact customer service and tell them that you prefer an iPad. They will then remove the bonus from your account and arrange for the iPad to be sent to your address. You can either get an iPad or a £300 cashback bonus and not both.
This is a very interesting deal that is not commonly found on other sportsbook sites. Moreover, by selecting an iPad, you can use the device to download the Spreadex free iOS app and get a chance to bet on the go.
Free Bets
As the name suggests, this is where the site will offer a certain number of free bets to the player, usually in exchange for signing up, or as an extra thank you after they have placed a certain number of bets. Spreadex offers their own version of this offer, and it comes with a great perk: this is a deal that can be played through as many times as you like, with absolutely no restrictions! This is more a spread-free bet than a traditional free bet, but it does allow you to get your hands on an extra chance to win, and so we have counted it here.
To qualify, players must place 3 sports spread bets online on the same sports qualifying markets, within 10 minutes. Following this, a fourth spread bet is placed on the same market spread – free, or at the spread mid-point. This offer can then be repeated as many times as desired, on any of the sports markets which qualify – players should check the small print for closer details. As long as you meet the qualifying criteria, this is a perfect way to increase your potential bets and maximize your profit.
Matched Bet
As well as a great welcome bonus, matched bets can be another brilliant way for casinos and sportsbooks to entice new custom. Matched bets occur when the site offers to match existing bets made by the player, usually up to a certain limit. With this in mind, Spreadex has added another string to their offer bow; the chance for players to get their hands on £25 in matched bets when they place a £25 bet on the site. In essence, this allows you to double your betting potential, and is a great offer for players of all experience levels; you can bet on wilder and more entertaining options, or place a greater number of bets on a secure gut feeling, without having to worry that you are spending your hard-earned cash or wasting precious opportunities to bet.
Refer and Earn
Not only does Spreadex reward you for making spread bets on their platform, but they will also throw in something extra for spreading the word about their service. Namely, one of the operator's latest promotions is called Refer and Earn, and it basically gives you free money for referring a friend to the website.
The first step for unlocking this promotion is to tell your friend or colleague about Spreadex. While they are creating an account on the platform, make sure that they include your name and postcode on the Welcome Call. After that, your friend needs to place at least five qualifying spread bets on one of the selected sports markets. Each bet must come with a minimum stake of £2 with a minimum of £20 in expected return. Once those bets are settled, you will get £100 in free bets that you can use on the Total Goals spread bet market. Simply use the Click to Claim a Free Bet button on your betting slip which will automatically appear once your friend has done all that it was asked.
The best thing about this promotion is that it's completely risk-free. Any losses from your football spread bets are refunded, while the winnings are yours to keep.
Spreadex – Latest Promotions Review
When it comes to picking a good casino, many players will agree that being able to access top-quality promotions, bonuses and offers is a great incentive for them to try out a site they may not have otherwise considered. A great welcome offer can be the final push a punter needs to step over and test out a new site, and ongoing offers are crucial for fostering customer loyalty and repeat business.
Spreadex is fairly unusual in many ways, but they excel when it comes to offering a super lucrative welcome offer worth up to £200! This is triggered when a new player signs up to the site, and all you need to do to qualify is place 5 qualifying bets – there must be at least £2 each and offer expected returns of £20. Providing you meet these requirements, the £100 bonus will be credited to your account immediately – super-easy money!
The news gets better; this is a welcome bonus of two halves, and the second requires placing another 10 qualifying bets. Again, these must be £2 minimum and expect £20 returns. Once complete, players will grab the next £100 bonus, and this means you have £200 on the house to play with – amazing!
How to claim up to £25 in free bets
A qualifying £25 fixed odds bet must be at odds of 1/2 or greater. A qualifying bet cannot be placed in-play or cashed out early.
First, the free bet will be credited upon settlement of the qualifying bet. Following free bets will be added to your account on consecutive days.
E.g. Qualifying £25 bet placed and settled on Monday. Then:
1st £5 free bet available to use from Monday.
2nd £5 free bet available to use from Tuesday.
3rd £5 free bet available to use from Wednesday.
4th £5 free bet available to use from Thursday.
5th £5 free bet available to use from Friday.
Place a smaller qualifying fixed-odds single bet at minimum odds of 1/2 and get different amounts of free bets as per below:
Qualifying bet £5 to £9 = 1 x £5 free bet.
Qualifying bet £10 to £14 = 2 x £5 free bets.
Qualifying bet £15 to £19 = 3 x £5 free bets.
Qualifying bet £20 to £24 = 4 x £5 free bets.
Free bets must be claimed within 28 days of opening. Free bet stake not included in any winnings. Ts&Cs Apply. 18+ begambleaware.org
How to claim up to £35 in free bets
Place a qualifying £25 fixed odds bet at odds of 1/2 or greater. Qualifying bet cannot be placed in-play or cashed out early.
A first free £5 fixed odds bet will be credited upon settlement of the qualifying bet.
4 x following £5 free fixed odds bets will be added to your account on consecutive days.
E.g. Qualifying £25 bet placed and settled on Monday. Then:
1st £5 free fixed odds bet available to use from Monday.
2nd £5 free fixed odds bet available to use from Tuesday.
3rd £5 free fixed odds bet available to use from Wednesday.
4th £5 free fixed odds bet available to use from Thursday.
5th £5 free fixed odds bet available to use from Friday.
After your first free fixed odds bet you will also get a free £5 Total Goals spread bet.
And after your second free fixed odds bet you will also get a second free £5 Total Goals spread bet.
You must have a full spread betting account to be able to claim the free Total Goals spread bets.
Place a smaller qualifying fixed-odds single bet at minimum odds of 1/2 and get different amounts of free fixed odds bets as per below:
Qualifying bet £5 to £9 = 1 x £5 free fixed odds bet.
Qualifying bet £10 to £14 = 2 x £5 free fixed odds bets.
Qualifying bet £15 to £19 = 3 x £5 free fixed odds bets.
Qualifying bet £20 to £24 = 4 x £5 free fixed odds bets.
Free bets must be claimed within 28 days of opening. Free bet stake not included in any winnings. Ts&Cs Apply. 18+ begambleaware.org
Welcome Offer Terms and Conditions
As with any offer, there are of course terms and conditions which need to be met; the minimum amount of the bets must be £2 each time, and they must have expected returns of at least £20. There are also some exclusions from the deal; the bets cannot be used on football, rugby union, rugby league, cricket, horse racing, or golf.
The welcome offer must be used within 28 days of opening the account. Also, you will not be able to use the welcome bonus in conjunction with any other offers on the website.
More Spreadex Bonuses and Promotions
The generous welcome deal is just one opportunity available at Spreadex; opportunities to grab free bets, match bonuses, bonus and promo codes, accumulator bonuses, and many other types of freebie are regularly displayed on the website. This means that it is crucial for players to check in with the sire on a regular basis; many of the offers are time-sensitive, and it is important to make the most of them before they vanish and you miss out. Make sure you are always maximizing your chances to win by staying alert; you never know when it may be your lucky day!
Other Promotions
As well as a great welcome deal and some wonderful matched and free bet options, Spreadex are fans of regularly rewarding their players and customers with promos and deals. Many of these are accessible via bonus codes found on the site, and others are advertised and can be achieved by meeting certain requirements. Players should check in with the site on a regular basis to take full advantage of the deals on offer; you never know when your lucky day will come!
Reload Bonuses
Reload bonuses are another popular option for many online sportsbooks, and the welcome offer at Spreadex does technically qualify; plyers are rewarded not only for the first deposit made but also the second. This offers a perfect chance to maximize each bet and is a definite perk of the site.
Loyalty Program & VIP management
As well as offering fantastic deals and appealing to new customers, it is also super important for sportsbooks and casinos to remember the loyal players who have helped to keep them in business. Many sites will offer exclusive deals or promotions to these customers, and some go one step further in offering an exclusive loyalty opportunity. At present, Spreadex does not have a dedicated VIP or loyalty program, and this does have the potential to put them at a disadvantage compared to other sites; many now offer great deals as standard to their most dedicated customers and repeat players. There is a risk here that punters will be offered a better deal elsewhere for their loyalty, and this could see them turn away from Spreadex.
Spreadex Free Bets
With so many online casinos, gambling options, betting exchanges, and sportsbooks, there needs to be something to stand out from the crowd and get noticed, and this is a major priority of every new and up and coming site. One of the easiest ways to achieve this? Offer unbeatable deals, promotions, and bonuses to tempt your new players!
Though Spreadex is pretty different from most online sportsbooks, they do offer a chance to get your hands on free bets for minimal effort, and this is a great way for them to stand out from the crowd. It also has an advantage over traditional free bet offers; it can be used without restriction unlimited times!
How to Claim Free Bets at Spreadex
To grab this deal, players will need to wager 3 sports spread bets on the same qualifying sports matches within 10 minutes of each other. Once this is achieved, a fourth bet can then be placed on the same market spread at the mid-spread point. Then, you can place the fourth bet on the same market at the spread mid-point with the stake equal to the size of your smallest qualifying bet. However, the number of qualifying markets is limited. You can only claim this offer if you place certain bets on horse racing, football, cricket, golf, rugby, tennis, snooker, NFL, F1, and darts. For more information about the qualifying bets, visit the operator's promotions page.
The major benefit of this offer is that it comes without restriction; it can be repeated on any of the qualifying sports markets at the time. Keeping a close eye on the site will alert you to new possibilities and options, and this is a great alternative to typical free bet deals.
Terms and Conditions for Spreadex Free Bet
As we mentioned, getting your hands on this deal is super simple, and simply relies on you placing the qualifying bets within the allowed time. The restrictions are placed by the sportsbook; only preselected matches are eligible, and these are not free bets as one may usually understand the deal.
About Spreadex Betting Exchange
Spreadex is amazing for those who are looking to get into spread betting and is a tool that works as a Forex, CFD, and spread betting broker. It gives players the chance to trade markets including shares, commodities, indices, and currencies, and offers the chance to trade cryptocurrencies, making them suitable for players of all experience levels.
Spread betting can be a little overwhelming for beginners, and Spreadex can act as a great way to find a guide through the process, developing your skills, confidence, and abilities to allow you to tackle the best deals in the future! Of course, this is not to say that beginners aren't welcome. As a matter of fact, the platform is very suitable for bettors of all levels, offering trading guides, spread betting glossary, and other things to help you get up to speed.
The financial trading blog is another section of the website where you can learn plenty of valuable information, with several posts being released on a daily basis.
The product, Sports and Markets
One of the advantages of Spreadex is that they offer a broad range of sports and activities, and these include the most popular choices such as football, horse racing, cricket, rugby union, and tennis. Within these categories are a range of specific leagues and tournaments, such as the Premier League and Champions Leagues in football, and the Grand Slam tournaments in the tennis world. In-play betting is also a major benefit – this allows you to place wagers and take guesses while the action is going on, and this increases your chances of a successful win – you can make decisions based on what is happening right in front of you. When it comes to choice, Spreadex has a great selection; while the range of sports and activities on offer may not be as wide as some alternatives, there is plenty to choose from, and the categories offer greater depth and opportunities for wagers.
Spreadex Sports Betting Features
While it's not primarily a sports betting site, Spreadex has almost all the same features as the most recognized sportsbook brands. The most notable feature is in-play betting that allows you to wager while the event is taking place. Live betting is available on all 35 markets, including football, basketball, cricket, horse racing, greyhounds, and more.
Even better than betting life is the ability to watch the games live. Spreadex has a fantastic live streaming feature that is available on almost all major events. To use the live streaming option, however, you will need to open an account and place a minimum bet on the fixture you plan on watching. Apart from live streaming, Spreadex offers a TV schedule for all the matches that are available for betting. Of course, there's also a bet builder feature, together with three different cashout options: partial, auto, and one-click.
Just like their financial part of the platform, the sports betting section has a blog page where you read about the latest news from the world of sports. You can also analyze pre-match betting stats to help you make a more knowledgeable wager. For those who like betting on the go, Spreadex offers both Android and iOS apps, which we will talk about next.
Spreadex Casino
Spreadex is one of the rare platforms that includes casino gambling on top of sports and financial betting. So, if you want to take a break from sports and finances, you should head over to the Casino section of the website and test your luck on quality video slots and table games. Continue reading to learn more about Spreadex Casino!
Games
The games offered by Spreadex Casino include video slots, roulette, and blackjack. There are over 50 different video slot titles to choose from, which is not bad considering that the platform is not primarily revolved around casino gambling. Also, it's obvious that Spreadex went for quality over quantity, as the limited number of video slots includes some of the most popular games of this kind. Players can enjoy spinning the reels on Starburst, Gonzo's Quest, Dead or Alive 2, Imperial Riches, Reel Rush 2, Vikings, and others.
When it comes to roulette, you can select between two variations of the game — European and French. The betting limits range from £1 to £5,000 in both games. The blackjack section features one RNG-based table and five live dealer tables, including Blackjack Silver, Blackjack Gold, Blackjack White Gold, Blackjack Black Gold, and Blitz Blackjack. There's also a single live roulette table.
Mobile & App
It goes without saying that punters, players, and customers of all types will be expecting a mobile experience, and we are pleased to announce that Spreadex does not disappoint in this area. Android and iOS users can download the app and enjoy a fully optimised experience, and this gives you the freedom to wager and play your favourite sports and matched anytime, any place – a real advantage! For those who don't want to download an extra app, the site can be accessed and enjoyed straight from your mobile browser.
Apart from being free, the Spreadex mobile app doesn't take that much memory space (around 25MB). The app has all the same features as the desktop website, and the developers are constantly releasing updates and adding improvements to the app.
Spreadex – How to Open An Account
Spreadex is a top-notch spread betting broker. The platform offers all the markets you could possibly want to trade, along with contract months. Best of all, they have small minimum bet sizes for most of their markets along with highly competitive spreads.
Opening an account is quick and easy at Spreadex so you can start trading in no time at all. Our step-by-step guide shows you how to sign up effortlessly and make your first deposit, place a bet, and then make a withdrawal.
Step 1 – Join Spreadex
Click on the Spreadex homepage and then the Join button in the top right-hand corner of the page. A pop-up registration form will appear for you to fill in.

Step 2 – Create An Account
Fill in the required details, including:
Title
First name
Surname
Create a username
Create a password
Country of residence
Confirm that you're over 18 and have read the terms and conditions.
Click Next.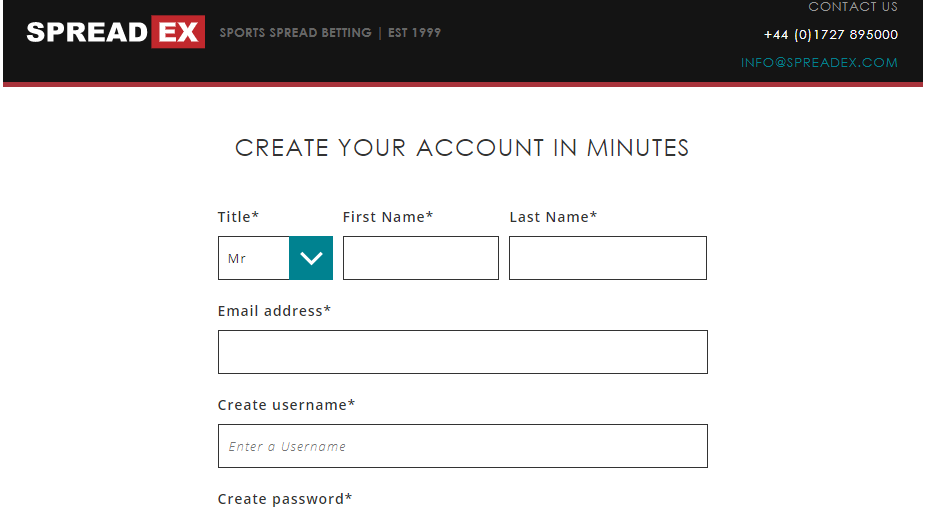 Step 3 – Fill In Your Personal Details
Complete the form by entering the following details:
Chosen name
Date of birth
Primary phone number
House number
Postcode
Click Save Details.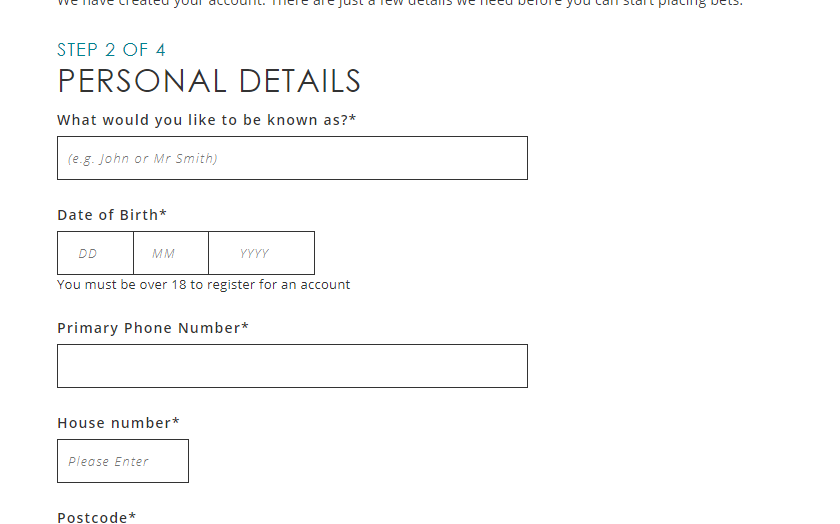 Step 4 – Wait for Your Account to be Approved
Once you've completed the sign-up process, you'll need to wait 24 hours for Spreadex to approve your account.
When you receive a confirmation, you can make your first deposit.
How to Make a Deposit At Spreadex
Login to your new Spreadex account and click on Deposit.
Choose a preferred payment method. Spreadex accepts e-wallets as well as major credit and debit cards. They do not accept cheques or bank transfers.
Enter the amount you want to deposit. The minimum deposit is just $/€1.
Place Your First Spreadex Bet
Betting on the horses at Spreadex is incredibly simple.
If you prefer to bet on fixed odds, click on the Horse Racing section and choose the race and meeting to bet on.
Choose the horse you're backing.
Click on price, enter your preferred stake, and click Bet Now.
If you want to place a spread bet, be sure to follow the onsite instructions carefully.
Withdraw Your Spreadex Winnings
Finally, withdrawing your winnings is a straightforward process.
Head over to the My Account section and choose the withdrawal option. You can withdraw a minimum of $/€50 provided it's not supporting the margin on any positions at the time.
If you have less than $/€50 available in your account, withdraw the full amount.
Getting started at Spreadex is quick and simple, so why not join today!
Licensing and regulation
Spreadex has authority and regulation from three major players; The Financial Conduct Authority, The Gambling Commission, and the Alderney Gambling Control Commission. This allows players to kick back and relax safe in the knowledge that they are playing a totally legit site. In addition, security is taken care of thanks to an SSL encrypted site; all your personal details will stay private and protected.
Customer Support
The first port of call for any questions or concerns should be the FAQ section of the site; this is comprehensive and detailed and should answer most questions. If not, support is also available via email, telephone, and social media, so you are never stuck for too long!
Contact Information
If you have any questions about the platform's use, you can feel free to contact Spreadex's friendly and professional customer service. You can do so by sending an email to info@spreadex.com or by calling 01727 895 000 for the UK and +44 1727 895 000 if you are located outside of the UK.
Spreadex also has two different customer service teams for sports betting and financial betting. Bettors can send emails to sports@spreadex.com or fins@spreadex.com, while there are also free phones with numbers 08000 526 575 (sports betting) and 08000 526 570 (financial betting). The customer service support works 24/7 for sports betting, while financial trading hours are 24 hours from Monday through Thursday, between 00:00 and 21:15 on Friday, and 21:00 to 00:00 on Sundays. The financial customer support is closed on Saturday.
Payments
Spreadex offers a variety of payment deposit and withdrawal methods to match most preferences, and these include Visa, Switch, Maestro, MasterCard, cheque, bank transfer and direct debit. The site does not currently offer eWallets as a payment method, and this is disappointing as these tend to be the fastest option for many sites.
While the deposit transactions essentially have no fees, the operator reserves the right to impose a £1 service charge on all card deposits that are below £50.
Reliability
Most of the common complaints which surround Spreadex are related to the lack of payment methods, and primarily the lack of options to use eWallets such as PayPal or Neteller. This is an issue when most other sites are offering this and could see Spreadex at a disadvantage. Apart from this, most reviews are generally positive, though some customers have expressed a desire to see a Live Chat option emerge as a method of customer support.
Business information
Spreadex started trading in 1999, giving them years of comprehensive experience in the market. The site was founded by Jonathan Hufford, and the aim was to make spread betting easier and more accessible for players – an aim which seems to have been achieved!
Why We Recommend That You Choose Spreadex
In many ways, Spreadex is a betting platform that's definitely worth your time and money. We always carefully select the websites we review, and Spreadex was at the top of our list when we saw what it has to offer. Below are some of the main reasons to why we recommend you place your bets on Spreadex.
All-In-One Betting Platform
Some players like sports betting, some prefer to put their money on financial markets, while others like testing their luck on casino games. Whichever of these players you might be, Spreadex has everything that you're looking for. There's no need to make three accounts on three separate platforms, as Spreadex offers something for all. The sports and financial betting pages are top-notch, and while the casino section is maybe not as versatile as some of the competition, you still have a lot of options, especially regarding video slots.
Rewarding Bonuses
A good chunk of this review included us talking about the operator's bonuses. Not only that there are plenty of bonuses you can take advantage of, but they are also very rewarding. So, if you're on the hunt for the most valuable sports betting bonuses and other promotions, Spreadex should be your top choice.
Trustworthiness
In today's world of online betting platforms, there are quite a few rotten apples that can mess up your day. More and more fraudulent websites appear every day, making it increasingly difficult to find a platform that you can truly trust.
Spreadex has been trading since 1999, and over these last two decades, they have established a base of loyal customers that can be measured in the tens of thousands. Together with the fact that the company owns a license issued by the UKGC, we can confidently claim that this is a safe and trusted betting platform.
Reputation
When we do these kinds of reviews, we also listen to what other people have to say about a given platform. When it comes to Spreadex, the majority of the reviews were extremely positive. People who have been using the platform are very satisfied with the website's design, bonuses, apps, and other features.
Service
If you decide to choose Spreadex, it's safe to say that you will be treated with respect. The customer support is always at your disposal, and the agents are very helpful and knowledgeable. On top of that, the payment transactions are completed quickly and without any large fees. Chances are that you won't need any help while betting on the site, as the processes of using the promotions and laying bets are very intuitive.
Betopin's Verdict
If you are new to spread betting, or simply searching for a reliable site to try the skill out on, Spreadex is the place for you. They are slick, professional, and experienced, and a great opportunity to expand your online betting experiences and add spread betting to your list of opportunities.
This concludes our Spreadex review. If you have any further questions, check out our FAQ section below. Good luck!
FAQ
Is Spreadex legal?
Yes, Spreadex is a legal website licensed by the United Kingdom Gambling Commission (license number 8835). Overage residents of the UK can freely play on the site, while Spreadex also accepts customers from many other countries.
How do I sign up on Spreadex?
Signing up on Spreadex is very easy. Once you are on the website, click on the Create an Account button in the top right corner of the screen. Fill out all the required details so that the operator can confirm your identity. Wait for your details to be approved, which shouldn't take more than 24 hours. For more information on signing up, check out the step-by-step guide in our review.
Are there any bonuses for new players?
Of course! All new players on Spreadex can take advantage of the welcome offer of up to £300 or claim an iPad. For more details on how the welcome bonus works, scroll up to the Welcome Offer section of our review.
Which financial markets are available?
Financial markets on Spreadex include indices, shares, forex, commodities, bonds, interest rates, exchange-traded funds, and speed markets.
Which sports markets are available?
There are dozens of sports markets you can explore on the Spreadex sportsbook. The most popular ones include football, horse racing, greyhounds, tennis, cricket, rugby, golf, and darts.
Does Spreadex have any casino games available?
Yes, Spreadex does offer casino gambling as well, including video slots, roulette, and blackjack. There are even a few live dealer games you can try out.
Does Spreadex have a mobile app?
Yes, in fact, Spreadex has two mobile apps that are compatible with both iOS and Android smartphones and tablets. If you don't wish to download an app, you can simply access the operator's mobile-friendly site over your mobile browser.
How old must I be to sign up on Spreadex?
The website is intended for people who are at least 18 years old.