Matched Betting: The Millionaire Guide for2023
Matched betting is a wagering technique that can be described as an ace up the punters' sleeves. Why? Because it allows you to profit from all the free bets and bonuses the bookmakers usually offer by covering all the potential outcomes of sporting events.
For matched betting to work, you need to place two separate bets on a single game, so that whichever team wins, you end up with a profit.
If you think this sounds a bit tricky and you want to learn more about what matched betting is, and how you can make the most out of matched betting free bets, you have come to the right place. Stay tuned as we break down the whole process and point out the most important segments.
The Best 10 Matched Betting Sites In 2023
Once you start looking around, you'll find plenty of free bet offers out there. If you're prepared to do the legwork of depositing, making bets, and laying them (make sure you have a funded exchange account like Betfair or Smarkets), then you can pick up a nice profit.
A quick nosey at the time of writing throws up ten for starters:
Promotion is available to 18+ aged individuals who are registered customers of Spreadex. Place a £25 fixed odds bet at minimum odds of 1/2. Get 5 x £5 free fixed odds bets + 4 x £5 free Spread bets + 50 Bonus Spins on Starburst. Ts&Cs apply.
Bet £10 and Get £20 in Free Bets
Promotions available to 18+ aged individuals who are registered customers of Sporting Index. Qualifying bet cannot be placed in-play or cashed out early. Free bet stakes not included in any winnings. The free fixed odds bet can be placed by ticking the 'Claim as Free Bet' button on your bet slip when placing your chosen fixed odds bet. The free fixed odds bet can be placed in-play but cannot be cashed out in-play and must run to the conclusion of the bet. Free bets must be claimed within 28 days of opening. Sporting Index reserves the right to exercise its sole discretion as to whether or not to open account facilities for any prospective client. Sporting Index reserves the right to amend, withdraw or restrict this offer at any time without notice. Sporting Index reserves the right to withhold this offer when it has reasonable belief there has been co-operation, collusion or organisation of bets from the same source, or if it has reasonable belief that the offer is being abused in any way. Sporting Index is the sole arbiter of these rules and any other issue arising under the promotion. No staff member (or any relation or partner thereof) of any spread betting or fixed odds bookmaking firm is eligible to take advantage of these offers. Offer cannot be used in conjunction with any other Sporting Index offer. Unless otherwise stated, clients reopening Sporting Index accounts do not qualify for the offer. Customers who are ineligible for any promotional free bets will also be ineligible for these promotions.
Get 0% Commission for 60 Days AND a £/€10 Cash Refund
New customers only. 0% commission rate on all bets settled within 60 days from registration. First £/€10 in losses refunded in cash. Min. deposit £/€20. Payment restrictions and T&Cs apply.
0% Commission On All Sports for 30 Days!
New Customers Only. 0% Commission on all bets for 30 days. This offer only available to users who deposit via credit or debit cards. User must input Bonus code upon registering. T's and C's apply. +18. Be Gamble Aware.
0% Commission Up To €/£500 on the Exchange
Applies to Betfair Exchange bets & any commission paid within the first 30 days. Refunds occur every Wednesday based upon the activity carried out during the 7 days prior. 2% rate will apply after the promotional period & is offered through the Betfair Rewards Basic package. T&Cs.
£20 in Free Bets and a £5 Stake on Sports
Check out the T&Cs of the site to find more details
Betdaq Bet £/€10 Get £/€10
18+ only. Min £/€10 exchange or sportsbook bet at odds 2.0 or greater within 14 days of acc reg. Free bet valid on exchange for 7 days. Stake not returned. Depositing directly via bank card. No cashout. New customers only. The free bet will be credited within 72 hours to your account once the staking requirement has been met. T&Cs Apply.
Betfred – bet £10 get £30 in free bets
Coral – bet £5 get £20 in free bets
Ladbrokes – bet £5 get £20 in free bets
Paddy Power – bet £10 get £30 in free bets and £10 on a slot
Bet Victor – bet £10 get £50 in free bets and a £10 casino bonus
William Hill – bet £10 get £30 in free bets
Mr. Green – bet £10 get a £10 free bet
Betway – bet up to £30 for up to £30 in free bets
888 – bet £10 get £30
Boyle Sports – up to £25 in free bets with various conditions
How Does Matched Betting Work?
The essential part of matched betting is the process of backing and laying a bet through which you turn the matched betting free bets into long-term profit. Let's describe the terms first.
With standard betting with online bookmakers, you can only choose a fixture and place a back bet. The back bet is a wager you put on the outcome of the game or match you think will happen. For example, in a football clash between England and France, you back England to win by placing a bet on their win. If you are right, your profit will equal the amount you wagered times the odds. If not, you lose the initial stake.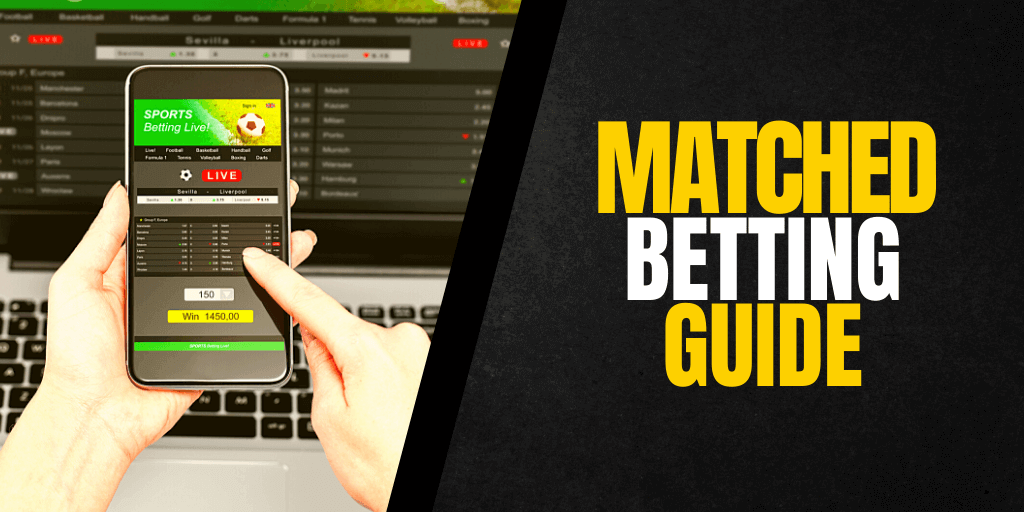 On the other hand, a lay bet is a bet you place against an outcome. In fact, you are betting that something won't happen. With a lay bet, you assume the role of the bookmakers, which is only possible through betting exchanges such as Betfair, Smarkets, and others.
Being able to lay a bet is crucial for matched betting since that is how you cover all potential outcomes and eliminate the risks inherent to back betting. Using matched betting free bets, you won't even have to stake your own money to turn in a profit. This means that whether your back or lay bet turns out to be the winning one, you will make money.
The key to matched betting is placing an equivalent lay bet on a betting exchange to the back bet you placed with the bookmaker. This allows you to keep making money using either reload bonuses with the same bookmaker or additional welcome bonuses from others.
Detailed Example of Matched Betting
Given the fact that free bets are at the core of matched betting, you need to obtain them from the bookmakers first. Let's say that an online bookie gives you £20 in free bets if you deposit and stake £20 of your real cash and make a bet at specific odds. This is also known as the qualifying bet. You go on and stake the 20 pounds on England's win against Belgium at odds of 2.00, for example.
Your next step is to go to the betting exchange and lay England at odds of 2.01, let's say. The amount you need to bet to lay England can be calculated by using lay betting calculator software which will calculate everything for you. You will input the original stake for the back bet, the odds of it, the lay odds, and the betting exchange's commission. For the numbers we presented here, your lay bet needs to be £20.61.
Now, two possible outcomes can occur. If England wins, you will win £20 from the bookmaker, and lose £20.61 from the betting exchange. If Belgium emerges on top, you will win £19.39 from the betting exchange, and lose the £20 from the back bet. Either way, you will face a slight £0.61 loss, also known as the qualifying loss.
This loss is inevitable since you need to lose that amount to activate the matched betting-free bets.
Now that you have the free bets, you can choose bets with higher odds, increasing your payouts. Let's say you want to back Chelsea in a game against Liverpool at odds of 5.00. The lay odds in a betting exchange are set at 5.2. Using the same lay-matched betting calculator, you see that your lay bet needs to be £15.53 to turn a profit.
If Chelsea wins, you will receive £80.00 from the bookmaker, but lose £65.23 from the betting exchange, which leaves you with a £14.77 profit. If Chelsea loses or draws, you won't win anything from the bookmaker, but won't lose anything either since you used the free bets, and you will receive £14.75 from the betting exchange. The bottom line is that either way, you will win some cash.
Matched betting step by step
Here's an example, using a current offer from Betfred, where new customers can make a £10 bet and receive £30 in free bets.
Deposit the £10 on Betfred and look for a suitable game (using decimal odds). A made-up example is Liverpool to beat Tottenham at 2.1. Back the result as your £10 bet.
Go to a betting exchange like Betfair, and bet against Liverpool winning against Tottenham. You're looking for roughly the same odds, around 2.1.
Now, whatever the result you can't lose. If Liverpool wins, Betfred pays the winnings, AND you get your £30 free bets. If Liverpool draws or loses, you lose the £10 bet on Betfred, still get the £30 in free bets, AND you win on Betfair.
Your £30 free bets will be in your Betfred account over the next few days. Repeat the simple matched betting process with the free bets (make sure there are funds in your exchange account to match your free bets).
Your £30 free bets will cancel each other out, but you get to get to keep the gains in your account thanks to the free bet amount.
Repeat the easy-matched betting process at any of the bookies offering free bets. Many offer them especially around times of major sporting events.
Risk-free profitable bets here are three things that you need to do to succeed:
1. Find somewhere to lay your bets.
There are three betting exchanges, Smarkets, Betdaq, and Betfair.  All three give you the option to lay your bets off and the only real difference between the three is the commission they charge on winning bets. You can compare betting exchange commission rates here.
2. Find a bunch of bookies that offer free bets.
Now bookies aren't stupid.  They offer you free bets because they assume that eventually you'll get bored of matched betting and start betting outright and lose. For this reason, once you have opened your account the offers of free bets will keep on coming so you get accustomed to their betting platform.  Make sure you get accounts with the biggest online bookmakers in the UK and wait for the offers to come in via email.
3. Don't be a mug punter
This is quite important. Matched betting is a form of arbitrage between bookmakers to take advantage of free bets. It is a long arduous process for very little in return.  But what can happen is that you'll get bored and start betting because you have the accounts and nothing better to do with your time.
Don't bet for the sake of it. Bet for fun and to make a bit of profit through matched betting.
Matched betting gives you some rare opportunities to make money by laying off a free bet with a bookie on a betting exchange.  This does not mean you are a winning gambler, you are an offer opportunist.  By betting outright, you risk giving back any hard-earned profits in a matter of minutes.  Gambling is addictive so keep an eye on your activity and always tell a friend what you are doing.  Being a secret gambler is one way to end up penniless.
Is Matched Betting Safe and Legal?
Matched betting might be something that bookmakers frown upon, but it is entirely legal and fair. As long as the bookmakers give free bets that players can use, matched betting will remain an option.
There is something in it for the bookies as well. They attract new customers and add more visits to their sites. However, the only danger you can face is getting banned from betting sites once they figure out what you're doing.
Conclusion: Matched Betting
Why not change things up a bit with a matched betting accumulator? The same process applies, but you can add this option if you're trying to get your 'back' bet odds with a bookie as close as possible to the 'lay' odds at an exchange.
Remember, easy matched betting is foolproof. Just about. Mistakes can happen, so ensure you are placing the right amount at the right odds all the time.
Finally, some of the bookies offer free bet promotions for existing customers from time to time. Take advantage of these, too!
Not all bookies look too kindly on serial-matched bettors. It's entirely legal, but it doesn't help their bottom line. So, to keep your accounts from being frowned upon, bet occasionally on your own, without relying on matched bets.