Intro to Spreadex
Spread betting can be an area of online gambling which feels a little overwhelming for many players. Without research, this can seem to be an involved and complex process, and this is one of the reasons why so many players head elsewhere or seek out alternative methods of placing bets and wagers.
In part, Spreadex is a tool which can really help to alleviate this fear, taking care of much of the hard work, and leaving players and punters free to focus on the game or match they are looking to enjoy. Put simply, Spreadex is a Forex, CFD and spread betting broker, and allow traders to access major markets such as commodities, indices, currencies, and shares. They stand out from the crowd thanks to their access to cryptocurrencies such as BitCoin and are a popular choice for the more experienced traders who are looking to trade options.
If you are looking for something a little different which offers plenty of option to trade, Spreadex is a pretty strong bet. They offer a wealth of experience with plenty of choices and can be a great pick for both experienced traders and those just finding their feet and building their confidence within the business. Read on for our considered opinion!
Spreadex Welcome Offer & Promotions
Welcome Bonus
There are a number of ways in which Spreadex differ from the typical online sportsbook or casino site, but they are ahead of the pack with a quality welcome offer worth up to £300 which is a great steal for newbies! Upon signing up to the site, all new customers will need to place 5 qualifying spread bets to trigger the welcome offer. These must be a minimum of £2 and offer expected returns of £20. If these criteria are met, you will find yourself automatically credited with a £100 bonus, with no need to enter any codes or worry about extra tasks!
Even better news; this is just the first stage of the welcome bonus. Once the first bonus has been credited, players should place another 10 qualifying bets – again, these must a £2 minimum spread bets, and have expected returns of £20 minimum. This again will bag you a £100 bonus, taking your total welcome offer to £200 – not too bad for simply signing up and playing!
There are some restrictions with regards to the markets which can be bet on – tennis, horse racing, rugby league, rugby union, cricket, and golf are all excluded from the deal. It is also a good idea to stick to lower, achievable odds to help ensure success – starting off small now can be a massive help in the future!
Free Bets
As the name suggests, this is where the site will offer a certain number of free bets to the player, usually in exchange for signing up, or as an extra thank you after they have placed a certain number of bets. Spreadex offers their own version of this offer, and it comes with a great perk: this is a deal which can be played through as many times as you like, with absolutely no restrictions! This is more a spread-free bet than a traditional free bet, but it does allow you to get your hands on ann extra chance to win, and so we have counted it here.
To qualify, players must place 3 sports spread bets online on the same sports qualifying markets, within 10 minutes. Following this, a fourth spread bet is placed on the same market spread – free, or at the spread mid-point. This offer can then be repeated as many times as desired, on any of the sports markets which qualify – players should check the small print for closer details. As long as you meet the qualifying criteria, this is a perfect way to increase your potential bets and maximise your profit.
Matched Bet
As well as a great welcome bonus, matched bets can be another brilliant way for casinos and sportsbooks to entice new custom. Matched bets occur when the site offers to match existing bets made by the player, usually up to a certain limit. With this in mind, Spreadex has added another string to their offer bow; the chance for players to get their hands on £25 in matched bets when they place a £25 bet on the site. In essence, this allows you to double your betting potential, and is a great offer for players of all experience levels; you can bet on wilder and more entertaining options, or place a greater number of bets on a secure gut feeling, without having to worry that you are spending your hard-earned cash or wasting precious opportunities to bet.
Spreadex – Latest Promotions Review
When it comes to picking a good casino, many players will agree that being able to access top-quality promotions, bonuses and offers is a great incentive for them to try out a site they may not have otherwise considered. A great welcome offer can be the final push a punter needs to step over and test out a new site, and ongoing offers are crucial for fostering customer loyalty and repeat business.
Spreadex are fairly unusual in many ways, but they excel when it comes to offering a super lucrative welcome offer worth up to £200! This is triggered when a new player signs up to the site, and all you need to do to qualify is place 5 qualifying bets – these must be at least £2 each and offer expected returns of £20. Providing you meet these requirements, the £100 bonus will be credited to your account immediately – super-easy money!
The news gets better; this is a welcome bonus of two halves, and the second requires placing another 10 qualifying bets. Again, these must be £2 minimum and expect £20 returns. Once complete, players will grab the next £100 bonus, and this means you have £200 on the house to play with – amazing!
Welcome Offer Terms and Conditions
As with any offer, there are of course terms and conditions which need to be met; the minimum amount of the bets must be £2 each time, and they must have expected returns of at least £20. There are also some exclusions from the deal; the bets cannot be used on football, rugby union, rugby league, cricket, horse racing or golf.
More Spreadex  Bonuses and Promotions
The generous welcome deal is just one opportunity available at Spreadex; opportunities to grab free bets, match bonuses, bonus and promo codes, accumulator bonuses and many other types of freebie are regularly displayed on the website. This means that it is crucial for players to check in with the sire on a regular basis; many of the offers are time-sensitive, and it is important to make the most of them before they vanish and you miss out. Make sure you are always maximising your chances to win by staying alert; you never know when it may be your lucky day!
Other Promotions
As well as a great welcome deal and some wonderful matched and free bet options, Spreadex are fans of regularly rewarding their players and customers with promos and deals. Many of these are accessible via bonus codes found on the site, and others are advertised and can be achieved by meeting certain requirements. Players should check in with the site on a regular basis to take full advantage of the deals on offer; you never know when your lucky day will come!
Reload Bonuses
Reload bonuses are another popular option for many online sportsbooks, and the welcome offer at Spreadex does technically qualify; plyers are rewarded not only for the first deposit made but also the second. This offers a perfect chance to maximise each bet and is a definite perk of the site.
Loyalty Program & VIP management
As well as offering fantastic deals and appealing to new customers, it is also super important for sportsbooks and casinos to remember the loyal players who have helped to keep them in business. Many sites will offer exclusive deals or promotions to these customers, and some go one step further in offering an exclusive loyalty opportunity. At present, Spreadex does not have a dedicated VIP or loyalty programme, and this does have the potential to put them at a disadvantage compared to other sites; many now offer great deals as standard to their most dedicated customers and repeat players. There is a risk here that punters will be offered a better deal elsewhere for their loyalty, and this could see them turn away from Spreadex.
Spreadex Free Bets
With so many online casinos, gambling options, betting exchanges and sportsbooks, there needs to be something to stand out from the crowd and get noticed, and this is a major priority of every new and up and coming site. One of the easiest ways to achieve this? Offer unbeatable deals, promotions, and bonuses to tempt in your new players!
Though Spreadex are pretty different from most online sportsbooks, they do offer a chance to get your hands on free bets for minimal effort, and this is a great way for them to stand out from the crowd. It also has an advantage over traditional free bet offers; it can be used without restriction unlimited times!
How to Claim Free Bets at Spreadex
To grab this deal, players will need to wager 3 sports spread bets on the same qualifying sports matches within 10 minutes of each other. Once this is achieved, a fourth bet can then be placed on the same market spread at the mid-spread point.
The major benefit of this offer is that it comes without restriction; it can be repeated on any of the qualifying sports markets at the time. Keeping a close eye on the site will alert you to new possibilities and options, and this is a great alternative to typical free bet deals.
Terms and Conditions for Spreadex Free Bet
As we mentioned, getting your hands on this deal is super simple, and simply relies on you placing the qualifying bets within the allowed time. The restrictions are placed by the sportsbook; only preselected matched are eligible, and these are not free bets as one may usually understand the deal.
About Spreadex Betting Exchange
Spreadex is amazing for those who are looking to get into spread betting and is a tool which works as a Forex, CFD and spread betting broker. It gives players the chance to trade markets including shares, commodities, indices, and currencies, and offer the chance to trade cryptocurrencies, making them suitable for players of all experience levels.
Spread betting can be a little overwhelming for beginners, and Spreadex can act as a great way to find a guide through the process, developing your skills, confidence, and abilities to allow you to tackle the best deals in the future!
The product, Sports and Markets
One of the advantages of Spreadex is that they offer a broad range of sports and activities, and these include the most popular choices such as football, horse racing, cricket, rugby union, and tennis. Within these categories are a range of specific leagues and tournaments, such as the Premier League and Champions Leagues in football, and the Grand Slam tournaments in the tennis world. In-play betting is also a major benefit – this allows you to place wagers and take guesses while the action is going on, and this increases your chances of a successful win – you can make decisions based on what is happening right in front of you. When it comes to choice, Spreadex has a great selection; while the range of sports and activities on offer may not be as wide as some alternatives, there is plenty to choose from, and the categories offer greater depth and opportunities for wagers.
Mobile & App
It goes without saying that punters, players, and customers of all types will be expecting a mobile experience, and we are pleased to announce that Spreadex does not disappoint in this area. Android and iOS users can download the app and enjoy a fully optimised experience, and this gives you the freedom to wager and play your favourite sports and matched anytime, any place – a real advantage! For those who don't want to download an extra app, the site can be accessed and enjoyed straight from your mobile browser.
Spreadex – How to Open An Account
Spreadex is a top-notch spread betting broker. The platform offers all the markets you could possibly want to trade, along with contract months. Best of all, they have small minimum bet sizes for most of their markets along with highly competitive spreads.
Opening an account is quick and easy at Spreadex so you can start trading in no time at all. Our step by step guide shows you how to sign up effortlessly and make your first deposit, place a bet and then make a withdrawal.
How to Open a Spreadex Account
Step 1 – Join Spreadex
Click on the Spreadex homepage and then the Join button in the top right-hand corner of the page. A pop-up registration form will appear for you to fill in.

Step 2 – Create An Account
Fill in the required details, including:
Title
First name
Surname
Create a username
Create a password
Country of residence
Confirm that you're over 18 and have read the terms and conditions.
Click Next.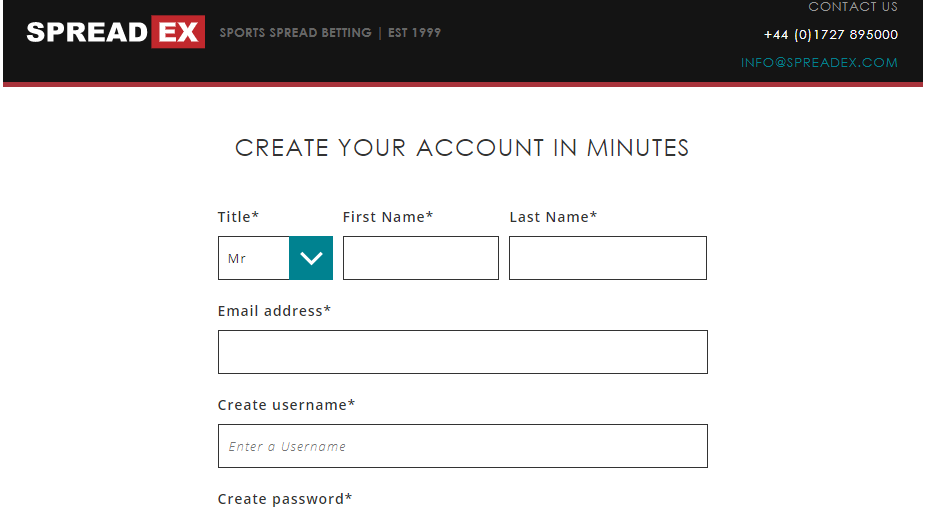 Step 3 – Fill In Your Personal Details
Complete the form by entering the following details:
Chosen name
Date of birth
Primary phone number
House number
Postcode
Click Save Details.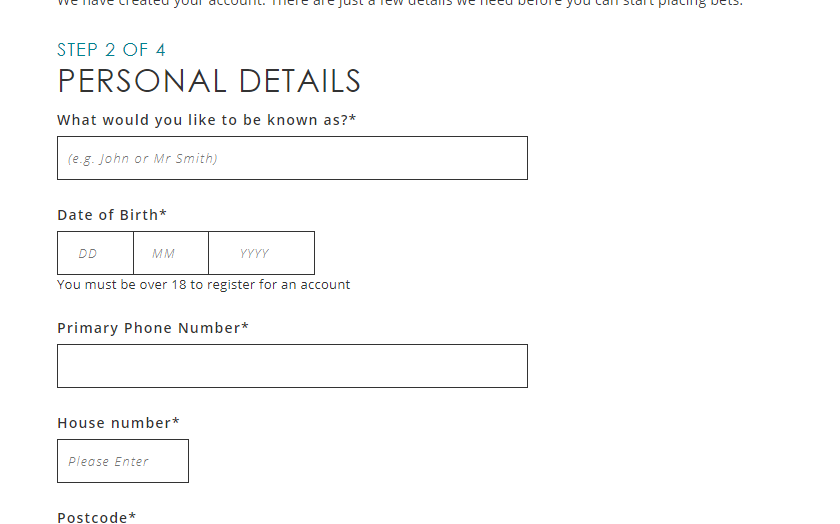 Step 4 – Wait for Your Account to be Approved
Once you've completed the sign-up process, you'll need to wait 24 hours for Spreadex to approve your account.
When you receive a confirmation, you can make your first deposit.
How to Make a Deposit At Spreadex
Login to your new Spreadex account and click on Deposit.
Choose a preferred payment method. Spreadex accepts e-wallets as well as major credit and debit cards. They do not accept cheques or bank transfers.
Enter the amount you want to deposit. The minimum deposit is just $/€1.
Place Your First Spreadex Bet
Betting on the horses at Spreadex is incredibly simple.
If you prefer to bet on fixed odds, click on the Horse Racing section and choose the race and meeting to bet on.
Choose the horse you're backing.
Click on price, enter your preferred stake and click Bet Now.
If you want to place a spread bet, be sure to follow the onsite instructions carefully.
Withdraw Your Spreadex Winnings
Finally, withdrawing your winnings is a straightforward process.
Head over to the My Account section and choose the withdrawal option. You can withdraw a minimum of $/€50 provided it's not supporting the margin on any positions at the time.
If you have less than $/€50 available in your account, withdraw the full amount.
Getting started at Spreadex is quick and simple, so why not join today!
Licensing and regulation
Spreadex has authority and regulation from three major players; The Financial Conduct Authority, The Gambling Commission, and the Alderney Gambling Control Commission.  This allows players to kick back and relax safe in the knowledge that they are playing a totally legit site. In addition, security is taken care of thanks to an SSL encrypted site; all your personal details will stay private and protected.
Customer Support
The first port of call for any questions or concerns should be the FAQ section of the site; this is comprehensive and detailed and should answer most questions. If not, support is also available via email, telephone, and social media, so you are never stuck for too long!
Payments
Spreadex offers a variety of payment deposit and withdrawal methods to match most preferences, and these include Visa, Switch, Maestro, MasterCard, cheque, bank transfer and direct debit. The site does not currently offer eWallets as a payment method, and this is disappointing as these tend to be the fastest option for many sites.
Reliability
Most of the common complaints which surround Spreadex are related to the lack of payment methods, and primarily the lack of options to use eWallets such as PayPal or Neteller. This is an issue when most other sites are offering this and could see Spreadex at a disadvantage. Apart from this, most reviews are generally positive, though some customers have expressed a desire to see a Live Chat option emerge as a method of customer support.
Business information
Spreadex started trading in 1999, giving them years of comprehensive experience in the market. The site was founded by Jonathan Hufford, and the aim was to make spread betting easier and more accessible for players – an aim which seems to have been achieved!
Betopin's Verdict
If you are new to spread betting, or simply searching for a reliable site to try the skill out on, Spreadex is the place for you. They are slick, professional and experienced, and a great opportunity to expand your online betting experiences and add spread betting to your list of opportunities.