The Return of the Premier League – let's pick up where we left off
After we have not seen the Premier League for over three months we are now just over 24 hours away from the return of the Premier League where Aston Villa will take on Sheffield United at 6.00pm on Wednesday, which is sure to have a lot of betting tips floating around in anticipation.
There will be no fans in attendance to soak in in the atmosphere due to the restrictions due to COVID 19.
Now, onto the matter at hand.
It looks only a matter of time before Liverpool pick up their first Premier League title as the only need 6 points to conform the superiority over the rest of the league. But, if Manchester City are beaten by Arsenal then Liverpool could seal the deal against old rivals Everton on Sunday night.
The Reds are 25 points clear of Man City, who have also played less games. Before we went into lockdown The Reds where dumped out of the Champions League by Atletico Madrid also with their unbeaten record in the Premier League at the hand of Watford. It was looking like they had it a few bumps in the road, but, it is only a matter of time before they are crowned league champions for the first time since 1990.
The Battle for the Top 4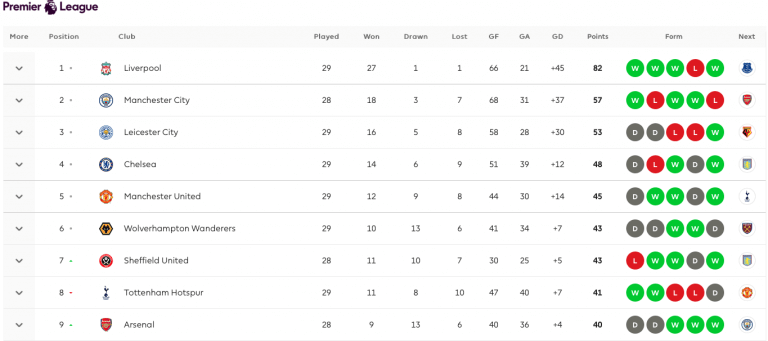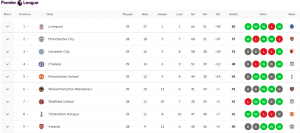 The real excitement for any neutral is the battle for the Champions League spots. The cloud of doubt still hangs over Manchester City's participation in next season Champions League as they have appealed their two year ban due to breaches in financial fair play rules. If this is held up, then finishing 5th this season will see your team bag the coveted Champions League spot.
The Foxes have been rejuvenated by Bredon Rodgers and bar a huge blip they should be home and hosed for Champions League football coming back to Leicester.
The ones who could benefit most from this unforeseen break is Spurs as the will be massively boosted by the return of Harry Kane. But, on the other side, the team that could of down without the break is The Red Devils, Manchester United.
United were on the crest of a wave with new signing Bruno Fernandez fitting in to the squad like he has been their for years. And with that came a turn in form as they started turning games that they would of drawn months prior to that into win. The question on everyone's lips though is, how will Pogba gel with Fernadez.
Well this coming Friday we will find out as Manchester United travel to the New White Hart Lane to take on Spurs.
So, with that said, let's see what out football betting expert has put up for the first week of the return of the English Premier League.