Top Online Casino Games Canada
In this article, we will discuss some of the most popular games among Canadian casino lovers. These titles are available in web casinos, meaning you can play them on your PC, laptop, or mobile device.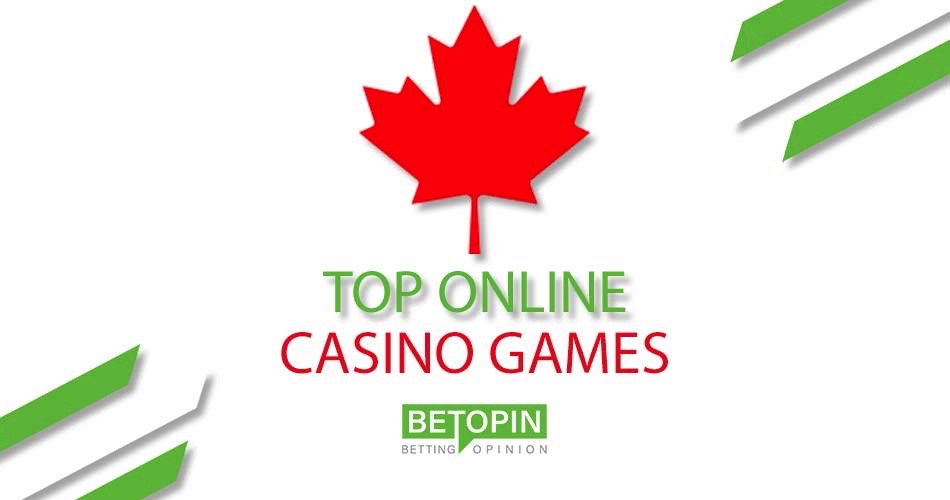 Therefore, if you're interested in learning more about Canadian online casinos and games available in them, make sure to carefully read this article.
The Best Casino Games Online
Is it possible to say which online casino games are the best? There are thousands of casino players in Canada, and every single one of them has a refined taste. However, it's safe to say that some games are more popular than others. In this article, we'll focus on all popular games except slots, as slots are so popular that they are usually considered a separate category.
However, if you're interested in learning more about online versions of blackjack, roulette, poker, craps, video poker, and bingo, you should keep reading this article.
Blackjack is widely regarded as the most popular casino game. Players love it because it comes with the lowest house edge of all games, meaning the possibility to win is the highest.
The game is also available on the web, and it comes in many shapes and sizes. Apart from the standard version of BJ, there are also games such as Spanish 21, pontoon, European blackjack, progressive blackjack, and more. Almost every online casino features at least three BJ variations, and some offer much more than that.
Why should you play online blackjack? For starters, it offers you a way to create big wins if you use the right strategy. Blackjack players often use the popular blackjack strategy charts that tell them what to play for every possible hand. Although these charts are not available in casinos, you can use them if you play the game on the web — just find the one that meets your needs and open it in another tab. That way, you'll have an opportunity to master blackjack and minimize the house edge.
Apart from being rewarding, blackjack is also an entertaining card game. There are tens of thousands of online blackjack lovers who are actively playing this game in online casinos all over the web, and some of them are making a profit.
An exciting way to play online blackjack is to start a live dealer session. Many online casinos blend the virtual and the real by live-streaming a dealer from a special studio. You'll have a chance to play the game against a human dealer by using special software.
Once the game starts, you are dealt two cards and you have several options to consider:
Hit — Ask the dealer for another card. If the sum of your three cards is more than 21, you lose immediately. If this is not the case, you can continue hitting until you're pleased with your hand.
Stand — You are satisfied with your hand and you choose to stand. You don't want to risk taking another card and making your total count exceed 21.
Double Down — Immediately after the first two cards are dealt, you place an additional bet equal to the original wager. You receive one more card and now you have to stand. You are not allowed to hit again.
Split — Your first two cards share the same value and you are separating them into two separate hands. The dealer hits you with a new card for each of the splits. In general, you won't be allowed to split, double down, or hit any further but this may vary from one casino to another.
Surrender — The dealer's upcard is worth 10 or 11 points and you decide to give up. For you, the round is over and you'll forfeit 50% of your bet to the house.
Insurance — You'll be insured in case the dealer has a blackjack. Even though this may vary from casino to casino, insurance is usually limited to 50% of the original bet.
If both the player and the dealer have the same total, nobody wins. This situation is called a tie or push.
When it comes to payouts, blackjack is quite simple. Beating the dealer with a combination higher than his will result in a 100% payout. Simply put, if you bet C$10, you will have another C$10. In case you hit a blackjack (a face card plus an ace) you'll get a 150% payout. If your bet was C$10, your payout will be C$15.
Different online casinos may offer different side bets. Regardless of where you play, these bets and payouts will be specified before and during the game.
Many casino lovers are in love with roulette, as it offers plenty of betting options. It's no wonder that roulette is often considered the best casino game. It's the first game that comes to mind when someone talks about casinos.
Online casinos usually offer the three most popular roulette variations:
European roulette
American roulette
French roulette
Some online platforms even took a step further and offered new roulette types that come with innovative options and interesting side bets.
Why is roulette so popular? Many great bankroll management strategies can help you with improving your chances of winning in this game. If you want to play online roulette, you might want to check out strategies such as martingale, reverse martingale, D'Alembert, Fibonacci, James Bond strategy, and others.
One great way to play roulette in online casinos is to enter the live dealer casino section if it's available. Like blackjack, live dealer roulette features a human dealer located inside an exclusive studio (sometimes even inside a real land-based casino). They will use the real roulette wheel, but you'll use virtual chips to place bets.
The bets need to be placed before the wheel is spun. You get to choose from a number of different bets and they are as follows:
Single number — You bet on a single number; this pays 1 to 36. Let's say you put C$3 on number seven and the ball lands in this pocket. You will win $108.
Split — You bet on two numbers that are next to each other on the wheel. If the ball ends up in any of those two pockets, you will get a payout of 1 to 18. In other words, if you bet C$2 on a 5-8 split and the ball lands on number eight, you'll win $36.
Corner — You bet on four numbers and if the ball ends up in any of those pockets, you will get a payout of 1 to 9.
Street — You bet on three numbers that are in the same line on the betting cloth. This pays 1 to 11.
Six lines — You bet on six numbers in two lines that are right next to each other on the betting cloth. In this case, you get a payout of 1 to 6.
If the ball lands on zero, all bets are losing. The only exception to this rule is found in French roulette where the En Prison rule is applied. The house takes half of all the bets, while the rest remains intact and cannot be withdrawn until the next round begins.
You can also bet on a dozen or a column and if you guess correctly, the money you bet will be multiplied by 3. If you decide to bet on a color, odd, or even number, your money will be doubled.
Aside from the aforementioned, you can try your luck with the so-called "call bets". This would mean you are betting on a group of numbers located next to each other on the wheel.
They are as follows:
Small series — This group consists of 12 numbers located on the opposite side of the wheel observed from the zero pockets.
Large series — This sector covers half of the wheel, starting from the zero pockets and spreading equally to both sides.
Orphelins — This is the boundary area between the small series and the big series on both sides of the wheel.
New roulette players are advised to carefully read all the rules before they start playing and to avoid blacklisted online casinos at all costs. Roulette is fast and exciting, so prepare for a hell of a ride.
Poker is a popular game in the Great White North, as Canadians love visiting land-based casinos to take part in poker games. That's why many online casinos decided to offer popular poker variations, such as Texas hold 'em, Omaha, and more. Every casino has a unique offer of poker games, and there are online platforms that only focus on poker, offering cash games and tournaments.
You don't have to go to the nearest casino if you seek some poker action. All you have to do is open an account in an online casino or poker room and enjoy playing this game against other people (or against AI).
Poker is a game of skill, so learning this game takes time. Mastering it may take years. Therefore, instead of giving you poker tips, we'll just tell you that practice makes perfect, and online poker is a great way to practice your skills.
The most important thing is to pick one poker variation and master it. In most cases, that should be either Texas hold 'em or Omaha, as they are the two most popular poker games.
Even though many variations of this card game can be found on the internet, the most common types of poker are:
Five Card Draw
Texas Hold'em
Omaha Hold'em
Seven Card Stud
High/Low Chicago
Texas Hold'em is, without a doubt, the most popular version of poker. Some of its popularity is due to the fact that it is played in the World Series of Poker. This event, followed by millions around the globe, definitely contributes to the enormous popularity of Hold'em. In addition to that, it is easy to learn so it's no wonder lots of people like it!
Texas Hold'em
In the beginning, each player is dealt two cards only they can see. After that, the dealer puts three community cards on the table (the flop), then the fourth one (the turn), and eventually the fifth one (the river). The cards on the table can be used by each player to create their own best possible five-card poker hand.
Bets are laid before and after the dealer puts a new card on the table. In order to stay in the game, every player has to put the same amount in the pot. Every player bets four times during one hand. Eventually, the player who has the best combination of their two cards and those on the table wins the hand and the pot.
When it comes to betting limits, we could say that there are four major variations of Texas Hold'em:
Limit Texas Hold'em — The betting limit for each round is determined in advance.
No-Limit Texas Hold'em — You are free to bet any amount you want.
Pot Limit Texas Hold'em — You can't bet more than the amount in the pot.
Mixed Texas Hold'em — A combination of limit and no-limit Texas Hold'em.
During a single hand of Hold'em, you can decide to bet, fold, check, raise, or call. On some occasions, the actions available depend on what the players before you have done.
If none of the players before you made any bets, you can decide to bet or check (you don't bet but you keep your cards and stay in the game). If the player before you placed a bet, your options are to fold, call, or raise.
In Texas Hold'em, to fold means to give up and lose the bet. If you decide to call, you are simply going to match the highest bet placed so far. And if you are raising, you are not only matching the previous bet but also increasing it.
At the very end of a Hold'em hand, the player who bets the last is expected to show their cards. As we already mentioned, the best five-card poker hand wins the pot. Should one or more players have the same cards, the pot will be split accordingly. Once the pot is divided, a new hand may begin.
Five-Card Draw
Another common version of poker is a five-card draw. It can be seen in old cowboy movies but is also very popular among players nowadays. Experienced players see it as the simplest version of poker. Also, it's what video poker is based on.
A round of a five-card draw starts after each player receives five cards. Once they are dealt the cards, each player can pick three cards they are going to trade for new ones. When the exchange is over, the players show their cards to determine who has the best combination. At last, just like in Hold'em, the strongest five-card combination wins the hand and the pot.
You should keep in mind that the rules of poker may vary from one place to another. It is, therefore, very important to know the rules of the game you are participating in. For example, some games follow the so-called hi/low rule. This means that the best and worst hands share the pot. A rule like that can change the very core of the game, which is why you need to be careful!
Online Craps
Craps is one of the most complicated casino games out there, but it is also one of the most rewarding if you adopt the right strategy. This casino game may not be as popular as blackjack or roulette. Still, it definitely has its fair share of fans among Canadians, so many online casinos in the country offer it.
The key to making the best possible outcome in playing craps is learning its rules. After you understand how the game works, you should study the odds to come up with the best possible wagering strategy.
Ultimately, craps are the game that requires practice, and you now have an opportunity to play it online. Some casinos offer really low minimum stakes, meaning you can practice the game and lose very little in the process. Moreover, you'll find that many Canadian casinos offer free games, so you can play craps with fake credit until you understand how it works.
The first roll in a round is also called "the come-out roll". Your come-out roll can result in three outcomes:
Natural Numbers — A come-out roll that scores a 7 or 11 is also called a natural. As a result, all bets placed on the "pass the line" win and those placed on the "don't pass the line" win lose. Whenever you land a natural, you'll be given another chance to roll the dice.
Craps Numbers — If a player gets 2,3, or 12, both "pass the line" bets will lose and "don't pass the line" bets will lose. Just like with natural numbers, the player will get another chance to roll the dice.
Point Numbers — If the initial roll is one of the "place numbers", the dealer will mark it as a point on the table. The same exact number has to be rolled again before a seven for any "pass" bets to win and any "don't pass" bets to lose. Getting a seven before you roll the point will have the opposite effect.
There are many ways to bet on each roll of the dice. Here's what's at your disposal:
Pass line bet
Come bet
Place bet
Don't bet
Proposition bet
Field bet
Big six
Big eight
In case this is your first time playing craps, all these rules may make the game seem overwhelmingly complex. But don't let them discourage you. Most of these rules are simple and you'll learn them as you play. So, place your bets and let the dice roll!
Online Video Poker
Video poker is different from online poker, as you don't get to play against other players. Instead, you play against the computer, and your goal is to make the best possible poker hand.
Hand rankings are the same as in other poker games, but the difference is that pairs don't count (except in some variations such as Jacks or Better). Every hand begins by receiving five cards, and you get to choose which one you want to hold. The ones that are not selected will be replaced with other cards from the deck.
For example, if you get a pair of tens, you should hold onto those two and replace the other three cards if they don't fit. If you get the third ten, you'll have three-of-a-kind and will be aptly rewarded for it.
Video poker comes in all shapes and sizes in online casinos in Canada. Some of the most popular variations are Jacks or Better, Deuces Wild, Double Bonus Poker, Aces and Faces, Aces and Eights, Joker Poker, and more.
What's the difference between all these video poker games? All of them have different payouts, so the first thing you need to pay attention to is the payout table that is often visible as soon as you load a video poker game in your online casinos.
Moreover, some poker variations come with exciting side bets, gamble features, and other interesting features that may help you create big wins.
Some video poker games have huge payouts, but you will have to stick to some of the strategies that proved useful for this game.
Essentially, online video poker is very easy to learn but difficult to master. Just like craps, it requires hours and hours of practicing the right strategy.
Online Bingo
Many Canadian online casinos feature bingo. This game is so popular that there are even stand-alone bingo platforms that offer all kinds of bingo games. The most popular variations of this game that you can find in casinos on the web are:
36-ball bingo
40-ball bingo
75-ball bingo
80-ball bingo
90-ball bingo
Bingo is a game of chance, so there aren't any particular strategies that you can apply to improve your odds of winning. However, it's important to pay attention to your bankroll and never let your emotions take over your reason. Ultimately, the goal of playing bingo is to hang out with other people and enjoy this simple yet very entertaining game. If you're into more serious casino games, then you should play blackjack or roulette.
Casino Games Online – Free Plays
Online casinos don't require you to play games with real money. Instead, you can do it for free if you want. How so?
Many casino game providers allow free play. Once you open an online casino and select the game of your choice, you will receive fake credit. You can use that to make bets and play the game as much as you want, but the prizes you receive won't be real.
Why should you play games for free at all? If you're a newcomer who doesn't have prior experience in playing casino games, you should get some practice first. Playing games such as roulette, blackjack, poker, or even craps for free is a great way to understand how they work. Ultimately, you can try to implement some of the strategies while in the free play mode to understand how these strategies work in practice. Every best online casino offers free play, and we strongly advise you to test games in this mode before switching to playing for real money.
Casino Games Online – Final Words
To sum up, playing casino games on the web in Canada can be a very exciting experience. However, if you want to maximize your winning potential, you should not rely on the element of luck. Instead, you should try to play games for free first and learn more about them before switching to real money.
The web is filled with useful strategies, tips, and tricks for many games, including blackjack, roulette, craps, video poker, and more. Therefore, make sure to study a bit in order to kick-start your online casino journey in Canada. Also, don't forget that every good online casino in Canada offers great promotions such as free spins or bonus money for table games. Players will have an opportunity to use the bonus to explore games and learn more about them.
Casino Games Online FAQ
What online casino games are popular in Canada?
Apart from slots that are the most popular casino games everywhere in the world, other popular games are blackjack, craps, roulette, video poker, poker, bingo, and more. There are plenty of options to choose from if you choose the best online casinos currently available in Canada.
Are there any welcome bonuses for new players in Canada?
Almost all online casinos offer a welcome bonus to attract new players. If you're new to the world of online gambling, make sure to analyze every welcome bonus offered by casinos to learn more about them and choose the one that meets your needs. These usually are deposit bonuses, meaning you have to make a deposit first if you want to activate them.
Also, you should pay attention to the type of welcome bonus. Some will offer free spins for online slots, while others will offer bonus money for Canadian players. Therefore, if you like online slots, then free spins might be the best option for you. However, if you prefer table games like blackjack, roulette, and others, then you should aim for a welcome bonus that will award you with money.
Basically, every Canadian online casino has some sort of welcome gift that will help you improve your overall online casino experience.
Which game has the lowest house edge?
If you apply the right strategy, blackjack becomes the casino game with the lowest house edge. Make sure to study blackjack strategy charts before you start playing, or you can test them by playing this popular card game for free in online casinos. Some video poker types also have a very low house edge if you stick to some of the working strategies.
Canadian players also have an opportunity to play some of the best online slots that have a high RTP score, which means that the house edge in these games is low. If you add free spins into the equation, you'll get a perfect slot-spinning experience.
What is the legal gambling age in Canada?
You must be at least 19 years old if you want to play games in Canada. Manitoba, Alberta, and Quebec are an exception, as the legal gambling age is 18 in these regions.