IG Financial Review
Originally called IG Index, the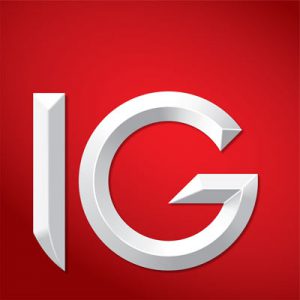 IG platform was founded by Stuart Wheeler in 1974. Today, it is a publicly listed broker with headquarters in London. By the end of 2017, the company was valued at more than £2 billion with close to 200,000 clients. Now, the company has offices all around the world.
The IG platform allows you to partake in spread betting, prime brokerage, CFDs, stocks, SIPP, ISA and Forex with minimum deposits starting at £250. The spread types are fixed or variable and you can make payments with cards, by bank transfer or using PayPal. Over and above all that, IG offers about 15,000 through their spread betting, share dealing and CFD trading services. They're also a cryptocurrency broker where you can trade currencies like Ethereum and Bitcoin as a spread bet.
IG Group – An Overview
IG Group is ranked as the top CFD provider in the world. Their extensive catalog of products along with competitive fees make for an enticing platform. Recently, IG entered the US market, confidently competing with two other big players there.
The website is well organised and easy enough to navigate. It clearly discloses the company's services and fees, so there's no hidden surprises along the way. IG is fully compliant with the latest European Securities Market Authority regulations in terms of forex and CFD leverage.
As with any platform, there are pros and cons. On the upside, IG offers:
Guaranteed stop losses
High-end platforms
1000s of markets
Industry standard MetaTrader 4
On the downside:
This is not a social trading platform
There are fees for dormant accounts
You may incur subscription and exchange fees
Licensing and Regulation
IG is regulated by the UK Financial Conduct Authority as well as the Australian Securities and Investment Commission. UK traders can look forward to broker default protection up to the amount of £50,000 through the handy Financial Services Compensation Scheme. But there's no other insurance coverage.
When you trade on the IG platform, your funds are segregated from company funds which goes a long way to reducing the potential for any misconduct or abuse. Be sure to read the small print, though, as the company reserves the right to hold funds outside of its local authorities and this can increase the likelihood of a bank default.
IG operate a counterparty dealing desk to help raise any issues in terms of conflicts of interest. However, higher end clients are able to directly trade with the interbank system through a special platform. The company provides guaranteed stop losses for an extra fee and negative balance protection has become mandatory under ESMA rules.
Trading on Your Desktop
Overall, we think that IG offers a decent variety of platform choices and interfaces, including MetaTrader 4, which is industry standard. If you're able to meet certain monthly trading activity requirements, you can even upgrade for free to the ProRealTime advanced platform.
The web-based platform features all the basic risk management tools, such as stop losses and price alerts. You can also follow Reuters new streams and check out ProRealTime charts.
For higher end clients, there's the chance to attach your own software or make use of the Bloomberg terminal. You can trade both CFD shares and foreign currencies and enjoy direct market access.
Trading On Your Mobile Device
IG offers its very own native Android and iOS apps that you can load on your mobile phone or tablet. Some of the basic features include price alerts, technical charting and customised watch lists. The indicator list is pretty impressive, but it's missing from the menu structure, which does reduce accessibility to a point. You also won't find conditional orders on the Trade menu, but you are able to place guaranteed and trailing stop losses.
The signals menu is pretty useful, and you'll find third-party buy and sell signals. While the apps lack customisation, they do offer both Touch ID and Face ID Security and seem to be more advanced than the industry standard MT 4 mobile platform.
IG's Research Tools and Education
IG operates a website called DailyFX.com. Here, you'll find tons of news, research and a comprehensive educational portal complete with hundreds of market topics and in-house analytics. The Realtime news is all produce in-house and covers most major currency pairs. There are even live webinars to attend where you can learn everything you need to know about trading.
Speaking of education, the site is home to the DailyFX Forex University. Hre you will find heaps of course-based materials covering everything technical and forex-related. The IG site itself also hosts the IG Academy, covering spread betting and CFDs in detail. It's a great place to start if you're new to trading and betting, and you can even access the courses and articles through the native IG Academy mobile app.
IG Special Features
We absolutely love the IG Community site. There are active forums and plenty of trade picks along with highly informative blog posts. Unlike its main competitors, IG doesn't have a third-party or dedicated social platform, and unfortunately you won't find any client positioning data for spread bets, forex or CFDs on the broker site.
But the IG Client Sentiment that you'll find at DailyFX.com does provide an array of useful data, always updated in real-time.
On the main IG platform, guaranteed stop losses are available for just about every market, which helps to lower catastrophic risk. However, orders to require a rather modest fee along with spreads or commissions. IG further offers a wide range of institutional and professional services that we think is well and truly above industry standard.
If you're a veteran at trading, you'll appreciate the direct market access that's designed to bypass the dealing desk. No matter what level you're at, you can invest for the long term via IG Smart Portfolios, which is an account basket that includes retirement and savings programmes and even low-fee ETFs.
A Wide Range of Investment Products
Over the years, IG has built an impressive and full catalogue of indices, shares, commodities and currency pairs. In most cases, the fees for spread bets and CFDs are identical, however there are a couple of exceptions. Options and futures are available on a number of instruments, and you'll have no problem finding something to trade that suits your needs. Coverage includes both minor and more exotic currency pairs, while a lot of the commodities can be traded through futures contracts and spot markets. All the differences between spread betting and CFDs, like tax implications, are clearly set out on the site.
The minimum deposit at IG is £250. IG also offer a rather aggressive rebate programme for larger forex volumes along with volume discounts for UK share traders. Their overnight lending and margin rates are also highly competitive. If you leave your account dormant for two or more years, though, you can expect to be hit with hefty monthly fees.
This broker does not offer trading account tiers or fixed bets on the main site.
Fees and Commissions at IG
Fees, spreads and commissions are refreshingly competitive. IG does charge higher spreads on shares and indices in off-market hours, so take note that placing trades during those times can get costly quickly.
IG Customer Support
Customer service is available when you need it. The toll-free UK landline number is open from 8am Saturday through to 10pm Friday. Both potential and active clients are welcome to talk to a customer support agent through live chat, too, which is available 24 hours a day, every day of the week. There's social media, an email address, and a complete FAQ section, too, so you're sure to find what you need when you need help.
How to Open an IG Account
Like many reputable online brokers, IG offers a demo account that you can use to get the hang of trading without risking your own money.
To open an IG real trading account, though, there are three things you need to know. Firstly, you must live in one of the supported countries. Next, you need to have a minimum of £250 for your first deposit. Finally, you'll need to figure out what kind of account you want to open.
Start at IG.com
You can either start off at the main website or download the app and start there. Next, you'll need to provide your personal details, including an email address and a password. You must then verify your identity before you open your account. To do so, you'll have to send photos of your ID and a copy of a bank statement or utility bill. In some instances, you might be able to access you account before completing the verification process, but your usability will be limited.
Making Your First Deposit
You can make a deposit in one of three ways:
PayPal – take note you will incur a 1.5% fee and you cannot withdraw to PayPal.
Credit or debit cards – these methods also attract a 1/5% fee.
Bank transfers – while you won't incur any fees, transactions can take up to 3 working days to clear. UK traders can benefit from same-day sterling transfers, though.
The highest amount you can withdraw from your IG account is £150.
IG Financial Promotions Review
IG financial mostly relies on a solid reputation and a strong platform to attract their customers and retain existing ones. They do not rely on bonuses to entice new account holders. This can be considered a bonus for traders that can sometimes get locked into the sign-up bonus agreement that might bar them from withdrawing their money until they reach a certain milestone.
However, they still ensure their customers feel comfortable by giving them various promotions and offers. The first thing that entices customers in IG index is their start trading demo account. If you sign up to the demo account, you receive up to $10,000 virtual funds.
You can also benefit from 'refer a friend' promotion that encourages traders to bring their friends to start playing as well.
Take a look at our full review of IG here.
Welcome Offer Terms and Conditions
Before you start spread betting with IG, you need to go through the terms and conditions to understand everything required of you and avoid any uncertainties.
First, you must understand that spread bets are complex instruments and placing a bet with them exposes you to a very high risk of losing your money. 76 per cent of account holders lose money when trading with spread bets because of the high risks involved. Professional account holders even end up losing more than they deposit. You should, therefore, ensure you understand how everything works and be sure whether you will be able to afford to lose your money in a high risk betting like this one.
Of course, you must be a first-time account holder to claim the welcome offer provided by IG financial.
More IG Financial Bonuses and Promotions
List of IG Financial Bonuses and Promotions
Get up to €100 RISK-FREE Bets if you settle 10 settled bets on any event of your choice
Sign up for an IG Financial account and get a signing on bonus of up to €25 cash for settling just one bet on your new account.
Start trading IG Financial account where customers can start trading without necessarily making an initial deposit
Refer a friend promotion where traders can bring their friends on board and earn bonuses for every friend that signs up for an account and makes a deposit.
IG Financial Free Bets
IG spread betting account ensures their customers are motivated by various bonuses with one of the most enticing ones being the free bets. IG, together with spread bet, now comes together to ensure their players get the best bet of the year.
By placing up to 10 settled bets, you get €100 RISK FREE Bet to use on any account of your liking. In addition to that, IG also gives you signing on Bonus of €25 CASH for opening an account and only placing 1 settled bet.
How to Claim your Free Bets at IG Financial
To claim your free bets at IG financial spread bet, you first need to open an account by following a very simple registration process. You will then need to place a 1 settled bet with a minimum risk of €25 and get your account credited with up to €25 CASH. You should do this within the first 3 months of your registration.
To claim your €100 RISK FREE Bet, you need to place 10 settled bets each one coming with a minimum risk of €25 and get your account credited with €100 risk free bet. You should also place this bet within 3 months of your registration to qualify.
Terms and Conditions for IG Financial Free Bet
To claim your free bets, you need to adhere to various terms and conditions. You need to be a first-time account holder placing your very first bet to be eligible for the free bet offer. To claim the free bet offer before expires; you need to place your settled bets within three months of your registration.
About IG Financial Betting Exchange
IG Financial doesn't offer a betting exchange where players can bet on the peer-to-peer program. They offer spread betting, which are also excellent alternatives to traditional sports betting, which only offers fixed odds. Players have the opportunity to either bet higher (buy) or bet lower, (sell). If you get it right on multiple stakes, you win, however, when you get it wrong on multiple stakes, you lose your bet. As compared to betting exchanges, spread betting involves very high risks that even professionals lose very bets. Your past performance doesn't determine your current position, and it doesn't work on fixed odds.
IG Financial: How to Open an Account
IG Financial brings its customers to the betting industry through spread betting. This is a tax-free way to bet on the rising and falling markets. You will have to take a position on either the rise or fall without buying any underlying assets. Here is how to open an IG Financial account and start participating in spread betting.
How to Open IG Financial Account
Before you go straight to a step by step guide on how to open your spread betting account, you need to know that there are two types of spread betting account. The first account is the limited exposure account, mostly for those who are not experienced in the market. The bets on this account are subjected to a maximum 'stop-loss' hence prevent you from incurring huge losses.
The second type of account is the Credit account meant for those who consider themselves experienced in the market. With this account, you're exposed to unlimited losses and gains in spread betting.
Step 1- Head to the Website
Go to the IG financial spread betting website (by clicking here or on one of our buttons) and click the Join button. This will direct you to the next page. Creating a spread betting financial account is free, simple and quick.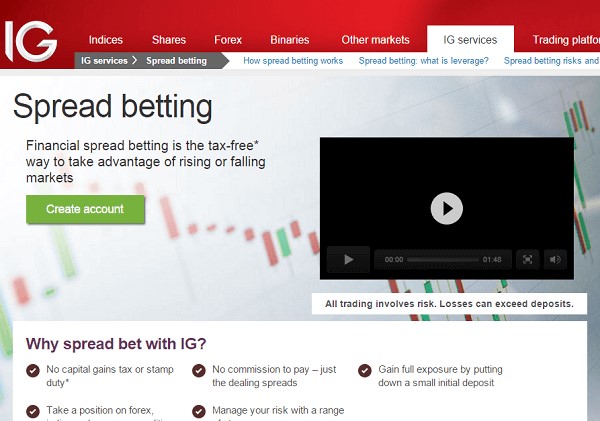 Step 2- Fill in the Online Form
You will then be presented with a simple online form that you'll be required to fill as directed. You will have to answer a few simple questions concerning your trading experience. You will also feel in your personal details include name, email address etc.
Step 3- Get Verified
After answering all the questions successfully, you will then need to verify your ID in a few seconds. Successful verification will activate your account and enable you to start participating in spread betting.
Depositing to your IG Financial Account
You can either choose to deposit money into your account immediately or choose to participate in a risk-free demo of your choice. If you choose to make a deposit, you will also be taken through a simple method. You can use direct bank transfer, DBS/POSB bill payments, debit or credit card deposits, standard chartered bill payment or telegraphic transfers.
You need to make a minimum deposit of $200 to your IG financial account. Most assets need a $1 for you to start trading and it rises to $20 sprint bets.
Conclusion
We've really put IG through its paces, and we think it's safe to say it's an excellent fit for both market professionals and small traders alike. IG offers competitive spreads, up-to-the-minute news and tips, thousands of trading instruments, research, and a comprehensive educational portal.
You get to choose from an impressive collection of platforms, too, and help is always on hand if you need it. Make sure you're aware of fees and commissions and remember that you can't withdraw to a PayPal account.
Other than that, IG is well and truly worth a try!