IG Financial: How to Open an Account
IG Financial brings its customers to the betting industry through spread betting. This is a tax-free way to bet on the rising and falling markets. You will have to take a position on either the rise or fall without buying any underlying assets. Here is how to open an IG Financial account and start participating in spread betting.
How to Open IG Financial Account
Before you go straight to a step by step guide on how to open your spread betting account, you need to know that there are two types of spread betting account. The first account is the limited exposure account, mostly for those who are not experienced in the market. The bets on this account are subjected to a maximum 'stop-loss' hence prevent you from incurring huge losses.
The second type of account is the Credit account meant for those who consider themselves experienced in the market. With this account, you're exposed to unlimited losses and gains in spread betting.
Step 1- Head to the Website
Go to the IG financial spread betting website (by clicking here or on one of our buttons) and click the Join button. This will direct you to the next page. Creating a spread betting financial account is free, simple and quick.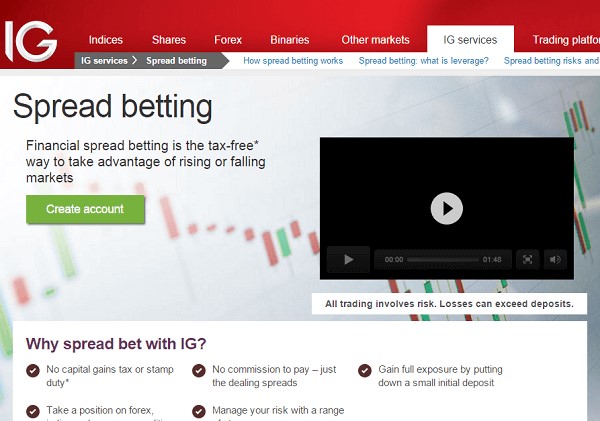 Step 2- Fill in the Online Form
You will then be presented with a simple online form which you'll be required to fill as directed. You will have to answer a few simple questions concerning your trading experience. You will also feel in your personal details include name, email address etc.
Step 3- Get Verified
After answering all the questions successfully, you will then need to verify your ID in a few seconds. Successful verification will activate your account and enable you to start participating in spread betting.
Depositing to your IG Financial Account
You can either choose to deposit money into your account immediately or choose to participate in a risk-free demo of your choice. If you choose to make a deposit, you will also be taken through a simple method. You can use direct bank transfer, DBS/POSB bill payments, debit or credit card deposits, standard chartered bill payment or telegraphic transfers.
You need to make a minimum deposit of $200 to your IG financial account. Most assets need a $1 for you to start trading and it rises to $20 sprint bets.