Entropay – An Introduction
Entropay, a virtual credit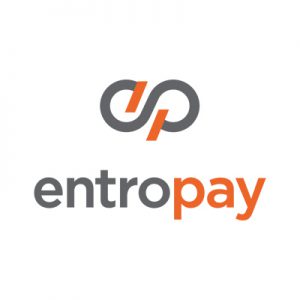 card powered by Visa, can be an excellent choice to transfer funds in a matter of seconds. If you are looking to fund your online casino account in a secure manner, you should look no further than Entropay. This digital wallet is fundamentally pretty similar to a standard credit card, except for the fact that its existence is virtual, instead of being a physical piece of plastic. The Entropay card provides you a 16-digit card number, a CVV code and expiry date like any normal credit card would carry. You also get 'Verified by Visa' feature as an added layer of protection.
Came into existence way back in 2003, Entropay is authorized and regulated by the Financial Conduct Authority (FRN No: 900800). The best part of Entropay is that it is not bound by geographic location. You can make use of this innovative payment gateway no matter where you are residing at or what your credit score is.
Using Entropay at an online casino is easy and convenient. The only difference with a credit card lies in it being a pre-paid card. As such, it can prevent you from overspending – something which can be difficult to adhere to if you are using a card with a high credit limit.
Entropay is owned by the Britain-based company Ixaris Systems Limited. It is regarded as a pioneering initiative in the world of virtual prepaid cards in Europe. The convenience and security of virtual card payments are well-regarded in the online casino industry and that's why hundreds of casino sites have integrated Entropay to their existing mode of payment solutions. Considering the huge popularity it has garnered in the recent past, it doesn't come as a surprise that Entropay is supported by the majority of online casinos at present.
As a rule of thumb, if a payment processor supports Visa credit/debit cards, it would invariably be compatible with Entropay. Your Entropay virtual card can be funded directly from your bank account through wire transfer or card payment.
If you are a person who is dominated by impulse and have little control when you are on a spending spree, then it would be a wise idea to opt for a pre-paid card like Entropay. It supports more than 14 different currencies, so you can be assured to have it covered irrespective of whether your preferred casino uses GBP, USD, AUD or EUR.
To sum things up, Entropay is a tri-purpose payment solution. While it's predominantly used as a virtual card, it can also act as an eWallet to deposit/withdraw funds to/from your bank account. Moreover, you can also link it with a physical prepaid MasterCard to make purchases on retail outlets as well as online stores.
Now that you have a fair idea on how Entropay works, let's take a closer look at the benefits of using Entropay on online casino sites.
Benefits of Using Entropay for Online Casino Transactions
Entropay can offer great flexibility and convenience when it comes to online casino transactions. You can instantly deposit funds to your casino account, and the withdrawals are quick too. The ability to use the same Entropay account both as a digital wallet and a virtual card translates greater accessibility. By linking your casino account to Entropay, you can speed up the process of withdrawal and deposit. It means you can get hands to your casinos wins in fastest possible time.
The process of enrolling for Entropay card is far simpler than applying for a physical credit card. There's no mandate in terms of credit score or scrutinizing process. You can create your Entropay account online within a few minutes and get a virtual Visa card. Then you need to link it to your bank account or credit/debit card. The next step is to transfer funds to your Entropay card. With that, you are all geared up to make your next casino payment via Entropay!
The Visa stamp that comes with Entropay means your Entropay card is acceptable in almost all types of online transactions that support Visa payment gateway. Moreover, being a pre-paid card, it won't affect your credit history at all. It also ensures that you are always in complete control of your available funds. Your expenditure will be limited to what you would have already topped up. There is no question of going over your budget – allowing you to stay clear of unnecessary debts.
Entropay is a cross-platform compatible payment solution. No matter whether you are using a PC, a smartphone or a tablet device, all you need is a reliable internet connection for the payments to go through.
When it comes to security, Entropay is second to none. It's known for bullet-proof safety against any malicious attempt to get hold of your financial information. You are covered by the 'Verified by Visa' signature and can enable multi-factor authentication through CVV, virtual PIN, and mobile-based OPT features.
To sum things up, Entropay is a smart choice to fund your activities on online casino sites. There is no apparent draw-back, except that you have to incur some sort of processing fee – which is again a customary thing with all payment processing solutions. Another point to ponder about is that not every casino accepts Entropay payments. Having said that, if your preferred casino sites support Entropay, then there is no reason why you should not avail this fast, convenient and secure payment gateway.
Fees and Schedules
All online payment processing suite attracts processing charges – Entropay is no exception. However, Entropay follows a straightforward fee structure which is pretty cost-effective compared to other digital payment solutions.
There's no charge to open an account with Entropay, and outgoing payments too don't attract a penny. However, the processing fee comes into the picture when you are loading your Entropay account with cash from other sources.
If you want to top up your Entropay wallet using bank transfer, you need to account for a 3.95% processing fee, while payments through credit/debit cards attract a processing charge of 4.95%. Other than that there is absolutely no additional cost involved. Some of the casinos may levy a nominal single digit fee for withdrawing funds, but that's not specific to Entropay and applicable to almost all types of payment modes.
When it comes to transaction timelines, Entropay supports instant payment realization. It means, your fund transfer through Entropay gets credited to the casino account in real time. There is no waiting period involved. All withdrawals are processed within a period of 24 hours.
Depositing Funds through Entropay
You need to follow the same process that you would normally do with a physical credit/debit card. First, you need to select the Entropay payment option and enter the amount to deposit. Then you are required to provide your name and virtual card number. The interface will ask you to enter the secret CVV code. Finally, you need to provide your Visa PIN to authenticate 'Verified by Visa' feature. If all goes well, then the money will get deposited to your casino account instantly.
Withdrawing Funds through Entropay
If the concerned casino supports the withdrawal of funds via Entropay, then you need to configure the payment preference to reflect your Entropay card number. Again, the process is quite similar to that of a normal credit card payment. You need to provide your virtual card details on the payout page and select it as your preferred mode for receiving funds.
Security
As we have already mentioned, Entropay payments are highly secure. Due to the fact that it's a virtual Visa card, you will enjoy all the security benefits that come with Visa payment gateway. Moreover, Entropay is certified by TRUSTe – which is an industry-leading authority when it comes to financial security and privacy.
Entropay never shares the personal and financial details of its customers with any third-party merchants. There's a strict best practices-guideline in place to safeguard the sensitive information. 128-bit SSL encryption shields every transaction from all types of malicious intents. Firewall protection is in place to make it complete bullet-proof against web-based vulnerabilities.
Conclusion
If you are looking for a reliable, secure and blazing fast payment options to support your online casino adventures, then your search stops with Entropay. It brings you all the features and convenience to make it a highly satisfying experience.
Entropay prepaid virtual card not only helps you to keep your spending firmly in check but also provides you with the advantage of instant payment realization. It brings all the safety features associated with a physical Visa card, yet you would never have to worry about misplacing your physical card. An added advantage is the convenience of making payments from the desktop, laptop, smartphone or tab devices.
We highly recommend the readers to give it a try. The seamless experience is highly likely to make Entropay your favorite payment option for all future transactions on online casino sites.