Founded in 2007,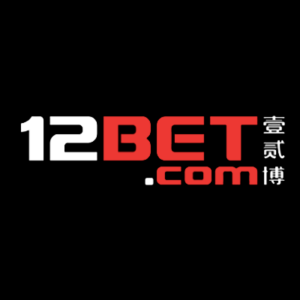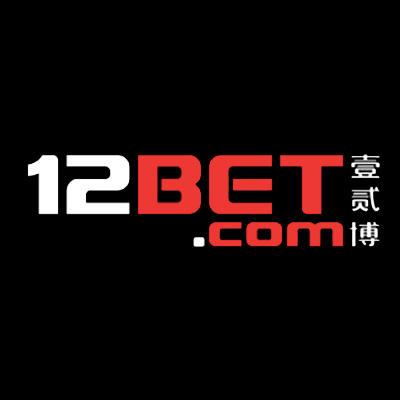 12Bet has been one of the world's leading bookmakers for the last number of years despite several controversies over the past number of years. Their array of sponsorships covering of kinds of sports has enabled them to keep there brand in forefront of the public eye. Now for the important business, let's see is the sports book what they say it is or just good marketing.
Welcome Bonus & Promotions
12bet offer two welcome bonuses for new customers. Let's have a look and see if their welcome offer is as good as the marketing skills.
£35 Welcome Bonus
Place 6 bets of up to £35, and after you have placed all your 6 bets of up to £35 then you will qualify for the welcome bonus once you contact 12Bets customer service team. If you place bets lower then £35 then that will be the amount you can claim in free bets.
Only deposits made via credit or debit cards will qualify for this offer. Deposits made with E-Wallets such as Neteller or Skrill will not count towards this offer.
Single bets must be placed on selections with odds or 1/1 (2.0) or greater, or each legs odds in a combo selection must be odds of greater than 2/5 (1.40) to qualify for this offer.
Bets placed on horse racing real or virtual will not qualify, also only the win part of each way selection will count towards the offer.
Acca Protection
Place a bet of £5 or more up to £50, and if one team leaves you down then 12Bet will refund you your stake in the form of a free bet. The accumulator must consist of 5 or more teams with single odds of each leg no less than 7/10.
Majority of major leagues are included with the likes of the English Premiership, La Liga, Serie A, Ligue 1 to name a few. Only pre-match bets will count, no in play or anti post bets will count towards this offer. Bets placed with a previous bonus bet will not count towards this promotion, you also can only qualify for one accumulator refund per day.
If you met all the criteria for this promotion, then once you receive your free bonus bets of up to £50 you are free to spend it as you like. The free bet can be split up into multiple bets if you choose to do so.
Price Boost Treble
12Bet per select 3 teams from either mid-week or weekend games, in which the will enhance the odds of the treble. You must stake exactly £10 on the fixed odds on the sports book to qualify for this offer. The catch is, if the treble is a winning bet then the enhanced part of the bet will be paid in a bonus bet not cash.
12Bet Sports: Latest Promotions
12Bet Sports online casino showcases a wide range of games and sports to bet on from across the world. Also, it provides all casino lovers with a variety of betting options and markets. For new clients, the site is offering a welcome bonus of up to £35.
To qualify for this promotion, you need to visit the site, sign up and place 6 bets of at least £10 or more. After placing the six bets, email 12Bet Sports to claim your welcome offer and it will be available within 24 hours of placing your final bet. Note that players who deposit using banking options other than credit or debit cards are not eligible for this promotion.
12Bet Sports: Welcome Offer Terms and Conditions
12Bet Sports site features some simple terms and conditions you need to understand before claiming your welcome offer. They include:
The offer is only available to new players. Existing ones don't qualify.
Deposits through E-Wallets like Skrill or Neteller don't count for this offer.
Only deposits made through debit or credit cards are eligible for the bonus.
The bonus token will be equal to the lowest stake during the qualifying bets.
Place six bets each with a min stake of £10.
Only qualifying bets can be placed on a combo or a single win bet.
If any of the qualifying bets are more than £35, it will count as the £35 max and count towards one and six qualifying bets.
All the six qualifying bets must be placed on different selections or events.
To claim your bonus, you must stake all the qualifying bets at the odds of 2.0 or over.
After placing the bets, you must contact the 12Bet customer service team to claim your offer.
More 12Bet Bonus and Promotions
At 12Bet Sports, there're two types of sportsbook offers and a single casino bonus. Every time you take on early prices, you will get the opportunity to be paid out on greater odds if the starting prices are higher. This bonus applies to the UK and Irish horse racing.
Also, you will get a signup bonus when you open a new 12Bet account, make your first deposit using your credit or debit card and place 6 qualifying bets at the odds of 1.400 or higher.
List of 12Bet Sports Bonus and Promotions
12Bet Sports features two types of bonuses and promotions. They include a £35 new player welcome bonus and the best odds guaranteed promotion.
12Bet Sports: Free Bets
Currently, 12Bet is offering all United Kingdom players a £35 matched bonus token. This isn't essentially a free bet but a cash bonus for players to enjoy. When you deposit with this site, you'll use a matched deposit promotion code before claiming your bonus. 12Bet Sports site will then provide you with a £35 matched bonus token after depositing your funds.
How to Claim Free Bets at 12Bet Sports
The 12Bet free bet is easy enough to claim. You only need to create a new account using your mobile or personal computer and place 6 bets on the site to get your free bet token worth £35. Although not as easy as some other free bet promotions, this's still an enticing proportion to the average players.
However, by manipulating the offer in your favour with a matched betting, you could be in the position to make some significant profits. The site states that all deposits are accepted for this offer, including credit and debit cards.
Terms and Conditions for 12Bet Sports Free Bet
After successful registration, you should read and understand some of the available terms and conditions before claiming your free bet. 12Bet Sports site terms and conditions include:
The offer is available for new players only.
Deposits made through debit or credit cards are eligible for the free bet promotion.
The free bet bonus token will be equivalent to the lowest stake during the qualifying bets.
You must place 6 x £35 bets to claim your £35 bonus.
You can only place your bets on a combo or win a single bet.
On settlement of the final qualifying bet, contact the customer support team to request your, bonus token.
The free bet bonus token is only valid for five days from when it is issued.
About 12Bet Sports Betting Exchange
12Bet Sports understands that gambling can become addictive leading to various problems for players and their families. It has a regulatory and social responsibility to pride a user-friendly betting exchange, information, and advice as well as system controls to allow all customers to manage and control their gambling activities. The 12Bet Sports betting exchange allows players not only to place bets at this bookmaker but also market the matches to increase their profits.
Sports and Markets
Be it a small bet or a life-changing bet, then 12Bet has it covered. With its wide range of sports to choose from, 12Bet has everything you need to find that perfect bet.
Their main markets i.e. football is set up in a way that you can find a place a bet with zero stress. Their range of markets from first, last goal scorer or to who will get the next corner are all cover. With all of these markets on offer, you are sure to find something that you will like to invest your hard-earned cash on.
The other rage of sports cover from around the world consist of, American Football, Aussie Rules, Beach Soccer and Badminton, the list goes on. 12Bet tries to ensure that you will have everything you need in the market and bet wise to bring you a good service.
12Bet offer live streaming with their in-play bets. Browse 100s of markets and sports from the likes of football, NBA, NFL and even beach soccer to name a few, but you to find the perfect bet for you. From the weird, to the wonderful of in play bets, 12Bet is sure to have what you are looking for.
eSport
12Bet provide a betting platform for eSports. eSports is one of the fastest growing products in which you can bet on games between the world's best gamers. 12Bet offer a wide range of markets from the traditional match betting, to alterative handicap betting. The eSport markets are easy to use and well presented, so be it sitting from the comfort of your sofa, to being at one of the eSport events then you can find the game you want to bet on in 12Bets eSport book.
Casino
12Bet have expanded there brand into the world of casino. Even tho they are one of the biggest betting companies in Asia, they have kept the casino site more traditional then most other firms.
They have a large selection of slots, video poker and table games. They have a small selection of video poker with just 5 games to select from, which for a big firm is quite disappointing.
Their slots are not much of an improvement with only 8 slot games to choose from, but saying that each game have a guaranteed jackpot. The graphics are a nice and crisp for a good visual and playing experience.
12Bet table games have 3 games to choose with roulette, blackjack, baccarat. With each one of theses games, there is a different version of them for you to choose from.
Mobile App
12Bet offer a nice visual looking mobile version, which is available from android and iOS platforms. The visual aspect is nice and the system itself is quite easy to use for all users. The mobile version works along the same line as the desktop version. The simple icon platform is quite good, the way they have it laid out is simple but smart. Once you are on the sports book platform then you are greeted with all current live in play betting.
The same can be said about the casino mobile version, visually nice, quick and easy to use.
There is no offer or promotion for signing up to the casino, which is a big down fall for new customers.
12Bet: How to Open an Account
Signing up with 12Bet Sports isn't a difficult task. The site will request you to provide your details, and in case you encounter any trouble while creating your account, then you will find 12Bet Sport's help easy to access and ready to assist.
You can open your account through your desktop or mobile devices. The site is accessible via the 12Bet mobile App or your favourite browser. Here is a summary of the 12Bet sign up process.
Visit the 12Bet Sports homepage.
Click on the Join Now button at the top right-hand side of the page.
Fill in your personal and login details
Confirm that you are 18 years and above and accept the terms and conditions.
Click on the Submit button at the bottom right-hand side of the page to complete the process.
How to Open a 12Bet Sports Account
You can open a 12Bet Sports account through any devices which include tablets, smartphones, and personal computers. The site is easy to navigate as well as user-friendly. The following are the steps you can use to create your 12Bet Sports account.
Step One: Head to 12Bet Sports Site
If you love online casino games, then you need to sign up with 12Bet Sports. Visit the site's homepage and click on the Join Now button at the top right corner of the page. Fill in all the required information to complete your registration process.

Step Two: Fill in Your Details
When you click on the Join Now button, the site will direct you to, a personal details form page where you will be required to provide your information and login details. These details include your names, nationality, email, phone number, and password as well as a security question.
While opening your 12Bet Sports account you should use a password that includes numeric, alphanumeric, lowercase and uppercase characters for security purposes. Also, it should be easy to remember. Here is the 12Bet Sports sign up form.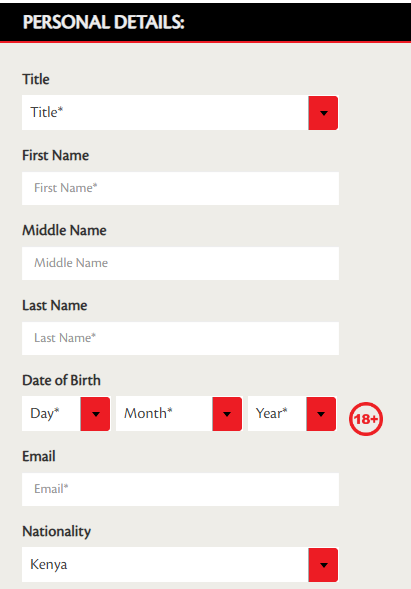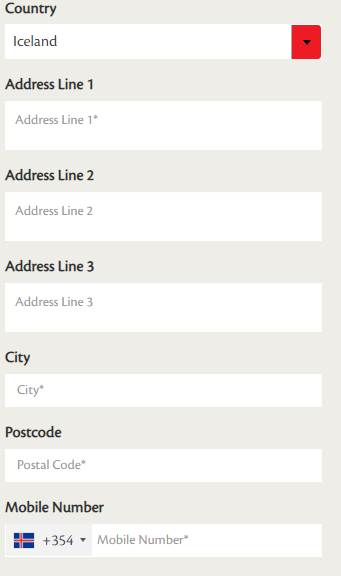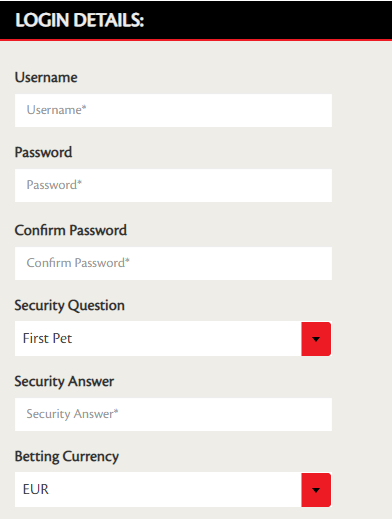 Making a Deposit at 12Bet Sports
Depositing funds to an online sportsbook can be challenging, especially if you aren't familiar with the bookie. The 12Bet Sports site is committed to providing a safe and secure online gaming environment while protecting its client's information.
You will need to sign up before using 12Bet withdrawal or deposit services. You can deposit your funds using debit or credit cards as well as an eWallet like Skrill or Neteller.
Licensing & Regulation
TGB Europe Ltd is licensed and regulated by the Gambling Commission of the United Kingdom.
Customer Support
Live Chat: The live chat icon is available on the right-hand side of any section of the website you are in. This is available 24/7.
Telephone: N/A
Email: support@12bet.uk
The customer support is fast acting regarding dealing with any issue with your account, or any queries to do with betting its self.
Payments
The following payments are accepted on 12Bet.
Mastercard
Min – £

Max – £5,000

Visa
Min – £

Max – £5,000

Neteller
Min – £

Max – £5,000

Skrill
Min – £

Max – £5,000
The minimum deposit limit can vary depending on which provider you choose to use. For a large Asian bookmaker, this is quite a small selection to choose from. There are also no fees for depositing into your account.
Reliability
The sense I get from looking into the workings of this system/product that 12Bet has to offer is good. Its fast operating system seems to stand up to the demand of every kind of traffic that goes through its desktop and mobile site. Their customer service falls into the good reliability section, with its fast action team members always on hand to help.
Business Information
| | |
| --- | --- |
| Year Founded | 2007 |
| CEO | Rory Anderson |
| Listed | No |
| Betting Shops | No |
| Owners | Pacific Sea Invests |
| Employees | 300 – 400 |
| Sister Sites | http://www.aceworldgaming.com/ |
| Sponsorship | Table Tennis Team World Cup, Taekwondo GP |
| Revenues | |
Verdict
There are a few things that leave 12Bet down. For example, the amount of countries that are restricted to the site is madness. The list is way too long to list out as it consists of over 100 countries. Not only this, the promotions and offers are few and far between. Lack of ambition in my view is plain to see in the way that they don't offer up incentives or bonus for even existing customers. 12Bet seem like they are happy to run it this way at this moment, which if it woks for them in the Asia market is fine. While they are only after expanding into the UK, it is yet to be seen when or if they will expand their brand into the rest of Europe and beyond.