World Test Championship Betting
If you love cricket and want to start betting on it, we have just the thing. The ICC World Test Championship is the latest major championship in test cricket, the longest version of the sport.
Many consider test cricket to be the highest standard of the game, and now it finally has a major championship. Only national teams can play in this tournament. Only those given the Test status can participate, which is determined by the famous International Cricket Council (ICC).
This world cup in test cricket is new because it started in 2019, and the inaugural championship is still ongoing. The event began with the first Test match on August 1, 2019, with numerous games throughout the year, in 2020 and 2021. The championship will end in June 2021, with the Final at the Rose Bowl, Southampton in Great Britain.
The current ICC Test Cricket Championship has lasted about two years, and the next one will begin in only a few months and follow the same format. As this event has been in the works by the ICC for a whole decade, you can expect the ICC to keep on organising it for a long time to come. This is especially obvious when you consider that it was designed to be the premier tournament in Test cricket.
Get up to £20/€20 Free sports bet
Make an eligible deposit of £20/€20/₹10,000 you will receive a £20/€20/₹10,000 free bets. No under 18.
Up to €/£100 in Bet Credits
Each bet must contain odds of 1/5 or greater. If you have a live bet on and if you partly cash out, then only the remaining stake will count toward the bonus bet. Your bonus bet cannot be used on the following, Casino, Games, Poker, Vegas or bingo. Bonus bet Credits also cannot be used on the likes of, Tote Pool bets or any other.
Deposit Bonus Offers Up To €300 + Free Bet
The bonus offer is available for new customers of Mostbet. To take part in the Promotion, you must select the desired bonus (for sports or casino) at the time of registration, then deposit your account with one immediate payment in the amount of more than: 100 INR /100 RUB /40 UAH /3 AZN /15000 UZS /3000 TZS /7 BRL /2USD / 2 EUR within 7 days from the date of registration.
0% Commission Up To €/£500 on the Exchange
Applies to Betfair Exchange bets & any commission paid within the first 30 days. Refunds occur every Wednesday based upon the activity carried out during the 7 days prior. 2% rate will apply after the promotional period & is offered through the Betfair Rewards Basic package. T&Cs.
Bet €/£10 get €/£30 in Free Bets
You can use these Free Bets to wager on any sports, but they are not transferable to any of the other Betway products (ie Casino, Bingo, Vegas or Poker), which is fair enough, because the casino section has its own bonus. You need to choose which welcome offer you would like to accept, and then opt-in to receive it.
Matches and Get A Free €/£5 Bet
A maximum of £5/€5 free bet will be issued to the accounts of customers with qualified bets. Bonuses will be issued as free bets within the next 48 hours of match as finished. The bonus that will be issued is in a form of a free bet. Player accounts shall undergo an account validation process to be eligible for the promotion.
2019-2021 ICC World Test Championship
In the inaugural ICC Test Championship and all the ones that will follow, the top nine teams play a series of Test matches, and the best two teams qualify for the World Test League Championship Final. Most of the games have been played, and we already know the finalists, but we'll talk about them in the next section.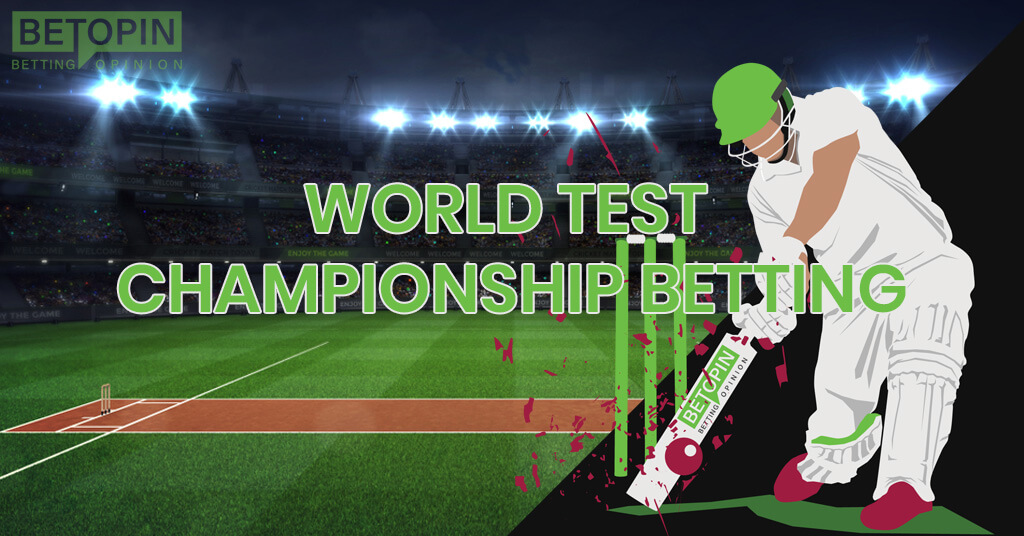 Many matches occurred in 2019 and 2020, but many were postponed or downright cancelled due to the pandemic. Thankfully, a large number of games were already played, and we can expect many more in the years to come, so test championship betting is something to keep an eye out for if you like test cricket.
The pandemic caused some matches to be postponed and ultimately cancelled, but they managed to fix the issue by restructuring the whole point system for only the current test championship. This effectively accounted for all the variations when it comes to the number of matches each team played.
As for the teams, here are the nine ones that participated in the inaugural ICC World Test Championship:
Australia
England
Bangladesh
Pakistan
Sri Lanka
West Indies
South Africa
Only three full ICC members did not participate, and those were Ireland, Zimbabwe, and Afghanistan, the three lowest-ranked members of the organisation in the latest rankings.
The best team from all the Test matches played ended up being India, with a total of 72.2% of points won out of points contested (PCT). New Zealand was second, with 70.0% PCT, and these two teams will battle it out in the final. The third best team was Australia, with 69.2%, and the fourth-best was England with 61.4%.
World Test Championship Final
The Final of the ICC World Test Championship was first scheduled for March 10, 2021, but it was postponed to June 18. Also, the venue was changed from Lord's Cricket Ground to the Rose Bowl in Southampton. The ICC decided that the new Rose Bowl venue was more suitable considering the current state of the world.
As we previously stated, the ICC Test Championship final are to be played between India and New Zealand, the two highest-ranked teams from the tournament.
Both national teams had an exciting road to the final. India ended up the first, but as you've seen, only by 2.2% when you look at the two countries' PCTs. The soon-to-be most populous nation of the world played six series, winning five of them while losing only one. As for Test matches, India's national cricket team played 17, won 12, lost four, and drawn only a single game.
New Zealand's stats are not much different, but this team played fewer matches than India. They played five series, winning three, losing one, while one was a draw. As for matches, the Kiwis played only 11 games, winning seven and losing four. However, in the end, their PCT was 70% compared to India's 72.2%.
It's important to mention that India and New Zealand played two matches during the ICC Test Championship, and New Zealand won both. New Zealand won the first match by ten wickets and the second one by seven wickets. The player of the series was Tim Southee, who also scored the most wickets, while most runs were accomplished by Tom Latham, also a New Zealand player.
However, this doesn't mean that India is bound to lose the Final, not by a long shot. Everyone will be playing extra hard in June, and considering that this will be the final of the ICC World Test Championship, no one is going down without a fight.
What's more, the current rankings show us that it's primarily Indian players we need to look out for, and this is something to consider if you want to place some more complex bets with compelling odds. However, there are many New Zealand players with interesting stats as well.
New Zealander Kane Williamson is the best batter, but the top 10 spots feature three Indians: Virat Kohli, Rishabh Pant, and Rohit Sharma. You should also keep an eye out on Ravichandran Ashwin, the best-ranked Indian bowler, currently second-ranked in the overall bowling rankings. However, New Zealand's Neil Wagner is right behind him, and both of them are very skilled bowlers.
When we consider the overall rankings, you also need to think about Ravindra Jadeja from India and two New Zealanders, Kyle Jamieson, and Colin de Grandhomme.
All in all, when June 18 comes, it's going to get interesting, and you should be ready to place some bets as soon as possible. So, with that in mind, let's take a look at where you can do that.
Places to Bet on the ICC World Test Championship
If test championship betting is your thing, we have a few great options in store for you.
We carefully scoured the web and used our abundant online betting knowledge to find a couple of excellent sports betting sites that feature cricket. These will provide you with ample test championship betting opportunities when the time comes.
We've found a few betting exchanges and a few regular sportsbooks. All of these sites are of the highest quality, so you can rest assured that betting on them will be a lucrative experience for any serious cricket punter. Let's take a look!
Betting Exchanges Offering Cricket World Test Championships
We have a total of four compelling betting exchanges that offer some fantastic betting opportunities for a wide variety of sports. However, these four are also among the few that already have or will start offering betting markets for the ICC World Test Championship. Let's take a look at them, and what they have to offer so you can easily decide where to create an account.
Betfair – 0% commission for new players for the first £500
Betfair is one of the leading sports betting platforms globally, and the site offers both a regular sportsbook and an excellent exchange. The platform was launched in 1999, so it's one of the oldest in the business. You'll find great odds on cricket, and at the moment, you can already place outright winner bets on the ICC World Test Championship. More betting markets are likely to follow as the final approaches.
Smarkets is one of the top betting exchanges on the planet and offers an incredibly low 2% commission on wagers won, much lower than most other betting exchanges. Smarkets is perfect for test championship betting as it usually provides attractive betting markets for cricket matches and events. It hasn't yet released odds for the World Test Championship Final, but you should keep an eye out as they will come out shortly.
Matchbook – Highly competitive commission rates and liquidity
Matchbook is one of the top exchanges in the UK and one of the best in the world. The site is known for offering a wide range of promotions and countless betting opportunities for serious punters. Unfortunately, the platform still hasn't started offering World Test Championship odds like most other exchanges, but we know it will. So, be ready if you want to create an account on Matchbook.
BetDaq – Great Betfair alternative
As Betfair charges a 5% commission in most cases, so many of its long-time fans often look for better solutions. That's why BetDaq has positioned itself with its 2% standard commission rate. Naturally, the exchange is not as big as Betfair, but it's still a great one for cricket fans. The site hasn't released odds for the World Test Championship Final, but you can expect that to happen in the upcoming weeks.
Sportsbooks Offering Cricket World Test Championships
If betting exchanges are not your thing, or you simply want traditional sportsbook opportunities, you can choose one or more of the leading sportsbooks for test cricket betting. You can always create an account on more than one and shop around for the best odds. Let's take a quick look at the ones we highly recommend:
Ladbrokes – Get £20 in free bets and a £5 stake on sports
Ladbrokes is a great sportsbook known to many UK punters. It's known for covering test cricket, and it is the only leading sportsbook that has already offered odds for the India vs New Zealand final.

Betway – Get £30 in free bets
Betway is a famous sportsbook that offers a great welcome bonus and a wide range of other compelling promotions. The odds for the ICC World Test Championship final are not out yet, but they will be by the time the event comes.
Royal Panda – Get a £20 free sports bet
Royal Panda doesn't have as much experience as others on this list, but the site has already outperformed its competitors in many regards. You can easily join and create an account in no time but bear in mind that the odds for the final are still not offered, although they will be quite soon.
Dafabet – UK and Irish players can get a free £5 bet
Dafabet is one of the top sportsbooks in Asia, but it has been making strides in the West as well. It offers a wide range of test cricket opportunities, and the odds on the India vs New Zealand final are likely to open sometime soon.
Spread Betting on Cricket World Test Championships
Spread betting has always worked so well with football, but it also works with other sports, including test cricket. If you're interested in this incredibly versatile form of betting, we have two great sites for you where spread betting is offered and where test cricket is one of the available sports.
These sites haven't offered odds for the final yet, but they are likely to do it soon, so you should keep an eye on them. Naturally, you can create an account on one of them and start placing spread bets on numerous sports.
Here are the two sites we recommend for spread betting:
SpreadEx – Up to £25 in free bets
Sporting Index – £75 for making spread bets
Conclusion
So, there you have it, all you need to know about the ICC World Test Championship, the new premier test cricket championship in the world. We've told you about the event, about the upcoming final, as well as a bunch of sites where you can place bets on test cricket matches.
Now, all that's left for you to do is join one or more sites and start having fun! However, remember to gamble responsibly and never spend more than you're willing to lose.
FAQ
When will the match be played?
The India vs New Zealand final will begin on June 18, 2021, and the match will end after five days of play on June 22. The game was scheduled to be held at Lord's but was then moved to Southampton. You can learn more in this article.
What will happen if the test match is drawn?
Drawn matches in test cricket are common, and the same can happen in the India vs New Zealand final. If it does happen, the teams will end up sharing the trophy. There is also a provision for an extra day of play, but that only happens if the net playing time is short of the 30-hour mark or six hours per day.
Who are the bookies' favourites?
Many bookies haven't yet released their odds for the World Test Championship final, but based on those who did, India is the favourite and the most likely team to win the championship. However, New Zealand has beaten them during the tournament, so their chances are not low either, and some bookies agree with that as well. It remains to be seen, and you should place your bets based on what you believe will happen, after careful research, of course.
What bets will be available?
When it comes to the ICC World Test Championship Final, you'll be able to bet on the winner and a handful of player-specific and match-specific bets you'll likely find on all the sites we recommend when the time comes.
As for future ICC World Test Championship matches, there will be many more exciting bets, including most of the ones you've grown to expect from cricket betting.