Bet-at-home.com "Life is a game"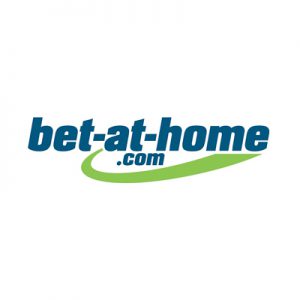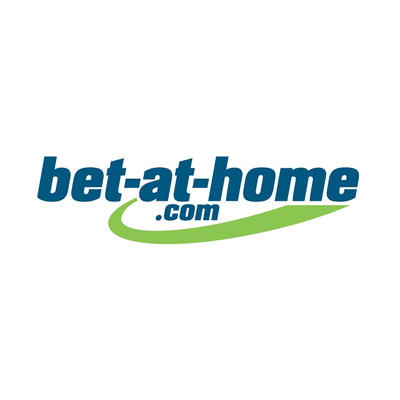 . If you haven't heard of these guys you will be. They are running TV ads and getting in on the sponsorship game. They've been operational since 1999, beginning in Austria, although they now operate mostly out of Malta. Along with offering online sports betting they also offer a range of other betting markets such as poker, casino, games and virtual sports.
Bet-at-home.com offers top odds throughout their platforms. The website is clean and although you have to use the menu a lot to navigate through, the site really is balanced out with good odds and great market coverage. You can click on any sport and see all the matches at once including the live odds. Not too mention a range of extra markets to explore. On the whole it's an uncluttered system, which is clean and thorough. Bet-at-home's betting margins run around 6.5% with a maximum of £100,000 per week.
Bet-at-home.com Welcome Offers and Promotions
Bet-at-home have a number of promotions available to both new customers and existing customers. In saying that most of their promotions are dependant on not having deposited into your account. So it's a good idea to have a read through this before you jump in and deposit money into your betting accounts.
50 EURO Sports Bonus – This promotion is pretty stock standard, deposit money into your account and get 50% back. Maximum bonus is 50.00 EURO. It's fairly easy to activate you just need to log in and top up your betting account (VALID FOR THE FIRST DEPOSIT ONLY) Go to the 'Redeem Bonus' under My Account and enter in the bonus code "FIRST". T&C's to keep in mind: Max bonus is 50.00 EUR. Bonus is only granted if NO withdrawal has been made before redeeming the bonus. Only valid for sports, live betting, virtual and eSports bets. There are some countries that this promotion is not available to.
UP TO A 1000 EURO CASINO BONUS – Only available for the Bet-at-home.com Casino side of the website and DOES NOT include Casino Live. It is also only available for the first-time purchase of chips. Activating this bonus is super simple, log in and top up your account. Buy chips in the casino bank and the bonus will be automatically credited to your account. To withdraw from your account the bonus MUST be rolled over 30 times.


| | | |
| --- | --- | --- |
| BONUS | MIN. PURCHASE | MAX. BONUS |
| 100% | 1.00 EUR | 200.00 EUR |
| 50% | 500.00 EUR | 1000.00 EUR |

CASINO LOYAL – From the 01/01/2019 customers will receive 0.25% of all your Casino and Vegas stakes. (Not available over Christmas period) Next pay-out is 01/02/2019. Bonus amounts of under 0.50 EUR cannot be credited. Exclusive promotion for Bet-at-home.com Casino. Live Casino and all other products are excluded.
1,500 EUR POKER BONUS – This bonus is quite involved and requires you to download Bet-at-home.com's new software. It is also a bonus that requires you not to have brought any poker chips previously. To activate the bonus you log into your betting account and top it up. Download the new poker software and install it. Once installed go into your account management and covert funds into poker chips. The bonus will automatically be credited to your account. Maximum bonus on this offer is of course 1,500 EUR. Before buying any poker chips to claim this promotion I recommend that you have a good read of the full T&C's available on the website.
WINNER OF THE DAY – This is a random draw available to all Bet-at-home.com customers. Winners are picked using an algorithm. Winners receive a 50.00 EUR voucher, redeemable when they log into their account. The winners have until 11.59PM (CET) to claim their voucher. If the amount isn't claimed the jackpot rolls over and another 50.00 EUR is added until it's claimed.
SEND ME SIXTY – Bet-at-home.com now sends out a daily voucher worth 60.00 EUR to a random registered customer via text message. To be eligible you just need to have a valid mobile phone number listed on your account. If you receive the text message it will come with a code that you redeem on the 'Redeem Voucher' page of the website. There are a couple of T&C's with this one to bear in mind
BETMASTERCUP – All customers of Bet-at-home.com are automatically registered for this promotion. Which is a point-based system for winning bets. The full T&C's of this promotion are available online. The top 3 place holders at the end of each month receive betting vouchers:
1st Place – €500.00 voucher
2nd Place – €300.00 voucher
3rd Place – €200.00 voucher
All in all the promotions that Bet-at-home offer are extensive and there is something for everyone. My only gripe with them is that they are so heavily dependant on you not having deposited money into your account. While this is enticing for people new to the website it doesn't offer as many incentives for existing customers to stay with Bet-at-home.com. Their saving grace in this is the odds that they have available. Hopefully this is enough to keep customers loyal to them.
Bet-at Home Latest Promotions
Bet-At-Home is one of the most popular bookmakers in Central Europe and this didn't just happen overnight. Bet-at-home has been in the industry for two decades and by now, they have a clear understanding of what bettors want. The Bet-at-Home site offers various kinds of promotions. However, be sure to visit the "My Account" section of your account regularly to see if there are any new promotions or bonuses in store for you. Bet-at-home provides customers with some of the best bonuses and promotions available on the Internet.
How to get the bonus
1.
 

Create an account

When you create an account, you sign up to be a Bet-At-Home customer. Simply click on the link and you will be automatically taken to the Bet-At-Home's homepage. Next, click on the "Register now" button.
2. Fill in your details
Some personal information is required here. It is best to enter this section in as honestly as possible so that there are no incidences when you win and would like to make a withdrawal.
3. Save your account details
Congratulations! You have successfully completed your registration.
4. Make a deposit and start playing
The final step before you enter the betting arena is making your first deposit. Your 50% welcome offer up to a total of €100, is automatically allocated to your account.
Bet-at-Home Free Bets
Bet-At-Home knows how to cater to their bettors. The bet-at-home brand has established itself as a quality gambling site which now offers a typical sportsbook, virtual sports, live sports betting and a casino. Currently, they do not offer a specific free bet bonus, which means that anything you add to your account will be due to a new offer or a random free bet token.
However, Bet-at-Home will reward your loyalty when placing bets on their sportsbook or casino section. You stand the chance to win various freespins, freebets, odds boosts and other fabulous prizes.
Bet-At-Home Sign Up Bonus
New members to Bet-At-Home receive a generous bonus offer. Players bank 50% to 100% on their first deposit, with a maximum reward of 150,00 to 750,00 in bonus cash.
Bet-At-Home Betting Offers
What Bet-at-Home lacks in free bets they more than make up for it in other ways like offering members a very large array of markets and sports, particularly bettors of quirky sports and niche markets, to choose from. With the likes of Celebrity betting, Badminton, Netball, Water Polo and Table Tennis to name a few. Overall, Bet-At-Home delivers a worldwide sportsbook that meets the requirements of casual and serious sports punters.
As is their name, Bet-At-Home, might not be the most innovative brand name around but it most certainly explains in simple terms what they do. They offer high quality sports betting, enhanced odds, the occasional sign-up bonus, and sharp mobile features. Bet-at-home have never really been big on rolling out promotions, however, you will find a few promotions on their bonus page.
Offers
Bet-At-Home is popular because they know how to provide endless hours of thrilling entertainment to their bettors. A number of promotions are given to their members like send me sixty, winner of the day and so much more,
Winner of the day: All you have to do is log into your account every single day and you stand the chance to win a €50 cash prize for free. Remember to do this daily because the prize gets larger if the last day's winner has not claimed their prize within 24 hours!
Send me sixty: This promotion involves sending out a daily voucher worth 60 euros – to a random customer via text message directly to the lucky customer's mobile phone.
Your loyalty to Bet – at – Home will be greatly rewarded when placing bets on either sportsbook or casino. Win various freebets, freespins, odds boosts and other awesome prizes.
Bet-at-home.com's Markets
The site has a varied sport and market range, almost every sport imaginable is offered with some I'd never heard of before. They offer sports markets, virtual markets and the casino market. Be warned though before you sign up if you are chasing the thrill of anything horse or dog racing you won't find it here.
Since 2009 Bet-at-home have been offering live betting or in play betting, so they've got it down to an art. They have an extensive selection to choose from with clear value in the betting odds. They also offer multi-view – allowing you to keep up to date with a few matches at the same time. It's simple and easy to use and view. The odds are great and the sheer variety of sports is astounding.
News, Tips and Other Features
They have the standard Today's Bets and Tomorrow's Bets at the top of the page. Allowing you to quickly navigate around the site. Their stats are in depth and on point. They also have a GPS feature, which allows you to view on a map all the sporting events happening. Along with a calendar view, the options are limitless.
eSports
Bet-at-home are relatively new to the eSports platform, launching it only in 2018. However, they have over one dozen distinct betting markets already for you to choose from. Their list of eSports is growing rapidly and includes classic games like League of Legends, Dota 2, Call of Duty and Halo. The list also includes NBA 2K & FIFA. Although Bet-at-home are newcomers to this arena already they seem to have secured the best odds here as well, some of the best on the market. Showing their commitment to their punters yet again.
Casino
Bet-at-home also have a good selection of high-quality casino games powered by NetEnt, with a good quality live dealer section. They offer over 120 titles, with the majority being Slot Machines, hence finding a suitable theme shouldn't be a problem. They have a great feature on the site called the 'Feeling Lucky' button which randomly picks a game for you. Bet-at-home Casino also has a good variety of table-games. All of the Casino games are available on demo mode, so that visitors can try classic or the latest releases, without having to sign up or deposit funds.
The Live Dealer Platform, powered by Evolution Gaming, is one of the best on the market. The table offers live roulette, live black-jack, live baccarat and live casino hold 'em.
All in all Bet-at-home's Casino market, is like all their others. Leaders in terms of odds, one of the best on the internet and easy to navigate.
Mobile & App
The Mobile Browser experience is to be honest actually cleaner than the desktop version. Whilst the desktop version is clean and concise there is at first glance a high volume of reading. The mobile version is easier to navigate and looks better than the desktop browser experience.
Like everything Bet-at-home do, the mobile app is easy to navigate. It has great shortcuts to find bets and put them on, which is great if you are short on time. The options are quick and easy to find. Their wide range of sports and events are clearly set out in the same well-structured manner as their website. All in all – it's easy to use, great selection and it has great options for special bets. It's also very quick as far as betting apps go.
How To Open a New Bet – At – Home Account
Sometimes, registering with an online bookie can be a drag and we can usually expect hundreds of questions at a time, however, signing up with bet – at – home is so quick and seamless. They offer a straightforward experience that takes very little time. Not only do they make it easy for customers to sign up with them, but there's also so much on offer at this site that you will be more than happy to signup with them. The signup guide below will help you register your account with a just a few clicks, and get you to placing those winning bets just as fast. If the site is not in your preferred language, you can set a different language by going down to the very bottom of the page and select your language of choice.
You will need the following kind of information to complete your registration with bet – at – home.
Personal Details
Security info
Log in Credentials like your username and password

         
All the information that you need to enter is on one page, which makes joining bet – at – home a clear – cut process.
Step 1 – Simply click the on the link to access the bet-at-home homepage.
Step 2 – Click "Register now" which you will see on the home screen, in the top right-hand corner in green.
Step 3 – A pop up then appears on your screen with registration information that you are required to fill in. Fill in the form with your real details as this will need to align with your details when you try to make a withdrawal.
Step 4 – Complete the Registration form which is supplied to you on one page
Step 5 –  Click the green "Register now!" button to confirm your registration.
Once you have completed the registration process, a screen should appear requesting you to make a deposit. You have the option to deposit at a later stage as well so you may simply disregard the screen at this point if you'd like.
You also have the option of choosing your currency. We suggest selecting the same currency as the selected payment gateway so that you may easily deposit and withdraw from the same accounts. It is also wise to enter in the same cardholder details as the name you have registered on the account.
Upon completion, and once you have submitted your details, you have the option to set a deposit limit. You will also be sent an email with your own personal betting account number and details.
Licensing and regulation:
MGA (Malta Gaming Authority) for the sports betting, online casino games and online poker sections
Ministry of Internal Affairs Schleswig-Holstein (Germany) for the online sports betting and online casino games section.
UK Gambling Commission (Great Britain) for the online sports betting and online casino games section.
Irish Government for the online sports betting section.
SSL & other security
Bet-at-home uses a secure SSL (secure socket layer) connection in relation to transmitting anything that has customer data. They also have additional security present regarding payments as they offer their own security systems adding a layer of security to the site.
eCogra
Bet-at-home allows you to lock your account with either a time-out or self-exclusion. Both of these are accessible through the My Account tab at the top of the page. Another feature is the self-imposed limit and the reality check (Casino Section Only). It also offers personal playing limits. And through the Responsible Gambling tab at the bottom of every page allows you to evaluate your gambling habits by doing a 'self-test' which is a short multi-answer test.
Like any other betting website there are a few restricted countries, which are listed below. None of them come as a surprise to the seasoned punter, but it's a head up for the new-comers of online betting.
| | |
| --- | --- |
| France | USA |
| Turkey | Albania |
| Belgium | Spain |
| Portugal | Denmark |
| Czech Republic | Romania |
| Bulgaria | Australia |
| Greece | Russia |
| Israel | Iraq |
| Iran | Syria |
| Afghanistan | Hungary |
| Democratic People's Republic of Korea (DPRK) | |
Customer Support
Bet-at-home offers a few the usual channels for their customer support, please remember that Bet-at-home is operated out of Malta so their contact numbers are all based out of Malta. The website doesn't list the support hours, so it might be easier to live chat or e-mail. Please note that when you open a live chat window you will be asked to put in your betting account number.
Live Chat is probably the quickest and easiest way to contact Customer Service if need be. It's quickly accessible from the tab on the left-hand side of the home page. This takes you directly to an online form. The live chat button is at the top of that page.
If you do wish to call them please remember that Bet-at-home have different contact details for their Sports Betting and Casino sides of their business, both of which are in Malta:
Sports Betting:
Phone: +356-20102511
Fax: +356-20102590
E-mail: service.en@bet-at-home.com
Casino:
Phone: +356-20102578
E-mail: service.casino@bet-at-home.com
If you need to make a complaint they have a designated email address to handle complaints – this is for both the Sports Betting and Casino parts to the website.
They also have a complaint management e-mail:
E-mail: complaint.en@bet-at-home.com
Deposits / Withdrawals
Bet-at-home have the standard deposit methods available, their minimums are to be expected but they are varied so I have listed them below, including the surcharges that apply with some of them.
Deposits:
| | | | |
| --- | --- | --- | --- |
| METHOD | DURATION | PROCESSING FEE | MINIMUM |
| VISA | Immediately | None | 10.00 GBP* |
| MASTERCARD / EUROCARD | Immediately | None | 10.00 GBP* |
| DINERS CLUB | Immediately | None | 10.00 GBP* |
| ENTROPAY | Immediately | None | 10.00 GBP* |
| TRUSTLY | Immediately | None | 10.00 GBP* |
| SKRILL | Immediately | None | 10.00 GBP* |
| SKRILL-1-TAP | Immediately | None | 10.00 GBP* |
| ONLINE DD BY SKRILL | Immediately | None | 10.00 EUR |
| NETELLER | Immediately | None | 10.00 GBP* |
| PAYSAFECARD | Immediately | None | 5.00 GBP |
| BANK TRANSFER | Up to 3 Working Days | None | — |
| VOUCHER | Immediately | None | — |
| IDEAL BY SKRILL | Immediately | None | 10.00 GBP |
Withdraws:
| | | | |
| --- | --- | --- | --- |
| METHOD | DURATION | PROCESSING FEE | MINIMUM |
| VISA | 2-3 working days | None | 75.00 GBP |
| MASTERCARD / EUROCARD | 2-3 working days | None | 75.00 GBP |
| BANK TRANSFER | Up to 3 working days | * | 0.01 GBP |
| SKRILL | Immediately | * | 10.00 GBP |
| NETELLER | Immediately | None | 10.00 GBP |
| TRUSTLY | Immediately | * | 10.00 GBP |
| PAYSAFECARD | Immediately | None | 10.00 GBP |
| VOUCHER | Immediately | None | 5.00 GBP |
Business information
Year founded – 1999
CEO – Michael Quatember
Revenues – as of December 2017 1.454 Billion EUR
Company Listed – 2004
Betting shops – Bet-at-home is purely an online corporation
Owners – Joint Stock Corporation
Employees – 299 as of June 2018
Related or sister sites – Bet-at-home.com AG is their main site based out of Germany. Aside from this they have the following related / sister sites:
Bet-at-home.com Entertainment GMBH – Linz, Austria
Bet-at-home.com Holding LTD – St. Julian's, Malta
Bet-at-home.com International LTD – St, Julian's, Malta
Bet-at-home.com Internet LTD – St. Julian's, Malta
Bet-at-home.com Entertainment LTD – St. Julian's, Malta
Jonsden Properties LTD – Gibraltar.
Sponsorship: Bet-at-home sponsors a two football teams:
FC Red Bull Salzburg
FC Schalke 04
Betopin's Verdict
Whilst Bet-at-home lacks the bigger features of live streaming and cash-out options. They have great odds and a clear and concise approach to their website and mobile site. In terms of market coverage, odds and general operation Bet-at-home run a tight ship. There's been a lot of bad reviews posted however I can't fault the experience I've had with Bet-at-home. They offer a wide variety of sports, games and virtual markets, and their odds are brilliant. Overall the website is easy to navigate and there is literally something here for everyone.