Intro to Mobilebet Review
Mobilebet was established in 2014, making it a fairly young site in the gaming site world. Co-Gaming Limited is their parent company and they also operate sites like ComeOn. Despite its short experience and age, they are one of the better sites on the internet.
Mobilebet is a great site for punters and they have plenty to offer.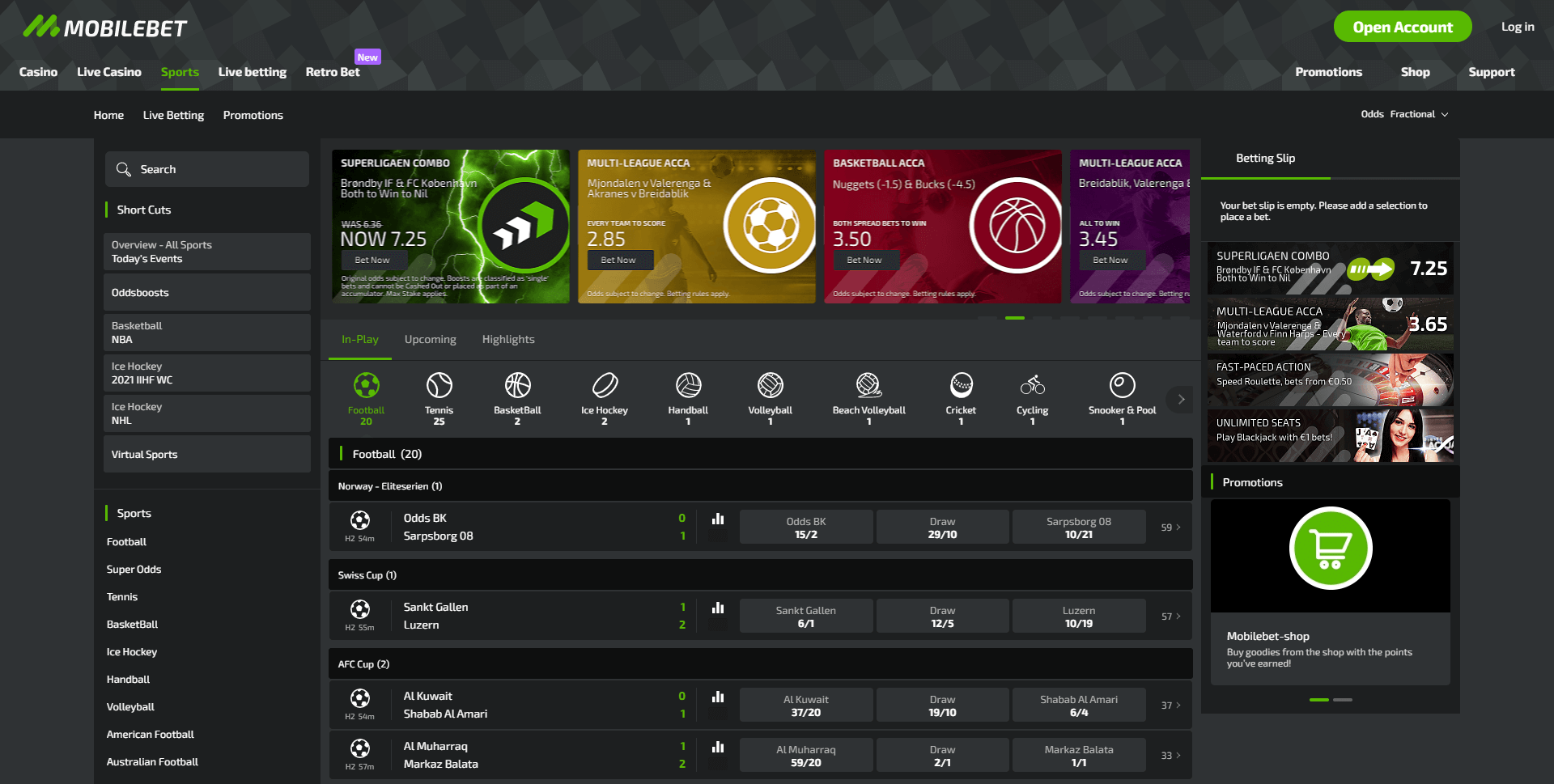 Mobilebet  Latest Promotions Review
Promotions are a way to draw in new customers and to keep current customers engaged and coming back to the site. They also benefit the punters because they are a way to maximize their winnings and their chances of winnings with lower risk to them. These bonuses are free bets for them.
Welcome Offer Terms and Conditions
Welcome offers are the most common form of promotions for online casinos and sportsbooks. Mobilebet has a sportsbook and casino section of their site and players can choose to create a new account on one or the other and can accept only one of them. They will be able to play on either one after the account has been created, but the welcome bonus can only be accepted from one.
The welcome bonus for the sportsbook section can be claimed after a minimum €/£10 initial deposit is made, bet, and that bet is settled. The player has to make sure that they opt into the offer at the time of their registration. The player will then receive a free €/£10 to bet with on any sport they want.
The welcome bonus for the casino section requires a €/£10 initial deposit after creating a new account as well. Once a player makes this deposit, they will receive a free €/£20 to play with on select games in the casino section of the site.
Players must make sure to thoroughly review any and all terms and conditions. They have to make sure that they meet all of these requirements in order to receive either of the welcome bonuses.
More Mobilebet Bonuses and Promotions
These are not the only promotions offered by Mobilebet. There are lots of other promotions for the casino and sportsbook sections of the site. These promotions are those that preexisting customers are able to take advantage of.
Mobilebet Welcome Offer & Promotions
Promotions and bonuses are one of the things that draw new players in. The welcome bonus gives them a way to maximize their first deposit and get as much as possible to start off their bets with an online casino and sportsbook. Mobilebet offers players a welcome bonus and a handful of other offers as well.
Welcome Bonus
Mobilebet offers new players €/£10 in bet tokens after their register a new account and make an initial deposit and qualifying sports bet of €/£10. The odds of the qualifying bet need to be 2.00 or higher and the initial deposit has to be made with a credit or debit card. As with any offer, players must make sure to read and understand all of the terms and conditions prior to making the first bet to make sure that they are able to meet all of the requirements.
Other Promotions
There was not an extensive list of offers for the Mobilebets sportsbook. There was one for Serie A bets and one for a return on lost stakes for Fridays. These were the only ones that we were able to find. Make sure to read through all of the fine print so that punters know what they need to do in order to qualify. Punters should keep an eye on their account to see what bonuses and promotions they will qualify for.
Loyalty Program
They have a points-based loyalty program. Players earn points as they play, and these points can be redeemed in the site's store. This program rewards punters for their loyalty and for the money that they spend with the site. The more they play, the more points they earn. Points can be spent on free bets in the sportsbook and free spins in the casino.
List of Mobilebet Bonus and Promotions
Sportsbook Promotions
Players can opt in to a special promotion that will award them with a free €/£10 for Serie A matches. The player will have to deposit €/£30 or more and then use that $30 on a combo on Serie A with a minimum odd of 3.00. Once the bet has been placed, the free €/£10 will be credited within 15 minutes.
There is also Risk-Free Friday. Players will have to deposit at least €/£20 between Monday and Friday in order to qualify. The player's free €/£10 will be deposited on Friday and is to be used on a 1X2 FT Market on a specified event of that week.
Casino Promotions
Mobilebet has a points program that players are entered into once they register an account. They earn points as they play and the more they play, the more points they earn. Each week, Mobilebet selects a game that earns players double points when they play that game.
There are daily and weekly offers as well. At the time of this article, these promotions could not be seen unless there was a registered account.
Get €/£10 In Free Bets with The Mobilebet Welcome Off
Welcome offers are standard practice across online betting sites. They are a way for new punters to get acquainted with the site and jumpstart their betting and fun. Mobilebet offers new players a welcome bonus worth €/£20 in free bet tokens.
How to Claim the Free Bet at Mobilebet
The free bet offer with Mobilebet is part of their welcome offer for new punters. After new customers create their account, they will need to make a minimum deposit of €/£10. Then they will need to make their first bets on Mobilebet.
New players will need to make a bet of at least €/£10, with minimum odds of at least 1/1. They can place the bet on any sport of their choosing. Within 24 hours after the first bet has been settled, the tokens for a €/£10 free bet will be awarded to the player.
Terms and Conditions for Mobilebet Free Bet
This offer is only available to new players on the site, existing customers are not going to be eligible to receive this offer. The bets must be made in multiples as the free bets are not available for singles. It doesn't matter if the punter is looking to bet on sailing, football, or water polo, bets can be placed on any sport.
The initial €/£10 bet must be made within the first 30 days of the opening of the account and the free bet tokens will be valid for 14 days once they have been credited to the players account. The free bet must be made at odds of 4/ or higher (which differs from the odds required for the initial €/£10 bets made with the player's first deposit).
Does MobileBet Have A Betting Exchange?
Betting exchanges are a way for sites to give punters a great place to make bets while eliminating their risk in the transaction. Betting exchanges are sites where punters are betting against one another and not against the house. The site itself just takes a small portion of the transaction in order to make their profit.
Mobilebet doesn't offer this feature for punters. Mobilebet is a traditional online casino This is something that interested players can look into.
Sports and Markets
A great sportsbook is defined by all of the options that they are able to offer to their customers. Mobilebet offers its punters plenty of sports and options to choose from. They make sure to cover sports all over the world and include all of the most popular sports markets as well.
One of the areas in which they tend to fall a little bit below the average is when it comes to the odds. They do not offer the best prices in the industry, but they are improving their standing all the time and they are still very competitive. This is not a knock on them, they are just not at the top of the list.
The Variety
They offer a great variety of sports and all of the most popular markets. They provide markets for football, tennis, basketball, ice hockey, horseracing, volleyball, American football, mixed martial arts, baseball, boxing, motorsports, and so many more. They also provide some niche sports like various winter sports, table tennis, and surfing, to name a few. The variety that they offer is one of the reasons that they are making their way up the ranks, despite their youth within the industry.
In-Play
One of the most fun features that a sportsbook can offer is In-Play betting, and Mobilebet is aware of that. They offer their customer plenty of In-Play options for those adrenaline-junky punters. In-Play markets offer punters a great fun to turn up the fun when it comes to their betting experience.
Live Streaming
They do not offer live streaming services, but they do have a highlights section for their customers to utilize so that they can catch up on whatever it is they may have missed.
Casino
The sportsbook isn't all that Mobilebet has to offer. They have over 1,200 games in the casino section of their site. This section offers punters the opportunity to expand their gaming options by a lot. They offer blackjack, video poker, Baccarat, Roulette, Craps, Keno, Bingo, and more than 500 different slots. There is also a live dealer section that will bring the feel of a real casino right to the punter's screen.
They even have various offers going on all the time that players can take advantage of. Players who already registered with the sportsbook section will not be able to get in on the casino welcome bonus. There are plenty of other promotions and bonuses to take advantage of. Punters on Mobilebet should definitely check out the casino section for some extra fun and good times.
E-Sports
In the new age we live in, E-Sports is big business. E-sports betting is one of the options that Mobilebet has to offer their punters.
Mobile & App
There is no app dedicated to mobile devices. The Mobilebet site works seamlessly from desktop to mobile devices. There is no loss of functionality or user experience. It looks just as good on a smartphone or tablet as it does on a desktop device. The site can be accessed through the browser on, both, Android and iOS devices.
Licensing and regulation
Mobilebet is licensed to operate in the jurisdictions of Malta and the United Kingdom. They hold licenses with the UK Gambling Commission as well with the Malta Gaming Authority. Mobile bet employs an advanced 128-bit SSL encryption technology in order to protect the sensitive information of their customers.
Players from the following countries are not permitted to play on Mobilebet: Australia, Curacao, Czech Republic, Spain, France, French Guiana, Greece, Croatia, Hungary, Ireland, Netherlands, French Polynesia, Poland, Portugal, Romania, Sweden, French Southern Territories, Turkey, United States Minor Outlying Islands, United States, and the Virgin Islands.
Customer Support
Customer support seems to be one of the areas in which Mobilebet falls short of other online casino sites. They have an FAQ section for players to refer to at any time. The only other methods are a live chat and email form. The live chat is available 24 hours a day, 7 days a week. They do not supply an email address to email, but on the Help Center Page, there is a tab for players to use where they can fill out an email form for customer service.
Payments
Mobilebet has limited its payment options to only the most reliable methods. This may limit the options that a customer has, which can be a negative mark by some. Others see it as a site that only allows the most trustworthy and seamless methods to be used for their customers' payments and withdrawals.
Deposits
Mobilebet accepts Maestro, Visa and Mastercards, Neteller, Skrill, Trustly, and the Paysafecard for their deposits. There are no fees for deposits and all deposits go through instantly. They have also recently added PayPal to their list of accepted forms of deposit methods. There is a  €/£10 minimum deposit limit on Mobilebet.
One thing that players must be vigilant of is that some promotions and bonus offers require that deposits be made with Visa or Mastercards in order to qualify to receive the bonus. Players need to pay close attention to the deposit terms and conditions for each promotion or bonus that they are opting into.
Withdrawals
Withdrawal methods include Visa and Mastercards, Neteller, Skrill, Trustly, and the newly added PayPal. Withdrawals that are requested with e-wallets can be received in as little as 24 hours. Visa and Mastercard withdrawals will take between 2 and 7 business days. This is standard across the industry. There are no fees for withdrawals.
Business information
Year founded- Mobilebet itself was founded in 2014, but Co-Gaming Limited (the parent company for Mobilebet) was established in 2010.
CEO- Mr. Hans Martin Nakkim
At the time that is article was written, we were able to find that this is a listed company with over 5,000 shareholders. We were not able to find the market that the company is listed through.
There are no established betting shops for this enterprise as it is an online casino enterprise. Mobilebet is one of the sites that is run by the C-Gaming Limited company.
Mobilebet is one of the online casino gaming sites that is owned and operated by the Co-Gaming Limited Company.
They have a number of offices that run the company and Co-Gaming Limited employees around 160 people.
Some of the sister sites for Mobilebet includes ComeOn and CasinoStugan.
Mobile Bet Open An Account
Finding an awesome new online casino can be tricky, and when you have met your perfect match, it is only natural that you should want to get started as soon as possible. Opening a new player account needs to be a smooth, straightforward process to entice customers in, and help get playing your favourite games in no time!
How to Open a Mobilebet  Account
Mobile Bet is an online casino that understands the importance of customer convenience and works hard to incorporate this into every aspect of their site; including making sure that the sign up process is painless and speedy.
Getting started is super simple; see our guide below!
Step 1 – Head to Mobile Bet
The first step in the process is to head over to the site – https://www.mobilebet.com/. This will show you the button which takes you through the registration process.
Step 2 – Join Here
Once you reach the main page of the site, you will see the option to 'Open Account' clearly labelled.
Step 3 – Fill In Your Details
Clicking this button will take you to the joining form, and this asks you for a range of basic details. The first page asks for your email address, and invites you to set up a username and password.
The second stage of the registration process invites you to enter your address, accept the terms and conditions, and continue to finally set up your account!
Step 4 – Verify Registration
Once you have completed the above process, you will need to validate and verify your email address – this is done by clicking on the link in the email which will be sent to you. This is the final step in the process, and leaves you a fully signed up member of the site, free to place your initial deposit and start your journey to a win!
Making a Deposit at Mobile Bet
Once the registration and sign up process is complete, all that is left is to place your first deposit; this will trigger bonuses and offers, and means you can fully explore the site. Once logged in, you will see the option to make a deposit.
Check the terms and conditions of the offer you wish to trigger, place the required amount, and get ready for some serious fun!
Betopin's Verdict
Mobilebet is creating a great space for punters. Their site is easy on the eyes and it is very easy to navigate and figure out. They have a simple, but fun color scheme with the black, green, and silver theme. They have provided a wide variety of games, sports, markets, odds, and options.
There are 2 areas where we found that they may be slightly lacking and that is in the payment options and their customer service. They only provide minimal options for payments and withdrawals but the options that they do accept are some of the most trustworthy and efficient. Their customer service is also limited but that doesn't mean that it is unresponsive. They are a young site. Despite these couple of things, Mobilebet is a great site for punters to be a part of.