I wanted to write this MustardBet review when I was actually watching an event so I could try out their in-play betting options as that's where they are trying to set themselves apart from the current plethora of online bookies…
But, I don't really like watching sport on the tele, I find pubs too loud and boisterous and going to an actual stadium is far too much of an administrative nightmare. Unless, I'm in a box with some life colleagues, not work colleagues.
Sandown and Royal Ascot are the exceptions. Sandown because I live next door and I can drink lots of beer, have a burger and then walk home. And Royal Ascot, well, you don't need a reason…
Anyway, as luck would have it for this MustardBet review we're doing quite well in the World Cup at the moment and today's England Versus Sweden was on at a rather civilised time. The original plan was to go watch it at Sandown after the Coral-Eclipse. Have a bet on the ponies, then have another on the Footie, then maybe hang about for Reggie Yates' set afterwards.
But, I realised I don't know who Reggie Yates is and it was too hot for the races anyway. So we opted for a picnic at our local cricket club where the kids could play on the green with the Doris. But, it turns out the cricket pitch had been invaded by Gypsies this morning. So that was off.
We thought, sod it and took the children for a stroll around Claremont Gardens instead. I'll not go on too much about it but it's 200 years since Princess Charlotte commissioned a tea room built at the top of the amphitheatre. The poor thing never got to sip there though as she died in childbirth aged just 21. But now there is a temporary reconstruction of it. It's a lovely memento to times gone by… I'll explain later…
Point being we were running behind. I generally don't like betting on mobile.  So it was a bit annoying that MustardBet's mobile interface can't do password changes on mobile without having to view the desktop site. Especially as I was in a rush and my fat fingers can't cope with passwords as the best of times. I know the whole industry is going mobile. But I honestly think that 20% of punters that generate 80% of revenue for bookies still trade on a proper computer or over the phone. Mobile is great for checking prices and maybe cashing out, but for new bets, you need a proper interface. Anyway, I wanted to look at the odds in-play, so never mind, I'd use the desktop site on my laptop when home…
And when it comes desktop betting, MustardBet is well mustard mate. I love MustardBet's interface.
If you're a trader you'll recognise the layout as it's more of a dealing screen than a betting platform.  Good clear pricing that doesn't focus on the big figure, but highlights tick by tick moves and offers some fairly deep and clear market depth… Even though I often tout Betfair as the best bookie in the world, truth is, the platform is clunky, slow and looks terrible. Betfair has always won on liquidity and pricing. Traditional bookies have always fallen well behind on price.
But no more. MustardBet was only a few ticks behind the betting exchanges.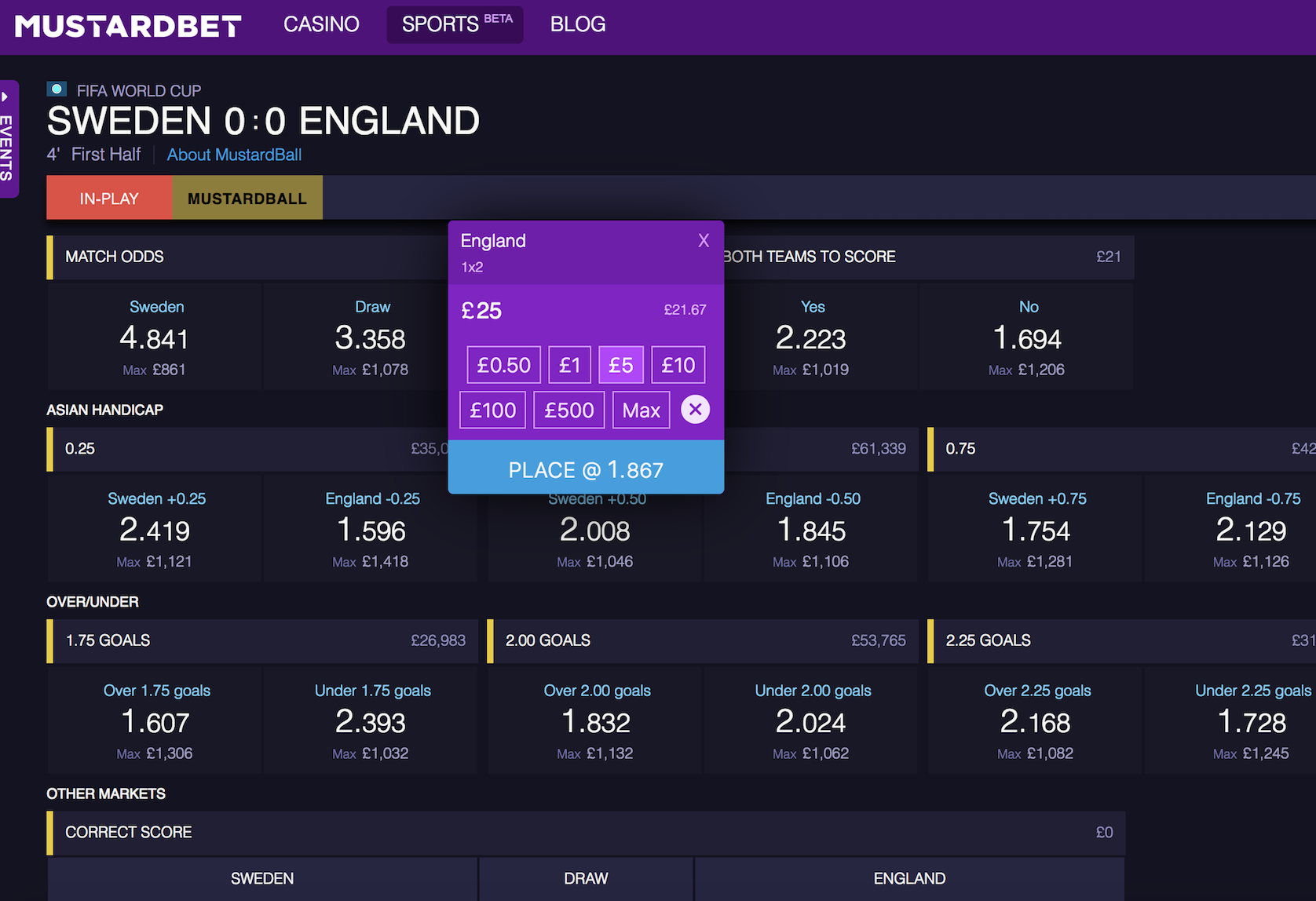 So, if you're thinking how do MustardBet's odds compare to betting exchanges – the answer is pretty damn close.  Plus the notion that betting exchanges don't have a conflict of interest with punters because they only earn on the commission is a bit passé now. A lot of liquidity on secondary exchanges like Smarkets is from market makers anyway. So you may as well bet on Ladbrokes. But you shouldn't because that would be daft. Ladbrokes still default to fractions for goodness sake…
The role of a bookie has changed significantly over the years. Especially now with innovative fintech where people genuinely passionate about an industry can try and change the game.  I think of bookies are more like insurers now. They take on risk for something you are going to do anyway. It's how they take on that risk that sets them apart.
And that's what I like about MustardBet, they take on your risk and they do it in a really nice way. The website looks great. The betting slip is quick and interactive and their execution has very little latency.
Also instead of suspending markets when the game gets interesting, they switch to a mode called "dangerball". This means that if the game is at a pivotal moment your bet is pending and accepted if it carries on as usual.
Suspended markets are just irritating and in a world where convenience wins, this is a winning feature. And this is where MustardBet excels, they make betting easier. Which is all that we really want.
There should no longer be issue delaying prices or bet entries because the pricing is set by some companies you've never heard of and never will. Bookies, as well as being like insurers are like brokers too. They just provide access to a market that will over time provide a net return to them.
It all works out in the end – there is enough data to back this up by now…
If a punter wins, let them win. MustardBet says:
We're creating a level playing field between the customer and the bookie, there is no ambiguity around whether the bet will be accepted or the timing of a goal etc.

The same price and stake will be available to all – even historically profitable customers. The difference being that we will take into consideration the profile of the customer when setting our next price and liquidity level – again this will available to all.
Obviously, With MustardBet I won with my bet on England to win because that's just the way the world is at the moment. We've had had about ten thousand days of sunshine, this year's Love Island is as good, if not better than last year and England are bringing it home.
For sports traders, it's definitely worth having an account with MustardBet. Don't bother signing up if you're a matched better or like to do a bit of offer arbing. MustardBet is a proper bookie for proper punters.
Unlike Princess Charlotte's tearoom, Mustartbet isn't a rehash of times gone by, it's the future. A bit like the modern-day version of old-school trackside bookies, except instead of a camel overcoat and a fedora, this one's wearing Hogan trainers and a Brunello Cucinelli hoodie…