Betstars Spin and Bet – A flashy gimmick or something more?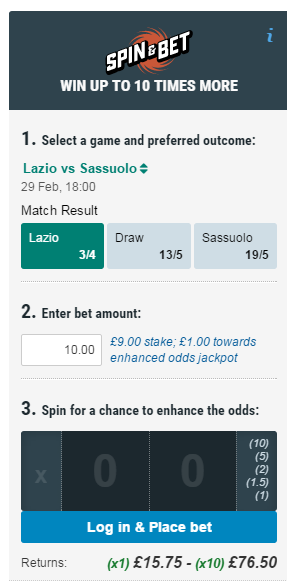 Probably a bit harsh to call Betstars Spin and Bet a Gimmick straight off the bat…  It's just a novel way of betting on the footie.
The way Betstars spin and bet works is pretty simple.  You sign up for an account, then choose from one of the featured bets on the homepage, set your stake and spin the wheel to increase your odds several-fold (up to ten times).
If you are having an outright bet there doesn't seem to be a reason not to give this a go.  After all, Betstars is run by Poker Stars and regulated by the UK gambling commission.
It's actually quite a nice take on mixing the instant gratification of online slots with the slightly more long term and fulfilling online sports betting.  You can see the top online sports bookies in our comparison table here but remember gimmicks aside if you want the best odds when betting online go for a betting exchange.
Betting exchanges will always offer better odds than fixed odds bookmakers as they act as a matching agent for punters laying and matching bets  – therefore making prices more competitive and always a good indication of event outcomes.
The major betting exchanges, Betfair, BetDaq and Smarkets all charge on winning bets, but if you are looking for a nice simple interface and welcome offer to get started Smarkets offer the lowest commission at 2%.  They also offer a free £10 bet for new players.  You can sign up with Smarkets here.
In this example you can see a £10 bet with Betstars would win you £15.75, but the same bet with Smarkets would win you £17.99.  Not a massive difference in events with tight odds, but when you are betting on outsiders it dramatically affects your winnings.
So, in conclusion, is Betstars bet and Spin any good?
Yes probably, if you are in the habit of rotating through bookies and taking up welcome offers.  A nice gimmick if you want to combine slots (compare online casinos here) with sports betting and well worth a punt.  Probably not that good for your main bookie though.
If you must use traditional fixed odds, stick with one of the biggest boys and open an account with bet365 or at a smaller customer service focused personal bookie like Spreadex. Read our Spreadex Sports Review.