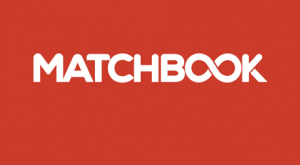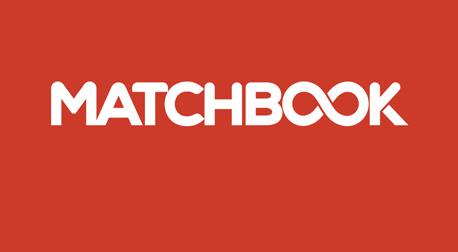 VISIT MATCHBOOK
Matchbook is coming up on the rails as a credible alternative to Betfair as a betting exchange.
There are only four betting exchanges in the UK so why should you use Matchbook over the established competition?
As the sun was out, for this Matchbook betting exchange review we trotted off for another day at Sandown Racecourse.  And there is a new kid muscling in on Bet365 for sponsorship in the form of the final in the big four of betting exchanges: Matchbook.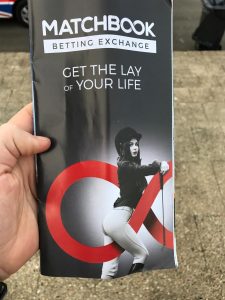 Matchbook Exchange Review
I remember when Matchbook started no-one really took seriously. But now it appears to have been taken over by some proper investor types who want to compete with the likes of the two established betting exchanges Betfair and Betdaq, as well as pummel Smarkets, the other growing betting exchange that came on the scenes with a discounted commission.
For newcomers to the site, a betting exchange differs from classic bookies in one major fundamental way: in a betting exchange, you bet against other bettors rather than the bookie. Bookies give you the odds they are prepared to risk, plus their margin, which could go as high as 20%. The odds in a betting exchange are less rigid and you could potentially win more. The betting exchanges make their money by charging a percentage, like the bookies, but their margins are much lower.
Matchbook Offers
Matchbook Exchange Signup Offer
Matchbook already competes with the other exchanges by keeping its commission low, but new players to the site get an even better deal. Matchbook's new customer offer allows new players to enjoy commission-free betting until the end of 2018. While this might not sound immediately impressive, if you make an extra 1.5% (the standard Matchbook Accepted Odds rate) on every win from now until midnight GMT, your extra profit will start adding up. The Matchbook welcome offer isn't limited to any particular market or event – you can bet on any sports, either back or lay bets, at any odds. To be eligible for this offer, you need to access the Matchbook markets directly through its website or mobile app, not an API or trading software. From what we can tell by checking the terms and conditions for this offer, you don't need to use a bonus code to access the offer. Simply sign up and start taking advantage of Matchbook's version of a free bet.
Matchbook Casino Welcome Offer
If you prefer casino games to sports, take advantage of the Matchbook Casino Welcome Bonus. If you deposit up to £100, Matchbook will give you a 100% bonus, up to £100, as well as Extra Spins on Starburst, bet level 1. You have three different options to buy into this offer:
• Deposit £20 and get a £20 bonus, as well as 20 Extra Spins
• Deposit £50 and get a £50 bonus and 50 Extra Spins
• Buy in for £100 and get a £100 bonus, and 100 Extra Spins
These spins will be awarded within 24 hours and will expire in 7 days. There are no wagering requirements attached to the free spins.
Matchbook Promotions
Aside from the welcome offers, Matchbook offers a number of other casino promotions. In the Starburst Promotion, you can "Pay 100 Get 130", and with the Jackpot Bonus, you can Pay 20 and get 30 to play on the Divine Fortune slot. There is a Twin Spin promotion, where you play 25 and get 40 plus 10 Bonus Spins on the Twin Spin slot, as well as quite a few other promotions that are linked to particular slots. There is even a Live Dealer bonus, where you can get a 25% match up to 400. It is well worth the effort to browse around the bonus section to see what offers you can claim.
Matchbook commissions
Matchbook is striving to be competitive in a very tough market by charging extremely low commission rates. Their rate for Accepted Odds betting is a mere 1.5%, and if you post your own offer, the Posted Odds rate is 0.75%. Bear in mind that if you are a new player and sign up before the end of 2018, the Matchbook zero commission offer will come into play, and you will not pay even these low rates if you are eligible for the welcome offer.
Matchbook Betting Exchange Markets
The Matchbook betting markets cover all the major sports. Matchbook claims it is the fastest growing betting exchange, and it shows by its ever-expanding market selection. You can find very competitive odds on a variety of markets including-
Matchbook Liquidity
For the smart bettors, an exchange with the flexibility to offer the best odds on main sports like football will end up being the most profitable. Matchbook had shown its liquidity when it comes to real-time betting in the core sports markets, so if you have the expertise to make pinpoint predictions, you will find some of the best odds at Matchbook to back your knowledge. We published an article on how Matchbook uses this liquidity to give you a better betting experience not long ago – you can read it here if you would like some more detail.
Matchbook NFL
If you're an NFL fan, then Matchbook's famous liquidity will work well in your favour. Matchbook offers a huge range of handicap and total spreads, and arguably the best odds you will find online for the playoffs as well as regular games.
Matchbook, the growing betting exchange is sponsoring the ponies now
Matchbook horse racing
Horse racing is a recent addition to Matchbook's market offering. At the moment, you can bet on horse races in the UK, Ireland and South Africa. The Exchange does offer some big race events from France, USA, UAE and Australia, and are planning to widen their international selection further in the near future. Only UK races are available for live betting currently, but Matchbook is planning to add Irish in-racing functionality soon.
Matchbook horse racing commission
The standard Matchbook commission of 1.5% for Accepted Odds or 0.75% for Posted Odds applies to horse racing too. You can Back or Lay, but only Win or Place markets are available at the moment. To bet on horse racing at Matchbook, you'll need to transfer money into your horse racing wallet from your sports wallet. Matchbook is constantly adding to its market types, so more horse racing options should be available soon.


Matchbook Casino
If you're looking for a space to play while waiting for the next sporting event, browse through the Matchbook casino section. Although it doesn't offer the thousands of games that you see in some online casinos, it does have a fair selection of all the game types that make up a full casino. There are slots of varying themes and jackpot sizes, as well as a few video game options. In the table game section, you will find roulette and blackjack games, baccarat and several different types of poker. There's also Sic Bo and Craps for players who prefer dice to cards.
If you prefer some human interaction when you play table games, head over to Matchbook's Live Dealer section. Matchbook offers live blackjack, baccarat, roulette and poker, powered by a combination of Evolution and NetEnt software. Matchbook's casino offering is not extravagant, but it does have everything you need.
Matchbook Apps and Mobile
If you play on your mobile, then the most convenient way to access Matchbook's markets is by using their apps. You need to have your Location Services switched on when using your Matchbook Exchange app because they are location sensitive and cannot be accessed from certain regions.
Matchbook has several different app options:
• Matchbook UK and Ireland – Android App
• Matchbook for Android – Other Regions
• Matchbook for iPhone
• Matchbook for iPad
The Mobile Applications page on the Matchbook website has convenient links to all the stores.
Deposits and Withdrawals
Matchbook's funding process is relatively easy and straightforward. Simply click on Deposit at the top right of your screen after you have logged in to your account, and you will be presented with the payment options available. You can use Visa and Mastercard, Neteller, Paysafecard or Skrill to make a deposit. If you can't see the deposit page at all, try disabling your ad blockers, as Matchbook has found that these can sometimes interfere with the page display.
Matchbook has a "closed loop" policy when it comes to making withdrawals. What this means is that you need to withdraw your money into the account you used to deposit it.
However, if you choose to make a deposit using Paysafecard, bear in mind that you can't make a withdrawal using the same method. You can withdraw with Visa or Mastercard credit/debit card, Skrill or Neteller. You can also withdraw directly to your bank account, but some restrictions do apply. The minimum amount you can withdraw directly to your bank account is $/€/£500, and you will have to pay a fee of $/€/£35.
Withdrawals are free most of the time, but Matchbook does reserve the right to charge for your withdrawal or enforce roll-over if the commission on your betting activity does not cover the cost of your deposit and withdrawal transactions.
Matchbook Support
The Matchbook website does have a fairly comprehensive FAQ section, but if you need any further assistance, you can contact Matchbook in three different ways:
• Live Chat – login to your account and launch the Chat
• Telephone – use (+44) 203 642 6867 if you are calling from the UK and (+353) 21 242 8626 from the Republic of Ireland
• Email – [email protected]
Is trying to win business on cost enough for a new betting exchange?
When we first looked at Smarkets as a viable alternative to Betfair it seemed like a good choice because they were offering discounted commissions of 2% rather than Betfair's 5%.  If you were a trader or an arbitrager or playing about with matched betting then this was quite appealing.
But is trying to win business on cost really enough for a new betting exchange? Probably not. The difference between 1.5% and 2% is negligible, and for Matchbook to become the leading betting exchange they need to 3.33x more business than Betfair as opposed to Smarkets which only needs to process 2.5x the bet values.  But that's pretty boring and with the "gamtech innovation revolution" as we like to call it the fixed costs of running Smarkets and Matchbook should be lower than Betfair. After all Betfair pioneered and leads the industry and as a result, must bear the development and innovation costs for new companies to copy and follow.
There is nothing wrong with discounted commission though. Gamtech & fintech are lowing the cost for consumers (gamblers) so it is possible for them to win more money by getting betting odds with lower commissions.
A race to the bottom when it comes to commission is already happening across the financial services industry and there is a problem. Everyone is going out of business because they are not making enough money to pay for advertising to get new customers because there are now so many new brands starting up every day.
In theory, it costs nothing to do business if you put the right technology in place with the right partners. So the brand with the biggest marketing budget who can afford to lose the most money when client grabbing will lead the industry.
I still like Betfair's steadfast approach to high commission levels. They are the John Lewis of the gambling world if you will. They simply say we are the best and it will cost you more to do business with us.  Which is fine for somethings, but when you come down to the dirty business of winning money off people you want to get as much as you can!
So how can Matchbook compete with the bigger betting exchanges if a race to the bottom on pricing isn't going to cut it?
They can offer a better sign up bonus for new customers. Matchbook is currently offering the lowest commission at 1.5% on Horse Racing. 
They can offer multi-currency accounts. Matchbook currently offers more currencies to bet in than any other exchange.
They can offer better user experience and match liquidity and markets. Matchbook currently offers more peripheral markets thanks to their global client base.
You can sign  up with Matchbook here.
Betopin – Compare Betting Exchanges, Bookies, Bingo, Binary, Casino, Poker & Sports Spread Betting
Average rating:
2 reviews
Mar 2, 2018





Website & Platform 5/5


Customer Service 5/5


Mobile Apps 5/5


Odds, Spreads & Pricing 5/5


Market Range 5/5


Bet Execution Speed 5/5


Added Value 5/5




Lately Betfair is medeixando very satisfied.

&nbsp

(Been a Matchbook customer for 2-5 years mainly betting on football and horses)
Jan 25, 2018
I am please with the slots





Website & Platform 4/5: interface not good


Customer Service 4/5: response slow


Mobile Apps 4/5: not using any


Odds, Spreads & Pricing 5/5


Market Range 5/5


Bet Execution Speed 5/5


Added Value 5/5




Easy to place bets (Been a Matchbook customer for under a year mainly betting on football and rugby on a monthly basis)


Compare Matchbook to Alternative bookies