TempoBet Sportsbooks Review
Founded in 2007, TempoBet is a relatively young sportsbook but one that has achieved a lot more than some of its older competitors. The company which operates totally independently has been ambitiously closing mega deals with some of the biggest names in the world of sports in the past few years. For example, TempoBet is the current official sponsor of Burton Albion FC, Fulham, Preston North End, and Euroleague Basketball. It's also one of the Advertising Sponsors of La Liga for both Barcelona and Real Madrid, not to mention that it has also worked with Manchester City, Arsenal, and Middlesbrough before.
With such an enviable profile, it's a little wonder that more and more punters are showing interest in its services which we describe in detail in this TempoBet review.
TempoBeat Welcome Bonuses and Promotions
While most online betting companies will offer a sign-up bonus to new users joining their platforms, very little can be said about TempoBet on this front. During our many visits to the platform, we were unable to find tangible information on any existing welcome bonus offer or any other type of casino promotion. We found this to be quite surprising (and disappointing too) especially coming from a company of TempoBet's calibre whose main competitors are working around the clock trying to attract punters to their platforms using these kinds of incentives.
We tried to contact their support team in an attempt to understand the reasoning behind this odd business decision but didn't get any concrete answers from them. A quick search on popular betting forums also didn't help much as most returned inconsistent information. For example, some users claimed that the company rewards bettors that spend more than $/€2000 per month by placing them in a raffle draw whereby the ultimate winner wins a holiday to Miami.
Others claim that TempoBet had given them free bets to use on major tournaments like the 2018 World Cup.
All in all, we'd like to see the bookie come up with a more improved customer reward system and particularly offer a competitive welcome bonus package. This will help it attract significantly more people outside Eastern Europe where it dominates.
TempoBet Latest Promotion
TempoBet is a reputable sportsbook that is quickly building a name among the online betting community in the UK. The company which opened shop in 2007 might not be the fanciest you will find around; however, you're likely to get some of the biggest odds here especially if you like betting on European football.
Unfortunately, its generosity hardly goes beyond offering great odds. In fact, TempoBet promotions and bonuses are nowhere near what you will find being offered on most modern bookies today.
Is there any justification for this? Let's find out more on this below.
TempoBet Bonuses
If you were to ask us here at Betopin, one of the few lacking sides of TempoBet is its decision to not offer any solid promotions and bonuses to players. We tried seeking their reasons for not giving even the standard welcome bonus and the following was the explanation they gave us.
TempoBet Promotions Policy
For starters, TempoBet offers some of the industry leading odds for popular events especially in sports like football and basketball. Indeed, this has been their unique selling point and a strategy they've followed since their inception. Like any other company, this sportsbook chose to focus on this one area which it has perfected over the years and is now best known for.
Let's face it, no one-company, including those outside of the betting industry, can be perfect in all aspects. Can you imagine finding a sportsbook that offers the biggest odds, the best customer support, gives out hundreds of betting bonuses, fastest payouts, etc.? Practically, this is not possible. In fact, most bookies try to perfect on a few services as they continue striving to better the remaining ones. For example, some focus on providing the highest number of markets for different events, others focus on giving unbeatable bonuses, and others like TempoBet make every effort to give the biggest odds.
All these are choices made by the management of these companies to ensure they maintain a competitive edge in their markets.
TempoBet Promo Code
A common method used by sportsbooks to offer incentives to new players is through the use of promo codes. This is how the method works. The company distributes promo codes to its partners and affiliates from where players get them. Upon collecting a code, you will need to enter it during the sign-up process to activate your welcome bonus.
At the moment, there is no TempoBet promo code available. However, should the bookie introduce any new promotions or bonuses in the future, you can rest assured that Betopin will be the first to update you on the same.
We will keep an eye for any changes in the company's reward system which we hope is work in progress. We'll also be pushing them to introduce a welcome bonus package for our readers soon. As such, be sure to drop by this page or check out our detailed TempoBet review here in the future to find out if there are any updates.
TempoBet –  Free Bets
TempoBet is one of the latest entrants in the UK online sportsbooks space that you can consider if you're looking for a reputable bookie to play at. Owned and managed by Vivaro Limited, this sportsbook offers a safe and lucrative platform to sports bet, play casino games, and virtual sports. Currently, TempoBet serves as the official sponsor of, Fulham FC, Burton Albion FC, and Preston North End football teams.2
Unlike most of its competitors, TempoBet doesn't offer any promotional offers or free bet deals for UK customers. Instead, it focuses its efforts entirely on generating the most competitive odds for major European football leagues. This alone forms the huge part of its appeal as punters stand to make the most profit here compared to similar betting platforms.
What is a free bet?
TempoBet doesn't offer free bets for good reasons which we'll demonstrate later, but first, let's begin by defining the term. Essentially, a free bet is a type of betting incentive that doesn't require the player to make a deposit for them to use it. In other words, a bookie gives away free money to facilitate a more enhanced betting experience for its players, usually as a reward.
While this sounds exciting, not many online bookmakers truly give free money. Usually, these promotions come tied to several inhibiting conditions that often end up beating the logic of claiming these bets in the first place. In most cases, for example, you will be required to make an initial deposit to qualify for the free bet. This is why these incentives are best viewed as extra bets as opposed to free bets due to the restrictive terms and conditions.
Why then does TempoBet not offer free bets?
Well, the brand puts all its effort in creating the most rewarding odds possible thus negating the need for promotional offers. Its aim is to lower the betting margin so that loyal customers can benefit from using the competitive odds to their advantage.
With free bets out of the equation, players can play freely without being bounded by play-through requirements which are commonplace on bookmarkers that offer bonuses and promotions. TempoBet is dedicated to offering a straightforward experience where players join to simply bet and make money. This is why we view this lack of free bets on the site as not an entirely negative aspect but a viable opportunity for a savvy bettor to get lucrative odds.
Should you snub TempoBet based on its failure to offer free bets?
To be honest, incentives like free bets offer an extra way to make money in a sportsbook. However, they often bring more trouble than the value they're worth (read the wagering conditions that you have to fulfil to claim your winnings). For this, the absence of free bets on TempoBet is not necessarily a weakness. Instead, look at it from the angle that this platform offers generous odds and less hustle especially if you're interested in a straightforward betting service.
Betting Markets and Odds
The one area that TempoBet excels in (perhaps in a bid to compensate for their lack of bonuses) is market depth and impressive odds. This is one of the few sportsbooks where you will find competitive odds for football games of amateur competitions from popular European leagues like English and German football.
As at the time of writing this review, the bookie offered odds for tens of leagues spread in 40 countries. This included coverage for tiers as low as 8th in English football and many amateur football competitions in Germany. Other countries covered here include Brazil, Argentina, Mexico, Poland, USA, and South Korea.
Sure, you will not find as many sports covered on TempoBet as is the case with bigger names in the industry; however, their market depth for the few covered on their platform is simply unmatched. For example, it is not unusual to find an EPL game with as many as 180 different markets to bet on – this is probably twice as many markets that most mainstream bookies will offer you.
Not a football fan? No problem as TempoBet offers equally impressive market depths and wide ranges of markets for other sports like ice hockey, basketball, volleyball, cricket, futsal, motorsports, tennis, badminton, rugby, handball, and darts among others.
Worth mentioning also is that TempoBet offers very nice odds, often higher than market standards, on most events. This makes the platform quite favourable particularly for players aiming for long-term gambling investment. Overall, betting margins of 3.3% are common while payouts are also quite decent.
In-Play Betting
The live betting services offered by TempoBet is quite good but obviously not the best in this category majorly due to one key factor – a lack of live streaming feature. Nevertheless, it's also important to mention that not many bookies are able to offer widespread live streaming perhaps due to the inhibiting expenses that come with it.
What we liked the most about TempoBet's in-play betting segment is the clean, simple layout that helps to ease the process of choosing and placing wagers. What's more, the platform also runs a stats service whereby you can conduct research on your favourite teams without leaving the page. In the fast-moving world of live betting, having access to this feature could prove to be a game-changer for you.
Another thing we liked here is the impressive depth of market which is more or less replication of what we saw in the case of pre-event betting. TempoBet offers an incredible range of opportunities for live betting which means you'll hardly run out of favourite games to play.
Overall, we feel that live betting is an area TempoBet has done commendably well and therefore worth checking out especially if you're only interested in betting for recreational purposes.
TempoBet Casino
In addition to offering sportsbook services, TempoBet also has a live casino that features nearly all the main types of casino games. Some of the top games to find here include blackjack, roulette, slots, video poker, 3D poker and slots, and baccarat. Each of these genres come with plenty of titles with some of the popular names you can expect to find here including StarBurst, Twin Spin, Gonzo's Quest, Warlords, and Fruit Shop.
There's also a live casino where you can play live casino games like Casino Holdem, Turkish Roulette, and Blackjack Live.
Other betting opportunities available on TempoBet
eSports
Play virtual games in different sports like football (the World Cup and Champions League), basketball, Horse Racing, and Greyhounds.
Virtual racing
Coined by TempoBet as the Golden Race, you will find everything racing in this section with virtual games being held daily here on sports like horse racing, motorbikes, speedway races, and greyhounds among others.
Backgammon
Who even thought it was possible to play rare (and classic) games like backgammon online today? Enjoy playing this ancient game on TempoBet and win good money while at it.
Mobile & App
With more internet users now preferring to use handheld devices to computers, it's only prudent that any online business optimises their websites for mobile. TempoBet scores quite well on this front with a highly responsive website that supports all the important features even while on mobile. For example, you can change the site's language and access the contact channels when using your mobile device. Most importantly, you can place bets on any event available on the platform including live betting and virtual sports.
Unfortunately, TempoBet doesn't offer any dedicated mobile app which could be a major disappointment for players looking for quick access to the sportsbook though an app. This is an area we hope the company is thinking about in its plans to modernise its services.
Licensing and regulation
In the fast-paced world on online betting, security is probably one of the key areas that bookmarkers need to invest in heavily if they're to gain confidence from punters. TempoBet seems to understand the importance of bolstering its safety and public confidence through a number of ways.
First, the sportsbook boasts licences from two of the most reputable online betting regulatory bodies – Malta Gaming Authority and UK Gambling Commission. The bookie is also part of the IBAS which is a respected betting arbitration service that helps to resolve common disputes arising between betting companies and players. Finally, TempoBet has partnered with a few problem gambling organisations like GameStop and GamAware which shows its commitment to facilitating responsible gambling among users.
On security, TempoBet has done well too by securing its website using some of the industry-leading safety mechanisms. For starters, it uses the highly secured Thwart SSL encryption technology to ensure that all sensitive data passing through its site and databases including financial details and transactions are kept away from the prying eyes of hackers at all times. It also employs robust firewalls and complies strictly with the existing EU laws as well as the newly enacted GDPR policies on consumer data protection.
Customer Support
Customer support is regrettably not one of TempoBet's main fortes; this is a sad thing, especially in an era where responsiveness and promptness to answer customer queries, is such a big part of online business success. In fact, a live chat feature that offers solutions (whether AI-powered or by a real person) all round the clock should be the minimum for any online business worth its name.
For starters, there's only one way of reaching TempoBet, which is through a somewhat outdated contact form method. What's even more baffling is the fact that the team is only available between 10 AM and 10 PM meaning you'll need to wait for assistance for hours should a hitch arise outside these working hours.
On the upside, however, the company offers a quite comprehensive FAQ page where you're likely to find answers to most frequently asked questions. This can be a life-saver especially if looking for urgent solutions to your problems at this sportsbook.
There's also a UK physical address available on the site in case you need to reach the company via postal service (which obviously is a bit too dated now, not to mention highly inconveniencing too).
During our research, we didn't find any trace of a phone number or email that we could use to contact TempoBet's team. This sums up the sub-standard customer support services offered by this bookie; we can only hope the management is putting in place plans to improve this critical area.
Banking Methods
Considering that TempoBet serves bettors from all over Europe, it's only natural that it supports several payment methods that best suits this diverse market. Here, you will find a number of popular and secure payment facilities to make your deposits and withdrawals as swift and convenient as possible.
For deposits, this bookie accepts debit and credit cards like PayKwik, AstroPay and Paykasa. Alternatively, you can fund your account using e-wallets like EcoPayz and Jeton.  Bitcoin is accepted here too. On the other hand, TempoBet supports bank withdrawals, Bitcoin, a few selected prepaid cards like PayKwik, and several e-wallet payments like EcoPayz and Jeton for withdrawals.
Worth mentioning also is that TempoBet supports all major currencies including British Pounds, US Dollars, Euro, and a few selected overseas currencies.
The minimum deposit amount you can make on this platform is $/€10 using most of the accepted methods we just discussed above. However, this amount is set at $/€20 for Bitcoin and EcoPayz payments.
Withdrawal limits generally depend on your preferred gateway with some like PayKwik accepting as little as $/€5 while the minimum you can withdraw via bank transfer is $/€50.
Nearly all transactions are instant except for bank withdrawals which take around 48 hours to process. Also, TempoBet doesn't charge anything from their end for both deposits and withdrawals.
Reliability
On matters reliability, we'd rate TempoBet at 7/10. While the company has met the standards for some of the key aspects we look at when reviewing betting platforms here on Betopin, we're convinced that it can do more in others.
For example, we're impressed with its efforts on areas like customer data safety as well as the reliability of their games and overall platform. However, on the flipside, we feel like there's still a big room for improvement for crucial aspects like customer support which we recommend a minimum of 24-hour availability and a live chat feature. Other areas we'd like to see amended are the reward scheme, more options for banking, and a better UX for the UK website.
TempoBet: How to Open an Account
Established in 2007, TempoBet is a commendable betting hub and a respected brand in the gambling industry. Besides offering over 30,000 sports events monthly to bet on, this sportsbook features plenty of betting markets and great odds to keep the players entertained. It also features a sleek website that works well, both on mobile and desktop.
Are you looking to be part of TempoBet? Join today by signing up an account quickly and easily.
Here's how to go about it:
How to Register an Account on TempoBet
Step One: Visit TempoBet
TempoBet allows you to register a new account irrespective of the page you're at when visiting the website. The "Register" button is located at the topmost section towards the left of the screen.
To register, click this button to access the registration form. Worth mentioning here is that TempoBet uses the reputable Thwart SSL protocol to prevent spying or theft of personal information.
Step Two: Fill the registration form
The registration form has two pages with each containing a list of information that you need to provide. The first page prompts you to:
– Choose a unique username (one that you can remember)
– Provide a valid email address (account verification link/code goes here)
– Enter a fairly secure password (combine alphabets, numbers, and other keyboard characters for a strong password)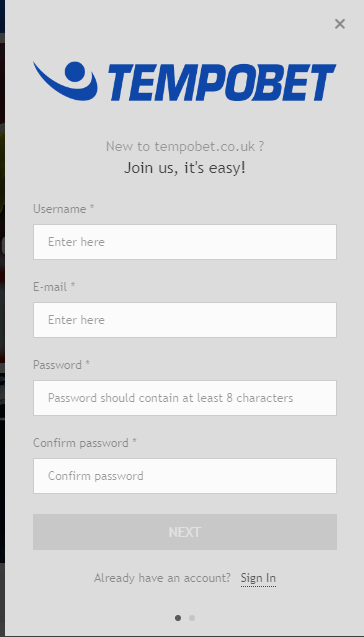 The second page prompts you to enter additional information for identity purposes. All the boxes whose titles are starred are compulsory to fill while the rest are optional.  These include:
Full name
Birthday date, year, and month
The country you're accessing TempoBet website from (in this case the United Kingdom and respective city)
Gender
Currency
Phone number
Address and Post/Zip code
Promo Code
Periodic deposit limits (daily, weekly, and monthly)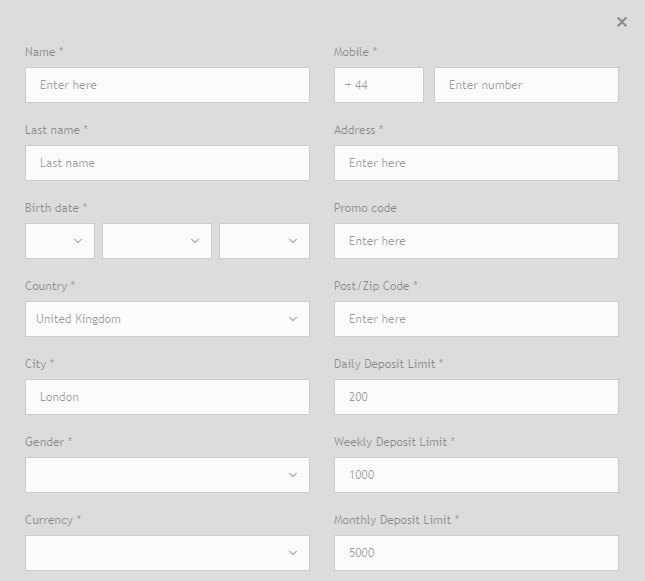 You can further choose to receive notifications for TempoBet news and promotions as well as specify the channel the company should use.
Step Three: Read TempoBet's terms and conditions
Carefully go through TempoBet terms and conditions to learn how the bookie handles its operations and your accounts information. Finish by ticking the checkbox to confirm that you're over 18 and have read and understood the terms properly.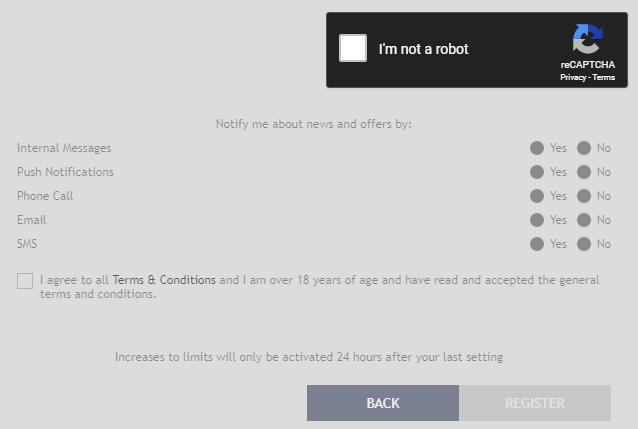 Step Four: Verify your account
After successfully filling your info and clicking 'Register', a verification email will be sent to the email address you provided earlier in the registration process. Click it to verify your account and get access to TempoBet services.
How to Begin Betting at TempoBet
If you wish to bet right away on an event at TempoBet, you'll need to first make a deposit to the newly created account. The sportsbook offers a range of deposit options including use of credit cards, Bitcoin, and a few e-wallets.
At this stage, fill in the necessary payment details including the amount you wish to transfer to your TempoBet account. Note that the deposit limits you specified while registering an account take effect here. After clicking 'confirm deposit details', your funds will immediately be available in your TempoBet account.

Business information
As we conclude our TempoBet review, here's a brief overview of this fast-growing sportsbook and casino platform.
To begin, the company was founded in 2007 but officially launched in 2008. It's operated by Vivaro Limited which is a limited company based in Malta but which also has offices in the UK. Our research shows that the company also runs a sister casino by the name Vbet UK. Unfortunately, there's very little information available online on details like its CEO, revenues, or the current number of employees.
Betopin's Verdict
As is evident in our review, TempoBet is certainly not the best sportsbook for the UK players due to the several weaknesses we've pointed out in this detailed post. However, it's also not one you can disregard, fully, especially if you're looking for a bookie with expansive coverage of football and other sports bets from popular leagues across Europe. Its comparatively high odds are particularly worth the hassle of playing here even with all these shortcomings.
As such, we leave it up to you to decide whether or not to give it a try – at least the site is legit and safe and this means you have very little to lose if you decide to sign up an account here. However, do so in full understanding that there are many other better alternatives especially if you're interested in better services like customer support and promotions. We wish you the best of luck!