NFL Betting: American Football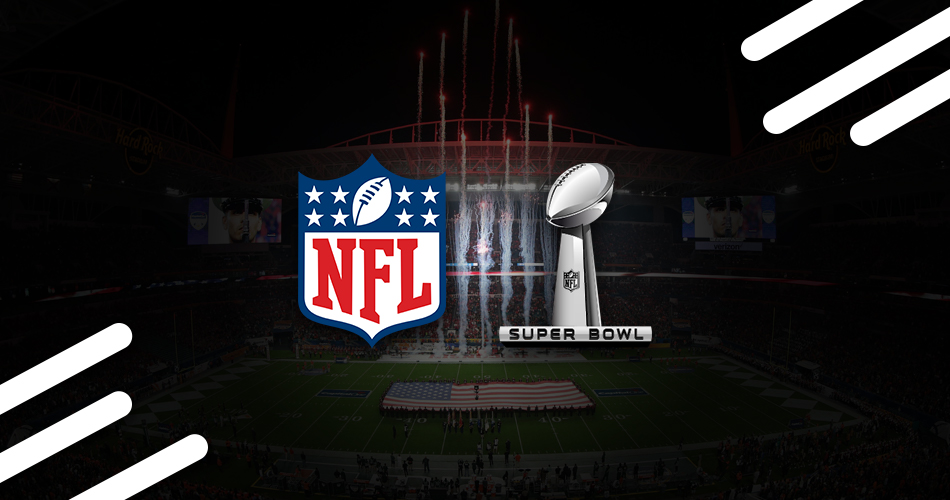 What is American Football?
Made up of two conferences The National Football Conference and The American Football Conference, the NFL is the National Football League which is considered by many to be America's greatest sport. It is a professional American football league consisting of 32 teams. These teams are split up into 8 divisions of 4 teams, 16 teams in each conference. The NFL season is a relatively short one in consideration with other sports. Regular season lasts 17 weeks with each team playing 16 games and receiving 1 bye week.
At the conclusion of the regular season 6 teams from each conference advance to the playoffs. Each division winner and two wildcard teams. Single game elimination tournament runs from here which ends with the Super Bowl usually held on the first Sunday in February. Champions of the NFC play the AFC champions to be crowned outright winners.
0% Commission On All Sports for 30 Days!
New Customers Only. 0% Commission on all bets for 30 days. This offer only available to users who deposit via credit or debit cards. User must input Bonus code upon registering. T's and C's apply. +18. Be Gamble Aware.
UK+IRE only. Promo code 'G30' required. Min first bet £/€10. Must be placed within 14 days of account reg. £/€30 credited as 3 x £/€10 free bets. Not valid with CashOut. Free bet valid for 7 days.T&Cs Apply.
The bonus code "FIRST" must be entered in the betting account under "Redeem bonus" within 10 days of the first deposit. After this time period, the customer is no longer able to claim the bonus. The maximum bonus amount is 50.00 EUR. Customers who deposit more than 100.00 EUR will get 50.00 EUR as a bonus from bet-at-home.com.
Get 0% Commission for 60 Days AND a £/€10 Cash Refund
New customers only. 0% commission rate on all bets settled within 60 days from registration. First £/€10 in losses refunded in cash. Min. deposit £/€20. Payment restrictions and T&Cs apply.
Bet €/£10 get €/£30 in Free Bets
You can use these Free Bets to wager on any sports, but they are not transferable to any of the other Betway products (ie Casino, Bingo, Vegas or Poker), which is fair enough, because the casino section has its own bonus. You need to choose which welcome offer you would like to accept, and then opt-in to receive it.
Bet €/£10 & Get €/£ 50 in Free Bets
Each bet must contain odds of 1/5 or greater. If you have a live bet on and if you partly cash out, then only the remaining stake will count toward the bonus bet. Your bonus bet cannot be used on the following, Casino, Games, Poker, Vegas or bingo. Bonus bet Credits also cannot be used on the likes of, Tote Pool bets or any other.
Bet £10 & Get £30 in FREE BETS
This is for new online customers only. Minimum unit stake of £10/£10 at odds of 1/2 or greater. Free bets are credited as 3 x £10/£10. All free bets must be wagered within 30 days. Paypal is excluded from this offer and it's only available on sportsbook bets. You need to 'Opt-in' for this.
A brief history of the NFL shows us that The National Football League was founded in 1920 as the American Professional Football Association. It began with ten teams and took on its current name in 1922. Only two teams although under different names now are founding members that still operate in the NFL – the Chicago Bears and the Arizona Cardinals. The Green Bay Packers founded in 1919 and joined the NFL in 1921 are the oldest franchise in operation from the same location.
League membership stabilized throughout the first few years and the first official championship was held in 1933. Throughout the world war, the NFL went through some changes such as the NFL stopped signing black players. After the war, the league became a more professionally run and by 1958 the championship game was being called 'The Greatest Game Ever Played' The NFL was fast becoming one of America's favourite sports.
In 1960 a rival league was founded called the American Football League. It was very successful and forced a merger with the NFL that resulted in a much wider league and the creation of the Super Bowl.
What is the Super Bowl?
The Super Bowl in its current format is the championship game of the National Football League (NFL) in American Football. It is played on the first Sunday of February of the next year of the actual regular season games i.e. the Super Bowl for 2019 will be played on the 2nd February 2020. The Super Bowl is identified by Roman numerals rather than the year it is actually being played. This year marks the 54th Super Bowl the first one being played in 1967 on January 1st.
The Super Bowl is the culmination of the season for NFL teams, the winners of each conference (AFC and NFC) face off against each other with the right to hoist the Vince Lombardi trophy as the winner. The team that wins also earns the right to call themselves the world champions. In its current guise since 1967 the Super Bowl was created during a merger of two separate leagues that created the NFL we have today. Super Bowl Sunday as its known in America has become an unofficial national holiday and year in year out is the most watch television broadcast of the year.
Many teams such as the Philadelphia Eagles and the New Orleans Saints have one 1 Super Bowl but quite a few teams have a long history of winning. The Pittsburgh Steelers and The New England Patriots are the are the winning most franchises with 6 victories each. These are followed by the Dallas Cowboys and the San Francisco 49ers at 5 each and then the Green-Bay Packers and New York Giants with 4. The winning most player in Super Bowl history is Tom Brady with 6 victories all for the New England Patriots. Other players with multiple rings throughout the years are Charles Haley (2 with the San Francisco 49ers and 3 with the Dallas Cowboys), and 39 other players have at least 4 Super Bowl wins such as Terry Bradshaw and Franco Harris to name a couple. Can Tom make it 7 this coming season? 
Season Betting Preview
It's no surprise that most sportsbooks have the New England Patriots in Super Bowl 54 betting markets as favourites to retain their championship. It's no surprise bookmakers would take such a stance –even with the recent announcement of Rob Gronkowski's retirement. Belichick and Brady have fashioned a dynasty in Boston like no other previously seen in the NFL and will look to add to it again this season.
Their recent Super Bowl victory marked their sixth title in franchise history and their 11th overall traipse into the coveted ultimate championship game. It's worth also adding that the latest victory marked their second in three consecutive treks to Super Bowl. Skeptic's will point to age both Brady (41) and Belichick (66) is getting up there. Drumming up all sorts of conventional arguments about father time catching up to the pair. Heck, those arguments were trotted out at the start of the 2018-2019 season but didn't the pair put paid on those notions.
Indeed, if there were ever a poster child for the old maxim 'aging like a fine wine', Brady and Belichick are top ballots.
In any event, this post is not about waxing lyrical over the New England Patriots, nor is it about predicting when their dynasty might fade into oblivion. Let's face it, it's bound to happen eventually. Nothing goes on forever.
Here it's about shedding light on some of the up-and-comers in the NFL betting markets and predict which is legitimate, which is on the rise and which –shocker of shocks – might be set to tumble.
Consider that Mahomes isn't a one-hit wonder. He's the real deal and he showed it last season. Then there is the long-time coach Andy Reid, who has accomplished stellar results for the franchise, mainly fashioning winning seasons of 9-7 SU or better since his induction. This sort of record points to a system that works and perpetuates itself. There is every reason to assume that this solid foundation, now in the grips of a legitimate star quarterback can only get better. And if their offensive prowess the last term were any indication, this should make a lot of teams nervous.
With all the said, the opening game of the season that is usually held for the Super Bowl champions will not be featuring in the opening game of the 2019/2020 season. Instead, it will feature the leagues oldest rival, The Green Bay Packers and Chicago Bears to mark the 100th season of the NFL.
The Season Ahead (2020/2021)
Cleveland Browns On the Rise
The Cleveland Browns are yet unproven in the NFL, but they are putting together the pieces of what is looking like a force to be reckoned with. The potential is there. Their defence is better. Their young quarterback Baker Mayfield has a lot of untapped potential. Now that they have added Odell Beckham Jr to the team. – whose talent is undeniable but whose focus on the game might wander at times (by mind wandering, I mean thinking of his next hair cut or dance move) – their offence could be a strong contender. They've also picked up Chiefs' cast-off Kareem Hunt, who has burnt a lot of bridges and is getting a second chance at the game. The case that they might be a bit short in the Super Bowl betting doesn't mean that they cannot live up to it and could well go all the way to the final in Miami.
Los Angeles Rams Could Crumble
Suppose an appearance in Super Bowl 53 warrants consideration for the upcoming season. The Los Angeles Rams have the complete team from top-to-bottom and a coach that has set a new trend in the NFL to bring down the average age of the coaching staff. As such, they do warrant consideration for your NFL bet.
That said, what might go against the Rams is historical trends. The pressure of repeating their previous season. Making successive trips into the Super Bowl is no mean feat; almost the exclusive territory of the New England Patriots, who are in a league of their own when it comes to Super Bowl appearances. It's rare especially with a young quarterback to go back-to-back in the NFL, which means the Rams have their work cut out for them in the 2019-2020 season and to come good on their 8/1 Super Bowl odds they will need to be on their A-game all season.
Keep in mind, they've added Blake Bortles as their backup to Jeff Goff; meaning a bet on the Rams is essentially by process of elimination a bet on Bortles. In fact, the Rams have seen their NFL odds grow in Super Bowl betting ever since the news of Bortles' signing.
Super Bowl 2020/2021
Super Bowl LIV is the 54th Super Bowl and the 50th in the modern format. It will decide the winner of the 2019 season. The game is scheduled to be played on the 2nd of February 2020 in Hard Rock Stadium, Miami Gardens, Florida
NFL/Super Bowl Betting
Football in America is of massive gambling interest, a lot of which happens illegally. According to sportsbooks in Nevada, a record 138.48 million was bet during the Super Bowl in 2017 but that pales in comparison to the American Gaming Associations estimate of 4.76 billion! It's a huge industry.
Super Bowl Betting
New England Patriots 15/2
Kansas City Chiefs 8/1
L.A Rams 8/1
New Orland Saints 17/2
Cleveland Browns 14/1
L.A Browns 14/1
Cincinnati Bears 16/1
Green Bay Packers 16/1
Indianapolis Colts 16/1
Philadelphia Eagles 16/1
Minnesota Vikings 20/1
Dallas Cowboys 22/1
Pittsburg's Stealers 25/1
Atlanta Falcons 28/1
Baltimore Ravens 28/1
Huston Texans 28/1
Jasonville Jaguars 28/1
Seattle Seahawks 28/1
San Francisco 49ers 28/1
Carolina Panthers 50/1
Tennessee Titans 50/1
Denver Broncos 66/1
New York Giants 66/1
New York Jets 66/1
Oakland Raiders 66/1
Tampa Bay Buccaneers 66/1
Buffalo Bills 80/1
Washinton Redskins 80/1
Detroit Lions 100/1
Arizona Cardinals 125/1
Cincinnati Bangles 125/1
Miami Dolphins 125/1
Most Popular NFL Betting Markets
Point Spreads
Point Spreads, also known as lines, spreads or sides these are the most common bets. Each game has a favourite which will be determined by a – sign and an underdog which will have a + sign. For example, if the New England Patriots were -7.5 favourites against the Miami Dolphins +7.5 underdogs, if you were to wager on the spread for the Patriots they will need to win by 8 points. If you choose the Dolphins you can lose by 7 or win. It is basically a handicap bet.
Money Lines
This is simply betting on an outright winner of a particular game. Wagering on the favourite will require more money to make some profit while wagering on the underdog will have a great reward if it wins.
Totals
Also known as over/under and these are nearly as popular as the spread. A bookmaker will decide a number for total points in the game and you wagering over or under i.e. Over 45.5/Under 45.5
Props
Bets on how certain players will behave or play in a certain game i.e. first TD scorer, anytime TD Scorer etc.
Where To Bet
There is no shortage of places to bet when it comes to the NFL, with all major bookmakers providing you with no end of markets to get stuck into, whether it be a 1st touchdown, winning margin and everything in-between you should not have any problem of finding a bet that suits your needs.
The following is a list of some of the bookmakers that provide NFL markets.
Conclusion
The unpredictability of the NFL brings a season full of excitement, upsets and drama. The NLF betting experts at BetOpin provide you with the best tips to get you in the end zone of all the top bookmakers.