Rugby World Cup Pool B – Betting Preview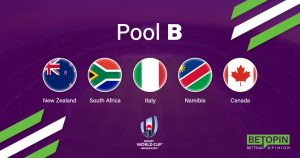 When it comes to the Rugby World Cup, there can only be one winner – on the field at least! The excitement and tension of a major international competition are enough to bring out the inner gambling fan in all of us, and you may be tempted to have a flutter on your favourite player or put money on a solid hunch. To help you out, we have the ultimate Pool B preview, which tells you who to watch and where to bet – this could be your chance to win!
Rugby World Cup: Pool B
So just how have the previous years treated our Pool B contenders? We did our research to bring you the top stats.
New Zealand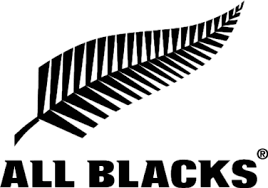 As the winners of the previous two World Cups, New Zealand are heading into the competition with a serious advantage, and a more than quiet confidence that they will make it a hattrick with a third victory. As we have seen in the past however, this is a sport where anything can happen, and they will need quick wits if they find themselves pitted against Ireland.
Head Coach –  Steve Hansen
Now in his seventeenth year of Test coaching, Hansen is a serious force to be reckoned with and boasts four World Rugby Coach of the Year gongs, as well as an impressive 90% win ratio, and a 2015 win under his belt.
Captain – Kieran Read
Captaining a team who are expected to do great things is a huge honour, but the pressure may also prove too much. Read himself has a formidable reputation as a great defensive player, and is sure to inspire his players.
Previous Rugby World Cup Best
New Zealand have a serious history of victory in this competition, having taken the top title in 1987, 2011 and 2015, and coming as runners up in 1995. In 1991 and 2003 they came third, 1999 saw them take fourth place, and they made it to the quarter-finals in 2007.
Key Players
As you may expect, New Zealand are a team brimming with talent, and there are a lot of important names to consider. Beauden Barrett and Ben Smith form a formidable back-line, while Kieran Read and Brodie Retallick create a super-strong front.
Current form
New Zealand may have had a shock in the recent warm-up matches, having lost their top spot title to Wales, followed by Ireland. They will be keen to make this up in the real thing, and this may give a valuable edge!
31 – man squad
 Backs
Beauden Barrett, Jordie Barrett, George Bridge, Ryan Crotty, Jack Goodhue, Rieko Ioane, Anton Lienert-Brown, Richie Mo'unga, TJ Perenara, Sevu Reece, Aaron Smith, Ben Smith, Brad Weber, Sonny Bill Williams.
 Forwards
Scott Barrett, Sam Cane, Dane Coles, Liam Coltman, Luke Jacobson, Nepo Laulala, Atu Moli, Joe Moody, Kieran Read, Brodie Retallick, Ardie Savea, Angus Ta'avao, Codie Taylor, Matt Todd, Patrick Tuipulotu, Ofa Tuungafasi, Sam Whitelock.
Fixtures
New Zealand v South Africa, 21/9/19
New Zealand v Canada, 2/10/19
New Zealand v Namibia, 6/10/19
New Zealand v Italy, 12/10/19
New Zealand Betting Odds
Outright winning odds: 6/5
To Reach Semi-Final: 1/7
To Reach ¼ finals: 1/1000
South Africa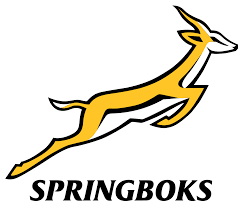 The 2015 World Cup is still a sore sport for South Africa, and their crushing defeat at the hands of Japan is sure to be revisited given that their old enemies are this year's hosts. As the winners of the 2019 Rugby Championship, however, it seems that they could be back to their best game, and ready to settle old scores!
Head Coach –  Rassie Erasmus
Formerly a Munster man, Erasmus is the force in charge for the next two Rugby World Cups and will have all eyes on him as he battles for victory…
Captain – Siya Kolisi
Having overcome injury and fitness battles, Kolisi is sure to have that fighting spirit which could be the secret to South Africa's success this year.
Previous Rugby World Cup Best
South Africa are no strangers to success, having won the championship title in 1995 and 2007, and took third place in 1999 and 2015. 2003 and 2011 saw them take the quarterfinals prize.
Key Players
The captain is sure to be a key figure in this tournament, especially when combined with Malcolm Marx, and these are just two of the players to watch.
Current form
The match on August 17th acted as the international debut for South African player Siyabonga Ntubeni, and things started well with a win against Argentina. This is a winning streak they are sure to want to maintain!
31 – man squad
 Backs
Damian de Allende, Lukhanyo Am, Warrick Gelant, Elton Jantjies, Herschel Jantjies, Faf de Klerk, Cheslin Kolbe, Jesse Kriel, Makazole Mapimpi, Sbu Nkosi, Handre Pollard, Cobus Reinach, Willie le Roux, Frans Steyn.
 Forwards
Schalk Brits, Eben Etzebeth, Lood de Jager, Steven Kitshoff, Vincent Koch, Siya Kolisi, Francois Louw, Frans Malherbe, Malcolm Marx, Bongi Mbonambi, Franco Mostert, Tendai Mtawarira, Trevor Nyakane,  Kwagga Smith, RG Snyman, Pieter-Steph du Toit, Duane Vermeulen.
Fixtures
South Africa v New Zealand, 21/9/19
South Africa v Namibia, 28/9/19
South Africa v Italy, 4/10/19
South Africa v Canada, 8/10/19
South Africa Betting Odds
Outright winning odds: 9/2
To Reach Semi-Final: 8/15
To Reach ¼ finals: 1/100
Italy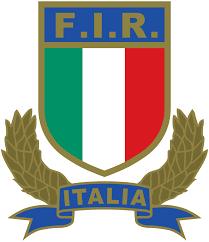 If Italy progress to a decent stage in this year's World Cup, they will be a legend and a lesson to all other players and cynics! Pitted against a tough set of players, this is a pool which could easily drag them down, and nobody is expecting anything too spectacular.
Head Coach – Conor O'Shea
Having defected from the Quins in 2016, O'Shea will have his work cut out trying to drive the Italian side to victory given their fierce competition.
Captain – Sergio Parisse
Parisse will take his place as captain for the Italian side, and this will make him the third player to feature in a total of 5 Rugby World Cups. The appearance will also nab him his 141st cap, and he is a leader who is not to be underestimated despite Italy's dismal outlook in this year's tournament.
Previous Rugby World Cup Best
Italy do not have a particularly strong history in the competition and have failed to reach the quarter-finals during any year of the contest. They have finished third in their pool in every tournament apart from their worst year – 1999.
Key Players
Sergio Parisse is the main player to keep an eye on, and the most likely candidate for any excitement or action.
Current form
Italy showed promise in their match against Russia, but sadly this seemed to be short-lived, and they will need to up their game to have a chance in the big matches.
31 – man squad
 Backs
Tommaso Allan, Mattia Bellini, Tommaso Benvenuti, Giulio Bisegni, Callum Braley, Michele Campagnaro, Carlo Canna, Jayden Hayward, Matteo Minozzi, Luca Morisi, Edoardo Padovani, Guglielmo Palazzani, Tito Tebaldi.
 Forwards
Luca Bigi, Dean Budd, Oliviero Fabiani, Simone Ferrari, Leonardo Ghiraldini, Andrea Lovotti, Maxime Mbanda, Sebastian Negri, Sergio Parisse, Tiziano Pasquali, Jake Polledri, Nicola Quaglio, Marco Riccioni, Federico Ruzza, David Sisi, Abraham Steyn, Federico Zani, Alessandro Zanni.
Fixtures
Italy v Nambia, 22/9/19
Italy v Canada, 26/9/19
Italy v South Africa, 4/10/19
Italy v New Zealand, 12/10/19
Italy Betting Odds
Outright winning odds: 2500/1
To Reach Semi-Final: 200/1
To Reach ¼ finals: 20/1
Namibia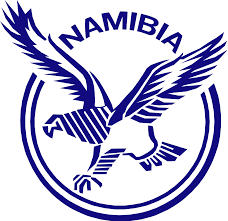 Like Italy, Namibia have found themselves as part of a very tough group, and this could be a huge factor is they crash out early this year. They have also lost the majority of their household names, and fans, in general, lack high hopes. It is worth noting however that they won the Rugby Africa Gold Cup, and it may be too early to count them out altogether!
Head Coach –  Phil Davies
Formerly a Wales native, Davies has a history of quiet success, having kept Nambia firmly in control of the Africa Gold Cup for the last three years. he is likely to want to add a World Cup to the collection sooner rather than later!
Captain – Johan Deysel
Deysel was a surprising choice to captain the Namibian side, but in a team which has had its fair share of shakeups in recent months, there is a real sense that anything could happen here!
Previous Rugby World Cup Best
Despite having qualified for the competition successfully every year since 1999, Namibia have always failed to make it to the quarter-final stage, and this year is unlikely to be a huge shock.
Key Players
Jacques Burger was the major name in the lineup, but his retirement has meant that the spotlight now falls to captain Johan Deysal, and Tjiuee Uanivi, a champion from the 2015 Rugby World Cup.
Current form
Namibia enjoyed a strong run during the warm-up matches and performed better than previously anticipated.
31 – man squad
 Backs
Chrysander Botha, Darryl de la Harpe, Johan Deysel, Janry Du Toit, JC Greyling, Dumarcho Hartung, Eugene Jantjies, Helarius Kisting, Leslie Klim, Cliven Loubser, Oderich Mouton, Justin Newman, Jay-C Olivier, Chad Plato, Macho Prinsloo, PW Steenkamp, Damian Stevens, Johan Tromp, Russel van Wyk, PJ Walters, Gino Wilson, JC Winkler.
 Forwards
Graham April, Jason Benade, Adriaan Booysen, Renaldo Bothma, Reinhardt Carelse, Aranos Coetzee, Wian Conradie, AJ De Klerk, Thomasau Forbes, Prince Gaoseb, Max Katjijeko, Simon Kanime, Rohan Kitshoff, Adriaan Ludick, Ruan Ludick, Obert Nortje, Andre Rademeyer, Johan Retief, Desiderius Sethie, Nelius Theron, Mahepisa Tjeriko, Tjiuee Uanivi, Louis van der Westhuizen, Torsten van Jaarsveld, PJ van Lill, Niël van Vuuren, Janco Venter, Casper Viviers.
Fixtures
Namibia v Italy, 22/9/19
Namibia v South Africa, 28/9/19
Namibia v New Zealand, 6/10/19
Namibia v Canada, 13/10/19
Namibia Betting Odds
Outright winning odds: 7500/1
To Reach Semi-Final: 1500/1
To Reach ¼ finals: 1000/1
Canada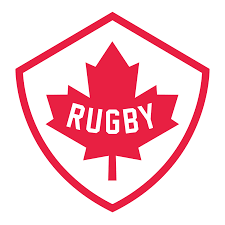 A last-minute addition, Canada will be hoping to rewrite history and overcome their dismal reputation when it comes to the Rugby World Cup. Their last appearance in 2015 saw them lose al four of their matches, and the tough competition this year means they will have to seriously fight to change their fortunes in 2019.
Head Coach – Kingsley Jones
Jones is a coach who has yet to impress as yet, and has had a fairly unimpressive and disappointing reign thus far.
Captain – Tyler Ardron
The 2019 tournament marks Ardron's second attempt to captain the side, following an injury-riddled disappointment back in 2015. Canada will be heavily leaning on him to lead the team back to their former success after a noticeable decline in quality over the last few years.
Previous Rugby World Cup Best
Apart from reaching the quarterfinals in 1991, Canada have a fairly unimpressive history in the tournament, and this is the furthest they have ever reached.
Key Players
Canada offers an experienced squad, and names such as Tyler Ardron are serious contenders for the key players this year. This may help their chances of success.
Current form
Canada struggled in the warm-up matches, and there is a risk that this will seriously knock their confidence going forward.
31 – man squad
 Backs
Nick Blevins, Jeff Hassler, Ciaran Hearn, Ben LeSage, Phil Mack, Jamie Mackenzie, Gordon McRorie, Peter Nelson, Shane O'Leary, Patrick Parfrey, Taylor Paris, Conor Trainor, DTH van der Merwe.
 Forwards
Tyler Ardron, Kyle Baillie, Justin Blanchet, Rob Brouwer, Hubert Buydens, Luke Campbell, Matt Heaton, Eric Howard, Jake Ilnicki, Cole Keith, Conor Keys, Evan Olmstead, Benoit Piffero, Andrew Quattrin, Lucas Rumball, Djustice Sears-Duru, Mike Sheppard, Matt Tierney.
Fixtures
Canada v Italy, 26/9/19
Canada v New Zealand, 2/10/19
Canada v South Africa, 8/10/19
Canada v Namibia, 13/10/19
Canada Betting Odds
Outright winning odds: 7500/1
To Reach Semi-Final: 1000/1
To Reach ¼ finals: 500/1
Conclusion
It is pretty clear that there is a major winner in this category: the All Blacks will have to do something pretty drastic to risk being knocked off the top spot! South Africa may be strong runner's up, but it seems clear that New Zealand has the highest chance of adding another victory to their long list.
Can anyone from Pool A stop the mighty All Blacks?
How To Bet On Rugby
If you are new to Rugby Union betting then fear not, we have you covered with our,  How To Bet on Rugby Union Guide.
Jump into the other Pools
Catch up on all of Poll As action click here
Catch up on all of Poll Cs action click here