If you are looking for similar sites to Betfair, we've put together a quick Betfair competitor comparison.
You can either read on for a summary of similar Betfair sites or compare betting exchanges in our comparison tables.
Firstly, what is Betfair?
When it comes to well-known betting exchanges, there is no denying that Betfair tops the list. They have a solid reputation as one of the best known and most respected betting exchanges in the world and were founded in the late '90s by Andrew Black and Edward Wray, two keen participants in the gambling industry.
They proposed an idea that was pretty revolutionary at the time: an alternative to traditional bookmakers and gambling. Instead, they introduced a betting exchange, a plan that is designed to work in a way similar to typical stock exchanges.
One player would initiate a wager, using specific odds and a particular price, and this wager is then posted to the exchange. If another player liked the look of the deal, they could agree to make the wager, and the bet then took place between the two players. Betfair would take a small fee as a commission, but the transaction was entirely player to player. This concept was a massive departure from the traditional gambling model, which saw a player place a wager against the bookmaker.
The site was launched in 2000, and, perhaps unsurprisingly, incurred the wrath of bookmakers across the country. This reaction was hardly helped by the initial advertising campaign, which saw Wray and Black dressed as gangsters, making their way behind a funeral procession in which a coffin, representing the bookmakers, paraded through the streets of London. The message was crystal clear: this was a brand new betting model, designed to change the face of the gambling market forever.
While the bookmakers may have been unhappy, the campaign was considered an enormous success. Word spread like wildfire across the industry, and the negative responses only increased the publicity of the brand. As the old adage goes, all publicity is good publicity, and many curious punters started to create accounts in order to see just what the fuss was about.
At the time, Betfair had just one major competitor: Flutter, a rival betting exchange. The market was still shiny and new, and the primary key to success for both sites was the ability to attract players in order to post and accept wagers; without a respectable amount of participants, the whole site would fail. Logic dictated, therefore, that the two sites should merge two become one single exchange. This move not only eliminated the issues of competition, but it also increased the prospective customer base, making success far more likely. Betfair was the more successful site at the time, and so used a small amount of their capital to purchase Flutter, with the transaction occurring in January 2002.
Another conflict arose shortly after, this time concerning the eligibility of players from the USA. Many bookmakers and betting sites were taking full advantage of the fact that the US was a vast area in terms of gambling laws, and so had the potential to be very lucrative for the right clients. Wray and Black, however, remained wary and decided early on in the history of the brand that they would not accept any bets from the USA until the country reached a consensus on the legalities surrounding online gambling.
Their reluctance and hunch paid off; the 2006 UIGEA Act and the arrest of the owners of Bet on Sports occurred shortly after and would have had the potential to tarnish and even destroy the Betfair brand had they been involved or implicated. The strict refusal to allow US-based bets helped them avoid not only a major scandal but potentially the loss of their business.
Betfair grew from strength to strength in 2003 and 2004, with entrepreneur awards and business accolades being handed out left right and center, and the company continued to grow and expand. One of the main concerns was that the bets wagered were not being accepted at a high enough rate, a natural consequence of cutting out the bookmakers from the equation. With this in mind, Betfair realized fairly early on that they would need to add more strings to their bow to ensure continued long term success, and were smart enough to bide their time, waiting until they were secure and strong, and then striking out with new endeavors.
By 2004, they were in a strong market position, and this allowed them to start developing and adding new products to their range. The first new offering was a new poker site on the Cryptologic Poker Network: Betfair Poker. This act had two main advantages: players had an alternative way to spend their money and enjoy their time while they were waiting for the exchange to accept their bets, and Betfair introduced a brand new revenue stream, independent from the exchange. In addition, the brand was working hard to build up new sponsorship deals and agreements, and this lead to their sponsorship of some top soccer teams and major names in the world of English football. All of these were great ways to maintain the financial status of the brand while allowing them space to expand into different areas, and gain a greater reach and stronger reputation within the online gambling industry.
Growth continued in 2005 and 2006, and in 2006 Betfair became the official sponsor of one of the most-watched horse races in the world: the Grand National. This success was a massive boost to their exposure, offering a chance to develop a global reputation, and allowing Betfair to receive licenses from Malta and Austria to expand their range. 2006 also saw the introduction of the online casino, and this helps to establish Betfair as a comprehensive, all in one gaming website – everything you could ever want was located in one convenient place. The mobile site also went live during this time, allowing players to engage from anywhere in the world, at any point during a live sporting event, and taking full advantage of the huge increase in mobile technology.
In addition to extending the brand, 2006 also saw Betfair sell 26% of the business to SoftBank, in a deal which saw the company valued at an amazing £1.5 billion. This move allowed the founders to invest in an array of other companies and bring these under the Betfair brand. In 2010, Betfair was floated on the London Stock Exchange for the first time, and on October 22nd, the brand raised £200 million this way.
Despite the success, there were issues; Betfair was losing large portions of revenue from wagers, which
were posted to the exchange, but never accepted by another player – up to 30% of all bets were going unmatched. This lad to the opening of a 'traditional' style sportsbook in 2012 and this was a perfect solution to claw back the lost 30%, while still offering something fresh and new under a now established brand. Betfair also moved from Gibraltar to the UK to help save on taxes and boost profits, and in 2015, they announced another major coup: a merger with Paddy Power, another large publicly-traded company on the LSE. The terms of the deal saw Betfair with 48% of the new company, and the merger is still the largest gaming company by revenue.
As time moved on, Betfair was also keen to move into the US market, acquiring a license for the New Jersey market, which operated under strict regulations, and this is where their casino site still runs from.
The site continues to innovate and continues to hold a strong position within the market.
Pros of Betfair
Some of the top advantages of Betfair include:
● Customers control the prices on the market, not Betfair, and they are usually better than the prices offered by traditional bookmakers.
● If you are unhappy with the price of a particular event, there is the option to ask for a higher price, in the hope that another customer will lay the bet.
● Stakes are not limited, unlike a traditional bookmaker
● Access to more obscure markets and less popular events
● In running betting is available, allowing punters greater flexibility
As one of the oldest running sites, it comes as no surprise that Betfair is hugely popular amongst online gambling fans. If you still aren't convinced, however, there is no need to worry; there are plenty of alternatives to choose from!
Here are the top three sites similar to Betfair.
1. BetDaq Betting Exchange
Another instantly recognizable name is, of course, Betdaq, and these guys have worked hard to establish themselves within the market. The brand burst onto the scene in 2000, around the same time as Betfair. Betfair won that battle, quickly overtaking their rival in popularity, and dominating the online gambling scene. Betdaq continued to struggle until 2013, when they were purchased by Ladbrokes, imitating Betfair's successful model of integrating two products into one site. This move, combined with lower commission rates than Betfair, has seen their popularity escalate in recent years, and it seems that the gap is closing.
Betdaq offers a great range of sports, with horse racing and football taking pride of place as the most popular. There is an excellent variety of options across the board, with access to the top races, games, matches, and events as they happen.
While Betfair may remain the best-known exchange, there are a few features of Betdaq, which give it a serious run for its money. These include:
● Better rates: One area which really helps Betdaq to stand out is their commission rebates and rates; these are decidedly more generous than Betfair and offer customers a chance to grab a much better deal.
● No charges: unlike Betfair, there are no premium charges with Betdaq, and this makes them seriously tempting!
● Greater loyalty: Betdaq runs regular promotions to help reward loyal customers, including 2% on bets offered within the market, and up to £150 back every Wednesday to any customers to use trading tools. Betfair, by comparison, scores pretty poorly on the loyalty scale.
Freebies and Offers
Another major benefit of Betdaq is their Welcome Offer, which sees new players rewarded with a £10 free bet just for signing up to the site! Upon registering, all that is needed is a promo code, and this is a fantastic way to kickstart your journey with the exchange.
They also offer a lucrative 'Bet 10 get 10' promotional deal, which can allow you to maximize your winnings. If you place a £10 bet within 14 days of opening your account, Betdaq will reward you with an impressive 100% match, offering a free £10 bet as a welcome.
Betfair may have the current lions share of the market, but with zero fees, high rates, and a commitment to rewarding loyal customers, they may well find some serious competition in the form of Betdaq.
BetDaq: The second biggest betting exchange. Founded in Ireland a year later in 2,000. They currently offer a 2% commission versus Betfair's 5%. You can also receive your first months back commission if you open a new account.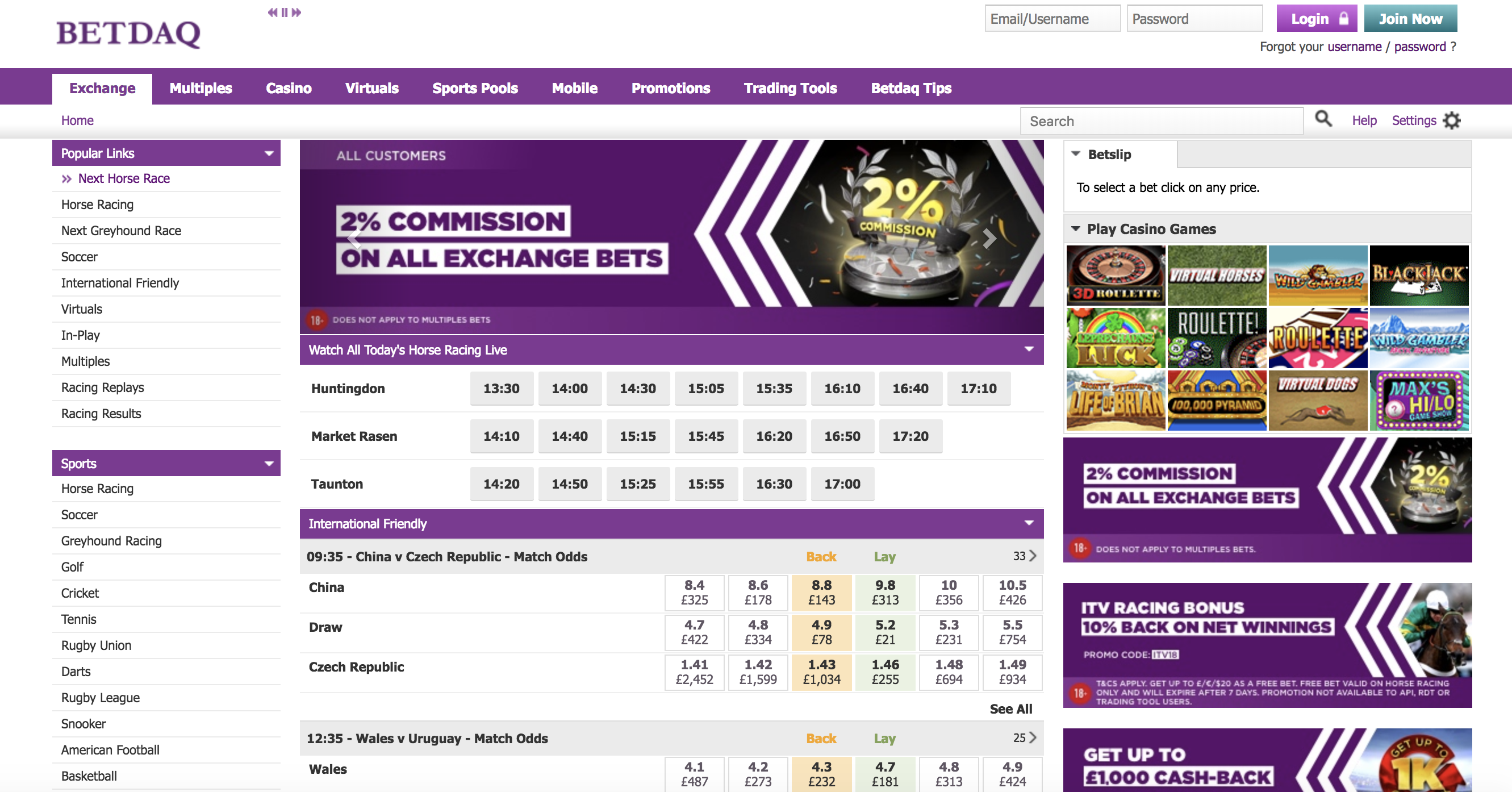 2. Smarkets Betting Exchange
The third pick on our list is Smarkets, a name that is rapidly increasing in popularity. They emerged onto the scene back in 2008 and was the brainchild of several finance and software engineers, backed by private investors. Like the other examples we have looked at, Smarkets offers peer to peer betting, allowing users to set their own odds and bet against one another rather than a bookmaker. This can be done before a match or event begins, and live betting also means that punters can join in at any time during the action.
The very first version of Smarkets was launched in 2009, starting life as an exclusive, invite-only platform to help test the market. The business officially opened to the public in February 2010, and surpassed £1 million in lifetime trade in October of that year; not too shabby by anyone's standards! The run of good luck continued, with the firm being named as one of 10 European companies to lead the charge in Europe's battle to take on Silicon Valley, an accolade placed on them by the Wall Street Journal. They began expanding in February 2011 by adding horse racing to their vast list of markets, and this proved a roaring success – it is not one of their most popular sporting options. 2011 carried on in the vain of success, with Smarkets raiding a $1 million funding round lead by passion Capital in May, and surpassing £50 million lifetime trades in November.
The brand continued to expand, adding the Euro as an official currency in February of 2012, and surpassing £100 million lifetime trades by April of the same year. They also introduced a commission stricture of 2% – this remains one of the lowest in the industry. The following year saw this trend for expansion continue, with Android customers being able to access the new Smarkets App, surpassing £250 million in lifetime trades, and a reinvention of sorts, with a new brand identity to tackle an ever-changing market.
The start of 2014 saw the brand launch an innovative new zero-delay management system for live football markets, a brand new affiliate scheme, and the addition of 11 new currencies to demonstrate Smarkets commitment to global expansion. In 2015, records were broken at Cheltenham Festival, with the business surpassing the £1 billion lifetime trades marker, moving to new premises in St Katherine Docks, and becoming a Global Betting Partner at the Queens Park Rangers, moving to the front of shirt sponsor the following year.
In 2017, Smarkets was placed 5th on the Sunday Times Tech Track 100 list, 4th in the annual Deloitte Fast 50 ranking of tech companies, and the 25th fastest growing company in Europe in the prestigious FT1000 ranking. They also opened a US office in sunny LA, launched an iOS and Android app, and moved to Tube advertising – all to roaring success. The next few years saw the introduction of live price charts, a racing partnership with the Jockey Club, and work with Oddschecker and Squawka, as well as a fantastic trade of £57.2 million on the 2018 Grand National, and $415 million across the World Cup; the England v Sweden quarter-final is one of the most traded football matches in history.
It goes without saying that Smarkets has a pretty impressive history, and this alone gives them a status to rival the mighty Betfair. But where do they come out in front?
● Cutting edge platform – the CEO of Smarkets, James Trost, has a solid background in software engineering and finance, and see,s dedicated to bringing these skills to the business. The team behind Smarkets is a powerhouse of technical knowledge, and their platform was created using the Erland language and provides resource-oriented API. The end result is super fast, fiercely efficient, able to cope with thousands of transactions every second, and capable of processing transactions in milliseconds. Given time, this is a platform that is almost guaranteed to put Betfair to shame.
● Commission – once again, Betfair falls short in its commission, with Smarkets sneaking in at a market-beating 2%. This makes it a massive appeal for those looking to get away from the stifling rates of Betfair.
● Ease of use – there is no denying; when it comes to usability, Smarkets are streets ahead. This is a trend that is only likely to continue, given their commitment to the latest technology.
Freebies and Offers
Betfair may have a decent welcome deal with 0% commission for new customers, but Smarkets have the edge by offering cold hard cash. All newbies will enjoy a refund of £10 directly into their account, as long as you make an initial deposit of at least £20 and lose the bet. This is an excellent bonus for new players; there is no way you can lose when you make your first deposit, and is a very promising welcome to the site! In addition, Smarkets run regular deals, promotions, and offers, which often outrank those offered by Betfair – if you keep a sharp eye, you can net a tidy profit here.
Smarkets may be younger than Betfair, but they have a track record which is seriously impressive, and shows no signs of slowing down. Their biggest threat to other exchanges is their platform; with the latest in cutting edge technology on their team, they look set to take the lead in terms of usability, up to date offers and deals, and the latest in trends and tech to keep customers satisfied.
Smarkets: Founded in 2008, by an American, Jason Trost (you can read our Smarkets CEO interview here) Smarkets betting exchange is growing rapidly and winning business as a similar site to Betfair by offering better layouts and an all-important £10 risk-free bet for new customers.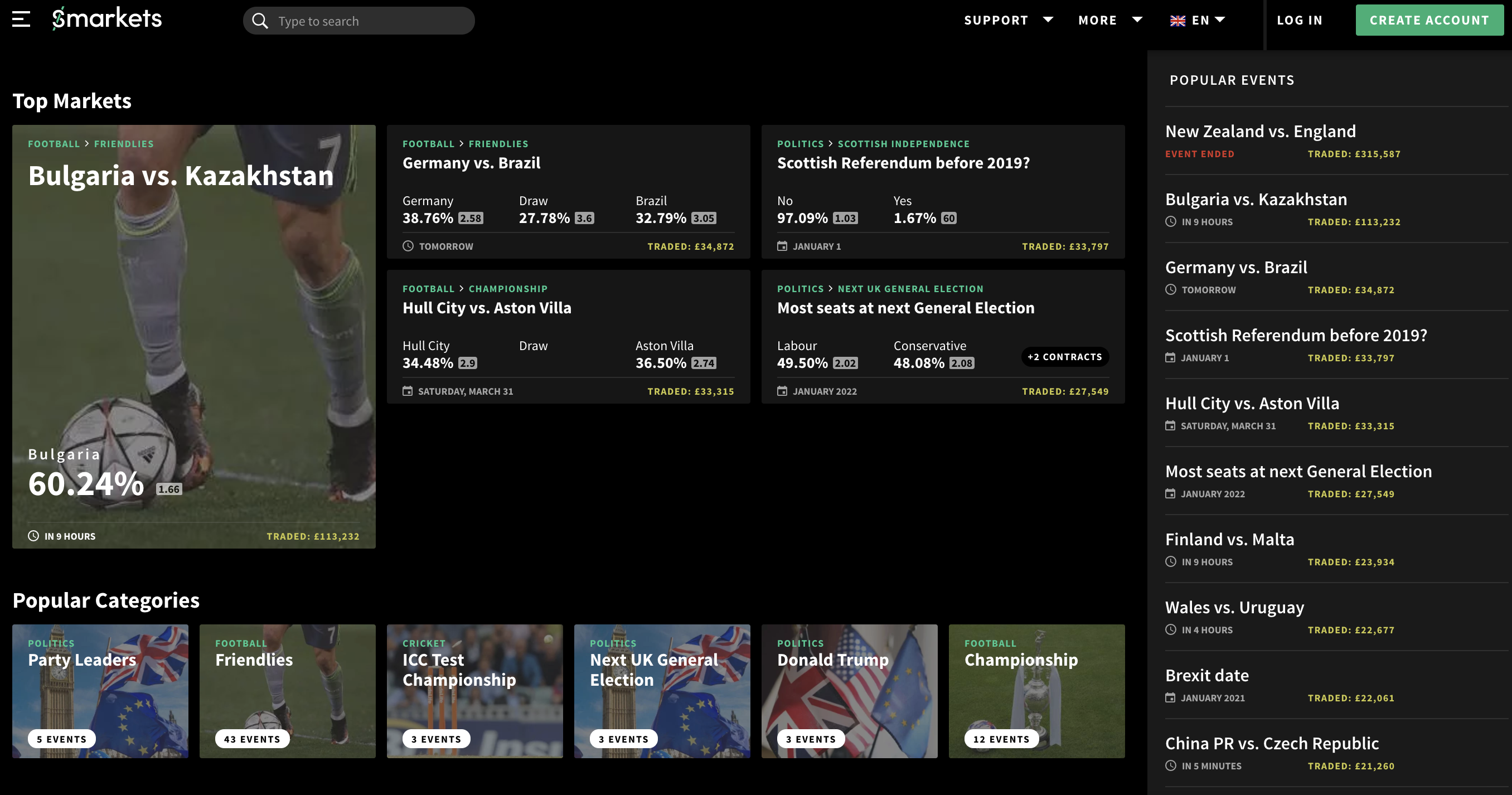 3. Matchbook Betting Exchange
H3 – Matchbook
Ever since its launch in 2005, Matchbook has slowly grown and expanded to carve out a respectable niche within the industry. Like other exchanges, they offer an alternative to traditional betting, allowing punters to bet against the bookie via fixed odds, and paying a commission fee to the exchange.
Over the years since their initial inception, Matchbook has worked tirelessly to secure a spot in the industry, and have seen the brand grow from strength to strength to emerge as one of the leading names in the betting exchange world. They have added new sports, markets, and events, kept up with mobile technology thanks to apps and mobile functionality and continued to offer some seriously tempting deals and offers, which are great at getting new customers through the door while ensuring the loyalty of long term regulars. This is a company which may be young compared to Betfair, but they have proven that they can think on their feet, react to changes, and work smarter and harder to attract the attention of those looking for something new, and an alternative to the traditional favorites.
Like the other exchanges we have discussed, Matchbook offers a rich array of sports to pick and choose from. It comes as little surprise that football takes a spot as one of the most popular, along with basketball, horse racing, American football, and golf. Each of these categories contains a great range of events and options, and there really is something to suit everyone! The range may not be as broad as that offered by some of the more prominent names, but each category has plenty of opportunities to play and win.
So just how does Matchbook beat Betfair? There are a number of advantages which make it the better choice:
● Welcome offer: the Matchbook welcome deal may be a little complicated compared to the straightforward offering of Betfair, but it could actually see you £10 better off, and this makes it a popular pick for those who are looking to get the absolute maximum for their money.
● Commission: Matchbook also wins when it comes to comparative commission charges. Betfair adds a whopping 5% commission onto every wager, and this can seriously add up if you are fortunate enough to enjoy a bigger win! Matchbook, on the other hand, only has a commission rate of 2%, and this is sure to be much more favorable to some customers.
Free Bets and Offers
It goes without saying that the right promotional deal can do a lot to influence customer loyalty, and Matchbook is clearly up to date on the value and importance of a good offer. New customers will be able to get their hands on an impressive free £10, just for signing up to the site and entering the promotion code MAXSPORT. The free credit will then be automatically added to your account, and this can be a great way to kickstart your journey with the exchange.
Matchbook may not have the same range of sports and markets which Betfair can offer, but they nonetheless provide a satisfying alternative to players. The lower commission rates are a massive draw, and a good incentive if you are looking to try something new. In addition, there are plenty of tempting deals and offers to benefit from!
Matchbook: This betting exchange has a slightly American feel to it, there is a bit of a focus on US sports such as NFL and Hockey. Which is OK I suppose if you are in America. Matchbook betting exchange is a little more opaque than Smarkets, BetDaq and Betfair, they don't even have a Wikipedia page. Make of that what you will. You can read some Matchbook betting exchange reviews on our review page or you can sign up now and receive a £10 RISK-FREE Bet.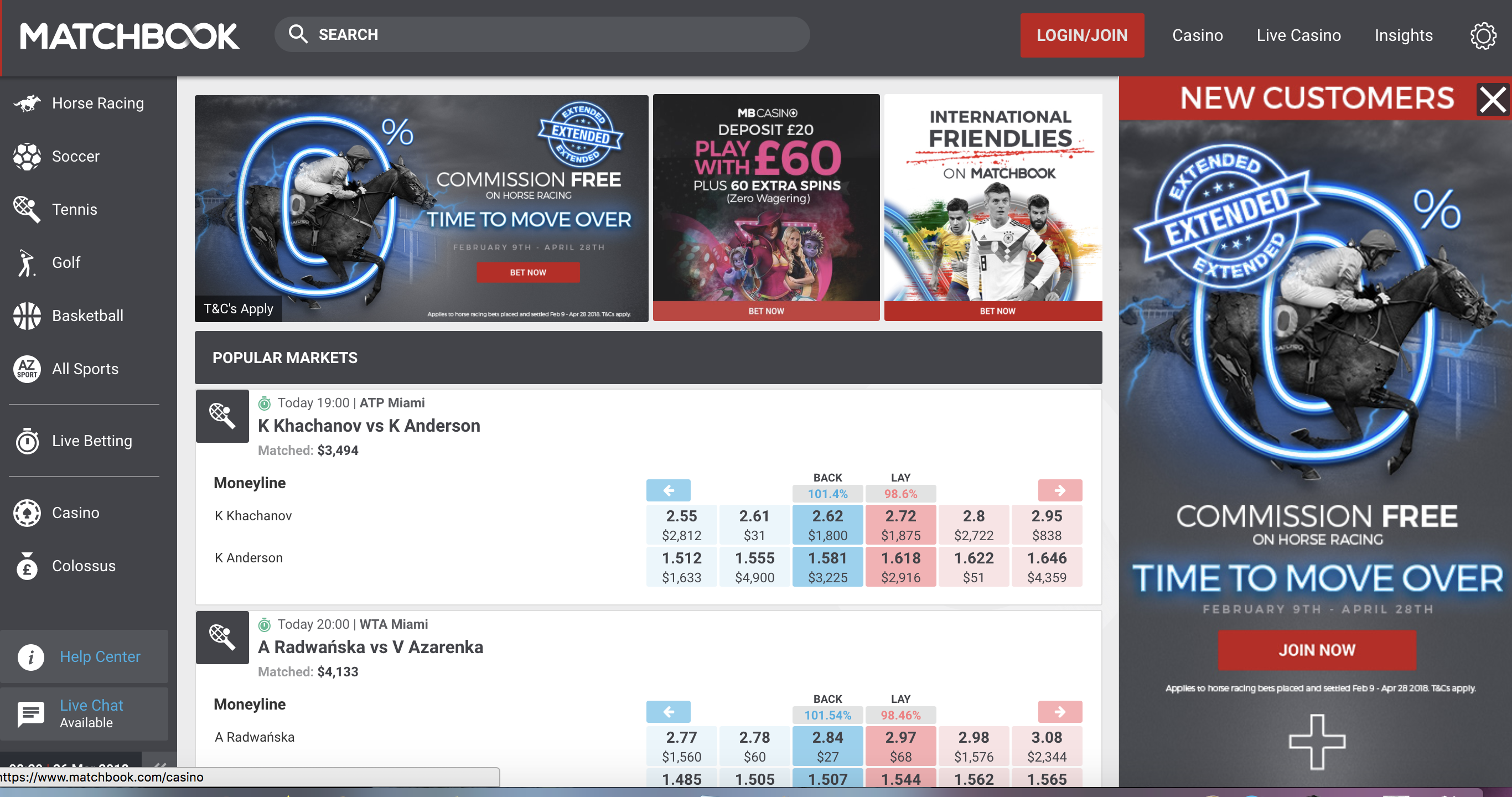 Is Betfair still the betting exchange for you?
Once upon a time, Betfair was standing in front of a clear goal. As the only betting exchange on the market, they had freedom, flexibility, and very little competition. Years later, the goalposts have shifted, and new exchanges are giving them a serious run for their money. With lower commission rates, better perks and deals, and the hottest in technological advances, this is a rapidly changing landscape, with plenty of choices for those looking for an alternative.
Despite all this, it is well worth remembering that Betfair has a strong reputation for a good reason; they are experienced, knowledgeable, and great at what they do. While it is always fun to try something new and important to stay clued up on the range of choices and options available, Betfair is faithful, familiar, and still worth returning home to.