This bookie has closed down
Stratabet Has Closed down and is no longer active, click on the button below to to view our recommended Bookies
A while ago we did a quick Stratabet review and looked at whether a bunch of random bets could make you money versus professional betting tips based on statistical analysis. Interestingly enough both did, but the outcome from using statistical analysis yielded a greater return with less risk.
So, we took a closer look at where that statistical analysis came from, Stratabet.
If you've not used Stratabet before, it's a concept borrowed from the financial markets. i.e. develop some software that scans historic events and trends within an asset class (but instead of the stock market it's football). Then, test, rate and rank them according to how strong the signals are and use the auto generated results in conjunction with human analysis as stimulus for betting.
What is particularly interesting about Stratabet is that they don't just rely on publicly available data, they have a team of over 50 experienced analysts collecting proprietary data from games that no-one else has, making the Stratabet service unique.
But what does it actually do and can it make you any money?
That's all we want to know really, so for this Stratabet review, we took the service out for a test drive over the course of a couple of games.
This is the second incarnation of Stratabet and the best and simplest so far. Stratabet started out as a sort of Bloomberg for sports trading, with lots of data, screeners, feeds and the ability to execute bets straight from the platform to a chosen betting exchange.
Now, it's much more user friendly with a simple interface that shows all the upcoming matches and a 1 to 5 star rating of the betting signals generated.
In reality though, fair weather punters are going to dip in an out of the signals on games they fancy and probably only trade the 4 and 5 star signals.
So that's what we did, there was a 4 star signal for total goals for Strasbourg versus Guingam in the Ligue 1 and 5 star total goals signal for Huddersfield Town versus West Ham United in the Premier League.
But, before we go into how both bets settled, a quick bit about the key features of Stratabet and how they present betting opportunities.
Stratabet betting signals
Once you're logged in you get access to the dashboard, which is essentially a feed of upcoming football matches and the signals that are automatically generated by the Stratabet algorithm with the betting market and how highly it is ranked, 5 stars obviously having a greater conviction.
For this Stratabet review we'll demonstrate the platorm using the bets and trades put on for the 5 star signal for over 2 goals in Huddersfield/West Ham.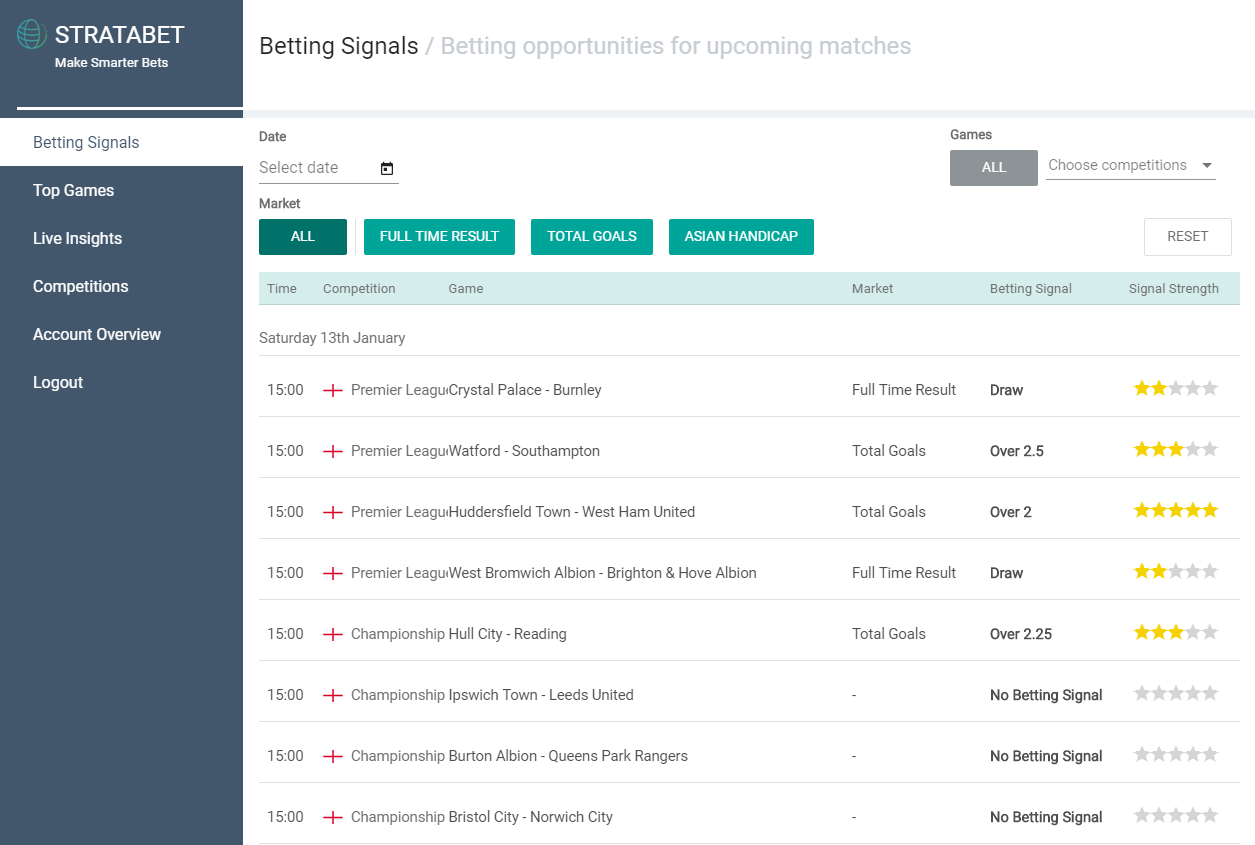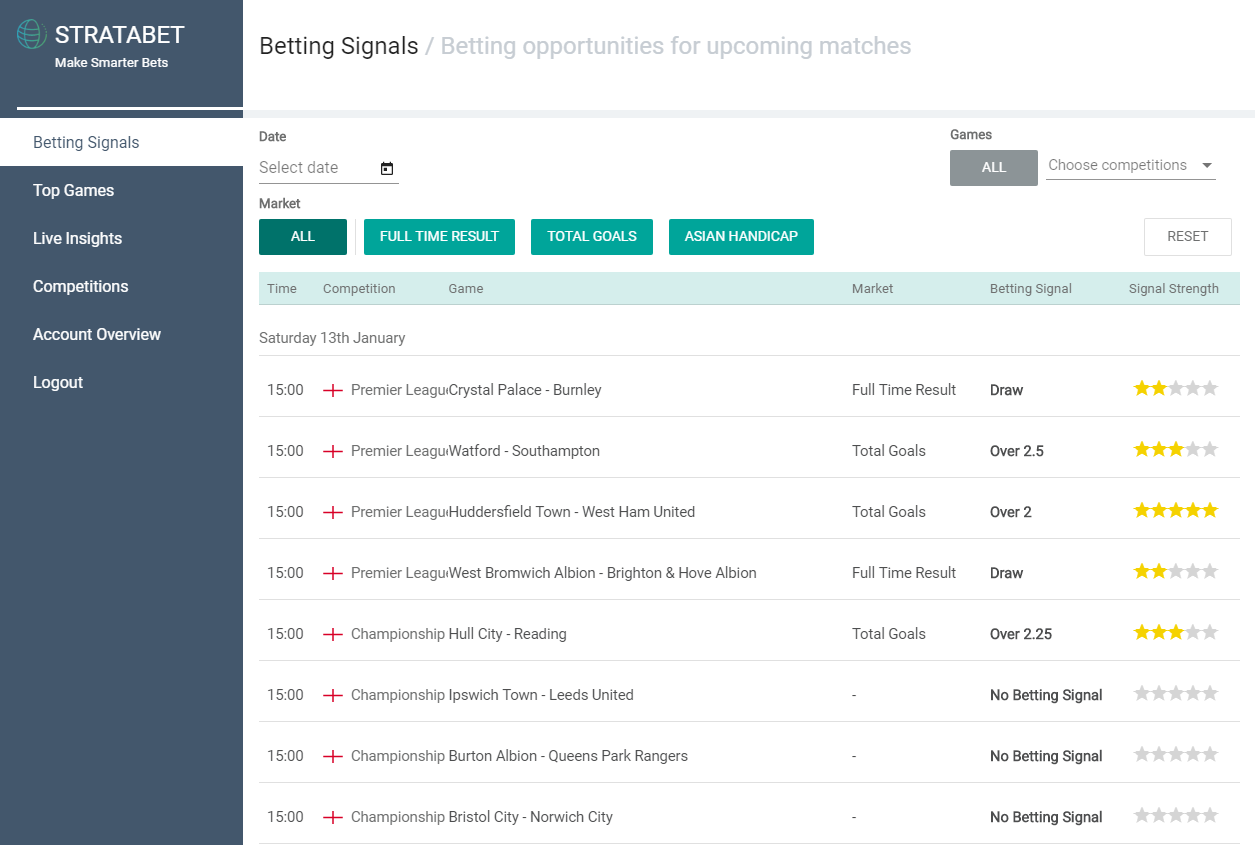 Stats, odds, signals and graphs
Once you've chosen your market, you get a little more info on why the betting signal has been generated. You get betting returns on the previous 10 games from fair and actual results as well as the best odds sourced from betting exchanges available at the time.
You can drill down even further into the stats, with lots of graphs that show absolute and relative data.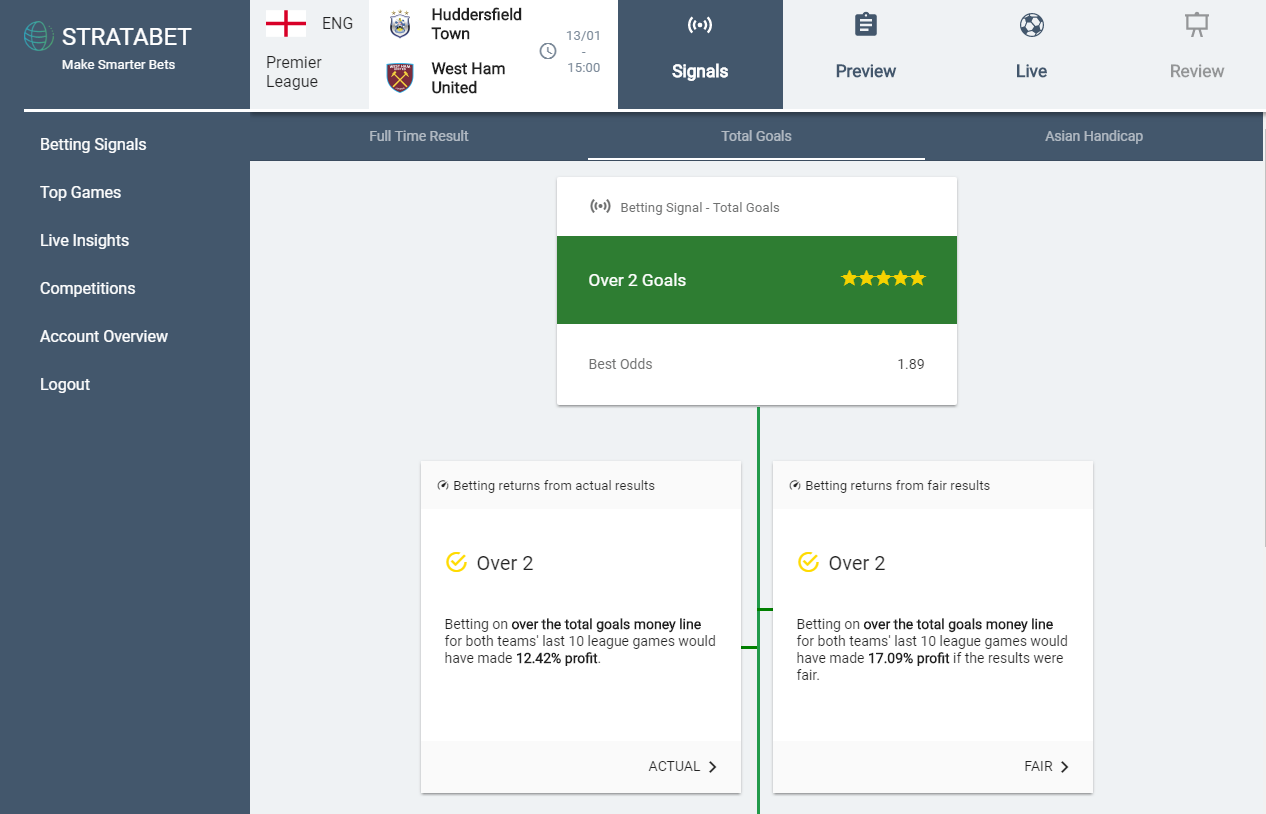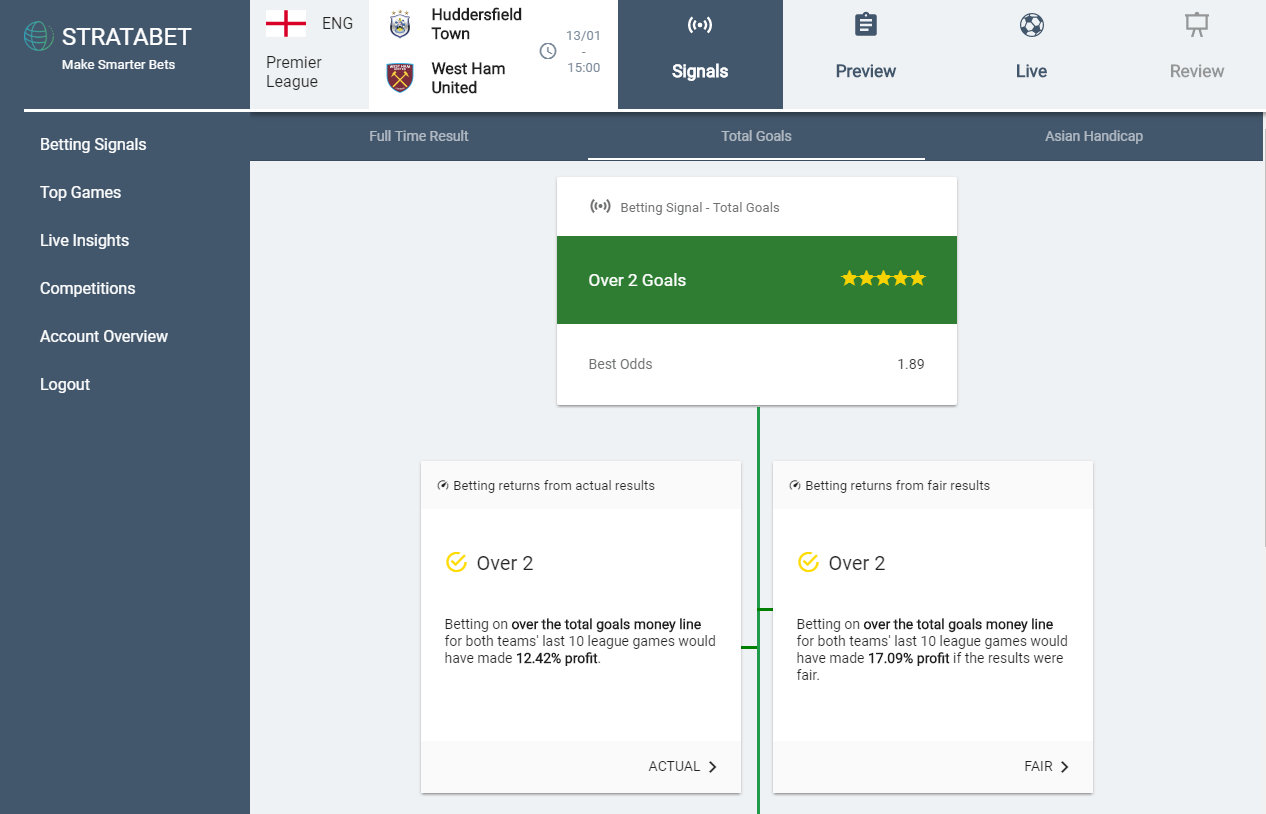 Live pre-match and in-play insights
The Stratabet platform updates in real-time for in-play betting, so as the game progresses the algorithm generates betting opportunities based on match events and historical data.
For example, if the first goal of the match was scored in the 17th minute the live feed might show the percentage chance of a second goal being scored in the remaining minutes of the first half.
Incidentally, if you love in-play betting check out the live charts feature that Smarkets recently introduced.
Pre-match, the feed gives you a series of match facts, for you to swot up on if you're heading out to the pub to watch the game with your mates and want to sound like you know you're stuff.
The platform is mobile friendly, so you can maintain "statchap" status in real-time too…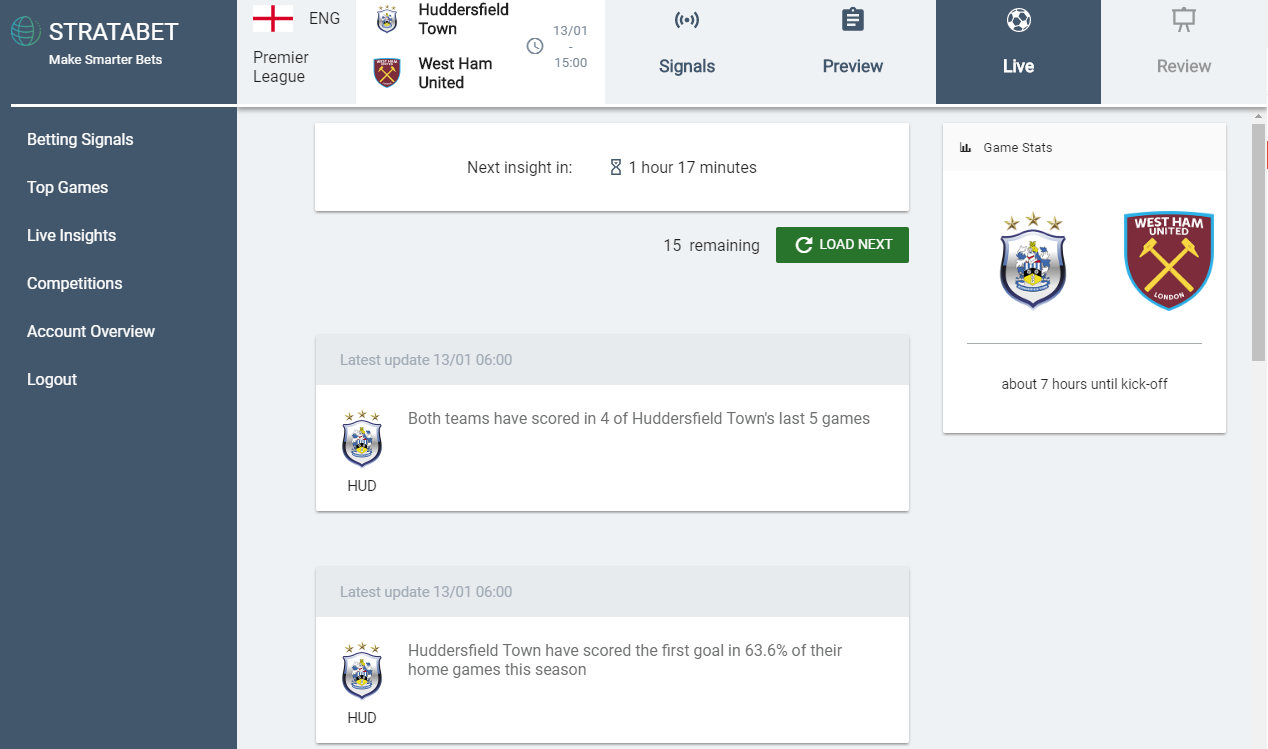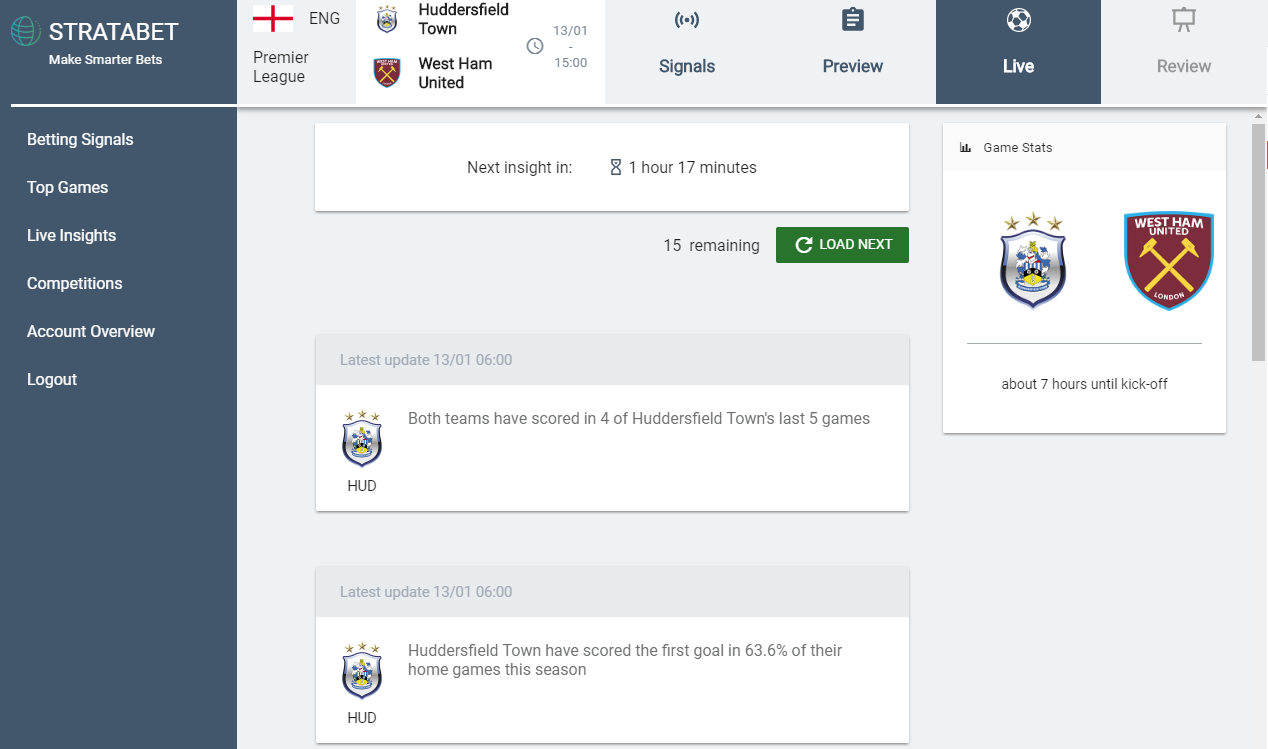 Goal scoring placement
Another really great feature is a visualisation of where all the goals have been scored from in previous games.
These goals are ranked by Stratabet analysts from poor to superb and you can include/exclude them on the goal maps.
A few more helpful stats on goal scoring to provide even more betting stimulus here too.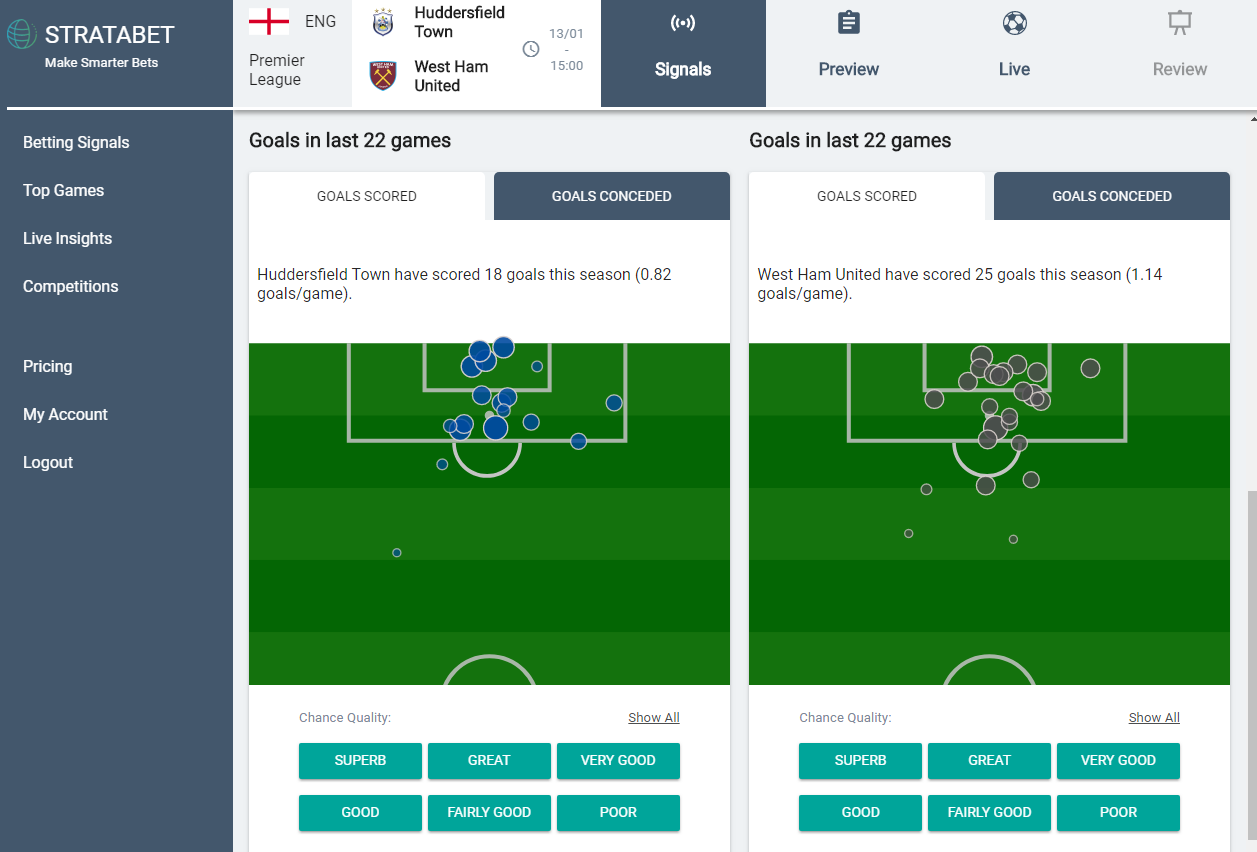 Betting with Stratabet
Stratabet sources odds from betting exchanges as you generally get the best price and can lay bets, but I prefer sports spread betting on football as it's more akin to financial trading where the more right you are the more you win and if you're only a little bit wrong you don't lose your entire stake.
Something that is demonstrated quite neatly with betting on these two signals.
For both matches I placed bets with Smarkets betting exchange and Spreadex sports spread betting for over 2.5 goals – here's what happened… Read our Spreadex Sports Review…
Strasbourg versus Guingam (0-2)

Smarkets odds 2.2, stake £100, risk £100, potential winnings £112
Spreadex bought at 2.6, stake £100 per goal, risk £260, potential winnings unlimited
Outcome: lost £160 (£100 stake with Smarkets, Spreadex settled at 2 with a loss of £60)
A good example here of how if you're a little bit wrong with spread betting you only lose a small amount relative to your fixed odds absolute risk.
Huddersfield Town versus West Ham United (1-4)

Smarkets odds, 2.6, stake £100, risk £100, potential winnings £160
Spreadex bought at 2.3, stake £100 per goal, risk £260, potential winnings unlimited
Outcome: won £426.80 (£160 less £3.20 commission with Smarkets, Spreadex settled at 5 with a profit of £270)
A good example here of how your winnings increase the more right you are with spread betting. In theory winnings are unlimited, as you win an additional £100 for every extra goal scored (or whatever your stake was).
So overall a net win of £266.80 using the Stratabet platform.
Since the latest version went live in September 2017, if you'd followed all the betting signals, which focus on Full-Time Result, Total Goals and Asian Handicaps you would return on:
1 & 2 stars – 3292 signals, ROI: 0.08%
3, 4 & 5 stars – 1246 signals, ROI: 1.38%
It's important to note here that this is not a weighted result, so on the basis that conviction bets with a higher star ranking should warrant a higher stake, net returns would be higher, than the gross percentage return.
But that's if you follow everything, and there is a fund in the works, where punters can "invest" in a fully managed betting service just like a hedge fund in the financial markets.
So what's the conclusion of this Statabet review?
Well money talks as they say, the proof is in the pudding, it's a game of two halves…
The clichés are endless, but overall an excellent service for sports traders looking for stimulus for betting opportunities.
Well worth a go if you trade the financial markets and/or are experienced enough to understand the risks of sports spread betting and betting exchanges.
But equally good as a source of data, facts and analysis if you're looking for consolidated, concise and relevant match information.
You can get a 50% discount on a subscription to Stratabet using this link.
As always, never bet with money you cannot afford to lose.
On to the money shot as it were…